The Catholic Catechism sums up an ethical imperative that all Christians can agree with: "Access to employment and to professions must be open to all without unjust discrimination: men and women, healthy and disabled, natives and immigrants."
Among the labor-related legal actions against Wal-Mart is a class-action racial discrimination lawsuit, but the case most occupying Wal-Mart's legal teams accuses the retailer of systematic sex discrimination. Four of the six named plaintiffs are evangelical women.
The lead plaintiff, Betty Dukes, an ordained minister who until recently served in a Northern Baptist church, claims Wal-Mart denied her training and promotion opportunities that it offered to men. The 54-year-old Dukes told ct she decided to challenge Wal-Mart for the same reason she once led a campaign to persuade a gas station convenience store to put covers over pornographic magazines: As a gospel preacher, she feels compelled to stand up against injustice.
"When I felt unfairly treated, my religious belief allowed me to deal with the situation and not lose my perspective—not become belligerent," Dukes says. "Because of my religious upbringing and training, I disciplined myself to know that in a course of due time, you can work out many things to your advantage."
Dukes's role as an associate minister at St. Mark Baptist Church in Pittsburgh, California, was unpaid (she recently left over a leadership election dispute), and she worked as a cashier at Wal-Mart until carpal tunnel syndrome forced her into her current job as a greeter. Speaking by telephone on her lunch break, she said that in the 1990s she felt she had a right to realize her potential.
"I saw myself as trainable, but I saw myself not getting the training," she said. "I would go home after work, and sometimes I would be wounded, sometimes I would be angry. I would read the Scriptures, I would encourage myself—I didn't want to come in so full of anger and bitterness and go off on my supervisor and lose my job."
The plaintiffs in Betty Dukes v. Wal-Mart Stores, Inc. base their case on anecdotes and statistics, claiming that only 14 percent of the top managers at Wal-Mart's U.S. stores are female. About two-thirds of its hourly employees are women, while women make up only a little more than a third of all its salaried managers. More than 100 women in 30 states have provided declarations. In June 2004 a federal judge in San Francisco ruled there was enough evidence to grant class-action status. The lawsuit was filed on behalf of 1.6 million current and former female employees.
The lawsuit claims that the average proportion of women in managerial positions at the 20 largest U.S. retailers is about 20 percent higher than at Wal-Mart. It also asserts that the 5 percent to 15 percent additional pay that men make in the same jobs that women hold at Wal-Mart is unrelated to seniority or performance reviews.
Wal-Mart "strongly denies" the sex-discrimination charges and has appealed the class-action certification. The company asserts that most of its employment decisions are made on the store level and thus do not show a pattern of corporate discrimination. Wal-Mart has filed statistics attempting to show that women are paid fairly and that they are less apt than males to apply for promotions.
At the same time, the company has taken measures to improve in this area, says Wal-Mart vice president of communications Mona Williams.
"We have specific programs in place," she said, "to make sure we have a talent pool of women and minorities who are well prepared to step into these jobs, including our Women in Leadership program, which helps prepare female associates for more professional responsibility."
Wal-Mart also recently created a director of diversity post. At last year's annual meeting, Wal-Mart ceo Lee Scott announced executives would forfeit a percentage of their bonuses—7.5 percent in 2004 and 15 percent in 2005—if they failed to meet specific employment diversity goals.
Those goals include promoting women and minorities in proportion to the number that apply for management positions. "If 50 percent of the people applying for the job of store manager are women," Scott told shareholders and employees, "we will work to make sure that 50 percent of the people receiving those jobs are women."
Wal-Mart's Williams, dismissing the sex-discrimination allegations against Wal-Mart as yet another example of the human tendency to "take shots at you if you are on the top," told ct the company's culture of improvement requires it to continually review its employment practices.
"Part of that, of course, is being honest with yourself—fixing mistakes when you make them—and moving on," she says. "Wal-Mart will emerge from all this a better company."
Related Elsewhere:
Deliver Us from Wal-Mart? | Christians are among those sounding the alarm about the ethics of this retail giant. Are the worries justified?
Article continues below

Benefits Blues | Spiraling health costs squeeze Wal-Mart as they do every other large company.
Wal-Mart offers statements on a host of issues, including some discussed in this article.
CT covered Christian bookstores that have suffered from a drop in business after Wal-Mart and other big retailers began carrying Christian books.
Forbes magazine covered Wal-Mart's expansion into the Christian product business.
Christian Retailing quotes a Christian bookstore owner who says, "Wal-Mart is a canker out there that's killing our market in this country. Until the suppliers realize that and start standing up to Wal-Mart and start protecting independent stores, we're on a death trail."
PBS's Frontline ran a documentary last November about Wal-Mart. The full program is available for viewing online.
Ariah Fine is a student at Wheaton College and says in this Relevant article that shopping at Wal-Mart is wrong.
Baptist Press says a pastor was asked to stop passing out tracks at his local Wal-Mart.
Wal-Mart Facts is the public relations push the company is using to show it's environment, community, and people-friendly.
The National Labor Committee has a page of articles about Wal-Mart's labor abuses.
After some deliberation, Danny Duncan Collum writes in Sojourners Magazine, "Today I'm ready to join the ranks of all right-thinking people the world over in declaring Wal-Mart an outpost of hell on earth."
More Christianity Today articles on Money & Business is available from our website.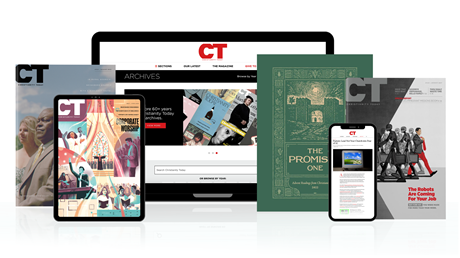 Subscribe to Christianity Today and get access to this article plus 65+ years of archives.
Home delivery of CT magazine
Complete access to articles on ChristianityToday.com
Over 120 years of magazine archives plus full access to all of CT's online archives
Subscribe Now
Women Against Wal-Mart
Women Against Wal-Mart