Terri Schiavo's controversial death is old news now, but many of us are still grappling with the end-of-life questions it made us ask. The Florida woman's case propelled millions to consider living wills.
Not so fast, caution many Christian ethicists and right-to-life groups. Living wills are more complex than they appear and alone don't necessarily guarantee death on your terms. Even if you already have a living will, you might want to know why some critics think these documents may be dangerous and others see potential ethical problems. You may not want what you signed.
Some critics go so far as to see the recent rush to sign living wills as a victory of the pro-euthanasia movement.
Flip Benham, director of Operation Rescue, lamented that the Hemlock Society had to be "dancing with glee" as, during the Schiavo debacle, Christian leaders were telling us to have living wills drawn up. Want it from the horse's mouth?
"We have to go stage by stage, with the living will, with the power of attorney, with the withdrawal of this; we have to go stage by stage," said Derek Humphry, founder of the Hemlock Society (now called End-of-Life Choices), in a 1986 interview quoted in National Right to Life News. "Your side would call that the 'slippery slope.' We would say, 'Proceed with caution, learning as we go how to handle this very sensitive situation.'" Pro-lifers also point out that the first living will was devised by the Euthanasia Society (now called Choice in Dying), and the documents are routinely advocated by groups that lobby for direct euthanasia.
Just because such groups favor living wills doesn't negate their value. But it does suggest that they can be used, even inadvertently, to promote values that contradict Scripture.
Another reason for being cautious about living wills is that they're fixed in time. Advancing medical technologies generate new ethical questions and options. Some fear living wills will lead to undertreatment. Others point to the fact that we change our minds. Views on treatment made when we're healthy can change when we're not. Perhaps some of the biggest problems are limitations our own words can impose in ways we don't intend. Another criticism is the patient's insufficient medical knowledge of illnesses and treatments and inadequate or superficial thought given to making advance life-and-death decisions.
Words with Consequences

Whatever your end-of-life decisions are, know there's more than one way to see they're carried out.
Advance directives are documents indicating what medical care you want or don't want if you are ever incapacitated. The directives include the living will, the durable power of attorney for health care (or health care proxy), and hybrid documents that combine the two.
A living will, the oldest type of advance directive, is a legally binding document stating what health care you want or don't want if your death is imminent. The power of attorney designates who you want making your health-care decisions if you can't. The many combination documents name your surrogate and list your wishes.
When considering your philosophies, Carrie Gordon Earll, senior policy analyst for bioethics for Focus on the Family, offers this suggestion: Cross-reference (1) various kinds of life support (tube feeding, ventilators, antibiotics, CPR, etc.); (2) various diagnoses (disabled, brain damaged, PVS, coma, minimally conscious, actively dying); and (3) various prognoses (death imminent, recovery unexpected or unknown, etc.).
To evaluate an advance directive, consider these concerns:
Does it consider food and water "life support"? Some documents don't distinguish food and water from other life support. Some states are unclear on this while others stipulate food and water as "treatment." You might say you don't want life-sustaining treatment, but don't realize that could include being denied hydration and nutrition.
How specific is it? This is where the divisive hair-splitting comes in: should you have just power of attorney for health care, or also a living will component, and if so, how specific should your wishes be?
Some argue that the biggest problem with specific living will components is the difficulty of predetermining desired medical treatment for future conditions.
"You can't envision all the scenarios. That can't be done," says Rita Marker, of the pro-life International Task Force on Euthanasia and Assisted Suicide. Often, the more specificity you give, the more you limit your agent's ability to carry out your wishes.
As a result, many in the bioethics community advise to avoid specifics, just name a proxy, and use the living will as a worksheet to form your philosophy and discuss with your surrogate without making it legally binding.
Not all agree, however. Scott B. Rae, Christian ethics professor at Biola University, used to believe in just designating a surrogate. He'd seen poorly written directives weigh more heavily than an informed and loving spouse's opinion.
"But Terri Schiavo's case made me change my mind," he says. "I'm willing to risk a conflict between what's in writing and my wife's decisions to be sure that my wishes will be followed." If his wife's opinions were to be discounted by "experts," he'd want a fallback position delineated in a living will.
What's the language like? The definitions of terms in these legally binding documents can be confusing. Some wording is too vague. Patients designated as "terminal" may still live another decade; "imminently dying even with death-delaying procedures" is less confusing. Other wording is too restrictive: "seven days" or "two weeks" until death. "Patients sometimes surprise me," says David Stevens, executive director of the Christian Medical Association. "Prognosticating is an art, not just a science."
Other terms can have different meanings in different documents and states. The meanings can also change or be misinterpreted. Some state laws dictating how they're applied have changed. And, Marker says, "Specifics have definite legal meaning that the person writing may not understand." The booklet Basic Questions on End-of-Life Decisions on the website of the Center for Bioethics and Human Dignity, www.cbhd.org, can help clarify some of this confusion.
Does it say who trumps? Another problem in some combination documents is the relationship between the power of attorney and the living will. Do your agent's decisions or your written instructions have final authority?
"Many of these documents don't indicate which of these two provisions takes priority," says John Kilner, president of cbhd. "Some states specify that in case of conflict the living will prevails. You want the agent prevailing." Some documents sound like the agent prevails with wording like "my agent can interpret my wishes," but legally any written instructions must be followed. Most of us wouldn't know this by simply reading the document.
What you don't want is to tie your agent's hands, unintentionally limiting her ability to act on what she knows would be your preferences.
Blind Spots

One misconception about directives comes from expectations of how they guide us. "They don't tell you everything people assume they tell you," says Al Weir, a Memphis oncologist.
One of his patients was near the end and had a directive that appointed one of her daughters power of attorney and dictated that she didn't want a ventilator or to be artificially fed. When she got an infection, the daughter had to decide whether to treat it or not, but the advance directive didn't help her. Another sister was opposed to withdrawing the care, and a difficult family struggle ensued. Legally, the proxy daughter could make the decision, but Weir realized that "there was a family that had to be cared for." After much discussion between the family and the doctor, the opposing daughter became convinced that non-treatment was what her mother wanted.
"The problem is that directives don't address all the decisions necessary at the end of life," Weir says. "There needs to be much more discussion so the family and the doctor are very clear. It doesn't turn into a major problem often, even without documents, but when it does, it's really awful."
Another predicament with advance directives is intent. Yours may say you don't want certain things done if you have a hopeless illness and can't recover. Say you develop a disease with a prognosis of one to three years to live, but early on you develop pneumonia. "I could get you through that illness, and you'd still have a good year with a decent quality of life to cherish," Weir says. "When does the advance directive come into play? Did they really mean [at the time of the pneumonia]? They meant when I can't come back."
Will our advance directives be used the way we hope? Not everyone can be sure. An April report by the National Right to Life medical ethics center says that all but 10 states may allow doctors to disregard advance directives (see www.nrlc.org).
Soul Life Support

As in all predicaments, we can find guidance and comfort in Scripture.
Doug Groothuis, professor of philosophy at Denver Seminary, believes that "we have to realize that, biblically, we are not our own. We didn't create ourselves and don't define our own morals."
The alleviation of suffering is a value in both our culture and the Bible, but the Bible also points out suffering's redemptive nature. "The world says, 'Flee suffering at any cost, and if you don't have a quality of life where the happiness outweighs pain, then what's the use of living?'" CMA's Stevens says. "That's not a Christian point of view. We should weigh our right to refuse treatment with the service and stewardship responsibility of continued living to God, family, and others."
Not everything that can be done must be done. Scripture says that for Christians to be absent from the body is to be present with God. We can be pro-life without being medical vitalists, who do all they can at all times to prolong life. "There is a time to die." Groothuis says, "But it should not be induced."
Even the Christian Medical Association's members are split on whether it's ethically imperative to maintain people in a persistent vegetative state indefinitely. But Stevens says that they all agree on this point: "If you take tube feeding out of PVS patients, you always offer them food and fluids by mouth. Otherwise it's passive euthanasia. If you offer it and they don't take them, the disease has killed them. If you don't offer them, you've killed them."
Perhaps our local churches can take a greater role in helping us apply biblical principles in making these critical decisions. Perhaps individually, we can think as deeply and biblically as they require.
The well-informed, loving local body of Christ can be a vital means of life support. The Christian community—pastoral counsel, godly friends, chaplains, the local church, and the church as a whole—is a guiding force in the end of life as it should be in all of life. A loving surrogate empowered by counsel, prayer, the Holy Spirit, medical information, and knowledge of our wishes can be our safe hope.
Lindsey O'Connor is a journalist and author. In "While I Was Sleeping" (February, 2004) she told of her family's wrestling with life-support issues when she was in a coma.
Related Elsewhere:
Lindsey O'Connor told the story of how her husband fought to save her life during a two-month coma in While I Was Sleeping.
Our complete coverage of Terri Schiavo is available on our website.
The Center for Bioethics and Human Dignity has more news and information on bioethical issues, as well as resources such as Basic Questions on End of Life Decisions and an Advance Directive Kit.
The Christian Medical and Dental Association has an ethics statement on advance directives, as well as on withholding nutrition and vegetative states.
More articles on Life Ethics includes:
A More Perfect Society | Why I wouldn't want to live there. (June 27, 2005)
Prescription for Conflict | Pharmacists may have to put conscience on the shelf—or quit—A Christianity Today editorial (June 01, 2005)
Questions for Both Sides | Terri Schiavo prompted a national debate, but there's still much unresolved. (May 02, 2005)
Aborting the Disabled | A bill before the Senate hopes to better inform mothers about diagnosed disabilities, while a study confirms that women can feel pressured to terminate their pregnancy if tests find a disability. (April 21, 2005)
When to Pull a Feeding Tube | Leading bioethicist Gilbert Meilaender discusses the problems of withdrawing Terri Schiavo's lifeline. (April 15, 2005)
Is It Ever Okay to Pull a Feeding Tube? | "The governing ethical criteria are that it's inappropriate to intend someone's death." (March 24, 2005)
Speaking Out
Life with Dignity | Let's not be too eager to pull the plug on our fellow image-bearers. (Aug. 13, 2004)
Our digital archives are a work in progress. Let us know if corrections need to be made.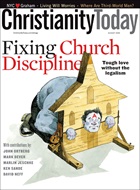 This article is from the August 2005 issue.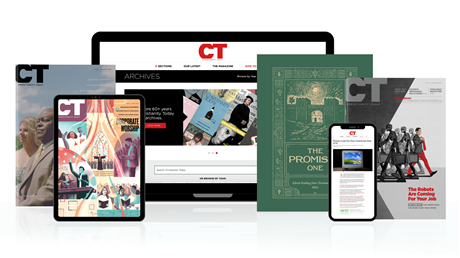 Find hope and historical insight. For a limited time, explore 60+ years of CT archives for free!
Daily devotions from Timothy Dalrymple during this pandemic.
Hundreds of theology and spiritual formation classics from Philip Yancey, Elisabeth Elliot, John Stott, and more.
Home delivery of new issues in print with access to all past issues online.
Join now and get print issues access to archive PDFs.
Dying Smart
Dying Smart