Rose Wilson wouldn't exactly call herself a political activist. The 49-year-old Ohio mother of two had always voted on Election Day. But this year she wanted to do more.
In the months leading up to the election, the highest court in Massachusetts had legalized civil marriage between homosexuals. Lawsuits seeking the same outcome were spreading across the country. Wilson, who works part-time in a gift-basket shop in northwest Dayton, feared her state was next.
Wilson circulated a petition, gathering signatures to get what would become known in Ohio as Issue One—a state constitutional ban on same-sex marriage, civil unions, and domestic partnerships—on the November 2 ballot. A close friend, Renee Abney, launched the local petition initiative "by the leading of the Spirit" after receiving a mass mailing from James Dobson of Focus on the Family (see interview on p. 60).
"I'm very passionate about God's plan for the family," Abney, 42, says. The push for marriage between homosexuals, she says, is not just about "some people wanting more rights. It's about the Enemy trying to alter God's plan." Neither Wilson nor Abney had previously been active in politics. But both women, who are African American, do not consider themselves aligned with the Republican Party.
In just three weeks, the volunteers Abney recruited gathered roughly 1,500 petition signatures. They had become part of a grassroots revolution spreading across the state. By the deadline for submission of the petition last July, various groups statewide had collected more than 557,000 signatures. An energized grassroots network had formed—setting up the 62 percent to 38 percent vote in favor of the new state constitutional ban.
Ten other states—Arkansas, Georgia, Kentucky, Michigan, Mississippi, Montana, North Dakota, Oklahoma, Utah, and Oregon—passed similar prohibitions. But the amendments may become the next casualties in an expanding national struggle.
"We fully expect a tsunami of litigation," says Matt Daniels, president of the Alliance for Marriage. AFM is a nonpartisan coalition seeking to amend the U.S. Constitution to prevent the redefinition of marriage. Daniels fears that state and federal judges will invalidate the measures.
Except for some continuing efforts to educate church members, the battle has now substantially moved from the ballot box to the courtroom.
Strategic Patchwork
Roughly 40 states now have legislation aimed at preserving the definition of marriage as a union between one man and one woman. These initiatives, dubbed Defense of Marriage Acts (doma), take three forms: nonbinding resolutions, marriage statutes, and constitutional amendments.
In the wake of the November election, 17 states have adopted constitutional amendments. The strongest of the three legislative tacks, they ban marriage between homosexuals. Several other states are considering amendments.
But liberal civil-rights groups are seeking to overturn existing doma legislation in both state and federal courts. In October, a district judge struck down the Louisiana marriage amendment, which garnered 78 percent of the votes a month earlier. The judge said it violated the state's rule that constitutional amendments deal only with one subject. On November 3, one day after the Oklahoma marriage referendum passed, two homosexual couples sued to overturn the measure. A week later, activists filed suit in Georgia.
"The way we do this is through a period of what I call patchwork," Evan Wolfson, executive director of Freedom to Marry, a homosexual activist group in New York, told reporters two days after the election.
Lambda Legal, a pro-gay litigation and public-policy group, said the lawsuits are chosen "strategically." The aim is to secure "precedents that can later be used to challenge similar amendments and laws."
Lambda Legal, which filed a joint lawsuit with the aclu to overturn the Georgia state marriage amendment, is also heading attacks on doma and related laws in Nebraska, Washington state, California, New York, and New Jersey. Other pro-gay legal groups—such as Gay and Lesbian Advocates and Defenders, the organization that led the charge for legalization of marriage between homosexuals in Massachusetts—are spearheading lawsuits in other states. But attorneys for the Alliance Defense Fund (adf), who fought successfully to keep many of the state amendments on the ballot, will be intervening in California, Georgia, and Oklahoma.
There are eight lawsuits in federal courts. Three of these cases are in Florida. The others are in Minnesota, Washington state, California, Oklahoma, and Nebraska.
"Sooner or later, one of these is going to land in front of a judge who thinks he has the duty to help homosexuals obtain rights they [think they] should have," said Glen Lavy, senior vice president of the marriage litigation center for adf. This may set the stage for a battle in the U.S. Supreme Court.
Daniels predicts that a Supreme Court decision "striking down marriage" may come in two or three years. As evidence, he cites the court's 2003 ruling overturning laws banning sodomy in Lawrence v. Texas.
Marriage Amendment Redux
In 2001, AFM drafted an amendment to the U.S. Constitution to define marriage. The Federal Marriage Amendment (FMA) defines marriage as the "union of a man and a woman." But it allows each state to determine whether homosexual couples may receive benefits previously reserved for married couples.
The amendment was introduced in the House of Representatives in 2002, with bipartisan sponsors. It did not come up for a vote and was reintroduced in Congress in 2003. Then it won the support of Republican Senate Majority Leader Bill Frist and the endorsement of President Bush. However, the amendment failed in a pre-election vote last summer. Daniels said AFM will reintroduce the amendment early this year.
But Phil Burress, president of Citizens for Community Values (CCV), the Cincinnati-based organization that drafted the Ohio marriage amendment and launched the statewide drive to pass the legislation, says the FMA "needs some help." The state constitutional marriage amendment approved in Ohio is one of the most restrictive to date. It bans legal recognition of marriage, civil unions, and domestic partnerships between persons of the same sex. CCV is one of more than 50 evangelical organizations in a coalition called the Arlington Group backing the FMA. Higher-profile members include Focus on the Family and the Family Research Council (FRC).
However, Tom McClusky, FRC director of governmental affairs, says most members of the Arlington Group have resolved initial tensions over the amendment wording and are "on the same page."
They have powerful allies on the issue. Senior White House adviser Karl Rove said the FMA is an important part of the President's agenda for the next term. McClusky, chief lobbyist for the FRC, will be working to drum up support in the halls of Congress on behalf of the FMA.
Daniels says this time around, the marriage amendment may get a more favorable hearing. "There was a democratic earthquake in the states that has put Washington on notice about where the American people stand," he says. If the FMA wins congressional passage, Daniels predicts the measure will "fly through the states."
Over the next several months in Ohio, Burress said, his organization will be working to "engage the church in civic lessons"—statewide meetings about the biblical role of church involvement in politics.
Nationally, pro-family groups will do much of the same—encouraging grassroots supporters to stay educated, push for "one man, one woman" constitutional amendments, participate in marches or "pray-ins," and jam the phone lines of state and federal legislators when important decisions are on the line.
Rose Wilson and Renee Abney will be watching. "I can't say that I've received any new directives," Abney says. "Right now I'm just pleased with what's happened—and the response, in particular, within my own community."
Kathleen K. Rutledge is a writer living in Alexandria, Virginia.
Related Elsewhere:
The Alliance for Marriage has more about its work to ban same-sex marriage.
Christianity Today's full coverage of the marriage battle is collected on this page. It includes:
Banning Gay Marriage Is Not The Answer | Legal actions aren't loving if they're all we do, says the author of Loving Homosexuals as Jesus Would. (Sept. 01, 2004)
Gay Marriage Roadblocks | California Supreme Court voids San Francisco unions as a federal judge says the Defense of Marriage Act is constitutional. (Sept. 01, 2004)
Thirteen Bad Arguments for Same-Sex Marriage | Why the rhetoric doesn't stand up under scrutiny. (Aug. 26, 2004)
The Man Behind the Marriage Amendment | It's just as well that Matt Daniels loves a good fight, because he has a big one on his hands. (Aug. 25, 2004)
A Crumbling Institution | How social revolutions cracked the pillars of marriage. (Aug. 24, 2004)
What God Hath Not Joined | Why marriage was designed for male and female. (Aug. 20, 2004)
The Next Sexual Revolution | By practicing what it preaches on marriage, the church could transform society. (Aug. 27, 2003)
My Two Dads? Not in Florida | U.S. Circuit Court upholds ban on gay adoption (March 11, 2004)
Speaking Out: Why Gay Marriage Would Be Harmful | Institutionalizing homosexual marriage would be bad for marriage, bad for children, and bad for society. (Feb. 19, 2004)
Let No Law Put Asunder | A constitutional amendment defending marriage is worth the effort. (Jan. 26, 2004)
Massachusetts Court Backs Gay Marriage | Christians say gay activists will overturn marriage laws (Dec. 10, 2003)
Have something to add about this? See something we missed? Share your feedback here.
Our digital archives are a work in progress. Let us know if corrections need to be made.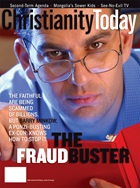 This article is from the January 2005 issue.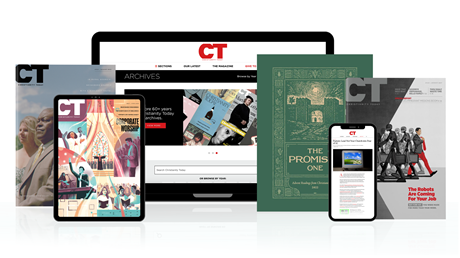 Subscribe to Christianity Today and get access to this article plus 65+ years of archives.
Home delivery of CT magazine
Complete access to articles on ChristianityToday.com
Over 120 years of magazine archives plus full access to all of CT's online archives
Subscribe Now
Full Court Pressure
Full Court Pressure