Evangelical aid groups have come under some criticism for preaching the gospel alongside providing aid to the survivors of the Indian Ocean tsunami. "Some evangelical groups are mixing Christian missionary work with humanitarian aid in countries ravaged by the tsunamis and earthquake, a provocative approach shunned by the majority of faith-based relief organizations," writes The Baltimore Sun. "Spreading faith this way can antagonize the people they're trying to help, and there's evidence of concern among Muslims, Hindus, and others."
The Sun relies on anonymous e-mails and Web postings as "evidence of concern." It even says e-mails and postings "exaggerate or sensationalize" the truth. Most religious aid groups defer to the local culture, writes The Sun, but some missionary groups are not culturally sensitive, upsetting locals.
Apparently, Christians can be motivated by Jesus to provide relief but shouldn't share that motivation with those receiving aid.
Franklin Graham, president of Samaritan's Purse, is cited as one of those spreading the gospel behind relief dollars. He told The Sun aid should "share the love of Christ. … I would hope that they would come to know the God I know."
Other groups, like World Relief, refrain from sharing the gospel at first, writes The Sun. But once they have established a relationship with a group, they return to the scene years later and begin planting churches. World Relief however disputes The Sun's portrayal of them as developing relationships after a disaster only to exploit those relationships in order to plant churches. According to the aid organization, "It is not the duty of World Relief to move beyond its mandate of enabling local churches to respond to suffering - World Relief is not a mission agency; we do not proselytize or use aid as a pretext for another agenda."
K.P. Yohannan, president of the Texas-based Gospel for Asia, isn't bothered that the gospel could offend people. "This [disaster] is one of the greatest opportunities God has given us to share his love with people," Yohannan told the Philadelphia Inquirer.
Though local Muslim, Hindu, and Buddhist groups sometimes violently oppose the presence of Christian evangelists, and their presence has already created tensions, surprisingly, the US has done nothing to stop these Christian groups, says the Inquirer. "The U.S. government has said it hopes American tsunami aid improves its image abroad, particularly with Muslims. At the same time, it has not tried to impede evangelical efforts."
Southern Baptist relief coordinator Pat Julian said the tsunami provided "a phenomenal opportunity" to share the gospel with a certain fishing community in Thailand. Another group is planning to build Christian villages along the destroyed coastline. The Inquirer says, "Not all evangelicals agree with these tactics."
"It's not appropriate in a crisis like this to take advantage of people who are hurting and suffering," said the Rev. Franklin Graham. "Maybe another day, if they ask why I come, I'd say I'm a Christian and I believe the Bible tells me to do this. But now isn't the time. We have to save lives."
The fact that Franklin Graham can be used to support either side of this argument shows that reporters have a lot to learn about the nuances and diversity in the evangelical community. Christian groups must be careful when presenting the gospel to a culture that finds such efforts offensive. Three people died in a recent clash between Hindus and Christians in Sri Lanka. But expecting or forbidding all mission and relief groups to simply refrain from mentioning Christ is offensive to Christian beliefs.
Note
Our Weblog has a roundup of non-tsunami news today.
More Articles
Aid & relief:
Survivors, counselors overwhelmed | Many victims too traumatized to discuss the tragedy yet (The Boston Globe)
Two measles cases occur in Indonesia | The military, meanwhile, urges foreign-aid groups to create lists of workers (Associated Press)
How you can help tsunami victims | Several organizations are accepting donations for victims of the Asian earthquake and tidal wave. (Lodi News-Sentinel, Calif.)
Challenge is getting relief to victims | Relief workers say there are enough food and supplies coming in to meet the basic needs of tsunami victims here, yet many still go wanting. (Los Angeles Times, via Pittsburgh Post Gazette)
Walls fell to enormity of waves | The waves were indiscriminate. They washed away luxury resorts and poor villages, vacationing European mothers and fathers and Asian children, Hindus and Buddhists, Muslims and Christians. The walls of water also washed away -- at least temporarily -- the walls we build between one another. (David Waters, Commercial Appeal, Tenn.)
Workers find tsunami corpses in Indonesia | Rescue workers pulled thousands more rotting corpses from the mud and debris of flattened towns along the Sumatran coast Saturday, two weeks after surging walls of water caused unprecedented destruction on the shores of the Indian Ocean. The death toll in 11 countries passed 150,000. (Associated Press)
Quake aid workers face new battles | Charity workers are battling against tropical rainstorms, flooding and security scares to get aid to those worst hit by the Asian tsunami. (The Scotsman)
Comforting Strangers | There are lessons to be learned from the world's generosity (Time)
Relief helicopter crashes; 10 survive | A U.S. Navy Seahawk SH-60 helicopter crashed Monday morning in a rice paddy as it approached Banda Aceh airport during tsunami relief operations in Sumatra. (Chicago Tribune)
Tsunami aftermath: Developments | There has been in the past in this region, even before this horrible tragedy, criminal trafficking syndicates, trafficking young people, children, largely for sex purposes (Detroit Free Press)
Clashes, rain hurt aid effort | A burst of gunfire in Indonesia and an outbreak of violence in Sri Lanka raised fears yesterday that simmering rebellions in both countries could hamper aid efforts for tsunami victims. (New York Post)
Aid on wings and prayer | The volunteers, mostly people from the nearby Amish community, also inspect and box hundreds of cans of cooked turkey meat. The group operates a bus that travels to Mennonite churches around the country, cooking and canning turkeys on site. (Philadelphia Inquirer)
From no religion to religion in the tsunami | Even after the Indian Ocean tsunami, an Act of God in lawyer's language, discussion in the western media focuses on political issues. (Carl Ince, Barbados Advocate)
Rebuilding:
Young and afraid: Children recall tsunami disaster | Of the more than 150,000 people who lost their lives in the tsunamis that struck this region two weeks ago, about a third were children. But beyond that statistic are thousands more children who lost cousins, aunts, grandmothers or a parent—or two—in the disaster. (The Dallas Morning News)
In this town, road to recovery starts from a priest's doorsteps | Two weeks after the tsunami, you can't walk around Colachel without holding your nose. It's the scent of renewal, chlorine being such an indispensable part of it. (Newindpress, India)
Church aid:
In ravaged Indonesia, help is an act of faith | Church group an example of outpouring (Boston Globe)
Missionaries prepare to help tsunami victims in India | David and Martha Siwert of Conewago Twp. and team leader Rick Caynor of Harrisburg will hand out relief supplies in Chennai, India, as part of a team from the Association of Baptists for World Evangelism. (The Patriot-News, Penn.)
Local religious groups raise funds towards tsunami relief efforts | The local religious community have begun their own special collections that will benefit relief organizations in southern Asia hit by the tsunami that claimed over 150,000 lives. (MetroWest Daily News, Mass.)
Local residents help tsunami survivors | The group was from the Sault's First Church of Christ youth group. Several such groups were sent out through the community that night on a "bottle drive." The beverage cans and bottles collected that night were cashed in, and the funds are destined to an international relief organization to help those still suffering on the opposite side of the world. (Sault Ste. Marie Evening News, Mich.)
Effort under way for tsunami victims | Zion Baptist Church's congregation will be giving money to the Indian Ocean tsunami victims this month. The Ambler congregation will donate the highest Sunday offering in January to relief efforts. (Ambler Gazette, Penn.)
After tsunami, cynicism assails Christians, Muslims and Hindus | Priests and nuns work on reconstruction and body identification. Without prayers the real meaning of life is loss. (Asia News)
Area rallies to aid survivors of catastrophic tsunami | She joins other local individuals, businesses and groups raising funds by the bucketful, doing whatever they can to help the homeless and injured who managed to survive. (Annapolis Capital, MD)
Thanking Allah for Christians and Jews | A devout Muslim in Indonesia or Sri Lanka, listening to the growl in his empty belly and watching the sky darkening with American rescue helicopters, might offer a prayer of gratitude to Allah for Christians and Jews. (Wesley Pruden, Washington Times)
Area's youth answer the call for help | Local students find ways to raise funds for tsunami victims. (News-Leader, Springfield, Missouri)
Religious organizations rally to send tsunami relief | Almost as overwhelming as the devastation caused by last month's tsunami is the outpouring of help from around the world. (Canton Repository, Ohio)
Congregation sends prayers, aid | A Mass was held at St. Bartholomew's Roman Catholic Church Sunday to pay respects to the victims and survivors of the Asian earthquake and tsunami disaster, and to raise money for relief efforts. (Asbury Park Press, N.J.)
Aid first | Northwood, N.D., pastor works to rush help to disaster victims (Grand Forks Herald, N.D.)
Charity priest vows to keep working | High-profile charity worker Father Chris Riley vowed not to back down on his plans to help children in tsunami-ravaged Aceh, despite a warning from hardline Muslims. (Australian Associated Press)
Giving:
AP poll: 3 in 10 in U.S. gave tsunami aid | Three in 10 Americans say they have donated to the victims of the South Asia tsunami, an Associated Press poll found. The total of private donation is rapidly approaching the $350 million pledged by the government as private citizens made many of their donations online (Associated Press)
Charities report record donations | $337 million in private funds raised for relief (The Washington Post)
Tsunami triggers imperative to help | 'Shining moment' for U.S. giving (The News Journal, Del.)
Americans join global aid effort | Financial generosity was highest among those who attend church every week, with 54 percent of churchgoers contributing, a Gallup poll found (The Washington Times)
Diocese pledges £100,000 to disaster fund | The diocese of York today announced it was donating £100,000 to the relief effort in south east Asia. (The Scotsman)
Religious leaders suggest cash for tsunami relief | Area religious leaders are asking for money, rather than clothing and food, to aid the victims of the Dec. 26 earthquake and tsunami in South Asia. (The Patriot-News, Penn.)
Local church sends aid to Indonesia | Local volunteers are still doing what they can to help in the massive recovery effort in South Asia. (KOMO, Wash.)
Financial offerings | Numerous churches lend helping hand for tsunami victims. (Carolina Morning News, S.C.)
Religious tensions:
Don´t convert our children, Muslim group warns | The arrival of an Australian Catholic priest Fr Chris Riley (pictured) in the tsunami-ravaged Indonesian province of Aceh has sparked a warning from a hardline Islamic group not to try to convert Muslim children. (Catholic News)
Grenades kill three, injure 37 in Sri Lanka | Two hand grenades hurled in a rare clash between Christians and Hindus killed at least three people and injured 37 others in a part of eastern Sri Lanka where international aid workers are helping tsunami victims, police said. (Ireland Online)
Hindu-Christian rivalry hampers islands' recovery | Scores of volunteers from Hindu, Christian and Muslim groups have landed in the islands, more than 1200 kilometres from mainland India, offering everything from food and water to solace and self-healing tips to the survivors. "There is a competition going on, both religious and political," says Madhu Krishan (Reuters)
Aid groups warned against preaching | Christian-based humanitarian aid groups in Muslim-dominated Aceh are a volatile presence that could threaten the uneasy peace that has settled over the devastated Indonesian province. (The Australian)
Sri Lanka explosions kill 3, injure 37 | Two hand grenades hurled in a clash between Christians and Hindus killed at least three people and wounded 37 in a part of eastern Sri Lanka where international aid workers are helping tsunami victims, police said (Associated Press)
Tamils condemn ban on Annan visit to rebel areas | Hopes that the devastation wrought by the Boxing Day tsunami would see Sri Lanka's rival ethnic and political groups set aside their differences and rebuild shattered communities appear to have been dashed. (Belfast Telegraph, UK)
Security concerns:
Gunfire warning to aid workers | Foreign aid workers have been warned to be on guard in areas hit by the Asian tsunami. (Glasgow Daily Record)
Groups to continue relief effort despite terrorism concerns | But officials say they are taking precautions (Associated Press)
Deadly blast in Sri Lanka | A grenade attack has killed three people and wounded 34 others in eastern Sri Lanka, where tsunami relief efforts are underway. (CNN)
Tsunami aid workers continue working despite shooting near U.N. compound | The United Nations said the security of its tsunami relief operations was not threatened by gunfire Sunday near its compound on Indonesia's Sumatra island, while rain made the job of getting aid to the millions of victims even harder. (Associated Press)
Insurgencies dampen relief operations | Fears also rise that help has not reached many in Indonesia, Sri Lanka (Business Times Singapore)
Civil wars hampers tsunami aid | A grenade attack killed three people and wounded 34 in Sri Lanka Sunday and tsunami survivors awoke to gunfire in Banda Aceh, Indonesia. (United Press International)
Violence hampers aid | Two hand grenades hurled in a rare clash between Christians and Hindus killed at least three people and injured 37 others in a part of eastern Sri Lanka, police said. (Herald Sun, Australia)
Muslim/separatist security concerns in Aceh:
Terrorist aid slammed | Separatist rebels from the tsunami-struck province of Aceh yesterday deplored the presence of two Muslim terrorist groups helping survivors, saying they were using aid to push a religious agenda. (Washington Times)
Militants jump into Aceh aid efforts | Hundreds of Muslim militants, best known for smashing up Jakarta discos or advocating Islamic rule, have poured into devastated Aceh province with the help of the Indonesian military to aid in disaster relief (Los Angeles Times)
Indonesia urges aid groups to draw up lists of workers | Indonesia's military asked aid groups in tsunami-stricken areas Monday to draw up a list of international relief workers -- and to report on their movements -- as fears arose for the safety of foreigners helping survivors in a region wracked by rebellion long before the waves hit. (Associated Press)
Indonesia restricts aid workers in Aceh | Indonesia told thousands of aid workers helping tsunami victims in its worst-hit region, Aceh, on Tuesday not to venture beyond two large cities because of what it said were militant threats (Reuters)
Indonesians fear for safety of aid workers | Military urges groups to draw up lists of staff in war-torn country (Associated Press)
Growing doubts on Aceh's relief effort | The arrival in Aceh of militant Islamic fundamentalist groups has raised the prospect of conflict with foreign aid workers and troops, including Australians, who are helping the tsunami relief operation. (Damien Kingsbury, The Australian)
South Korea warns aid workers in Aceh of separatist violence | South Korea's intelligence service warned aid workers and others traveling to Indonesia's tsunami- ravaged island of Sumatra of possible violence by separatist rebels who have been fighting for autonomy since 1976 (Bloomberg)
Islamic groups' orphan plan raises doubts | Muslim groups in Aceh are planning an orphanage for 1000 children, but foreign aid workers have questioned the idea. (The Age, Australia)
Gunfire in Aceh blamed on officer | An Indonesian soldier or police officer is being blamed for gunfire near a top police official's home in Banda Aceh, Indonesia, Sunday. (Big News Network, Australia)
Islamic militants volunteer to aid Muslims in Indonesia | The men, members of Lasker Mujahedeen, a paramilitary group that has fought Christians elsewhere in Indonesia and has had links to Al Qaeda, are among hundreds of Indonesian Islamic militants who have come to Aceh in the name of helping their fellow Muslims, they say, to offer a dose of Islamic teachings to the already devout Acehnese, and to recruit members. (New York Times)
Militants jump into Aceh aid efforts | Their presence and plan to develop long-term influence could complicate efforts to bring peace. (Los Angles Times)
Gunshots rattle Banda Aceh | Gunfire echoed through the main tsunami-hit city on Indonesia's Sumatra island Sunday, underscoring the threat to the scores of foreigners helping victims of the disaster that struck two weeks ago. (Associated Press)
Indonesia cautions aid workers on rebels | Indonesia warned aid workers Sunday that separatist rebels have taken shelter in camps for survivors, while a burst of violence hit Sri Lanka, signaling a potential resurgence of long-simmering rebellions in both tsunami-hit countries that could hamper help for victims of the two-week-old disaster. (Associated Press)
Gunfire echoes through tsunami-hit city | Gunfire echoed through the main tsunami-hit city on Indonesia's Sumatra island today, underscoring the threat to the scores of foreigners helping victims of the disaster that struck two weeks ago. (Ireland Online)
Islamic militants volunteer to aid Muslims in Indonesia | The overt presence of the outside Muslim groups has, however, prompted some of the city's small Christian population to flee (The New York Times)
Militants jump into Aceh aid efforts | Hundreds of Muslim militants, best known for smashing up Jakarta discos or advocating Islamic rule, have poured into devastated Aceh province with the help of the Indonesian military to aid in disaster relief. (Los Angeles Times)
Aid not violence | Troubling reports emerging from Indonesia suggest aid efforts in tsunami devastated Aceh province could be hampered by security concerns. Australian aid workers and troops providing vital assistance to a traumatised population have been given a list of no-go areas by authorities. (Editorial, Melbourne Herald Sun, Australia)
Other religions' aid:
A touch of home | Buddhist temple links Sri Lankan immigrants where once an evangelical congregation sang hymns praising Jesus Christ, now Sri Lankan immigrants light incense and bow their heads before a giant white statue of Buddha. (Pasadena Star-News, Calif.)
Hindu temple raising money for victims of the tsunamis | Indian immigrants help their homeland (Associated Press)
Money for hate | The Saudi Arabian government and individual Saudis have spent billions of dollars spreading Wahhabi extremism and fostering hatred. No expense is spared to vilify Israel or the West. But when it comes to easing the misery of their fellow Muslims, the world-champ hypocrites in Riyadh just ain't interested. (Ralph Peters, New York Post)
Local Hindus reach out to those in tsunami | When news of last month's tsunami reached this house of worship, the Hindus got out their checkbooks, their pledge of seva -- a Hindu term that means to help all those in need -- and their musical instruments to call on their god Swaminarayan to help ease the suffering. (Detroit Free Press)
Interfaith appeal brings tsunami aid | People representing an array of religions, including Buddhism, Christianity, Hinduism, Islam, Judaism and Sikhism, gathered yesterday afternoon at the Unitarian Universalist Church of Lexington and offered prayers and thoughts for the victims of the South Asia tsunami, which has killed more than 150,000. (Herald-Leader, Lexington, Kent.)
Theodicy:
Commentary: Tsunami, God and evil | In these first dramatic days of the New Year, theodicy seems to be the favorite topic in salons and around kitchen tables. (Uwe Siemon-Netto, UPI)
Deadly tsunami resurrects the old question of why | Leaders of various faith traditions have different interpretations of how such human suffering can occur under a benevolent God (Los Angeles Times)
Faith in the face of tragedy | Does the tsunami cause you to question your faith? Religious leaders respond (Daily Pilot, Newport Beach, Ca.)
Divining a reason for devastation | Followers of various faiths differ on natural, supernatural explanations for tsunami (Washington Post)
Does God care? Why should He? | Even if we do believe in God, why on earth should we go on to believe that He cares a fig about us? Any more than the sun does, or the tectonic plates that ground so catastrophically two weeks ago? (Simon Hoggart, The Guardian, UK)
A test of faith | Tsunami survivors face rebuilding of another kind -- their trust in God (Chicago Tribune, via Providence Journal)
Mother Nature Father God? | Some believe recent disasters point to End Times (Courier & Press, Evansville, Ind.)
Flood seen by many as test of faith | Challenging times cause some people to turn to their faith for strength, while others question why disasters such as the flood have to happen at all. (Marietta Times, Ohio)
Where was God? | Tragedy can shake and strengthen faith (Boulder Daily Camera, Col.)
Deadly tsunami resurrects the old question of why | Leaders of various faith traditions have different interpretations of how such human suffering can occur under a benevolent God. (Los Angeles Times)
Tsunami stirs soul-searching | Many see God's hand not in tragic event, but in world's response (Toledo Blade, Ohio)
Where's God when a tsunami hits? | Many Jews, Christians and Muslims would say their deity is in South Asia at the source of healing (Vancouver Sun, Canada)
Perspectives: Is God vengeful? | The huge loss of life and devastation caused by the Asian tsunami has caused many to question their religious beliefs. (Eddie McIlwaine, Belfast Telegraph)
Catastrophology | Our lives are formed by what we choose to believe—even about natural disasters. Jews, Christians and Muslims have got to admit that God cannot be let off the hook for this. (Marc Gellman, Newsweek)
Tsunami: Is it the wrath of God? | "Blessed are those who mourn for they will receive what God has promised." (The Freeman, Philippines)
Disasters are not the will of God | Grief at the extent of the devastation caused by the earthquake and its tsunami, and the desire to come to grips with it in human terms have been overshadowed by comments by Sydney's Anglican dean, Phillip Jensen, who reportedly said that "disasters are part of his warning that judgment is coming". (Fiji Times, Fiji)
Forum: Comfort for tsunami victims, survivors | In the days after the disaster, millions became experts on suboceanic geology. But how many in that same period learned more clearly about life and death? (Frank Kaufmann, Washington Times)
Tsunami has theologians and scholars pondering the nature of evil | The stupendous Asian tsunami has raised anew ancient and frustrating questions about why there's evil in the world. (Knight Ridder)
Explanations for tsunami fail to satisfy | I think I'm going to go over and see my friend the atheist. He's a charming and happy man. He has no book and no answers, but I think he likes an occasional drink. (J.P. Devine, Kennebec Journal, Maine)
Tsunami disaster tests people of many faiths | Every night, Oy Khai Fenald prays for all those lost in the tsunamis, including her niece, who was washed away along with her tourist knick-knack shop on Malaysia's coast. (Sacramento Bee, Calif.)
Humanity beyond religion | But spiritually speaking, this natural disaster obviously shows how human beings are indeed very weak, in the face of the power of nature. Modernity and progress quickly and inevitably disappear. (Muhamad Ali, Jakarta Post, Indonesia)
God, tsunamis & beyond the clash | The Christmas Day tsunami is one of the greatest natural disasters in history. Hundreds of thousands of lives were lost and damaged in a night. We feel an instinctive urge to denounce and punish those responsible for such a catastrophe. Yet we cannot satisfy that urge because there is no one to hold to account. All the deaths and destruction are the result of an underwater earthquake — or what insurance companies call "an act of God." (John O'Sullivan, National Review Online)
Where was God? | The Book of Job provides lessons for people suffering a crisis of faith after last month's tsunami (William Safire, The New York Times)
A 'test' from God | Marcus, a blind man on the Andaman and Nicobar islands, survived the tsunami by following the voice of a priest. For Christians from Kimuse, a village on the island hit hardest by last month's tsunami, the story about how the priest and the blind man escaped death is the one that best helps them ward off gloom. (Associated Press)
Divining a reason for devastation | Followers of various faiths differ on natural, supernatural explanations for tsunami (The Washington Post)
Seeing God's mystery in the tsunami's wake | Humility is required to accept that man simply lacks the capacity to fully grasp God's purpose. But faith helps provide the comfort and maturity to foster acceptance. (Raymond J. Keating, Newsday)
Why does God allow such suffering? | Tsunami has theologians and scholars pondering nature of evil (Bill Tammeus, Charlotte Observer)
Jihadists and the big lie | As soon as the news of the killer tsunami aired, and the estimated fatalities started to escalate, most of the world reacted with sorrow and kindness.The reaction of jihadists and the clerics of radical Islam was something else altogether, but not unpredictable. (Walid Phares, Washington Times)
Allah off the Richter scale | The killer wave that swallowed tens of thousands of Muslims was an act of Allah designed to punish the Christians. So went the convoluted logic of some Muslim imams in recent sermons from Saudi Arabia to the Palestinian territories. (Arnaud de Borchgrave, Washington Times)
People in the region:
In Sri Lankan capital, fear and hardship reign | Residents struggle for return to normalcy (The Kansas City Star)
Island tribe shows courage in face of tragedy | Bodies are still hanging from trees and floating in water in wiped-out villages in Car Nicobar island, but the horrors of the tsunami have not shaken the Nicobarese tribe. (Ireland Online)
Survivours remember dead relatives in Valainkani | Fighting back tears, tsunami survivors in this Christian pilgrimage centre staged a silent procession on Saturday to mourn over 1,500 relatives and friends who died in the disaster. (Sify, India)
People:
Nokesville missionary heads to Sri Lanka | Many 21-year-olds dream of visiting faraway places and exotic cultures. Bethany Nissley spent her birthday, Jan. 2, planning a mission trip to Sri Lanka to help orphans whose parents were killed during the Dec. 26 tsunami. (Gainesville Times, Va.)
Group changes Indonesia outreach plans | The devastation of the recent tsunami brings to life links between Indonesia and Holland that few may know, according to a Holland pastor preparing to depart for Indonesia. (Grand Rapids Press, Mich.)
Local teacher awaits word on Sri Lankan relatives | Like many of those overseas who are searching for relatives more than a week after a tsunami killed 140,000 people in coastal countries along the Indian Ocean, Fernando is trying to find out what has happened to many of his other relatives. (Portsmouth Herald, N.H.)
Montco resident speaks of escape from tsunami | Pushpa Vij, of Plymouth Meeting, had chosen the day the tsunami disaster struck to see for the first time the "natural beauty" of southern India. (Pottstown Mercury, Penn.)
FHU teachers head to Sri Lanka | Mark Hooper and Jake and Melanie Morris will all be in southern Asia helping with the tsunami relief efforts. The three FHU faculty members left this morning headed to Sri Lanka. (Jackson Sun, Tenn.)
Tsunami relief workers prepare for departure | On a recent evening at the Crossroads Community Church in Wasilla, hunting guide Mark Sebens emerged from a pile of cardboard boxes, plastic containers and backpacks holding two plastic buckets, and said he was ready to go to Sri Lanka. (Frontiersman, Ark.)
Baylor students launch "Bear The Burden" campaign for tsunami victims | Baylor University's Student Government has launched an effort called "Bear the Burden" to raise $50,000 for tsunami relief efforts by Feb. 7. (KWTX, Texas)
Tsunami renews mission | Just returned from India, nurse plans to go again to help poor (Modesto Bee, Calif.)
Prayer & memorial:
The universal language of grief | Members of the Dallas/Fort Worth Hindu Temple held a deepa puja Sunday morning. The "prayer of light," honoring victims of southern Asia's earthquake and tsunamis, felt something like a candlelight vigil in any church or synagogue. But the Hindu religious response to massive human tragedy is essentially different. (Dallas Morning News, via Centre Daily Times, State College, Penn.)
Germany holds services for tsunami victims | German leaders, including President Horst Koehler and Chancellor Gerhard Schroeder, joined the heads of the country's leading churches in ecumenical mourning services in Berlin on Sunday to pay tribute to the victims of the tsunami disaster in Asia. (Expatica, Netherlands)
Interfaith Service: Honoring the victims | 125 gather to pay respects to tsunami dead (Tucson Citizen, Ariz.)
5,000 Singaporeans attend tsunami memorial service | A minute's silence was observed after representatives from the five countries delivered short speeches and local religious leaders from nine different faiths including Buddhism, Islam and Christianity offered prayers for the victims of the disaster. (AFP)
Arroyo leads interfaith prayers for tsunami victims | They came from all faiths-Buddhists, Muslims, Roman Catholics and other Christians-and they all came with flowers and prayers. (Philippine Daily Inquirer, Philippines)
RP observes day of prayer for tsunami victims | The country marked a national day of prayer and mourning for victims of the killer tsunamis in Asia and Africa Friday, which started with a pray over session for President Arroyo. (Sun Star, Philippines)
Faiths gather to offer prayers and comfort | Representatives of Victoria's diverse religious communities came together yesterday in a multi-faith vigil at Federation Square to help make sense of the tsunami disaster. (The Age, Melbourne, Australia)
Interfaith service to show support for tsunami victims | Leaders of Quad-City faith communities are making plans for Tsunami Compassion Quad-Cities, an interfaith service to honor the thousands of people affected by the tsunami and earthquake disasters in the Indian Ocean. (Quad City Times, Iowa)
Our complete tsunami coverage is available on our website.
Weblog
Launched in 1999, Christianity Today's Weblog was not just one of the first religion-oriented weblogs, but one of the first published by a media organization. (Hence its rather bland title.) Mostly compiled by then-online editor Ted Olsen, Weblog rounded up religion news and opinion pieces from publications around the world. As Christianity Today's website grew, it launched other blogs. Olsen took on management responsibilities, and the Weblog feature as such was mothballed. But CT's efforts to round up important news and opinion from around the web continues, especially on our Gleanings feature.
Ted Olsen is Christianity Today's executive editor. He wrote the magazine's Weblog—a collection of news and opinion articles from mainstream news sources around the world—from 1999 to 2006. In 2004, the magazine launched Weblog in Print, which looks for unexpected connections and trends in articles appearing in the mainstream press. The column was later renamed "Tidings" and ran until 2007.
Previous Weblog Columns: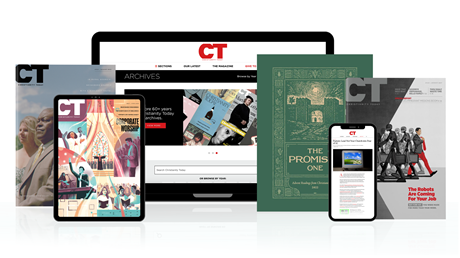 Annual & Monthly subscriptions available.
Print & Digital Issues of CT magazine
Complete access to every article on ChristianityToday.com
Unlimited access to 65+ years of CT's online archives
Member-only special issues
Subscribe
Tsunami Weblog: Combining the Gospel with Aid
Tsunami Weblog: Combining the Gospel with Aid