The sad story of a girl and grace moves Japan. On a brisk fall day in 1977, a 13-year-old Japanese girl named Megumi Yokota vanished on her way home from badminton practice after school. Police dogs tracked her scent to a nearby beach, but the distraught Yokotas had no clues that might explain their daughter's sudden disappearance. Grief-stricken, Mrs. Yokota found solace in the Christian faith of one of Megumi's classmates, and under the guidance of a team missionary, she converted to Christ. Her husband, angry with God, turned in the other direction.
Sixteen years later, long after the Yokotas had resigned themselves to Megumi's death, a North Korean defector made a stunning claim: A Japanese woman named Megumi, who played badminton, was living in North Korea at a training institute for intelligence agents. He said that scores, maybe hundreds, of Japanese had been kidnapped to teach spies their language and culture. He provided heartrending details of Megumi's abduction: Agents had seized her, wrapped her in a straw mat, and rowed her to a waiting spy ship, where she had spent the night scratching against the hold with bloody fingers, crying, "Mother!"
North Korea dismissed all such reports as fabrications. Other defectors soon validated these stories, however, which were reported by the BBC and U.S. television, and made sensational news in Japan. Finally, Kim Jong-Il himself, the "Dear Leader" of North Korea, admitted to the abductions of 13 Japanese citizens. Five returned to Japan, but North Korea insisted that the other eight had died, including Megumi, who in 1993 had used a kimono to hang herself.
Information supplied by North Korea proved untrustworthy, however. dna tests revealed that bone fragments supposedly from the dead abductees were bogus. When the five repatriated abductees verified they had seen Megumi in late 1993, the North Koreans simply revised the date of her suicide to 1994. Her medical records referred to a hospital room that did not exist. Meanwhile, all over Japan, prayer groups sprang up to support the Yokotas. Mrs. Yokota traveled across the globe in her quest for justice, becoming one of the most familiar faces on Japanese media.
On a recent trip to Asia, I was asked to speak to the combined prayer groups in Tokyo. A week before the scheduled meeting, a new development arose: North Korea invited a Japanese delegation to several days of talks in an attempt to resolve the abductee issue, which has caused a severe diplomatic strain. There, North Koreans presented an urn purported to contain Megumi's ashes, along with three photos of Megumi and some notes in her handwriting. (dna tests later proved the remains were not Megumi's.)
The most poignant photo, taken just after her capture, shows her at age 13 still in her Japanese schoolgirl's uniform, looking unbearably forlorn. "We couldn't help crying when we saw the picture," her mother told reporters. The two others show her as an adult, reasonably well dressed and appearing healthy. According to reports, she married a North Korean and gave birth to a daughter. Defectors say she tutored Kim Jong-Il in Japanese.
I agonized over what I might say to bring comfort to the prayer groups after such a traumatic week. I made a list of characters who had served God in foreign lands: Abram departing for a new homeland that included Sodom and Gomorrah; Joshua leading his people into an enemy-occupied Promised Land; Naomi raising her sons in the alien land of Moab; a Jewish slave girl attending to the Syrian general Naaman; Daniel and other prophets serving enemy administrations in Babylon (Iraq) and then Persia (Iran); Esther risking her life to preserve her compatriots in Persia; and Paul taking the gospel in chains to Rome—forerunner of a host of missionaries who would encounter resistance from foreign cultures, including many early martyrs in Japan itself.
Joseph provided the most direct parallel: a young man abducted and presumed dead, who rose against all odds to serve a foreign dictator. Joseph's terse summary to his brothers offers the Yokotas a strong word of hope: "You meant evil against me, but God meant it for good."
The Tokyo meeting proved how Joseph's principle of providence might apply. Instead of the expected 150 people, almost 1,000 Japanese turned out, along with all three television networks. Before them, Mrs. Yokota gave a stirring testimony of hope and redemption. Christians represent less than 1 percent of the population in Japan, but on the evening news that week, nearly every broadcast led with a segment on this mild-mannered housewife pleading for justice with the demeanor and spirit of God's grace.
One more detail deserves mention: Megumi is the Japanese word for grace.
Related Elsewhere:
News elsewhere about Megumi Yokota includes:
N Korea criticizes magazine report saying Yokota still alive | North Korea on Monday criticized reports in a Japanese magazine saying that British intelligence has obtained pictures suggesting that Megumi Yokota, a Japanese abducted by North Korean agents, is still alive despite Pyongyang's denial of her survival. (Japan Today, June 13, 2005)
Article continues below
Disputed Bones: Japan-North Korea Clash | Gavan McCormack updates the ongoing controversy over abductees and return of their remains (Ohmy News, South Korea, June 13, 2005)
About a kidnap victim, DNA testing and doubt | More than anything else, it is the government and media's intense focus on the story of the Japanese kidnapped by North Korea in the 1970s, and returned here a couple of years ago, that has stirred Japanese anger and nationalistic feelings. (International Herald Tribune, France, June 1, 2005)
New York Times readers learn of Megumi's plight | Japanese activists placed a full-page ad Monday in The New York Times demanding that North Korea disclose all information regarding the abduction of Japanese nationals and unconditionally send all abductees and their families to Japan. (Japan Times, December 25, 2002)
Previous Yancey columns for Christianity Today include:
A Bow and a Kiss | Authentic worship reveals both the friendship and fear of God. (April 28, 2005)
Global Suspense | The trick of faith is to believe in advance what will only make sense in reverse. (March 01, 2005)
Back from the Brothel | Thanks to brave ministries, prostitutes are still entering the kingdom. (Jan. 05, 2005)
Hope for Abraham's Sons | What will it take for us to overcome this violent world? (Oct. 27, 2004)
Forgetting God | Why decadence drives out discipline. (Aug. 30, 2004)
Discreet and Dynamic | Why, with no apparent resources, Chinese churches thrive. (June 28, 2004)
Doubting the Doomsayers | Thank God not everything they say is true. (April 30, 2004)
Cry, The Beloved Continent | Don't let AIDS steal African children's future. (March 04, 2004)
The Colonizers | The best preachers have challenged earth to become more like heaven. (Jan. 16, 2004)
The Leprosy Doctor | Paul Brand showed how to serve others sacrificially and emerge with joy. (Oct. 23, 2003)
Going It Alone | We should take heed when much of the world says it distrusts us. (July 2, 2003)
God of the Maggies | In broken sinners, Jesus saw not their past but their future. (April 25, 2003)
Perestroika of the Spirit | In Russia, the vocabulary of faith needs interpreters. (March 5, 2003)
Jesus' Sword | Longing for peace in tumultuous times. (Jan. 7, 2002)
Guilt Good and Bad | The early warning signs. (Nov. 11, 2002)
God's Funeral | What will keep faith from nearly disappearing in America? (Sept. 3, 2002)
Sheepish | Feeling autonomous and proud? Then ponder the lives of sheep. (July 2, 2002)
Yancey's Where is God When it Hurts, Special Edition, Soul Survivor: How My Faith Survived the Church, and his latest book, Rumors of Another World, are available on Christianbook.com.
Have something to add about this? See something we missed? Share your feedback here.
Philip Yancey
Philip Yancey is editor at large of Christianity Today and cochair of the editorial board for Books and Culture. Yancey's most recent book is What Good Is God?: In Search of a Faith That Matters. His other books include Prayer (2006), Rumors of Another World (2003), Reaching for the Invisible God (2000), The Bible Jesus Read (1999), What's So Amazing About Grace? (1998), The Jesus I Never Knew (1995), Where is God When It Hurts (1990), and many others. His Christianity Today column ran from 1985 to 2009.
Previous Philip Yancey Columns:
Our digital archives are a work in progress. Let us know if corrections need to be made.
This article is from the July 2005 issue.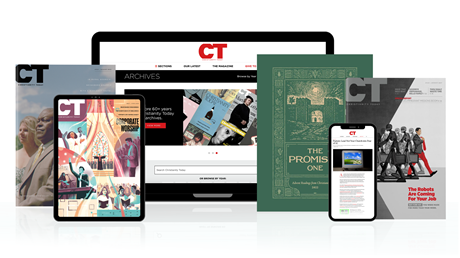 Subscribe to Christianity Today and get access to this article plus 65+ years of archives.
Home delivery of CT magazine
Complete access to articles on ChristianityToday.com
Over 120 years of magazine archives plus full access to all of CT's online archives
Subscribe Now
The Japanese Joseph
The Japanese Joseph