George W. Bush is not Lord. The Declaration of Independence is not an infallible guide to Christian faith and practice. Nor is the U.S. Constitution, nor the U.N. Universal Declaration on Human Rights. "Original intent" of America's founders is not the hermeneutical key that will guarantee national righteousness. The American flag is not the Cross. The Pledge of Allegiance is not the Creed. "God Bless America" is not the Doxology.
Sometimes one needs to state the obvious—especially at times when it's less and less obvious.
Say What?
Understandably, megachurch pastor Rod Parsley (World Harvest Church in Columbus, Ohio) has had enough of America's moral confusion. But in his newly published Silent No More: Bringing Moral Clarity to America … While Freedom Still Rings (Charisma House, 2005), he writes (not so understandably), "I can be silent no more. Not until the land of our fathers' dream arises. Not until we become the truly kind and noble society we were fashioned to be. Not until the commitment of our fathers truly does become the calling of our times."
And here we thought the Ten Commandments and Sermon on the Mount held the key to a "truly kind and noble society."
Ted Haggard, president of the National Association of Evangelicals, spoke recently about the serious problem of judges legislating from the bench. He also said: "We want to return to a nation governed by law, rather than a nation governed by judges. This is a major issue to us. We know for evangelical Christians to function, we need the rule of law."
The remark implies unintentionally that the church needs humble judges who submit to "original intent" if it is to function. Tell that to the church in Africa and Latin America, where corrupt judges and wild dictators reign, and where church growth approaches the miraculous.
Family Research Council (FRC) Action is a lobbying arm of FRC, and as such it is not explicitly religious in its public presentation. But it is known far and wide as an outpost of the Christian Right. So it can only reap confusion when it posts this endorsement from former U.S. Senator Bob Smith of New Hampshire: "Just beneath our superficial prosperity is a moral and cultural center that is in serious disrepair. We have the tools to fix it: the Declaration of Independence, the Constitution … and a people whose hearts, courage, and dedication have never been questioned."
As important as the Declaration and Constitution are to the political health of our nation, surely nobody at FRC Action believes that these documents are the key to fixing the "serious disrepair" at our nation's "moral center."
And for some time now, we've been hearing from David Barton, Peter Marshall, and James Kennedy, among others, about "renewing the vision of our founding fathers, as expressed in America's founding documents," and the need "to defend and implement the biblical principles on which our country was founded."
The not-so-subtle equation of America's founding with biblical Christianity has been shown time and again to be historically inaccurate. The founding was a unique combination of biblical teaching and Enlightenment rationalism, and most of the founding fathers, as historian Edwin Gaustad, among many others, has noted, were not orthodox Christians, but instead were primarily products of the Enlightenment. The Enlightenment, we should recall, has never been much of a friend of biblical Christianity.
Political Priorities
In the heat of partisan politics (out of which many of these overstatements and misunderstandings arise), we are tempted to forget that the most potent political act—the one act that deeply manifests and really empowers a "kind and noble society"—is the worship of Jesus Christ.
In worship we signal who is the Sovereign, not of just this nation, but of heaven and Earth. In worship we gather to be formed into an alternate polis, the people of God. It is here that we proclaim that a new political order—the kingdom of heaven—has been preached and incarnated by the King of Kings, and will someday come in fullness, a fullness to which all kingdoms and republics will submit:
"I saw the Holy City, the new Jerusalem, coming down out of heaven from God. … The city does not need the sun or moon to shine on it, for the glory of God gives it light, and the Lamb is its lamp. The nations will walk by its light, and the kings of the Earth will bring their splendor into it" (Rev. 21:2, 23-24).
Nearly a quarter of a century ago, just as the Religious Right was blossoming, Richard John Neuhaus put it this way: "Jesus Christ is Lord. That is the first and final assertion Christians make about all of reality, including politics. Believers now assert by faith what one day will be manifest to the sight of all: Every earthly sovereignty is subordinate to the sovereignty of Jesus Christ. The church is the bearer of that claim."
Theologian Stanley Hauerwas, no political ally of Neuhaus, extended the point in a recent interview: "Christians' first political responsibility is to be the church, and by being the church they should understand that their first political loyalty is to God, and the God we worship as Christians, in a manner that understands that we are not first and foremost about making democracy work, but about the truthful worship of the true God."
Let us be clear: The Christian citizen of every nation has a moral obligation to engage at some level in that nation's political life. We do not recommend withdrawal from the political arena. We admire especially those whose calling falls in this area—mayors, councilmen, senators, representatives, presidents. Theirs is as noble a calling as that of a plumber or pastor.
But Christians who enter that calling, and those who pray for and work with them, must not forget one thing: where hope for this nation, and the world, really lies, and where that hope is most manifest Sunday by Sunday.
Related Elsewhere:
Rod Parsley's Breakthrough ministry has more about the Ohio preacher.
CT quoted Ted Haggard saying, "We want to return to a nation governed by law, rather than a nation governed by judges."
FRC's endorsement from Senator Bob Smith of New Hampshire is available on their website.
Richard John Neuhaus's discussion on Christianity and Democracy is available from Leadership U, part of Campus Crusade for Christ.
Stanley Hauerwas was quoted in an interview with Homiletics Online, saying, "Christians' first political responsibility is to be the church."
More on Politics & Law is available on our website.
Have something to add about this? See something we missed? Share your feedback here.
Our digital archives are a work in progress. Let us know if corrections need to be made.
This article is from the July 2005 issue.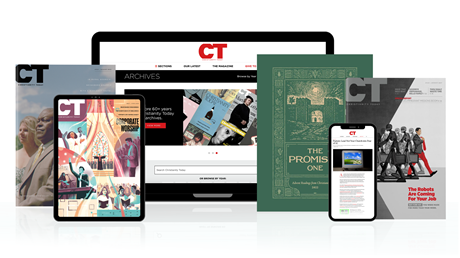 Subscribe to Christianity Today and get access to this article plus 65+ years of archives.
Home delivery of CT magazine
Complete access to articles on ChristianityToday.com
Over 120 years of magazine archives plus full access to all of CT's online archives
Subscribe Now
Worship as Higher Politics
Worship as Higher Politics