Attempts to explain anti-Western feelings among Muslims have centered on weaknesses in Islamic societies and opposition to U.S. foreign policy. Church historian Meic Pearse bucks the trend by focusing on cultural differences—and along the way makes some prickly points about Western ways.
In Why the Rest Hates the West, Pearse builds on the thesis of Samuel P. Huntington (The Clash of Civilizations and the Remaking of World Orders, Simon & Schuster, 1997) that cultural factors increasingly dominate world conflicts. Pearse more directly asserts that culture, not religion or foreign policy, causes most of the conflicts between the West and the rest.
He asserts that culture includes religion, but it's much more. While Huntington compares civilizations especially in the last 100 years, Pearse focuses on Western developments since the Reformation. And unlike Roger Scruton in The West and the Rest: Globalization and the Terrorist Threat (Intercollegiate Studies Institute, 2002), Pearse does more than contrast the West's secular governments and Islam's divinely ordained political order. His portrayal of Western culture, however, bears some similarity to Scruton's description of non-Western caricatures of it.
Pearse argues that Western culture has changed so much since the Enlightenment that Western "common sense" is no longer self-evident to other cultures. Islamic cultures believe the West is "barbaric," showing lack of respect for the past, religion, family, and honor, while overindulging in sports, entertainment, and sex.
The result has been social atomization, dehumanization, and harm to the family and community. These ills have led not only to conflict with traditional cultures, but also to the West's moral and demographic decline. Pearse calls for a reform of belief and behavior in the West so that it increasingly resembles "the rest." He says this renewed moral vision should be based not on a culture of rights but of duty. Religious faith and life, he argues, must be brought back into the public square.
The author traces well the development of Western "common sense"—and shows how tempting and dangerous this common sense seems to the rest. We may laud him as a Western Christian paying attention to the log in Western eyes before dealing with the speck in the eyes of the rest. But his thesis that the primary cause of Western/Islamic conflict "is neither religion, nor foreign policy, but culture" sidesteps the central importance of U.S. foreign policy and of Islam itself.
He admits that one can persuasively argue that U.S. foreign policy has created anti-Westernism (among Muslims, at least). But he shies away from criticizing these policies because "it is hard to see how Western governments could accommodate these grievances." Moreover, conflicts over specific Western policies are often "merely symptomatic" of cultural differences.
I have recently been served a tv diet of American professional wrestling and the exhibitionism of former basketball player Dennis Rodman in a Pakistani airport and in an Arab-operated airplane, so I appreciate the author's critique. But we should not overemphasize cultural issues. A Pew survey in June 2003 that reported growing Islamic rage at the United States also found that Muslims are attracted to democratic freedoms. A poll of 50 countries found that people even in monarchies (like Jordan and Kuwait) and more authoritarian states (like Uzbekistan and Pakistan) desire freedom of expression and of the press, multiparty systems, and equal treatment under the law.
When Muslims explain their anger, they tend to focus on Western and especially U.S. foreign policy. In a videotape aired on October 29, Osama bin Laden appealed to Americans to reconsider their policy toward Muslims. He said the idea of attacking buildings in the United States came to him when he was watching Israeli aircraft bombing tower blocks in Lebanon in 1982.
"It occurred to me," he said, "to punish the unjust the same way—to destroy towers in America." Yousef Qardawi, an influential cleric based in Qatar, disavows terrorism but denounces the United States for supporting Israel's occupation of Palestine, and now for occupying Iraq. People like Qardawi interpret these policies as a war against Islam. Likewise, a Pentagon advisory panel reported last November that "Muslims do not 'hate our freedoms' but rather they hate our policies."
We cannot explain the roots of the rage without turning from the log in our eyes to the speck in our neighbors'. Muslims seem to have a greater problem adjusting to pluralism than do other world religions (they traditionally believe Islam is not just part of a culture but embraces all of life). The Muslim concept of a universal divine law, which renders non-Muslims second class, even when protected, makes it difficult for Muslims to adapt to other political systems. And although the Qur'an encourages forgiveness, it does not require it.
Thus Islam itself contributes to the rage against the onslaught of Western culture. These factors too—foreign policy and Islam—must be added to Pearse's insightful analysis to understand more fully why the rest hates the West.
J. Dudley Woodberry is professor of Islamic studies at Fuller Theological Seminary.
Related Elsewhere:
Stan Guthrie recently reviewed two books on the crusades. Unholy Wars | Two books document the dangers of mixing church and state. (Jan. 27, 2005)
Why the Rest Hates the West is available from Christianbook.com and other book retailers.
More information, including an excerpt and author interview, is available from the publisher.
More Christianity Today articles on Islam include:
'There Can Be No End to Jihad' | Islamist Sheikh Omar Bakri Muhammad, in an exclusive interview, discusses the rationale for 9/11, the Christians he most respects, and the Jesus he defends. (Feb. 01, 2005)
In Perspective: What's the Difference Between Shi'ah and Sunni? | With a history of persecution and belief in martyrdom, the Shi'ite Muslim majority in Iraq may be more receptive to Christianity. (April 30, 2003)
Doors into Islam | September 11 has only intensified the dangers and rewards of Muslim evangelism. (Aug. 19, 2002)
Outpaced by Islam? | The Muslim challenge is growing faster than our Christian outreach. (Feb. 4, 2002)
Is the God of Muhammad the Father of Jesus? | The answer to this question reveals the heart of our faith. (Feb. 1, 2002)
Is Islam a Religion of Peace? | The controversy reveals a struggle for the soul of Islam. (Dec. 28, 2000)
A Many Splintered Thing | Though Muslims shared allegiance to Muhammad and to the Qur'an, Islam faced division as soon as the prophet died. (Dec. 28, 2000)
In 2000, Christianity Today focused on Muslim-Christian relations in a series by Wendy Murray Zoba. Articles included:
Islam, U.S.A. | Are Christians prepared for Muslims in the mainstream?
Islamic Fundamentals | Christians have a responsibility to understand our Muslim neighbors and their beliefs.
How Muslims See Christianity | Many Muslims don't understand Christianity—especially the idea of salvation by grace through faith.
Our sister publication, Christian History & Biography, dedicated an issue to Islam.
Have something to add about this? See something we missed? Share your feedback here.
Our digital archives are a work in progress. Let us know if corrections need to be made.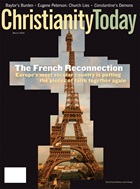 This article is from the March 2005 issue.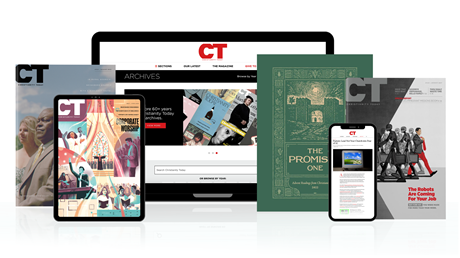 Subscribe to Christianity Today and get access to this article plus 65+ years of archives.
Home delivery of CT magazine
Complete access to articles on ChristianityToday.com
Over 120 years of magazine archives plus full access to all of CT's online archives
Subscribe Now
Islam's Culture War
Islam's Culture War