Judge: 'Under God' unconstitutional:
The full text of the order: The Rev. Dr. Michael A. Newdow v. The Congress of the United States of America (US District Court, Eastern District of California, PDF)
Judge revives battle over pledge | Religious conservatives denounce the ruling that 'under God' in the Pledge of Allegiance means that it is unconstitutional (Los Angeles Times)
Judge rules reciting pledge in schools is unconstitutional | The judge said that the decision would "satisfy no one involved" in the debate over "the role of religion in the civil life of this nation," but that he was bound by a ruling in 2002 by the United States Court of Appeals for the Ninth Circuit (The New York Times)
Judge rules Pledge of Allegiance in Calif. schools unconstitutional | Says he'll issue an injunction to three California school districts to halt the daily reciting of the pledge (The Washington Post)
Judge: School pledge is unconstitutional | An atheist seeking to strike the words "under God" from the Pledge of Allegiance in public schools has won a major battle in his quest to force the U.S. Supreme Court to take up the issue again (Associated Press)
Court says flag pledge violates Constitution | A California atheist who last year lost a Supreme Court fight to remove the phrase "under God" from the Pledge of Allegiance won an initial round on Wednesday to revive his cause in the courts (Reuters)
Judge strikes 'God' from pledge | Plaintiff Michael Newdow works in El Paso (El Paso Times, Tex.)
Response from religious groups:
Pledge decision highlights importance of Roberts nomination (Tony Perkins, Family Research Council)
FRC blasts Pledge of Allegiance decision (Family Research Council)
Pledge ruled unconstitutional—again (Family News in Focus, Focus on the Family)
Focus Action decries pledge ruling (Focus on the Family Action)
CWA says pledge rulings prove need for Judge Roberts (Concerned Women for America)
Is the Pledge of Allegiance unconstitutional? | Christians must not defend the presence of the word "under God" in the Pledge as a direct reference to the God of Abraham, Isaac, and Jacob--the Triune God whom Christians worship as Father, Son, and Holy Spirit. At best, the presence of this language in the Pledge and similar expressions on the nation's currency represent an acknowledgement of a power higher than the State itself and the nation's dependency upon that power for its safety and well being (Al Mohler)
Becket Fund vows immediate appeal to preserve the pledge (The Becket Fund for Religious Liberty)
San Francisco federal court strikes down Pledge of Allegiance (Alliance Defense Fund)
John Roberts hearings:
Roberts's testimony alarms conservatives | Some contend he could be moderate (The Boston Globe)
Roberts parries queries on Roe and end of life | Judge John G. Roberts Jr. repeatedly refused to address some of the most ideologically charged matters on the third day of his confirmation hearings (The New York Times)
The JFK question | Sens. Specter and Feinstein impose an unconstitutional religious test (Manuel Miranda, The Wall Street Journal)
Judge Roberts speaks | The cumulative impression is of a cautious, incremental conservative, unlikely to unmask himself as a liberal once on the bench but unlikely as well to try to impose his own political agenda (Editorial, The Washington Post)
A conservative, yes, but not a Scalia | Roberts said that is not always possible to view the original intent of the framers (Charles Lane, The Washington Post)
Roberts throws a curve | In nominating Roberts, and off his diligent performance in the confirmation process, Bush has ended up disquieting his conservative supporters more than antagonizing progressives (Thomas Oliphant, The Boston Globe)
Church & state:
Federal court okays Washington city's commandments display | Judge says monument outside Everett police station 'poses no threat' to residents' religious freedoms (Associated Press)
Religious tapestry ordered removed from Oglethorpe courthouse | Oglethorpe County Commission Chairman Robert Johnson begrudgingly directed an employee to take down a display of the 23rd Psalm from the Oglethorpe County Courthouse Monday. Johnson said he feared an expensive legal challenge (Athens Banner-Herald, Ga.)
Air Force urges promotion for general | The head of the Air Force has written the Senate Armed Services Committee urging the promotion of Brig. Gen. Johnny Weida, who was accused of mixing religion with his official duties as the No. 3 commander at the Air Force Academy (Associated Press)
Alabama defuses issue the write way | Maybe at long last we can put an end to the pointless wrangling over whether or not children can pray in school (James L. Evans, The Atlanta Journal-Constitution)
Ramah mayor, council apologize to pagans | Town tried to stop Halloween festival at Amer. Legion hall (Rocky Mountain News)
Jews, Muslims vow to fight for tribunals | Jews and Muslims in Ontario pledged Wednesday to fight for faith-based tribunals to settle family disputes after its premier stunned their communities by announcing he would ban all religious arbitration in Canada's largest province (Associated Press)
Church & coaching:
ACLU: McKay fuses coaching, religion | The leader of the state American Civil Liberties Union is renewing concerns that University of New Mexico men's basketball coach Ritchie McKay is inappropriately mixing religion and coaching (Albuquerque Tribune, N.M.)
Giddens recruitment upsets ACLU | Group says New Mexico coach inappropriately mixing religion, coaching (Lawrence Journal-World, Kan.)
Dover schools evolution/ID trial:
TV show keeps spotlight on Dover | With Dover's First Amendment trial less than two weeks away over the school board's decision to include intelligent design in its biology curriculum, the district now sits at Ground Zero of the evolution wars (York Daily Record, Pa.)
Dover leads fake report on evolution | 'The Daily Show' looks at intelligent design in four-part 'Evolution Schmevolution' (York Daily Record, Pa.)
Also: Recent videos (The Daily Show)
Lawsuit over intelligent design moves forward | Federal judge denies motion to throw out Dover case; trial set to begin Sept. 26. (York Daily Record, Pa.)
Religion & politics (U.S.):
Hate crimes expansion added to bill | With the help of 30 Republicans, House Democrats on Wednesday pushed through a measure that would add sexual orientation, gender and disability to protections covered by federal hate crime law (Associated Press)
Spiritual reckoning? | Just quoting the Bible or ending press conferences with "amen" won't sway traditionalists and may even turn off others (Gary J. Andres, The Washington Times)
Michigan governor signs bills restricting video games | New laws make it illegal to sell, rent sexually explicit games to kids 17 and younger (Associated Press)
Judge declares Mich. abortion law illegal | A federal judge has declared unconstitutional a Michigan law that supporters said would ban a late-term abortion procedure (Associated Press)
Religion & politics (non-U.S.):
For Beijing, fear grows as spirituality blooms | Why must Beijing continue to treat religion as something suitable for strict control, even quarantine, like some deadly infectious disease? (International Herald Tribune)
AP interview: Sudan warns on hunger crisis | Sudan's foreign minister said Wednesday that the West is ignoring a new hunger crisis in eastern Sudan, complaining that he expected no action until it becomes a full-blown conflict with people dying and refugees fleeing (Associated Press)
Haiti priest barred from election | The party of ousted Haitian President Jean-Bertrand Aristide has been barred from registering a jailed Catholic priest as its presidential candidate (BBC)
Church urges probe of '04 polls | A day after the Philippine Catholic Church hierarchy declared that the search for truth must go on, its polling watchdog yesterday urged the Commission on Elections (Comelec) to investigate allegations that President Gloria Macapagal-Arroyo stole last year's presidential balloting (The Philippine Inquirer)
Cult politics: a glimpse inside Exclusive Brethren | As New Zealand's election draws closer, an extreme religious group has been grabbing the headlines. Exclusive Brethren has produced glossy leaflets attacking the Greens and Labor across the Tasman (The World Today, Radio Australia)
Mass. legislature rejects same-sex marriage ban:
After vote, both sides in debate energized | Many of the Legislature's most ardent opponents of gay marriage abandoned the compromise measure, preferring another proposed amendment that seeks an outright ban on same-sex marriage (The Boston Globe)
Opponents eye ballot question for 2008 | Conservative opponents are setting their sights on a 2008 ballot initiative to ban same-sex marriage (The Boston Globe)
Massachusetts rejects bill to eliminate gay marriage | The vote by the legislature partly reflected the fact that some legislators now consider same-sex marriage more politically acceptable (The New York Times)
Massachusetts lawmakers reject bid to stop same-sex marriages | Constitutional amendment is defeated in 157 to 39 Vote (The Washington Post)
Gay 'marriage' amendment rejected | Massachusetts lawmakers yesterday rejected a marriage constitutional amendment, guaranteeing that same-sex "marriage" will continue in that state for at least three more years (The Washington Times)
Mass. lawmakers reject gay marriage ban | Both sides along the gay marriage divide have vowed to continue their fight a day after the state Legislature soundly defeated a proposed constitutional amendment seeking to ban same-sex marriage (Associated Press)
Massachusetts legislature defeats gay marriage ban | The Massachusetts state legislature easily defeated a proposed constitutional amendment to ban gay marriage and create civil unions on Wednesday, just over a year after it became the first U.S. state to allow same-sex marriages (Reuters)
Quotes of note from the Legislature's constitutional convention (Associated Press)
Same-sex marriage:
Couples encouraged to use civil partnerships law | Gay couples were yesterday encouraged to use the new civil partnerships law, but also warned that it brings responsibilities too (The Guardian, London)
Lesbian in custody battle rejects Virginia's role | Attorneys for a woman who is seeking visitation rights from her former partner argued yesterday that Virginia had no right to interfere in a custody dispute between two women who had been joined by Vermont's civil union law (Associated Press)
Religion & homosexuality:
Gay issues split American Baptist Church | Congregations in the Southland and West Virginia prepare to leave the relatively liberal national denomination (Los Angeles Times)
Earlier: Defeated in votes, American Baptist conservatives organize | Rebuffed at national meetings of American Baptists that declined to adopt tough stances against homosexuality, some conservative leaders will meet this month near Chicago to expand an alternate missionary organization (The Christian Century, Sep. 20 issue)
Anglican church is not splitting - Nigerian archbishop | Nigeria's Anglican archbishop said on Wednesday that a meeting next month of traditionalist Anglicans from developing nations opposed to the advancement of gay rights in Western churches was not meant to create a schism (Reuters)
Church faces split over gays | Pressure groups within the Uniting Church have begun campaigning to have the ordination of homosexuals banned when the triennial national assembly meets next June (The Australian)
Church life:
Report: More kids being home-churched | Bible Belt parents are removing their children from Sunday school in favor of family-based worship (The Onion, satire)
Sunday is sacred, unless for you it isn't | Protecting Sunday from consumerism isn't a fair objection to this auction request. Protecting a nearby church service from noisy intrusion is (Editorial, The Daily Dispatch, Henderson, N.C.)
Traditional religions revive, Christian missionaries flock to formerly communist Mongolia | Mongolia is flush with foreign missionaries these days -- young Mormons going door-to-door, Korean Christians working with homeless children, new Catholic churches sprouting up on the grassy steppe (Associated Press)
Churches feel land squeeze | Getting priced out of Valley's fringes (The Arizona Republic)
Katrina relief:
Places of worship reaching out to hurricane victims | Religious institutions report influx of giving (The Washington Post)
'Religion has really been the first responder' | Creative disaster relief partnerships emerge among denominations, faiths (The Clarion-Ledger, Jackson, Miss.)
Pitching in and reaching out | For 130-year-old church, giving comes naturally (The Washington Post)
Joshua Group Ministries taking relief task into its own hands | Silver Spring church sending aid directly to Katrina victims (The Washington Post)
Congregations help families start over | Long a primary source of help for African Americans, black churches from Los Angeles to the District have mobilized their congregations to raise tens of millions of dollars and to provide food, water, clothing and sundries (The Washington Post)
Church's bounty for Katrina relief requires a second delivery | AME church officials for Louisiana and Mississippi were among the many charitable and religious groups that have issued a call for help (The Washington Post)
Houston pastor knows there's no place like home | Baptist minister has worked tirelessly to reunite families and to find them permanent places to stay. His goal is an empty Astrodome (Los Angeles Times)
'Dirty Harry' Christians | Many people, including Muslims and atheists, are getting their hands dirty in post-Katrina help. So are government and nonprofit professionals. But everyone knows that church groups are key (Marvin Olasky)
Charities concerned about Red Cross dominance | The American Red Cross is garnering the lion's share of hurricane relief donations from Americans. The relief agency is written into law as the first responder to natural catastrophes. But some charities say that leaves them with fewer resources for long-term rebuilding (Morning Edition, NPR)
Salvation Army back to work in Gulfport | Robert Siegel checks in with Sally Lohrbach about how Gulfport, Miss., is coping after Hurricane Katrina. Siegel first spoke with her about two weeks ago, just after the hurricane had hit. Lohrbach is the office manager for the city's Salvation Army (All Things Considered, NPR)
Overturning the gospels | Katrina has reminded us that Christian morality should be about responding to the wretched and loving the unlovable—not about other people's sex lives (Melinda Henneberger, Newsweek)
Religious leadership survey:
Africans trust religious leaders | Religious leaders are particularly trusted in Africa, a BBC World Service Who Runs Your World? survey of global attitudes towards power has revealed (BBC)
Americans 'back church leaders' | Forty percent of people in the US would like religious leaders to be given more power, a Gallup poll commissioned by the BBC World Service suggests (BBC)
Catholicism:
Vatican to check U.S. seminaries on gay presence | Investigators appointed by the Vatican have been instructed to review each of the 229 Roman Catholic seminaries in the U.S. for "evidence of homosexuality" (The New York Times)
Pope blesses statue of Opus Dei founder | Pope Benedict XVI on Wednesday blessed a statue of the founder of the conservative Catholic organization Opus Dei, saying he hoped it will serve as inspiration for those who passed by to "do one's daily work in the spirit of Christ" (Associated Press)
Pssst. Where the devil is the exorcists convention? | At the end of his weekly general audience on Wednesday Pope Benedict greeted Italian exorcists who, he disclosed, are currently having their national convention, presumably in Rome (Reuters)
Turkey invites Pope Benedict:
Turkey invites pope to visit | Turkey has said it has invited Pope Benedict XVI to pay an official visit to the mainly Muslim country next year, according to the foreign ministry (CNN)
Turkey asks pope to visit in 2006 | Turkey has invited Pope Benedict XVI to visit the country in 2006, the foreign ministry has said (BBC)
9/11:
Architect offers changes to 9/11 memorial | The architect of the memorial to a plane downed in Pennsylvania on Sept. 11, 2001, said Wednesday he would work to satisfy critics who complained that it honors terrorists with its crescent-shaped design (Associated Press)
'Crescent' not embraced | It is unbuilt, but already under fire. The proposed memorial to United Flight 93 has a chorus of critics, irked by a single design element that ultimately might be reconfigured (The Washington Times)
War & terrorism:
What's your problem with Islam? | What's the nub of the problem? Here are six different views often heard in the West but also, it's important to add, in Muslim countries such as Iran (Timothy Garton Ash, Los Angeles Times)
Wiretap mosques, Romney suggests | Pushes gathering of intelligence (The Boston Globe)
Northern Ireland:
For IRA critics, no peace in Belfast | Family, friends of slain Catholic face campaign of intimidation (The Washington Post)
Protestants say anger and alienation are fueling riots in Belfast | Police in Northern Ireland have blamed Protestant paramilitaries for organizing recent violence, which has injured more than 80 police officers and two children (The New York Times)
British National Theater to run 'provocative' play on Paul:
St Paul play provokes pre-emptive complaints | Paul, which charts the life of the Jewish man who received a divine revelation on the road to Damascus, is described as "irreverent" and "provocative" by the National Theatre (The Guardian, London)
National director defies 'Paul' protesters | The National Theatre has received 200 letters of protest about its plans to stage a secular version of the life of St Paul and Christ's resurrection (The Telegraph, London)
Music:
Word is discouraging to Christian guitarist | Phil Keaggy, one of the architects of Christian rock, found out what it means to be caught between praise and profit. (Springfield News-Sun, Oh.)
Sinead hits out at Bono | Sinead O'Connor is furious at Bono's public grief following Pope John Paul II's death earlier this year (Irish Examiner)
The Statesman | Bono is the most politically effective figure in the recent history of popular culture (The New York Times Magazine)
More articles of interest:
Why did the Bible allow human slavery? | Books look at campaigns against it (Associated Press)
Cash-for-prayer bishop faces fresh probe | Controversial cash-for-prayer bishop Peter Njoka is among more than 100 individuals targeted by the anti-graft team in a bid to recover billions of shillings for the Nairobi City Council (The Nation, Kenya)
Related Elsewhere:
Suggest links and stories by sending e-mail to weblog@christianitytoday.com
See our past Weblog updates:
September 14
September 8 | 2 | 1 | August 31 | 30
Hurricane blog: Sept. 6 | 2 | 1 | Aug. 31
August 26 | 24 | 23
August 19 | 18 | 16
August 12b | 12a | 9b | 9a
August 4 | 3 | 2b | 2a
July 29 | 28 | 27 | 26b | 26a
Weblog
Launched in 1999, Christianity Today's Weblog was not just one of the first religion-oriented weblogs, but one of the first published by a media organization. (Hence its rather bland title.) Mostly compiled by then-online editor Ted Olsen, Weblog rounded up religion news and opinion pieces from publications around the world. As Christianity Today's website grew, it launched other blogs. Olsen took on management responsibilities, and the Weblog feature as such was mothballed. But CT's efforts to round up important news and opinion from around the web continues, especially on our Gleanings feature.
Ted Olsen is Christianity Today's executive editor. He wrote the magazine's Weblog—a collection of news and opinion articles from mainstream news sources around the world—from 1999 to 2006. In 2004, the magazine launched Weblog in Print, which looks for unexpected connections and trends in articles appearing in the mainstream press. The column was later renamed "Tidings" and ran until 2007.
Previous Weblog Columns: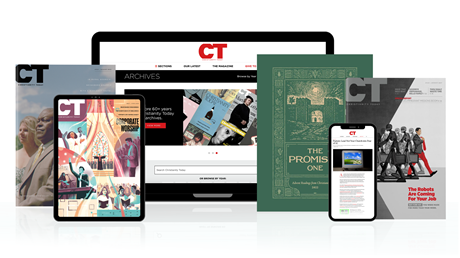 Annual & Monthly subscriptions available.
Print & Digital Issues of CT magazine
Complete access to every article on ChristianityToday.com
Unlimited access to 65+ years of CT's online archives
Member-only special issues
Subscribe
Religious Groups Believe Roberts Would Undo Pledge Decision
Religious Groups Believe Roberts Would Undo Pledge Decision