In her inaugural sermon as the Episcopal Church's presiding bishop-elect, Bishop Katharine Jefferts Schori of Nevada turned to images used by church mystics such as Julian of Norwich.
"That sweaty, bloody, tear-stained labor of the Cross bears new life," Jefferts Schori preached during the church's triennial General Convention, which met in June in Columbus, Ohio. "Our mother Jesus gives birth to a new creation—and you and I are his children."
For Jefferts Schori, this language was "straight-down-the-middle orthodox thinking," according to The Washington Post.
For David Roseberry, founding rector of the 4,500-member Christ Episcopal Church in Plano, Texas, it was the final outrage.
Jefferts Schori preached her sermon on June 21. Three days later, Christ Church's vestry (its governing board) voted to leave the denomination. Roseberry's bishop, James Stanton of Dallas, has shown openness to letting Christ Church leave with its property. "They bought it. They paid for it," Stanton told The Dallas Morning News.
"When the presiding bishop–elect had a chance to build consensus, she chose to interweave the Cross with radical feminism. It seemed gnostic," Roseberry told Christianity Today, adding that he's aware of English mystic Julian's 14th-century writings.
Roseberry and Jefferts Schori attended the same seminary, Church Divinity School of the Pacific in Berkeley, California, but they were separated by 12 years (Roseberry graduated in 1982, Jefferts Schori in 1994) and plenty of theological differences. For one, Roseberry is an evangelical who emphasizes vigorous parish growth. Starting with a group of 240 people in August 1985, he helped Christ Church become one of the largest parishes in the nation. (The average Sunday attendance at Christ Church is about as large as the whole of Jefferts Schori's current diocese.)
Roseberry has been active in conservative Episcopal movements since the early 1990s. But the latest General Convention convinced him that the denomination has destroyed its ability to preach a transforming evangelical gospel in American culture.
"There will always be a niche for a liberal catholic chaplaincy," Roseberry said. "Our bellwether is that we have to get out of [the Episcopal Church] and into a more direct relationship with the Anglican Communion."
Seeking Refuge
Roseberry and Christ Church are not alone. Bishop Jack Iker of Fort Worth, Texas, and his diocesan standing committee announced during the General Convention that they had asked Rowan Williams, the archbishop of Canterbury, for oversight from another of the worldwide Anglican Communion's 38 primates. Globally, there are more than 70 million Anglicans.
In weeks after the General Convention, six other dioceses—Central Florida, Dallas, Pittsburgh, San Joaquin (based in Fresno, California), South Carolina, and Springfield (Illinois)—have asked for something similar.
The seven dioceses say they are not leaving the denomination. But they wish to disassociate themselves from the latest decisions of the General Convention. They believe the convention responded inadequately to the Windsor Report.
The Windsor Report of 2004 asked that the Episcopal Church not allow further blessings for same-sex couples and that it not consecrate another bishop engaged in a same-sex relationship. (In 2003, the church consecrated an openly homosexual man, Gene Robinson, as bishop of New Hampshire.)
In response to Windsor, the convention urged bishops and standing committees to "exercise restraint by not consenting to the consecration of any candidate to the episcopate whose manner of life presents a challenge to the wider church and will lead to further strains on communion." The convention did not respond to the Windsor Report's request for a moratorium on same-sex blessings.
"The recent resolutions of the General Convention have not produced a complete response to the challenges of the Windsor Report," said Williams in a lengthy statement.
Even as Anglicans "give the strongest support to the defense of homosexual people against violence, bigotry, and legal disadvantage" and "appreciate the role played in the life of the church by people of homosexual orientation," the archbishop wrote, "this doesn't settle the question of whether the Christian church has the freedom, on the basis of the Bible and its historic teachings, to bless homosexual partnerships as a clear expression of God's will. That is disputed among Christians, and, as a bare matter of fact, only a small minority would answer yes to the question."
Williams wrote that he would not act unilaterally to resolve the Anglican Communion's conflicts, and he again endorsed a years-long project of developing a voluntary covenant to unite Anglicans.
"The archbishop of Canterbury presides and convenes in the communion," Williams wrote, "but he must always act collegially, with the bishops of his own local church and with the primates and the other instruments of communion."
Primates from Global South nations will meet in September, and the Anglican Communion's primates will gather as a whole in February.
Williams also stressed that this opt-in covenant may lead to "constituent" provinces, which have voting rights, and "associate" provinces, which function as observers. Williams said associate provinces would relate to the Anglican Communion as Methodists do today.
Structural Changes Likely
Robert Prichard, professor of church history at Virginia Theological Seminary, says that Anglicans usually solve conflicts more through changing structures than through theological formulae.
Prichard sees the seven dioceses' requests as one of a few structural options. (Others include a "states' rights" approach favored by liberal bishops, the two-tiered communion proposed by Archbishop Williams, or the "reverse colonialism" of Nigerian Archbishop Peter Akinola, who has established several congregations in America.)
Prichard believes the deeper debate among Anglicans is a "conflict between two authorities"—the authority of Scripture and the creeds versus the authority of "the experience of the downtrodden."
On another front, the Anglican Church of Nigeria announced on June 28 that its bishops had elected Martyn Minns, rector of Truro Episcopal Church in Fairfax, Virginia, as a U.S.-based missionary bishop. Minns will oversee the Nigerian province's Convocation for Anglicans in North America, under the leadership of Akinola.
Episcopal Bishop Peter James Lee of Virginia called Minns's election "an affront to the traditional, orthodox understanding of Anglican provincial autonomy." The Windsor Report asked that bishops "who believe it is their conscientious duty to intervene in provinces, dioceses, and parishes other than their own" effect a moratorium on further interventions.
Minns has been one of the most visible conservative activists in the Episcopal Church. It has become "increasingly clear that we are now confronted with a choice between being Anglican or Episcopalian," Minns wrote of telling his bishop recently. "We have no predetermined outcome, but are committed to seeking the Lord's direction for this parish family."
Similarly, conservative John Yates, rector of the Falls Church (Virginia), wrote to his congregation on June 22: "I find myself at home with the great majority of Anglicans around the world. But I feel very little kinship now, personally, with the Episcopal Church. 'Inclusive' as it has become, I do not feel welcomed or accepted anymore."
A leading conservative theologian from South Carolina, Kendall Harmon, said, "It looks increasingly likely that structural realignments will emerge," referring to conservatives' hope of aligning themselves with Anglicans in the Global South.
Harmon encouraged conservative Episcopalians to remember that obedience often is more evident in small, everyday decisions than in grand gestures. "They need to be patient and persevering and stick together with other Anglicans to work for a more hopeful future."
Harmon compared the current life of the Episcopal Church to the time when Jeremiah told the Israelites to settle in the land during a time of exile.
"This is a time of judgment, and we are in exile," Harmon said. "A different future emerges in individual acts of faithful obedience. Emotionally, people look at the devastation and think, 'I've got to do something huge.' But you need to do the exact opposite."
Douglas LeBlanc is a journalist based in Richmond, Virginia.
Related Elsewhere:
Christianity Today's full coverage of the conflict in the Anglican Communion includes LeBlanc's dispatches from the General Convention.
Episcopalian General Convention Adopts Vague Resolution | Call for 'restraint' in consecration of practicing gays falls short of recommendations of Anglican leaders. (June 22, 2006)
General Convention Brushes Against Its Deadline | Conservatives, liberals can't agree on response to the Windsor Report. (June 21, 2006)
Conservatives Stunned by Bishop's Election | The new church leader supports same-sex marriages, vows to bend over backwards for those she disagrees with. (June 20, 2006)
Episcopalians Elect Female Nevada Bishop as Top Leader | Conservatives see election as confirmation of church's 'revisionist theology,' while one diocese appeals for alternative oversight. (June 19, 2006)
Gays in the Church Debated | Conservatives press Episcopal convention to repent of gay bishop's consecration. (June 16, 2006)
Have something to add about this? See something we missed? Share your feedback here.
Our digital archives are a work in progress. Let us know if corrections need to be made.
This article is from the August 2006 issue.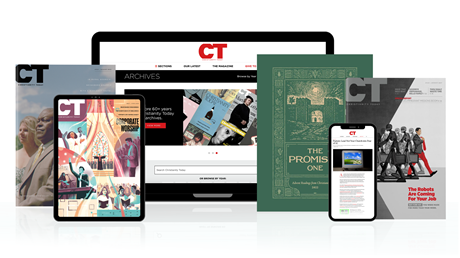 Annual & Monthly subscriptions available.
Print & Digital Issues of CT magazine
Complete access to every article on ChristianityToday.com
Unlimited access to 65+ years of CT's online archives
Member-only special issues
Subscribe
Falling Apart
Falling Apart