Today's Top Five
1. Nigeria holds its breath: Are riots over?
Onitsha is calm after two days of anti-Muslim riots, say press reports, but all is not well in the southern Nigerian city. "Mobs stopped killing and looting in this battered Nigerian city Thursday and turned to disposing of the evidence in the crudest of ways," reports The Washington Post. "With smoldering bonfires fueled by pieces of wood and old tires, men burned the remains of their Muslim victims on downtown streets, leaving behind charred legs, skulls, and shoulders that motorists swerved to avoid." Both the Post and the Associated Press quote Ifeanyi Ese (Eze), who was found writing on one of the destroyed mosques, "Muhammad is a man, but Jesus is from above."
"We don't want these mosques here anymore," he told the reporters. "These people are causing all the problems all over the world because they don't fear God. We don't want Muhammad anymore."
Reuters quotes another resident saying, "We are very happy that this thing is happening so that the north will learn their lesson."
The concern now is that Muslims in northern Nigeria will retaliate for the retaliatory attacks, which reportedly killed twice as many people as the attacks against Christians in Maiduguri and elsewhere earlier in the week.
2. South Dakota's abortion ban returns
In 2004, South Dakota Governor Mike Rounds vetoed a bill banning almost all abortions in the state, saying he was worried that existing abortion restrictions would be eliminated during the certain court fight. Now a very similar bill has returned to his desk. If Rounds signs it this time, it would be a clear opportunity for the U.S. Supreme Court to overturn Roe v. Wade. Indeed, that's pretty much the point of the bill. But there almost surely aren't enough anti-Roe justices on the Court at this time. Whether there would be enough by the time the case worked its way through the court system is the gamble. Some pro-life groups say it's too big a gamble, and a ruling against South Dakota would derail efforts to overturn Roe. Others say the risk is worth it.
3. Dutch politician suggests forced abortions
Marianne van den Anker, city councilor/alderman for Rotterdam, says she's frustrated by her efforts to prevent child abuse. So, she presented a new idea on her political party's website: "Obligatory abortions for bad mothers." Drug addicts, people with mental handicaps, and Antillean teenage mothers should be prohibited from having children, she said. If they get pregnant, she said, they should be forced to abort their children. "Van den Anker said children from these groups run an 'unacceptable risk' of growing up without love and with 'violence, neglect, mistreatment and sexual abuse,'" says the Dutch news site Expatica, picking the story up from the newspaper NRC Handelsblad. The site notes that van den Anker's plan has no chance of actually being implemented at this time, but it's amazing that such a blatantly racist, nationalist, and eugenic proposal could actually get a serious hearing.
4. World Council of Churches head attacks megachurches
We just don't pay attention to the WCC. As many say these days, it's the World Council of Churches Nobody Goes To Anymore. But World Council of Churches General Secretary Samuel Kobia is getting a fair bit of press for an interview he did with Reuters. In it, he slams the megachurch as having "no depth, in most cases, theologically speaking, and has no appeal for any commitment. It's a church being organized on corporate logic. That can be quite dangerous if we are not very careful, because this may become a Christianity which I describe as 'two miles long and one inch deep.'"
Now, one can criticize megachurches in particular, and one can talk about the challenges of size, but recent research has demonstrated that it's almost impossible to say anything uniformly about "megachurches." A few trends that did emerge from the Hartford Seminary's Hartford Institute for Religion Research study, however, directly contradict Kobia's statements about theological depth and lack of commitment. What's notable about Kobia's statement is how familiar it sounds. Theologically shallow? A religion-is-for-Sunday-only mentality? That's not the megachurch, friend—that's the mainline churches that form the majority of the WCC. And as for being organized on corporate logic, if ever there were churches that look like boardrooms and shareholders' meetings, it's the mainline denominations and their ecumenical bodies. Still, it's safe for Kobia to slam megachurches. After all, most churches he represents don't have anything to worry about when it comes to getting too big.
5. $3,200,000,000 and rising for Katrina relief
Some organizations have raised so much money for Katrina relief that they're not taking any more, says The Chronicle of Philanthropy. Charities have raised about $3.2 billion, according to the publication's survey. Among the top recipients: The Salvation Army ($325M), Catholic Charities USA ($154.5M)
Habitat for Humanity ($95M), The United Methodist Committee on Relief ($62.4M), Samaritan's Purse ($36.9M), Southern Baptist Convention Disaster Relief ($20.1M), and World Vision ($10.9M).
Quote of the day:
"The faith community must step forward and tell leftist activists that undermining border security is not a religious imperative."
—U.S. Rep. Tom Tancredo, R.-Colo., attacking the U.S. Catholic Church, the Episcopal Church, the Evangelical Lutheran Church in America, the United Methodist Church , and the Presbyterian Church (U.S.A.) for criticizing H.R. 4437. The bill, The bill, which is in the Senate after passing the House in January, would make it a crime for churches and nonprofit groups to aid someone if they have entered the country illegally.
Among the "radical activists" Tancredo attacked as misrepresenting the beliefs of the faith community is apparently Roman Catholic Archbishop Michael Sheehan of New Mexico, who has led Catholic criticism of the bill. "We don't condone illegal entry, but when someone is here, we try to take care of them," he told Scripps Howard News Service this week. "There is a kind of mean-spiritedness about immigrants, and as a Christian people, we try to show respect and love for all people, regardless of their status." Offended by his use of religious language? Tancredo says he is.
More articles
Nigeria riots | Muslim-Christian relations | Sudan | Uganda | Politics | Indiana House prayer fight | Immigration | Israel | Missions &ministry | WCC head criticizes megachurches | Church life | Abuse | New cardinals | ECUSA's second gay bishop | Sexual ethics | South Dakota abortion ban | Abortion | Death penalty | Courts & law | Religious drug use | UK faith schools | Evolution | Education | Art, entertainment, and media | Ala. fires | Other stories of interest
Nigerian Christians mob Muslims | Christians in this southern Nigerian city burned Muslim corpses and defaced wrecked mosques Thursday, showing little repentance after days of sectarian violence that has killed more than 120 people across the country (Associated Press)


Bodies burned in open after Nigeria riots kill 138 | Christian youths burned the corpses of Muslims on Thursday on the streets of Onitsha in southeastern Nigeria, the city worst hit by religious riots that have killed at least 138 people across the country in five days (Reuters)


Bodies pile up after Nigeria riot | The city of Onitsha in south-eastern Nigeria is calm after two days of anti-Muslim riots left many dead (BBC)


US tells UN to hurry up with Darfur planning | The Bush administration, under growing pressure from religious groups over Sudan's Darfur region, urged the United Nations on Tuesday to quickly finish its planning for an international force to help end violence in Darfur (Reuters)


Worsening security could hinder Darfur peace deal | Peace talks for Sudan's Darfur region are in their final stretch, but worsening security on the ground could hinder the implementation of any deal, the European Union's special representative to Sudan said on Wednesday (Reuters)


From Bosnia to Darfur | Troops with the right mandate, numbers and equipment, backed by an internationally endorsed peace deal — as happened in Bosnia — is the way to change history in Darfur (Editorial, USA Today)


Eradicating slavery in Sudan | Failure to eradicate slavery—with all its overtones of racism and religious bigotry—will leave in Sudan a deadly cancer, destroying possibilities of national reconciliation, and undermining chances of sustainable peace and stability (John Eibner, The Boston Globe)


Sodrel: Prayer measure fights 'judicial activism' | U.S. Rep. Mike Sodrel, R-Ind., said Tuesday he is confident Congress would vote to strip federal courts of jurisdiction over the content of speech in state legislatures (The Indianapolis Star)


Bishops: Show mercy to illegals | As the Senate girds for Round 2 of the immigration reform battle, the U.S. Conference of Catholic Bishops is lobbying to persuade senators to pass a more forgiving bill than the one passed by the House last year (Scripps Howard News Service)


Churches out of step, Tancredo says | Rep. Tom Tancredo has accused leaders of some of the country's biggest religious denominations of being out of step with their own followers on the issue of illegal immigration (Rocky Mountain News, Denver)


Immig foe smears churches, pols | Tancredo is mad. And his rage is truly ecumenical (Albor Ruiz, New York Daily News)


U.S. Christians create umbrella organization to lobby for Israel | A new group in the United States, Christians United for Israel, will serve as an umbrella organization for Christian congregations that support Israel, and will lobby for Israel (Haaretz, Tel Aviv)


Strange bedfellows | The connection between David Irving and Rowan Williams (Daniel Johnson, The New York Sun)


Kings' dream lives on in a church's kitchen | Coretta Scott King is dead, but the parishioners at the First Seventh-day Adventist Church in Petworth say her spirit and her husband's legacy continue to live through their work with the homeless and the hungry (The Washington Post)


Habitat for Humanity builds homes on faith | Adherents to multiple religions find unity in working together (San Mateo County Times, Ca.)


WCC head criticizes megachurches:
Growth of megachurches worries church council head | The head of the World Council of Churches expressed concern on Tuesday about the spread of megachurches around the world, saying they could lead to a Christianity that is "two miles long and one inch deep" (Reuters)


Rise of megachurches may be dangerous, top cleric warns | The megachurch is a modern trend in religious life, but its vision to make religion more relevant has come under fresh fire for being light on theology and heavy on corporate logic (The Sydney Morning Herald)


The good and bad of religion-lite | They have been called religion-lite, Disney-Jesus, and self-help saviours. Big, booming, wealthy megachurches in the US—and, increasingly, churches like Hillsong here—are becoming the scourge not just of the naturally suspicious secular world but also the traditional church (Julia Baird, The Sydney Morning Herald)


FBI probes vandalism at O.C. church | The FBI is investigating the defacement of Emanuel Danish Evangelical Lutheran Church in Yorba Linda, which was spray-painted last weekend with violent pictures and obscenities (Los Angeles Times)


Pope honours a critic of China | One of China's fiercest critics was yesterday included in a list of new cardinals by Pope Benedict XVI (The Telegraph, London)


A papal shot across Beijing's bows | Hong Kong can take renewed pride in its courageous pastor. And Benedict's stature has been enhanced (Editorial, The Telegraph, London)


Episcopal bishop issue stirs up schism fears | Gay, lesbian among 5 candidates for local post (San Francisco Chronicle)


Also: California opens door to electing gay bishop | The move will delight liberals but dismay the Archbishop of Canterbury, Dr Rowan Williams, who has backed calls for a moratorium on the election of gay bishops (The Telegraph, London)


Gay Calif. Episcopal priests up for bishop | Two openly gay priests are candidates to become bishop of the Episcopal Diocese of California, and the election of either could worsen the rift over homosexuality in the bitterly divided church (Associated Press)


S.D. closer to strict abortion limits | South Dakota moved closer to imposing some of the strictest limits on abortion in the nation as the state Senate approved legislation that would ban the procedure except when the woman's life is in danger (Associated Press)


South Dakota passes abortion ban | South Dakota became the first U.S. state to pass a law banning abortion in virtually all cases, with the intention of forcing the Supreme Court to reconsider its 1973 decision legalizing the procedure (Reuters)


The abortion debate gets real | South Dakota ban should make reproductive rights a front-and-center political issue in 2006 (John Nichols, The Nation)


State halts execution to review procedure | Officials are unable to meet a judge's demand that a lethal injection be overseen by a doctor. Effects on the death penalty are unclear (Los Angeles Times)


Doctors' doubts put off Calif. execution | A convicted killer's execution was postponed for the second time in less than a day amid continuing concerns over the constitutionality of the state's lethal injection policy (Associated Press)


Allstate and ex-worker settle online-essay suit | Man claimed he was fired from Allstate Corp. for writing an online essay that denounced same-sex marriage (Chicago Tribune)


A legal lightning rod bows out | Longtime conservative advocate Chester Darling takes down his shingle (The Boston Globe)


Court upholds student's dismissal for suggesting church | The case, decided by a Florida federal judge some 8 months ago, involved John Watts, a state university student, who was terminated from a Master of Social Work program "for inappropriate behavior related to patients, involving religion" (Religion Clause)


NNU wise to reconsider its nickname | Given the university's global missionary and outreach programs, the board should do away with the Crusaders (Editorial, The Idaho Stateman)


Evolution of mutual respect | Science, religion rift is less polarized here (The Boston Globe)


Creation nation | Ken Ham, who says creationism is the cure for racism, brings his $15-million-a-year crusade to Rocky Mount (Independent Weekly, Raleigh, N.C.)


We're free to define our own meaning | A kind of evolutionary existentialism suggests that despite our genuine meaninglessness and the fact that we are unwitting, unwilled products of that improbability generator called natural selection -- or, rather, because of it -- we are enabled and even required to define our own meaning, not by seeking to decipher God's intention for us, but by accepting responsibility for ourselves, making up our own minds, and then acting accordingly (David P. Barash, Seattle Post-Intelligencer)


Art, entertainment, and media:
Sixpence's Nash goes solo | After more than a decade, Nashville pop singer finds her own voice (Rolling Stone)


Gospel pianist Anthony Burger dies | Gospel music pianist Anthony Burger, who played for the popular Gaither Homecoming shows and earned Dove Award nominations for his albums of instrumental music, collapsed and died during a performance. He was 44 (Associated Press)


'Sinful and immoral' Mountain hits Jamaica | Religious leaders are outraged by a government decision not to ban the film (The Guardian, London)


Warehouse fire ruled accidental | Day 20 Church fires case file (Tuscaloosa News, Ala.)


Fire at Ala. warehouse called accidental | A fire that destroyed a warehouse containing Christian apparel was accidental, authorities said Wednesday as agents continued probing a rash of church arsons in rural Alabama (Associated Press)


Related Elsewhere:
Suggest links and stories by sending e-mail to weblog@christianitytoday.com
See our past Weblog updates:
February 22 | 21
February 17 | 16 | 15 | 14 | 13
February 10 | 9 | 7
February 3 | 2 | 1
January 25 | 20 | 19 | 18 | 17
January 13b | 13a | 10
January 6 | 5 | 4
December 28 | 21 | 16 | 14 | 12
Weblog
Launched in 1999, Christianity Today's Weblog was not just one of the first religion-oriented weblogs, but one of the first published by a media organization. (Hence its rather bland title.) Mostly compiled by then-online editor Ted Olsen, Weblog rounded up religion news and opinion pieces from publications around the world. As Christianity Today's website grew, it launched other blogs. Olsen took on management responsibilities, and the Weblog feature as such was mothballed. But CT's efforts to round up important news and opinion from around the web continues, especially on our Gleanings feature.
Ted Olsen is Christianity Today's executive editor. He wrote the magazine's Weblog—a collection of news and opinion articles from mainstream news sources around the world—from 1999 to 2006. In 2004, the magazine launched Weblog in Print, which looks for unexpected connections and trends in articles appearing in the mainstream press. The column was later renamed "Tidings" and ran until 2007.
Previous Weblog Columns: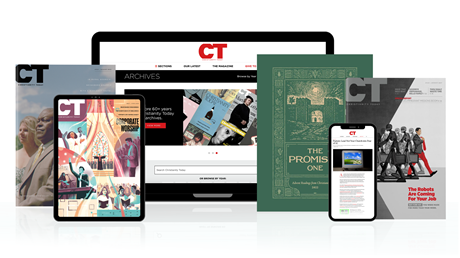 Annual & Monthly subscriptions available.
Print & Digital Issues of CT magazine
Complete access to every article on ChristianityToday.com
Unlimited access to 65+ years of CT's online archives
Member-only special issues
Subscribe
100+ Dead After Anti-Muslim Riots
100+ Dead After Anti-Muslim Riots