Shift on Roe:
Abortion opponents rally, saying the end of Roe is near | As they have every year since 1973 when the Supreme Court ruled in Roe v. Wade, abortion opponents flooded the capital today with an energetic rally featuring speeches, prayers and signs that urged an end to abortions across the country. (The New York Times)


Protesters see mood shift against 'Roe' | Court nominees, young activists cited at annual antiabortion march (Washington Post)


Marchers' renewed hope | Supreme Court changes give anti-abortion activists more optimism of a Roe v. Wade reversal (Newsday)


Roe v. Wade:
Abortion foes protest on Roe anniversary | Thousands march on Minnesota's Capitol. A huge rally is expected today in Washington. (Los Angeles Times)


Bishop takes seat on anti-abortion bus | This year, more Lexington activists going to D.C. March For Life (Centre Daily Times, Pa.)


New generation ponders debate | Princeton University student Christian Sahner yesterday stood next to a black and orange pro-life banner on the Mall, a striking symbol of what some say is a growing gap between the Roe v. Wade generation and today's young adults. (The Washington Times)


Opinion & editorial:
More on abortion:
Mom loses 'right to know' case:
Parents don't know best, rules High Court | The view that parents know what is best for their children is old-fashioned and out of date. (Telegraph, UK)


Mother loses 'right to know' case | A mother has lost her court battle for a parent's "right to know" if girls are being advised on abortion. (BBC)


Mother loses test case on under-16 abortions | Girls under the age of 16 can have an abortion without their parents' consent, the High Court ruled on Monday after a test case by a mother of two teenagers. (Reuters)


Abortion in the states:
States step up fight on abortion | Anticipating a more conservative Supreme Court, lawmakers are proposing bans in hope of forcing the justices to revisit Roe vs. Wade. (Los Angeles Times)


Some states getting ready to revisit Roe v. Wade | Taking direct aim at Roe v. Wade, lawmakers from several states are proposing broad restrictions on abortion with the goal of forcing the US Supreme Court -- soon to include two new justices -- to revisit the landmark ruling issued 33 years ago yesterday. (Boston Globe, via Los Angeles Times)


Push in Nebraska highlights new abortion dynamic | Opponents flex growing influence (Boston Globe)


Where the real action is … | For all the debate in Washington, the battle over abortion is actually in the states, which are imposing more limits than ever. Missouri is a case study (Time)


Samuel Alito:
Alito would create Catholic majority on top court | For some people, it's such a sensitive topic they would prefer no one discussed it at all. But if Samuel Alito is confirmed to the Supreme Court, it will be the first time in American history that five sitting justices will be Catholic: Alito, John Roberts, Clarence Thomas, Antonin Scalia and Anthony Kennedy. (ABC News)


Alito gives Senate committee more answers | Supreme Court nominee Samuel Alito told senators Friday that he sees protection in the Constitution for privacy, but he refused anew to divulge his thoughts on the Supreme Court's landmark abortion rights decisions. (Associated Press)


At march on the mall, abortion foes rally behind a new theme: Alito | As they have every year since the Supreme Court first ruled in Roe v. Wade, abortion opponents flooded the capital on Monday with an energetic rally featuring speeches, prayers and signs that urged an end to abortions across the country. (The New York Times)


Life ethics:
Drug maker Barr's Plan B efforts blocked | For years, Barr Pharmaceuticals Inc. has been trying to get its controversial contraceptive approved for sale without a prescription. Named for its purpose -- to prevent pregnancy after contraceptive failure or unprotected intercourse -- Plan B reduces chances of pregnancy 89 percent if taken within 72 hours after sex. (Associated Press)


Religion & politics:
Zapatero angers Spaniards with plan to reduce church subsidies | Spanish Prime Minister Jose Luis Rodriguez Zapatero's plan to reduce financial aid to the church is roiling a country where 80 percent of the population is Catholic. (Bloomberg)


Same-sex marriage:
Religion & homosexuality:
Virginia parish demands leader 'repent' | Virginia's largest Episcopal parish, in a letter to the church's 2,200 members, yesterday called on Virginia's the Rt. Rev. Peter J. Lee to "repent and return to the truth" over supporting the ordination of the openly homosexual bishop of New Hampshire. (The Washington Times)


Pastor critical of Microsoft gay rights support urges followers to buy stock, then dump it | A pastor who threatened a national boycott against Microsoft and other major corporations for endorsing a gay rights bill urged supporters Tuesday to buy up the companies' stock and dump it to drive prices down. (Associated Press)


Canada's conservative takeover:
Conservative party wins in Canada election | Stephen Harper and his Conservative Party won national elections Monday and ended 13 years of Liberal rule, a victory expected to move Canada rightward on social and economic issues and lead to improved ties with the United States. (Associated Press)


Canada's next PM: moderate or conservative? | Country waits to see direction Stephen Harper will lead government (Associated Press)


Take a deep breath, you Chicken Littles! | My liberal friends don't understand why a nice, progressive, Jewish girl like me isn't filled with fear and loathing because our new prime minister is an evangelical Christian. (Mindelle Jacobs, Edmonton Sun)


Church & state:
Education:
Gay-straight club belongs in school | Republican opponents are wrong in trying to prevent a group of students, who meet the school criteria, from forming a club. Individuals who would hold the spring levy election hostage in protest are doubly wrong. School policy is solidly on the side of the newly formed Gay-Straight Alliance. (The Spokesman Review, Wa.)


Bible class textbook debated | High schools in Alabama and across the nation are considering a new elective course in Bible literacy, an effort that pits church-state separatists against proponents who say their mission is purely scholarly (Montgomery Advertiser)


Public schools looking at Bible literacy class | High schools across the nation are considering an elective course in Bible literacy. That's pitting advocates of church-state separation against proponents of the class who say their mission is purely scholarly. (USA Today)


Scripture in schools? | Elective courses at public schools could reveal the Bible's influence and importance on culture. (Editorial, Atlanta Journal Constitution)


Teaching of Bible in public schools risks conflict, confusion | Last week's proposal floated by Democrats in the state Senate to allow Bible classes in public schools should raise concerns for those on both sides of the debate on religion in the classroom. (Editorial, Gainesville Times, Ga.)


I.D. & evolution:
Higher ed.:
Students ban Christians in row over gays | A University Christian Union has been suspended and had its bank account frozen after refusing to open its membership to people of all religions. (Times, London)


Popular pastor headed to seminary | White plans to continue in Charlotte at Mass. school's local campus (Charlotte Observer)


Ban for exclusive Christian body | A Christian group at the University of Birmingham says it has been banned from using facilities after refusing to open membership to those of other faiths. (BBC)


Plagiarism question prompts Notre Dame to review article | Theologian says group targets him (Associated Press)


Catholicism:
Irish church:
Attitudes toward priests change in Ireland | Bishop Eamonn Casey fled Ireland 14 years ago in shame for having secretly fathered a son. But he is coming back to a dramatically changed, forgiving Ireland that appears willing to accept Roman Catholic priests who are not celibate. (Associated Press)


Scandal? For an Irish parish, it's just a priest with a child | The affair had all the makings of a first-class scandal: in a quiet corner of rural Ireland, a 73-year-old Roman Catholic priest admitted to fathering a child last year with a local schoolteacher. Smelling a good story, television crews rolled into the village of Woodford, 30 miles southeast of Galway, and tabloid newspapers gleefully denounced "Father Romeo." (The New York Times)


About 500 Irish priests having sex | Some 500 women in Ireland are having affairs with Roman Catholic priests, said a support group that helps those in forbidden relationships. (UPI)


Irish support end to churchmen celibacy | Irish people overwhelmingly rejected enforced celibacy for Roman Catholic priests as support grew for a 73-year-old cleric who has fathered a child with a 31-year-old teacher. (The Times, London)


Pope copyright:
Vatican 'cashes in' by putting price on the Pope's copyright | The Vatican has been accused of trying to cash in on the Pope's words after it decided to impose strict copyright on all papal pronouncements. (The Times, London)


Vatican invokes papal copyright | A row has broken out in Rome about whether the speeches and writings of Pope Benedict should be freely available to everyone or subject to copyright. (The Guardian, UK)


Swiss guards:
Vatican honors 500 years of Swiss guards | Pope Benedict XVI thanked the Swiss Guards on Sunday for their 500 years of service protecting the popes, as the Vatican opened its official commemorations of the anniversary of the first mercenaries' arrival from Switzerland. (Associated Press)


Pope thanks world's smallest army for 500 yrs help | The Swiss Guard, the world's smallest army, celebrated its 500th anniversary as protectors of the world's smallest state on Sunday with a regal Vatican City celebration blessed by the Pope. (Reuters)


Swiss Guards celebrate 500 years of protecting popes | Pope Benedict XVI blessed the Swiss Guards yesterday as the Vatican celebrated the 500th anniversary of its private army with a mass in St Peter's Basilica. (The Telegraph, UK)


Benedict's first encyclical:
Mass. Catholics, Protestants fight bill on financial disclosure:
Church life:
Churches offering multimedia worship are growing | Pastor Buddy doesn't put himself on a pedestal. That's one of the things Meaghan McDermott loves about him. He did put himself on a Harley-Davidson once, though. Right on stage. (Philadelphia Inquirer)


James Island Presbyterian marks 300 years | This year, the congregation and staff of James Island Presbyterian Church have far more to celebrate than the strength of the church's growing membership, the successes of their worldwide outreach efforts and the ongoing renovations of the church. (Charleston Post Courier)


Face to faith | If Anglicanism can learn to live in humility and grace with its differences, there may be hope for Christian unity, writes Martyn Percy (The Guardian, UK)


Parish unites to back priest and teacher's love affair | The Galway scandal is not an isolated incident, says a rebel cleric who claims that hundreds of churchmen are involved in sexual relationships (The Guardian, UK)


• The presence of God | Within a Rogue River farm shed, the beauty of the temporary chapel of St. Innocent's Russian Orthodox Church has brought some of those who enter to tears (Mail Tribune, Ore.)
Bishop gone for Easter:
Clerics back bishop taking Easter cruise | Senior clerics rallied behind the Bishop of London last night after it emerged that he plans to spend Easter on a luxury Mediterranean cruise rather than ministering to his flock at St Paul's Cathedral. (The Guardian, UK)


The bishop will be away this Easter … | The Bishop of London is to abandon his pulpit in St Paul's Cathedral at Easter in favour of a free cruise around the Mediterranean. (The Times, London)


Immigrant churches:
Koreans find new houses of worship | Korean automaker Hyundai did more than help the economy when it put a plant in Montgomery. It helped the Christian community. (Montgomery Advertiser)


Finding God in their adopted homeland | At churches across area, Central Americans develop a devotion they never had. (Washington Post)


Missions & ministry:
Area Christians gather for unity prayer | Members of four Protestant and two Roman Catholic churches prayed in unison yesterday at Trinitarian Congregational Church in Wayland. (MetroWest Daily News, Ma.)


Bristol service offers prayers for Christian | The voices that rang Sunday evening at St. Anne Catholic Church were as varied as the beliefs they represented. (Bristol Herald Courier, Tenn.)


Theology:
Spirituality:
Psalms seen as models for prayer | Rev. Roberts to teach seminar in Sylvania (Toledo Blade)


Displaced Christian conference finds site | A Christian conference that was disinvited from the Roman Catholic cathedral in Los Angeles because it was to feature a self-proclaimed mystic will be held Saturday at the Alex Theater in Glendale, organizers said. (Los Angeles Times)


Balancing faith challenge in workplace | The American workplace reflects a rich diversity of religious faith and observance, religious doubt and nonbelief among employees. For some, the role that religion plays in their life is not apparent at work. For others, it is -- by necessity or by choice. (Pittsburg Business Times)


Interfaith:
Books:
'Christ the Lord' follows Jesus' path through childhood | Anne Rice, a born-again Roman Catholic, has departed from the environs of her earlier work to commit years to scholarship into the life of Christ, digesting not only the orthodox dogma but also apocryphal sources. (Flint Journal Review, Mich.)


C.S. Lewis' life told in pictures | Breathtaking photographs accompany a well-written narrative about the life of the author of the "Narnia" books and other works. The book begins with his conversion from atheism to Christianity. (Charleston Post Courier)


Music:
Film:
Lost in the credits | "Narnia" is a huge hit, so why isn't Andrew Adamson better known? (Orlando Sentinel)


With only God left as a witness | In public relations terms, this is not the easiest time to have the words "Latter," "Day" and "Saints" anywhere close together in your name. And the going may get rougher after the filmmaker Christopher Cain finishes his new movie about one of the darkest moments in Mormon history, the Mountain Meadows massacre of 1857, in which 137 pioneers from Arkansas were killed in Utah by a raiding party whose ties to the Mormon church are still in dispute. (The New York Times)


Coming to a screen nowhere near you | Inuit filmmaker Zacharias Kunuk has followed up his acclaimed debut, The Fast Runner, with an epic tragedy about the clash between the nomadic world and Christianity. Residents of Igloolik, his hometown, will get the first peek (Globe and Mail, Canada)


Film being made here focuses on Christian market | With the phenomenal success of films like "The Passion of The Christ", more and more movie makers are focusing on the Christian market. One of those films is being shot Tuesday night in the Heights. (KHOU, Texas)


End of the Spear:
Da Vinci Code movie:
TV:
In TV's classics, God does cameos | My family doesn't watch much television. No reality shows, no sitcoms, no "buzz" programs. It's not a hard-and-fast rule. It's just that not much on television grabs us. But my wife and I do love to expose our kids to to the "classic" shows available on such cable channels as TV Land. We loved the shows as kids, and our kids, ages 12 and 9, seem to appreciate them too. We've all noticed something common to several of these classic shows: They acknowledge God. (Chris Epting, The Los Angeles Times)


People:
President of Mormon Church hospitalized | The 95-year-old president of The Church of Jesus Christ of Latter-day Saints underwent surgery at a Salt Lake City hospital to remove a cancerous portion of his colon, church officials said. (Associated Press)


Episcopalians seek sainthood for Marshall | Episcopalians from a church where the late Supreme Court Justice Thurgood Marshall worshipped are asking their denomination to name him a saint. (Associated Press)


Terri Schiavo's husband remarries | Michael Schiavo, whose brain-damaged wife was at the center of a contentious end-of-life battle that played out on a worldwide media stage, has remarried, family members said. (Associated Press)


Pat Robertson:
Pat Robertson and revelation | Recent headlines reported that Pat Robertson apologized for suggesting that the stroke that struck down Israeli Prime Minister Ariel Sharon was divine punishmentfor Israel's pulling out of the Gaza Strip. It wasn't much of an apology. (Editorial, Star-Telegram)


Speech to NRB session canceled | The Rev. Pat Robertson has canceled a speech scheduled for next month at the National Religious Broadcasters convention in Dallas after NRB officials expressed doubts about the effect his appearance might have. (The Washington Times)


The price of being accepted by the world | At one level, Israelis' angry reaction to the Rev. Pat Robertson's suggestion that the stroke which felled Prime Minister Ariel Sharon was Divine retribution for the Gaza withdrawal is completely understandable. But to Jewish ears, the attempt to offer a Divine calculus for tragedy also sounded strange. According to our sages, when Moses asked God to reveal His ways, God replied that no man may know His ways and live. (Mendel Zilberberg, Jerusalem Post)


Haiti priest jailed; fears for life:
Haiti priest to remain jailed; fears for his life | A jailed Haitian priest and former adviser to ousted President Jean-Bertrand Aristide says he was cleared of murder but indicted on weapons charges in a bid to keep him in prison and out of politics. (Reuters)


Haiti judge drops charges against priest | A judge dropped charges against a politically influential Catholic priest in the death of a journalist, but indicted him on two lesser counts, the cleric's lawyer said Friday. (Associated Press)


John Geoghan:
Abuse:
Crime:
History:
Jerry Springer Opera:
BNP members join Christians to halt 'Jerry' | The protest group Christian Voice is being helped by members of the BNP in its campaign against Jerry Springer The Opera, which begins its national tour at the Theatre Royal in Plymouth on Friday. (The Guardian, UK)


Springer tour faces new protests | Theatres across the UK are preparing for protests as the national tour of controversial stage show Jerry Springer - The Opera begins this week.(BBC)


Related Elsewhere:
Suggest links and stories by sending e-mail to weblog@christianitytoday.com
See our past Weblog updates:
January 20 | 19 | 18 | 17
January 13b | 13a | 10
January 6 | 5 | 4
December 28 | 21 | 16 | 14 | 12
December 9 | 7 | 6
December 2b | 2a | November 30
November 23 | 22 | 21
Weblog
Launched in 1999, Christianity Today's Weblog was not just one of the first religion-oriented weblogs, but one of the first published by a media organization. (Hence its rather bland title.) Mostly compiled by then-online editor Ted Olsen, Weblog rounded up religion news and opinion pieces from publications around the world. As Christianity Today's website grew, it launched other blogs. Olsen took on management responsibilities, and the Weblog feature as such was mothballed. But CT's efforts to round up important news and opinion from around the web continues, especially on our Gleanings feature.
Ted Olsen is Christianity Today's executive editor. He wrote the magazine's Weblog—a collection of news and opinion articles from mainstream news sources around the world—from 1999 to 2006. In 2004, the magazine launched Weblog in Print, which looks for unexpected connections and trends in articles appearing in the mainstream press. The column was later renamed "Tidings" and ran until 2007.
Previous Weblog Columns: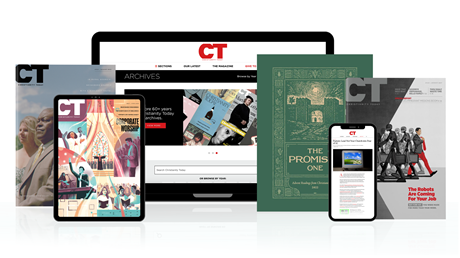 Annual & Monthly subscriptions available.
Print & Digital Issues of CT magazine
Complete access to every article on ChristianityToday.com
Unlimited access to 65+ years of CT's online archives
Member-only special issues
Subscribe
March for Life Marks Shift on Roe
March for Life Marks Shift on Roe