Today's Top Five
1. Another attack against a Catholic priest in Turkey
It appears that the knife attack on French priest Pierre Brunissen is unrelated to two other recent attacks on Roman Catholic priests in Turkey. The two earlier attacks were allegedly committed by Muslim militants. The assailant in this case is a Muslim too, but the Turkish press are emphasizing that he's a schizophrenic. AsiaNews.it has an interview with Monsignor Luigi Padovese, the apostolic vicar for Anatolia. "These are isolated moves, which however express an exacerbated anti-Christian disposition, produced and kept alive by anti-Christian media that is very present here in Turkey," he says.
In other international persecution news, a church in Poso, Indonesia, was bombed Saturday night. Fortunately, there were no casualties.
2. Excommunication risk overstated?
 Cardinal Alfonso Lopez Trujillo, head of the Pontifical Council for the Family, told the official Vatican magazine Famiglia Christiana last Thursday that the Roman Catholic Church should treat scientists and politicians engaged in stem-cell research the same way it treats those who engage in abortion. "Destroying an embryo is equivalent to abortion," he said. "Excommunication will be applied to the women, doctors and researchers who eliminate embryos [and to the] politicians that approve the law." That statement led to a flurry of headlines such as this one in the Telegraph: "Vatican vows to expel stem cell scientists from Church."
Take it easy, says Inside Higher Ed. First of all, the church isn't against stem-cell research. It's against embryonic stem-cell research. Second, as United States Conference of Catholic Bishops spokeswoman Deirdre McQuade, explained (in Inside Higher Ed's paraphrase): "The church clarified in 1988 that destroying an embryo, whether in vitro, or in utero, 'is on the same level as abortion.' She added that the cardinal's recent comments, as far as she knows, do not represent any 'gesture toward officially excommunicating anybody.'"
3. "Spiritual skate night" okay at roller rink
The New York Division of Human Rights has dropped its complaint against "Christian Skate" night at an Accord skating rink. A letter said that the rink's changing its ad from "Christian Skate" to "spiritual skate" and emphasizing Christian music instead of Christian customers no longer violate human rights.
4. Evangelicals and Witch Doctors Together
Religion News Service reports from South Africa:
Workers at the Baptist-affiliated [Living Hope Community Centre] jumped at the chance to align with powerful healers—also known as sangomas or witch doctors—and, in a controversial move, designed an eight-week course for the healers to simultaneously spread the gospel and AIDS awareness throughout the Cape Peninsula. The resulting partnership represents a marriage of convenience between evangelical and witch doctor that has rapidly bolstered the influence of both—and caused some concern about misplaced proselytizing. … [T]he 15 sangomas proceeded cautiously in their agreement to study the Gospel of John twice a week before receiving structured lessons in human anatomy, the tell-tale signs of AIDS and the function of antiretrovirals and other modern medications.
5. Keith Richards, CCM artist?
Backstreet Boy Brian Littrell releasing a solo album into the Christian market, perhaps you can understand. But how about Rolling Stones guitarist Keith Richards? It turns out that his sister-in-law, Marsha Hansen, put together a book and CD collection of African American spirituals called My Soul Is a Witness. "Richards plays on a half-dozen tracks, including I Want Jesus to Walk with Me and Rock in Jerusalem," the Lexington Herald-Leader reports. "Also performing on the album is former Beach Boy Blondie Chaplin and Bob Dylan drummer George Receli."
Says Hansen, Richards "probably does not claim a particular affiliation, but he loves the music."
Quote of the day:
"Don't let people get away with nice words."
—Sen. Hillary Clinton, addressing her faith and politics at the Sojourners "Covenant for a New America" conference. She was quoted by CNN.
Note: We're taking U.S. Independence Day off and will return Wednesday.
More articles
International religious freedom | Israel | Crime | Abuse | Pastor's wife murder trial | Richard Scrushy | Prison ministry and state | Church and state | Education | Religious displays | Barack Obama | Politics | Philippines | Stem-cell research | Life ethics | Abortion | Sexual ethics and family life | Homosexuality | Lesbian student suit | Anglican breakup | PCUSA | Catholicism | Church life | Church anniversaries | Church buildings | Missions & ministry | Giving | Money and business | Media | Film and theater | Music | Books | History | People | Spirituality | Other stories of interest
International religious freedom:
Catholic priest knifed in Turkey | A French Roman Catholic priest has been stabbed by a knife-carrying attacker in the Turkish Black Sea port of Samsun (BBC)


Ultra-Orthodox Jews attack Christian tourists in Jerusalem | A group of 50 pro-Israel Christian tourists came under attack Wednesday from some 100 residents of the ultra-Orthodox neighborhood of Mea She'arim in Jerusalem (Haaretz, Tel Aviv)


Christian pilgrims back Israeli troops | About 25 people, wearing white T-shirts that said "Your God is my God," waved Israeli flags and sang religious songs (Associated Press)


Pope calls for Israeli, Palestinian peace talks | Pope Benedict on Sunday called for peace talks between Israelis and Palestinians and an end to spiraling violence in Iraq (Reuters)


Church anti-Semitic | Jesus had something to say about such hypocrisy (Ezra Levant, The Calgary Sun)


Church case back in court this week | Recusal hearing Wednesday in Burlington for presiding judge (Rutland Herald, Vt.)


Letters detail charges of abuse by priest | The handwritten letter by the Rev. Edward O. Paquette, a Westfield resident, to Bishop John A. Marshall of the Burlington, Vt., diocese, was a failed attempt to be honest about Paquette's sexual attraction toward boys (The Republican, Springfield, Mass.)


Church suspends organist after ruling on sex claim | The Roman Catholic Diocese of Portland dismissed a longtime Waterville organist from her job Friday, after an investigation into a claim she had sex with a minor about 35 years ago (Portland Press Herald, Me.)


Also: Waterville woman dismissed from duties | The family of a longtime organist for the Parish of the Holy Spirit on Sunday blasted Maine's Roman Catholic Church as arrogant and unjust in dismissing their mother of her church duties for allegedly having inappropriate sexual contact with a minor about 30 years ago (Kennebec Journal, Me.)


A worthy compromise | The Legislature's Joint Committee on Judiciary has at last reached a reasonable compromise on the issue of extending the statute of limitations on crimes involving the sexual abuse of children - one that should be passed before lawmakers adjourn later this month (Editorial, Boston Herald)


Scrushy facing more HealthSouth trials | Richard Scrushy's felony convictions Thursday in a state bribery scheme linked to his days as chief executive of HealthSouth Corp. aren't the end of his legal troubles. (Associated Press)


Also: Jury convicts HealthSouth founder in bribery trial | Scrushy paid Ala. politician for board seat, panel finds (Washington Post)


Also: Ex-governor and executive convicted of bribery | A jury in Alabama convicted Don E. Siegelman and a former HealthSouth chief executive, Richard M. Scrushy (The New York Times)


Ohio prison system curtails religious programs | Department reaches tentative agreement with deputy warden who sued over proselytizing during employee training, other practices (Associated Press)


Striking down hope for inmates | The judge's message is this: Go away. Go away, even if your program is working and inmates are volunteering and asking for the services. (Mark L. Earley, The Washington Post)


Jewish family "forced to move" over school lawsuit | "Stop the ACLU Coalition" publicized home address, phone number (Bartholomew's Notes on Religion)


A baptism in business for pastors, laypeople | Boston College program would be a first (The Boston Globe)


Chaplain bid provocative and divisive | Christian clergy have no place in public schools (Judith Bessant, The Age, Melbourne)


Church constructs monument to Christianity in likeness of Lady Liberty | 72-foot monument in Hickory Hill to be unveiled on July Fourth (Commercial Appeal, Memphis)


Support for lighted cross rekindles an old debate | A tower at Pepperdine was supposed to be illuminated 33 years ago but critics blocked it (Los Angeles Times)


24 tons of controversy | Millions of dollars in legal fees and 15 years of litigation have not changed the original 1991 District Court's ruling. A federal judge has now ordered the Mount Soledad cross removed or the city of San Diego faces a $5,000 per day fine (Gail Chatfield, North County Times, San Diego)


Hillary Clinton talks religion | Appearing before a religious conference earlier this week, Sen. Hillary Rodham Clinton told the audience that as a child attending Sunday school she would baby-sit the children of migrant workers so that their older siblings could join their parents at work (CNN)


No answer to Arroyo's prayers | Despite a papal seal of approval, the Philippine President's woes aren't over (Time Asia)


Prelate didn't violate church laws: bishops | The Catholic Bishops Conference of the Philippines (CBCP) said Caloocan Bishop Deogracias Iniguez did not violate any policy of the Catholic Church when he filed last Wednesday an impeachment complaint against President Gloria Macapagal-Arroyo (Sun Star, Manila, Philippines)


Impeachment and the Church | In filing the second "back-up impeachment complaint" against President Arroyo, Caloocan Bishop Deogracias Iñiguez went boldly where other top Catholic Church officials didn't dare to go before (Editorial, Sun Star, Manila, Philippines)


Excommunication fears overstated | Stem-cell researchers say Vatican statements aren't leading to religious purges or change in scientific agenda (Inside Higher Ed)


Vatican vows to expel stem cell scientists from Church | Scientists who carry out embryonic stem cell research and politicians who pass laws permitting the practice will be excommunicated, the Vatican said (The Telegraph, London)


Tribal leader ousted over abortion clinic | A Sioux tribe ousted its president for proposing an abortion clinic on the reservation, which would be beyond the reach of South Dakota's strict new abortion ban (Associated Press)


Operation Rescue buys, closes clinic | An anti-abortion group has bought and closed a Wichita clinic that provided abortions and was a focal point of the massive 1991 demonstrations known as the "Summer of Mercy" (The Wichita Eagle, Kan.)


Sexual ethics and family life:
'Gay wedding' MP attacks Church | Ben Bradshaw, one of the first MPs to have a civil partnership ceremony, has criticised the Church of England for not recognizing same-sex partnerships (BBC)


So what if they're born gay? | A study that shows younger brothers are more likely to be gay shouldn't alter the fact that homosexuals deserve equal rights (Editorial, Los Angeles Times)


Parents sue for school's actions | On behalf of two students, a lawsuit claims discrimination and invasion of privacy (The Press-Enterprise, Riverside, Ca.)


Girls' suit allowed to proceed | Christian school believed they were lesbians, let them go (San Francisco Chronicle)


Calif. court OKs teens' suit vs. school | Two teens expelled from a Lutheran high school because of an alleged lesbian relationship can sue the school even though it is a private religious institution, the California Supreme Court ruled (Associated Press)


3 Episcopal dioceses seek release | San Joaquin, two others ask to be placed outside U.S. church jurisdiction (Los Angeles Times)


Anglican breakup: Australia:
Anglican breakup (opinion and analysis):
Crisis of Faith: Episcopal schism reflects wider culture war | The battle over homosexuality is really a contest over the nature of moral truth and authority. It's the root cause of the culture war, in which the Anglican battle royal is merely one front. (Editorial, The Dallas Morning News)


Divine divisions | What happens next is not about gay bishops, nor same-sex weddings, nor polygamy. Rather it is about the church's architecture and the degree of autonomy enjoyed by its constituent parts. In the end, though, Dr Williams will have to choose between unity - and bigotry (Editorial, The Guardian, London)


A church divided cannot stand -- can it? | Episcopalians' dysfunction is ominous (Frank E. Lockwood, Lexington Herald-Leader, Ky.)


Presbyterians and the Holy Trinity: Let us phrase | Delegates to the U.S. church's policy-making body endorse other wordings to describe a 'triune God' (Los Angeles Times)


I believe in Larry, Moe and Curly Joe | Ever attentive to the world's evolving feelings -- I guess -- delegates to the PCUSA's national assembly recently voted to "receive" a policy paper on gender that would allow a little flexibility on the Holy Trinity (Kathleen Parker, The Orlando Sentinel)


Small church born again | Abbott Methodist reopened thanks to Willie Nelson and his sister (Ft. Worth Star-Telegram, Tex.)


A spiritual home far away from home | Every Sunday, more than 400 people, most of them immigrants from Jamaica and other Caribbean countries, spend three hours worshipping inside this abandoned bakery at Route 1 and East West Highway in Riverdale Park (The Washington Post)


Church plays central role in Haitian life | For most Haitians in Southwest Florida, church is the center of religious, family and social life (The News-Press, Ft. Myers, Fla.)


Church battles fires with faith | Pontiac church aims to rebuild after 2 arsons (The Detroit News)


Megachurches have wrong focus, black leaders say | Concentrating on wealth is turning Christianity on its head and ignoring the poor, they say (Associated Press)


AME bishops seek more ways to help Africa | Conference ends on international note (The Post and Courier, Charleston, S.C.)


Also: AME church ready to stress core values | Denomination ends conference with call to overhaul the governing board (The State, Columbia, S.C.)


Christian Reformed speak up for peace, stall on women | Conscientious objector standards urged (The Christian Century)


Hillsong avoids the politicians | Today's opening of the annual convention of Sydney's largest evangelical congregation is to be a politician-free zone (The Sydney Morning Herald)


Without Walls looks next to Big Apple | The Tampa megachurch is on a real estate hunt for a new sanctuary in New York (St. Petersburg Times, Fla.)


Sex, work and singleness | Women were once the backbone of the church. No more. A reality show in a convent shows why (Kristin Aune, The Guardian, London)


Churches insulated from war's harsh reality | Three years after the invasion of Iraq, stories of bloody bombings and mounting casualties still top each day's news, but remain conspicuously absent from the discourse of most neighborhood churches (Barbara Brown Taylor, Religion News Service)


Project helps prostitutes escape the streets | Mary Magdalene Project offers housing and job training to help prostitutes change their lives (Los Angeles Times)


Spreading the word | Door-to-door evangelists don't get a lot of hugs in response to their ministry (Kennebec Journal, Me.)


Religion in the news: Women of Faith and joy | During the two-day meeting, speakers and special guests shared motivational stories with attendees and led them in song and prayer. At times, however — such as when the Grammy-nominated Christian group, Avalon, took the stage — it felt more like a concert than a religious conference (Associated Press)


Evangelical Alliance: A model organization | Evangelical Alliance is the name of one of the United Kingdom's most powerful church-based organisations which has been highly influential in articulating a Christian worldview in the public square (The Jamaica Gleaner)


Web site matches people to churches | Stephani and Chad Olson are in the matchmaking game, but not in the way you may think (The Arizona Republic)


Radio station's sale generates lively debate | The pending sale of KTPB 88.7 FM, a public radio station operated by Kilgore College, has drawn international attention - and angst (Tyler Morning Telegraph, Tex.)


Radio station's sale could still stay in local hands (Tyler Morning Telegraph, Tex.)


Songs of Praise man to be BBC's religious head | A Methodist lay preacher who is a BBC producer has been chosen as the BBC's new head of religion and ethics, the corporation announced yesterday (BBC)


Church's radio tower request faces opposition | The Newport News Planning Commission has urged the Council to vote against the proposal (Daily Press, Hampton Roads, Va.)


Bible in the eyes of Africans | Africa Bible Commentary is the most ambitious and comprehensive biblical project to have come out of Africa (Joseph Ngunjiri, The Nation, Kenya)


Baldwin slams Bono's charity work | "You would do far more good if you just preached the gospel of Jesus rather than trying to get rid of Third World debt relief." (ContactMusic.com)


Rick Warren heads to North Korea | Also: Religious groups seek allies against poverty (The Washington Post)


A man of faith | Away from football, OSU's Penton finds his calling in the ministry (The Columbus Dispatch, Oh.)


Meera Jasmine sparks new row by entering temple | Christian actress offers prayers at Hindu temple (PTI, India)


Desert prayer with Egyptian roots | Life at North America's only Coptic Orthodox monastery is rigorous and strictly for worship. It draws those who seek a deeper insight into Christianity (Los Angeles Times)


A call to honor the Sabbath | The problem with ignoring the Sabbath is that it hurts us as individuals, families and communities (Henry G. Brinton, USA Today)


True colours of modern Christianity | The West is no longer the heart and soul of the Christian movement, (Michael Duffy, The Sydney Morning Herald)


Related Elsewhere:
Suggest links and stories by sending e-mail to weblog@christianitytoday.com
See our past Weblog updates:
June 29b | 29a | 28
June 23 | 22 | 21
June 16 | 15 | 14 | 13b | 13
June 9 | 8 | 7 | 6
June 2b | 2a | May 31
May 26 | 24
May 19 | 18 | 17
May 11 | 10 | 9 | 8
Weblog
Launched in 1999, Christianity Today's Weblog was not just one of the first religion-oriented weblogs, but one of the first published by a media organization. (Hence its rather bland title.) Mostly compiled by then-online editor Ted Olsen, Weblog rounded up religion news and opinion pieces from publications around the world. As Christianity Today's website grew, it launched other blogs. Olsen took on management responsibilities, and the Weblog feature as such was mothballed. But CT's efforts to round up important news and opinion from around the web continues, especially on our Gleanings feature.
Ted Olsen is Christianity Today's executive editor. He wrote the magazine's Weblog—a collection of news and opinion articles from mainstream news sources around the world—from 1999 to 2006. In 2004, the magazine launched Weblog in Print, which looks for unexpected connections and trends in articles appearing in the mainstream press. The column was later renamed "Tidings" and ran until 2007.
Previous Weblog Columns: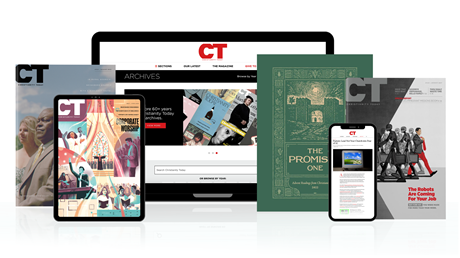 Annual & Monthly subscriptions available.
Print & Digital Issues of CT magazine
Complete access to every article on ChristianityToday.com
Unlimited access to 65+ years of CT's online archives
Member-only special issues
Subscribe
Third Priest Attacked in Turkey
Third Priest Attacked in Turkey