true
1. The Christian feel good movie of the summer: PG
Facing the Giants is a faith-filled football film, which "resembles a fusion of the Book of Job and a homemade Hoosiers," reports Terry Mattingly. The film is scheduled to open in 380 theaters in September. Alex and Stephen Kendrick, brothers and associate pastors of media at Sherwood Baptist Church in Albany, Georgia, wrote and produced the film, and naturally, they gave it an overt Christian message.
Mattingly writes, "The movie includes waves of answered prayers, a medical miracle, a mysterious silver-haired mystic who delivers a message from God, and a bench-warmer who kicks a 51-yard field goal to win the big game when his handicapped father pulls himself out of a wheelchair and stands under the goal post to inspire his son's faith." It also includes a scene in which the football team's coach tells a player to follow Jesus.
That scene, according to the Motion Picture Association of America, seems to be on par with brief nudity—either of which is enough to turn a G film into a PG one. Facing the Giants, which has no nudity, is too evangelistic for parents to think it is safe for children to watch without parental guidance, says the MPAA. Kris Fuhr, vice president for marketing at Provident Films, said the MPAA told her that "the movie was heavily laden with messages from one religion and that this might offend people from other religions. It's important that they used the word 'proselytizing' when they talked about giving this movie a PG. … It is kind of interesting that faith has joined that list of deadly sins that the MPAA board wants to warn parents to worry about."
We Americans have high ideals for our soldiers. We honor them for securing our freedom, and we expect them to enter into the barbarity of war and remain civilized, moral Americans. We are horrified when soldiers act as barbaric as the battles they are in, and we find their moral lapses equally as defeating as losses on the battlefield.
We hope that a technologically sophisticated "shock and awe" campaign will keep our soldiers from the messy realities of war. But when the best technology isn't enough, and our soldiers, despite themselves, fail, we wonder, "If our soldiers stoop to the level of the terrorists, what are fighting for anyway?"
The killings last November in Haditha are only the most recent example. The Washington Postcalled the incident one of the "potentially most embarrassing and damaging events of the Iraq war, one that some say may surpass the detainee abuse scandal at Abu Ghraib prison." But, why do we expect perfect behavior from soldiers at war?
David Brooks comments on the predicament of our soldiers in his New York Times column:
We have all been raised on stories in which good triumphs over evil, and in these stories good does not triumph by chance. It triumphs because honesty, virtue and decency pay off in the long run. Evil, meanwhile, contains the seeds of its own destruction. Those who lie, torture, and kill eventually become entrapped by their own sins.
In Iraq at the moment, however, savagery seems to be triumphing over decency. The insurgents and the militias—who kill and maim with abandon—appear to be wearing away the morale of those who seek a decent, democratic nation.
Moreover, they are winning precisely because they are savage, and are proud to do things their enemies are ashamed to do.
For the most part, our soldiers have resisted the barbaric behavior of their enemies. "Because American troops come from the culture they do, they have not become the sort of people they would have to be to defeat the insurgents at their own game," Brooks says.
We are searching for ways to exercise enough power to defeat the insurgents while still behaving in accordance with our national conscience. We are seeking a sweet spot that satisfies both the demands of power and of principle. But it could be that given the circumstances we have allowed the insurgents to create, that sweet spot no longer exists.
The Americans lose when insurgents who flaunt moral constraints are allowed to operate. Americans also lose when they stoop to the immoral behavior their enemies. It's one of the paradoxes of this war, Brooks says. He blames that paradox on the guerrilla nature of the Iraq war. But Brooks doesn't consider two things: "War is hell," as Civil War Gen. William Tecumseh Sherman said. And humans are sinful.
"The terrorists no doubt look at our qualms not as a sign of virtue but of weakness," says Brooks "and as evidence that savagery will lead to victory again and again." It's depressing, yes. And it's a reminder that even with the technology of the American military to guide precision bombs and limit collateral deaths, war has moral implications on those who fight it and those who send soldiers. Maintaining virtue in war is far more difficult than winning it. If winning the war depends on our virtue … well, we all will need a lot of prayer.
3. Same-sex marriage wins one, loses one
The amendment to ban same-sex marriage failed in the Senate yesterday, though the measure gained one vote more than it did in 2004. But in Alabama, voters, many of whom rejected Roy Moore for the Republican candidate for governor, passed a ban on same-sex marriage with 81 percent approval.
In Washington state, conservatives failed to even get enough signatures to put a referendum on the ballot that, if passed, would overturn a state law that bans discrimination against gays. The state does have a Defense of Marriage Act, which some worry could be overturned because of the non-discrimination bill.
4. Prisons, prisoners in awful shape
There are so many things wrong with our prison system, it's hard to know where to begin. That's weblog's summary of a recent report by the Commission on Safety and Abuse in America's Prisons. The commission includes evangelicals working in prison ministry. Violence, overcrowding, disease, and lack of family support are some of the many reasons why 60 percent of the country's prisoners commit another crime after their release.
But, according to Judge Robert W. Pratt, chief judge of the Federal District Court for the Southern District of Iowa, religious efforts to improve prison life and reduce recidivism are unconstitutional. He declared Prison Fellowship's InnerChange program unconstitutional. The program accepts inmates who voluntarily chose to apply. It also separates ministry-funded activities like communal worship, from state-funded activities like meals or security. In throwing out the InnerChange program run by Prison Fellowship, Pratt said:
The program requires attendance at worship services, religious community meetings, and weekly revivals, and orders its participants to engage in daily religious devotional practice. Furthermore, participants are required to lead prayers and share, publicly, a personal devotional at the weekly community meeting. InnerChange instructors and employees must sign the Prison Fellowship Statement of Faith. The curriculum is restricted and does not stray from the religious beliefs stated in the Statement of Faith. InnerChange teachers and counselors are allowed to teach only a pre-set, imposed religious curriculum authorized by InnerChange and Prison Fellowship. Though an inmate could, theoretically, graduate from InnerChange without converting to Christianity, the coercive nature of the program demands obedience to its dogmas and doctrines.
Unfortunately, Prison Fellowship will have to continue their fight for their right to operate a successful program for prisoners in need of it. The case also has potential ramifications for other faith-based public services.
5. China theaters to pull Da Vinci Code
Why did China pull The Da Vinci Code after it was approved for release and earned $13 million in the nearly three weeks since its release? No one seems to know.
Quote of the day
"My youngest child has been told that she will go down, down, down to hell because she has not accepted Jesus."—Carolyn Silver Alford, in a testimony to the Knox County school board as it prepared a religious expression policy to "take reasonable steps to protect students from religious coercion or harassment in schools promptly, equitably, and with civility."
Politics | Marriage amendment fails | Church life | Life ethics | Abuse | Crime | People | Music | Film & television | Da Vinci Code | Other religions | More articles of interest
Marriage amendmentfails:
Senate rejects gay marriage amendment | The Senate rejected a constitutional amendment to ban gay marriage Wednesday, delivering a stinging defeat to President Bush and other Republicans who hope the issue will rally GOP voters for the November elections. (Associated Press)


Advocates revel in marriage ban defeat | Supporters of gay marriage celebrated the Senate's defeat of a constitutional amendment to ban such unions — and seized the moment to warn conservatives and President Bush that anti-gay sentiments won't influence November elections. (Associated Press)


Jerry Sutton enters SBC presidential race | A key member of the Southern Baptist Convention's conservative leadership has made a late entry into the SBC's presidential race as the nation's largest Protestant denomination prepares to meet next week in Greensboro. (Associated Press)


Homeowners, church balk at state offers | The 200-year-old First Baptist Church in Salem is immersed in a high-stakes battle and facing an uncertain future. State officials are offering $1.04 million to buy the downtown building on Federal Street to make way for a $106 million court complex, but church members aren't biting. (The Boston Globe)


Local church reinvents itself, reaches out to neighborhood | Drums provide an upbeat rhythm as Sunday morning worshippers clap their hands and sing with abandon. The service is definitely not the kind you'd find at the a cappella Donmoyer Avenue Church of Christ in South Bend. (South Bend Tribune, Ind.)


Inmate's execution still set for tonight | Stay voided for man experts say is retarded (The Washington Post)


'Legalise euthanasia' says expert | A former professor of medical ethics has called for all forms of euthanasia to be legalised. (BBC)


Judge: Suit against Vatican can proceed | A federal judge ruled Wednesday that a sex abuse lawsuit against the Vatican can move forward with its claim that the Holy See bears responsibility for a priest who was transferred from city to city even though he was known to be a molester. (Associated Press)


LA church abuse records ordered sealed | Many of the records in lawsuits alleging sexual abuse by priests from the Roman Catholic Archdiocese of Los Angeles will remain secret before trial, a judge has ruled. (Associated Press)


Judge orders many records in priest sex abuse cases to be kept secret | Lawyers for Cardinal Roger M. Mahony opened a new front Wednesday in their fight to keep files on priests accused of sexual misconduct secret, persuading a judge to order lawyers to keep many of the records confidential before trial. (Los Angeles Times)


Arrest may link to church thefts | Church officials believe a D.C. man arrested in connection with a theft in Northwest could be responsible for a string of burglaries from city churches in recent months. (The Washington Times)


Vandals spray '666' on Wisconsin shrine | Vandals spray painted statues, walls and other items at one of Wisconsin's historic religious shrines in an incident related to the date 6-6-06. (Associated Press)


Seminary removing satanic vandalism; mayor to comment | Officials at St. Joseph's Seminary are preparing to try to remove spray-painted satanic messages that maintenance workers discovered this morning. (The Journal News, N.Y.)


Robertson says he really leg-pressed a ton | Religious broadcaster Pat Robertson says it is the God's honest truth — he did, indeed, once leg-press a ton when he was almost 73 and had prostate cancer, and he still regularly lifts up to 1,200 pounds with his legs. (Associated Press)


Local book author celebrates the comedy in church life | Kilpatrick's monthly newsletter, the LarkNews, carries a disclaimer that its news stories consist of fictional humorous satire. Based on imaginary news items with Christian topics, in 2005 the publication received the Gospel Music Association's Grady Nutt Humor Award. (Agoura Hills Acorn, Ca.)


Kirk Franklin's flash, faith and frank talk make powerful impact | Kirk Franklin wants his concerts to provide a balance of entertainment and a message. As the hippest performer in the history of gospel music, Franklin realizes style can get in the way of substance. (Jackson Clarion Ledger, Miss.)


Punked | Origins of an aggressive music's Southwest Florida roots, from Christian hardcore to its skate park progeny -- and beyond (Naples Daily News, Fla.)


Noise with a Christian message | Irving loves Jesus. He demonstrates that publicly through his musical alter ego Clang Quartet, a performance-art project that uses musical improvisation to retell the story of Jesus Christ. (Go Triad, N.C.)


It's a Famile affair | Daniel Smith, ringleader for psych-rock circus the Danielson Famile, is one of independent music's most compelling mythic figureheads: over the course of a decade-long career, Smith has squirmed into a full-size tree suit (strumming his acoustic through holes cut in the trunk), assumed the persona of a traveling Bible salesman (complete with tie and briefcase) and dressed himself and his family-band in matching homemade nurses uniforms—all while shrieking clever, beguiling stories about God, faith and love. (Paste)


China theaters to pull 'Da Vinci Code' | The Chinese government, in an unprecedented move, has ordered movie theaters to stop showing "The Da Vinci Code," movie industry officials said Thursday. (Associated Press)


China drops the curtain on "Da Vinci Code" | China has ordered cinemas to stop showing the controversial blockbuster "The Da Vinci Code," media and movie theater officials said on Thursday, though the official reason was not immediately clear. (Reuters)


China pulls 'Da Vinci' in wake of protests | In a stunning about-face that is sure to send shock waves through Hollywood, the government of China has decided to yank the controversial thriller "The Da Vinci Code" from the country's theaters starting today, Sony Pictures confirmed Wednesday. (Los Angeles Times)


Muslim women don't see themselves as oppressed, survey finds | Muslim women do not think they are conditioned to accept second-class status or view themselves as oppressed, according to a survey released Tuesday by The Gallup Organization. (The New York Times)


Group's plan causes tension in Kan. Town | Supporters of Maharishi Mahesh Yogi see his Transcendental Meditation movement as fostering world harmony. But in this farm town in the heart of the heartland, the movement's plans to build its "World Capital of Peace" here are creating more tension than tranquility. (Associated Press)


Wigs pose dilemma for religious Jewish women | The problem arose about two years ago when Israeli rabbis discovered that hair cut from the heads of Hindu worshipers at Indian temples was being used to manufacture wigs worn by religious Jews. (Reuters)


Hand of John the Baptist arrives in Moscow | Thousands of believers gathered at the Cathedral of Christ the Savior in Moscow Wednesday to pray over a relic -- the right hand of St. John the Baptist. (UPI)


Scientology becomes NASCAR sponsor | A Church of Scientology ad has been spotted on a NASCAR vehicle in Southern California. (UPI)


Macy's removes gay pride display | Macy's department store has removed a window display marking Boston's gay pride week after a group that opposes gay marriage complained it was offensive. (Associated Press)


Uzbek court bans international NGO for preaching Protestantism | A court in Tashkent, the capital of Uzbekistan, has ordered the closure of an international non-governmental organization's office in the country for activities including Protestant missionary work, the court said Thursday. (UzReport.com, Uzbekistan)


Suffer little children | US evangelists are twisting the Bible to say that beating the young is a Christian doctrine (Giles Fraser, The Guardian, UK)


Jesus loves a machine gun | It's the new 'Left Behind' video game, where you maim and murder and hate, all in God's name. Praise! (San Francisco Chronicle)


U.S. prison study faults system and the public | Not only are America's prisons and jails largely failing the 13.5 million adults who pass through them each year, but the American public is also failing the prisons and jails, a bipartisan study group concluded in a report released Wednesday. (The Washington Post)


Related Elsewhere:
Suggest links and stories by sending e-mail to weblog@christianitytoday.com
See our past Weblog updates:
June 7 | 6
June 2b | 2a | May 31
May 26 | 24
May 19 | 18 | 17
May 11 | 10 | 9 | 8
May 5 | 4 | 3
April 28 | 27b | 27a | 19
April 12 | 11 | 7
Weblog
Launched in 1999, Christianity Today's Weblog was not just one of the first religion-oriented weblogs, but one of the first published by a media organization. (Hence its rather bland title.) Mostly compiled by then-online editor Ted Olsen, Weblog rounded up religion news and opinion pieces from publications around the world. As Christianity Today's website grew, it launched other blogs. Olsen took on management responsibilities, and the Weblog feature as such was mothballed. But CT's efforts to round up important news and opinion from around the web continues, especially on our Gleanings feature.
Ted Olsen is Christianity Today's executive editor. He wrote the magazine's Weblog—a collection of news and opinion articles from mainstream news sources around the world—from 1999 to 2006. In 2004, the magazine launched Weblog in Print, which looks for unexpected connections and trends in articles appearing in the mainstream press. The column was later renamed "Tidings" and ran until 2007.
Previous Weblog Columns: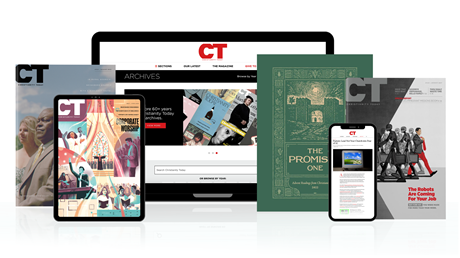 Subscribe to Christianity Today and get access to this article plus 65+ years of archives.
Home delivery of CT magazine
Complete access to articles on ChristianityToday.com
Over 120 years of magazine archives plus full access to all of CT's online archives
Subscribe Now
Evangelistic Movie Earns PG rating
Evangelistic Movie Earns PG rating