Top Five Stories (Fri afternoon-Wed. morning):
1. Presbyterian court: "Conscience takes precedence over propriety"
Presbyterian Church (USA) minister Janet Edwards says her performing the marriage of a lesbian couple is an example of walking in the footsteps of her famous sixth-great grandfather, Jonathan Edwards. After all, she told the Pittsburgh Tribune-Review, he ministered to Native Americans, calling them virtuous when they were considered by the culture to be savages. ""I would say his acceptance of the Mohicans of the time is similar to my inclusion of gay-lesbian-bisexual-transgendered people now," she said.
There are a few differences, however. For example, Edwards's church didn't actually define Mohicans as savages. Today's Presbyterian Church (USA) doesn't define "gay-lesbian-bisexual-transgendered people" as savages, either, but the Book of Order does define marriage as "a covenant through which a man and a woman are called to live out together before God their lives of discipleship."
That's "a definition, not a directive," the court of the Presbytery of the Redwoods ruled last Thursday in the church trial of Jane Adams Spahr. Neither, the court said, is the church's 1991 General Assembly instruction that "it would not be proper" for a minister to conduct same-sex unions. Since the church didn't use stronger language, the court ruled, "the issue remains unsettled." Ministers are to act on their conscience, and since "conscience takes precedence over propriety," ministers who believe that they should conduct same-sex marriages may do so. Hath the church truly said that ministers may not conduct same-sex marriages?
2. Pastor quits over terrorism grief
A Church of England minister has shown a different approach when one's personal attitudes differ with church teachings. She resigned. It's quite a sad story: Julie Nicholson's 24-year-old daughter was killed in the July 7 London terror bombings. Since then, she says, she has been unable to forgive the bombers. "I don't wish to," she said. "Forgiving another human being for violating your child is almost beyond human capabilities. It is very difficult for me to stand behind an altar and celebrate the Eucharist and lead people in words of peace and reconciliation and forgiveness when I feel very far from that myself." The trend in many church circles these days would have been to use those feelings to deny church doctrines on reconciliation and forgiveness, notes Anne Atkins in The Telegraph. "It is refreshing to find anyone resigning from anything these days; certainly for reasons of integrity." A Times editorial agrees: "Mouthing the words is one thing. Meaning them is another. To have forgiveness turned into the most prosaic of platitudes is to demean the concept." The same can be said of a number of doctrines.
3. South Dakota bans almost all abortions
Surely you've seen this story by now. But if you haven't, be sure you check out our own news story, which was posted today.
4. Third strike for Indiana church
At first glance, the story seems like just another sad chapter in a common news theme these days: one more minister arrested on charges of child molestation. But Kevin Whitacre "is the third youth pastor at Good Shepherd [United Brethren Church in Huntington, Indiana] to be charged with such a crime in the past 10 years," notes The Journal Gazette. "Two other youth pastors were found guilty of their crimes."
5. Band sues over Christian label
When the band Mute Math signed with EMI Christian Music Group, it was to get "direct access to Capitol and Virgin" labels, says the band's lawyer. But instead, EMI released the band's EP on Word Records: a distinctly Christian label. "There's a credibility gap," the lawyer told Reuters. The band's members are all Christians, he says, but "Mute Math is not a worship artist. They don't preach from (the) stage. They don't preach in their interviews. Those things are required of you when you work in the Christian market." The band has sued Warner Bros. Records and Word for breach of contract and negligent misrepresentation.
Quote of the day
"This is better than lying on some beach."
—University of Toledo student Greg Hall, one of 7,000 Campus Crusade for Christ volunteers gutting and rebuilding Gulf Coast homes over their Spring Break. By contrast, notes Reuters, the United Way and MTV are sending only 100 spring breakers to Biloxi, Mississippi, and Foley, Alabama.
More articles
PCUSA's Jane Spahr case | Homosexuality | Gay adoptions in Mass. | Plan B | South Dakota abortion ban | More on abortion | Life ethics | War and terrorism | Pastor quits over post-terror grief | Church of the Annunciation attack | Church life | Religious liberty | Right to religious hallucinogens | Church and state | U. Wisconsin RA Bible studies | Education | Evolution | Politics | Elections and candidates | Immigration | Catholicism | Abuse | Crime | Missions & ministry | Spirituality | Bible | Books | Da Vinci Code | Entertainment | Art | Money and business | Trinity Broadcasting Network gets tax windfall | People | Deaths | Other articles of interest
Archbishop warns of split over gay bishops | Rowan Williams, the Archbishop of Canterbury, warned yesterday that the 77 million worldwide Anglican communion could split for a considerable period over the issue of homosexuality (The Telegraph, London)


Episcopal election to set tone for church | Choices for bishop include gay, lesbian (San Jose Mercury News, Ca.)


Conservative Jews to consider ending a ban on same-sex unions and gay rabbis | The direction taken by Conservative Jews will be closely watched at a time when many Christian denominations are torn over the same issue (The New York Times)


Report: Gay prevention programs harm teens | A national gay and lesbian group is accusing several religious organizations of harming homosexual teens by offering parents what they say are bogus therapies to keep children from becoming gay (Associated Press)


Gay-marriage opponent wants judge ousted | A state lawmaker Tuesday called for a Baltimore judge to be impeached for a ruling in favor of gay couples (Associated Press)


Romney looking for gay adoption exemption for Catholic church | Gov. Mitt Romney said Monday he's trying to find a way to exempt Catholic social services agencies from a law requiring them to consider gays as adoptive parents (Associated Press)


Bishops' gay ban may cost millions | Private donors wary of adoption policy (The Boston Globe)


In this family, normal means two fathers | Since it is clear that Massachusetts has not become Sodom and Gomorrah after legalizing gay marriage two years ago, the Christian right is now zeroing in on the ''victims" of some of those marriages: their children (Bella English, The Boston Globe)


Adoption flap a tragedy for children | If Catholic Charities is forced out of the adoption field, those kids will go on languishing and aching for God knows how much longer (Jeff Jacoby, The Boston Globe)


Wal-Mart decides to carry Plan B pill | Officials of Wal-Mart Stores Inc. announced Friday the company will reverse its earlier policy and stock emergency contraception pills in all of its pharmacies effective March 20, saying the giant retailer could not justify being the country's only major pharmacy chain not to carry the morning-after pill (Associated Press)


No middle ground for pharmacist | John Menges refused to abide by a new state rule that he fill prescriptions for the 'morning-after' pill. Now he's out of a job (Chicago Tribune)


Catholic hospitals' Plan B policies argued | Pill backers mention rape victims, others defend religious freedom (The Hartford Courant, Ct.)


State victim advocate opposes morning after pill legislation | State Victim Advocate James F. Papillo called on lawmakers Monday to oppose a bill requiring Connecticut hospitals, including Catholic institutions, to provide the "morning after pill" to rape victims (Associated Press)


Update: Victim advocate urged to quit | Lt. Gov. criticizes stand on Plan B (The Hartford Courant, Ct.)


Groups counterattack strict S. Dakota abortion law | Abortion rights supporters on Tuesday responded to South Dakota's strict new abortion law by organizing protests, raising money and debating whether to use legal action or a statewide vote to try to strike down the law (Reuters)


Bishop hopes law calls attention to 'immorality' of abortion | The leader of Maine's Roman Catholics said he hopes a new abortion law in South Dakota will call attention to a procedure that he calls immoral (Associated Press)


Life after Roe | The impending legal battles put us on the verge of repeating the last two decades of the abortion war: anti-abortion victory, abortion rights backlash. At the end of the cycle 20 years from now, we'll be right back where we are today. Unless, that is, we find a way out. And that means moving beyond Roe (William Saletan, The Washington Post)


Holland to allow 'baby euthanasia' | A committee set up to regulate the practice will begin operating in the next few weeks, effectively making Holland, where adult euthanasia is legal, the first country in the world to allow "baby euthanasia" as well (The Times, London)


Life of sick baby 'intolerable' | A baby at the centre of a landmark case over whether life support can be withdrawn has an "intolerable life", the High Court has heard (BBC)


Md. House passes stem cell funding bill | The Maryland House of Delegates passed a bill yesterday that would provide $25 million a year in state money for stem cell research, a science that proponents say holds great promise for debilitating conditions but whose funding has been limited by President Bush on the federal level (The Washington Post)


Arson, rape, massacres … and the strange silence of the archbishop | Tough talk for Israel, but no rebuke for Sudan? (Nick Cohen, The Observer, London)


Onitsha crisis: Refugees give conditions for return | Thousands of people displaced in the sectarian crisis in Anambra State are still in camps in Onitsha and Asaba vowing not to return unless their security is assured (Daily Trust, Nigeria)


Pastor quits over post-terror grief:
Church of the Annunciation attack:
Bishop's split from church 'caused pain' | A senior Church of Ireland clergyman has said the former Bishop of Cashel and Ossory, the Rt Rev Peter Barrett, has caused pain to his colleagues and diocese in deciding to resign from his position and leave his wife and family (The Belfast Telegraph)


Right to religious hallucinogens:
Church seeks probe of peyote prosecutions | Utah County: Members claim officials unduly burdened the free practice of their religion (The Salt Lake Tribune)


Religious freedom: inherent right or gift of the state? | Supreme Court decision upholding church's right to use hallucinogenic tea should have been decided under First Amendment's free-exercise clause (Charles C. Haynes, First Amendment Center)


U. Wisconsin RA Bible studies:
UW System plan pleases religious group | Campus Crusade for Christ likes proposal (Wisconsin State Journal)


Religious studies proposal respects everyone's rights | A compromise proposal before the University of Wisconsin Board of Regents resolves a potential church-state problem in a positive and common-sense way (Editorial, La Crosse Tribune, Wis.)


When freedoms clash | The new policy strikes a better balance. It would permit the assistants to host political or religious events provided they don't pressure the students in their charge to attend (Editorial, Milwaukee Journal-Sentinel)


Turning textbooks into the Good Book | Accelerated Christian Education teaches that liberal elected officials don't understand biblical principles and that that all liberals worship man rather than God (Steve Blow, The Dallas Morning News)


Profile of ministries rises as intelligent design debate grows | Traveling creationism workshops take aim at secular teaching (The Clarion-Ledger, Jackson, Miss.)


When evolutionists attack | Two of the leading philosophers of evolution have been caught in an email slanging match that has been printed on the blog of their mutual enemy William Dembski, a supporter of the rebranded creationism known as intelligent design (Andrew Brown, The Guardian, London)


Survey questions politicians on Jesus | Jeff Sharp, county attorney for Barren County, and a church youth group are surveying all Kentucky legislators and legislative candidates with a single question: "Have you accepted Jesus Christ as your Lord and Savior?" (The Courier-Journal, Louisville, Ky.)


Christian school shocked over arrest of former teacher on child-sex charges | The Summit Christian School community is praying for its families and cooperating with law enforcement officials after the weekend arrest of a former teacher on sex charges involving a child, headmaster Sam Skelton's office said Monday (South Florida Sun-Sentinel)


Also: Ex-Summit Christian teacher arrested in student sex case | On Saturday, Chad Stoffel, a former math and music teacher at Summit Christian School, fell from grace (Palm Beach Post, Fla.)


Church suit bill is abuse of justice | Colorado Senate President Joan Fitz-Gerald's recent bill targeting the church may appear to offer justice for those sexual abuse victims, but in reality it is transparently discriminatory and trashes a basic civil right of the accused (David Harsanyi, The Denver Post)


Life's on-call butler: how teens view God | Teenagers no longer fear the existence of God, believing instead that a higher power is more like a "butler", to be called on whenever they are in strife (The Australian)


Misery loves optimism in Africa | A recent survey of 50,000 people across the world found that in the face of unyielding misery Africans are the most optimistic people (The New York Times)


Hooked on online psychics | The impulse to consult the paranormal for guidance in life can, like gambling fever, strike people of any level of education, intelligence or social status (The New York Times)


Drawing on the past for new Bible | Illustrated, handwritten edition is a first in recent times (Religion News Service)


Time to read about Adam and Eve | I was telling my two boys last week about a creationist I had met who believed that Adam and Eve played with dinosaurs and they turned to me and said: "Who was Adam?" I paused and asked in reply: "Do you know who Eve was?" They shook their heads. (The Telegraph, London)


Korean Christians want 'Da Vinci Code' movie pulled | On Feb. 28, the Christian Council of Korea decided to mobilize all its resources to prevent a Korean release of the Tom Hanks vehicle they say "disparages the divinity of Jesus Christ" (Chosun Ilbo, South Korea)


Writer insists 'Da Vinci' echoes his work | A writer who claims "The Da Vinci Code" copied from his work insisted in a British court on Wednesday there were specific echoes of his book in the best-selling thriller (Associated Press)


Author admits inflating 'Da Vinci' claims | An author who is suing the publishers of the best-selling thriller "The Da Vinci Code" admitted in court Tuesday to exaggerating his claims that the novel borrowed from his own work (Associated Press)


Art:
Dark portrait of a 'Painter of Light' | Christian-themed artist Thomas Kinkade is accused of ruthless tactics and seamy personal conduct. He disputes the allegations (Los Angeles Times)


The spirit moves this man of faith | Nicolas Majdalani's fascination with icons was born in a Beirut church. When he's 'writing' them, he feels the hand of God (Los Angeles Times)


Justices won't intervene in art flap from Kan. university | 10th Circuit earlier rejected argument from Washburn professor, student who said school's display of sculpture — which they contend is anti-Catholic — violated their religious freedom (Associated Press)


Trinity Broadcasting Network gets tax windfall:
A powerful preacher who tries to deflect public acclaim | The Rev. John Stott, who appeared in Manhattan, is seen by many as one of the two or three top figures in evangelical Christianity over the last half-century (The New York Times)


The fall and rise of Carlton Pearson | Followers, media spotlight are returning to outcast preacher (The Dallas Morning News)


Q&A with David Coffey | 'There are 6 million Nigerian Baptists' says president of the Baptist World Alliance (The Dallas Morning News)


Rev. Earl Stallings, 89, pastor praised by jailed Dr. King, dies | In 1963 the Rev. Earl Stallings risked the rejection of his own white congregation, and worse, by seating African-American worshipers among them at his Easter service (The New York Times)


Henry M. Morris, 87, a theorist of creationism, dies | Dr. Morris's writings provided the intellectual underpinnings for attacks on evolution as an account of world history (The New York Times)


His voice led the way | Accident at city church takes minister's life and leaves his good friend 'inconsolable' (The Hartford Courant, Ct.)


Religion news in brief | Aid to Palestinians defended; Richmond loses Methodist forum; Initiative links faith, foreign policy (The Washington Post)


World must stand up to religious censors | Hold groups accountable for their actions (Marci A. Hamilton, USA Today)


The return of the happy housewife | The more traditional a marriage is, sociologists found, the higher the percentage of happy wives (Charlotte Allen, Los Angeles Times)


Related Elsewhere:
Suggest links and stories by sending e-mail to weblog@christianitytoday.com
See our past Weblog updates:
March 3 | 2 | 1
February 24 | 23 | 22 | 21
February 17 | 16 | 15 | 14 | 13
February 10 | 9 | 7
February 3 | 2 | 1
January 25 | 20 | 19 | 18 | 17
January 13b | 13a | 10
January 6 | 5 | 4
Weblog
Launched in 1999, Christianity Today's Weblog was not just one of the first religion-oriented weblogs, but one of the first published by a media organization. (Hence its rather bland title.) Mostly compiled by then-online editor Ted Olsen, Weblog rounded up religion news and opinion pieces from publications around the world. As Christianity Today's website grew, it launched other blogs. Olsen took on management responsibilities, and the Weblog feature as such was mothballed. But CT's efforts to round up important news and opinion from around the web continues, especially on our Gleanings feature.
Ted Olsen is Christianity Today's executive editor. He wrote the magazine's Weblog—a collection of news and opinion articles from mainstream news sources around the world—from 1999 to 2006. In 2004, the magazine launched Weblog in Print, which looks for unexpected connections and trends in articles appearing in the mainstream press. The column was later renamed "Tidings" and ran until 2007.
Previous Weblog Columns: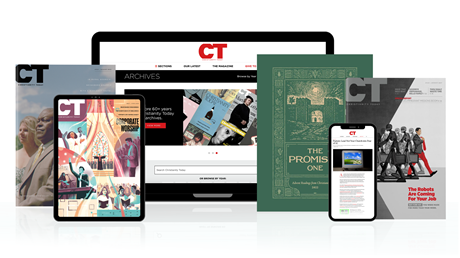 Subscribe to Christianity Today and get access to this article plus 65+ years of archives.
Home delivery of CT magazine
Complete access to articles on ChristianityToday.com
Over 120 years of magazine archives plus full access to all of CT's online archives
Subscribe Now
Presbyterian Court Rules Pastors Can Conduct Gay Marriages
Presbyterian Court Rules Pastors Can Conduct Gay Marriages