Today's Top Five
1. It's the National Day of Prayer
It seems like most daily papers have some article on local National Day of Prayer events today, so we're listing it as today's top news story. But honestly, there's not much news about today's events. Bush's speech was almost exactly the same one he has given at prayer breakfasts and days of prayer since his first inauguration. Even the 90-hour Capitol Bible Reading Marathon isn't really new: It has preceded the National Day of Prayer for the last 17 years. There's a protest of sorts called the National Day of Reason, where atheists are donating blood, but it doesn't look big enough to make much news. Anyway: People are praying today. Great! We hope they pray tomorrow, too, when the cameras are off.
2. Vatican excommunicates Chinese bishops
The Vatican has excommunicated two bishops ordained by the state-controlled Chinese Patriotic Catholic Association, whose ordination had been opposed by Roman Catholic officials. The Vatican also excommunicated the two bishops who performed the ordinations. Catholic blogger Amy Welborn asks an interesting question: Does the excommunication of the ordainers "imply then that all of the previous bishops consecrated in the CPA have indeed had the tacit approval of the Vatican?" Discussion follows, with the general answer "not really."
3. Judge: San Diego cross must go. Really.
"It is now time, and perhaps long overdue, for this court to enforce its initial permanent injunction forbidding the presence of the Mount Soledad cross on city property," U.S. District Judge Gordon Thompson Jr. told the city of San Diego yesterday. He originally ruled that the cross was unconstitutional in 1991—and it's been a long battle ever since. If it's not down in 90 days, he'll fine San Diego $5,000 a day.
4. Newspapers preview Episcopal vote
Yep, there could be another gay bishop in the Episcopal Church USA. Could be, but we'll wait and see. That seems to be the theme in Episcopal circles anyway: There's always one more meeting, one more vote, one more document, with each one touted beforehand as some kind of referendum on whether the denomination is going to be orthodox or walk away from historic Christianity. Afterward, all the talk turns to the next meeting, vote, or document.
5. Did end of Sudanese civil war make it worse for Darfur?
The New York Times argues as much today. At the very least, things are worse in Darfur than they were when the peace agreement was signed.
Quote of the day:
"Many have said that these were just college pranks, that this was a joke that got out of hand. It was not a joke then; it is not a joke now."
—Alabama attorney general Troy King, announcing 46 state arson and burglary charges against the three former college students accused of nine church arsons. The three were indicted in March on federal charges.
More articles
National Day of Prayer | Church and state | Religious freedom | Sudan | Politics | China-Vatican relations | Condoms | Abortion and life ethics | Education | Homosexuality and education | Homosexuality | Church life | Crime | Missions & ministry | Da Vinci Code | Entertainment and media | Spirituality | Other stories of interest
Prayers, and other offerings | As the Rev. Roy Kirton prays for President George W. Bush in a Copiague service today marking the National Day of Prayer, a small band of nonbelievers will be embarking on an alternative observance (Newsday)


Bible's profile at the Capitol touches a chord | 90-hour marathon of Bible reading, which will include readings by about two dozen members of Congress and their staffers, led up to Thursday's National Day of Prayer (The Christian Science Monitor)


San Diego has 90 days to remove Mt. Soledad cross | Judge threatens fine to enforce '91 ruling (San Diego Union-Tribune)


Mizoram police grab children of satan-fearing cult | Police in the largely Christian state of Mizoram have taken 13 children away from their parents said to belong to a cult which believes attending school exposes students to satanic forces, an official said on Thursday (Reuters)


U.S. finds religious freedom threatened worldwide | Two U.S. allies called 'of particular concern' for intolerance (CNN)


Vietnam, US spar on rights before trade talks | Vietnam, which hopes to be taken off a U.S. blacklist on religious rights to ease passage to the World Trade Organization, on Thursday rejected as "completely wrong" a report saying Hanoi had not done enough on freedom of faith (Reuters)


An incomplete peace: Sudan's never-ending war with itself | When the civil war in southern Sudan ended in 2005, the West hoped Darfur would also become peaceful. Instead, the conflict there has escalated (The New York Times)


Aid agencies seek donations for Darfur | The World Food Program is so strapped for cash it has halved food rations for refugees in Sudan's wartorn Darfur region. Another U.N. agency has been forced to cut out measles vaccinations for children there (Associated Press)


On his watch | If peace negotiations are to succeed in Darfur, military action must be on the table (Editorial, St. Louis Post-Dispatch)


Killing fields | Darfur needs peace "enforced at the end of a barrel" (Jan Egeland, The Wall Street Journal)


Responding to evil | Protesting about Darfur is unlikely to stop the carnage. But we still need to speak out against oppression. (Marc Gellman, Newsweek)


Pope strongly condemns Chinese church | Pope Benedict XVI noted that its consecration of two bishops without Vatican approval was an offense punishable by excommunication (The New York Times)


Vatican excommunicates 4 Chinese bishops | The Vatican on Thursday excommunicated two bishops ordained by China's state-controlled church without the pope's consent, escalating tensions as the two sides explored preliminary moves toward improving ties. The Vatican also excommunicated the two bishops who ordained them. (Associated Press)


Viewpoints: China and the Vatican | Comments from Catholic nun and professor Beatrice Leung and researcher Anthony Lam (BBC)


Vatican re-examines ban on contraception | A Vatican study on whether it could permit condoms to battle AIDS has a very narrow scope: married Roman Catholic couples in which one partner has the virus. But its theological underpinnings are centuries old, and could lay the groundwork for an end to the church's blanket ban on contraception (Associated Press)


Catholics and condoms | Will the pope change the church's stand? The Vatican is currently engaged in a complex debate—and a major part of it is whether condoms could turn marital sex into something considered evil (Newsweek)


Kaiser's seminary tenure nears end | Walter C. Kaiser Jr. on Saturday will preside over his last commencement as president of Gordon-Conwell Theological Seminary, capping a nine-year tenure marked by dramatic growth at the evangelical Protestant graduate school (The Boston Globe)


Battle lines form over Boston College selection of Rice as speaker | Political dispute divides campus (The Boston Globe)


In lawsuit, parents say schools ignore their beliefs | At the center of a federal lawsuit filed last week by two sets of Lexington parents over the discussion of homosexuality in public elementary schools is the question: Do parents or public schools have the final say in deciding what morals, values, and principles should be taught to children, and at what age should those lessons take place? (The Boston Globe)


Committee okays bill to add gays, lesbians to textbooks | Hotly debated measure heads to state Senate (San Francisco Chronicle)


State indicts three church fire suspects | Authorities announced state arson and burglary charges Wednesday against three church fire suspects and said they won't settle for anything less than a long time behind bars for the former college students (The Birmingham News, Ala.)


Teens mark passage to adulthood with grace | Church-run program ends in a cotillion (The Washington Post)


Modern-day abolitionist | Linda Smith is trying to bring hope to what may seem like a hopeless situation. In 1998, she founded Shared Hope International, a nonprofit organization that aims to rescue and restore women and children who are in crisis, because of the global sex-trafficking market (The Washington Times)


Salvation Army marches to heavy metal | 'At the Loaf' monthly at Lawrenceville gym gives kids a safe outlet to rock (The Atlanta Journal-Constitution)


English Catholic group opposes Da Vinci film boycott | A group of prominent English Roman Catholics is opposing a Vatican call to boycott the film "The Da Vinci Code," saying the movie's release is not a threat but a chance to explain their faith (Reuters)


Camp, decadent, cowardly | The Da Vinci Code appeals to the kind of people who just want to flirt with Christianity (Theo Hobson, The Guardian, London)


Why Jews should worry about 'The Da Vinci Code' | Jews in particular need to be aware of the gift Brown has given, in all innocence, to anti-Semites (David Klinghoffer, The Jewish Week, N.Y.)


Catholics fail to block "Popetown" in Germany | Just hours before the episode was scheduled to air, a court rejected an injunction filed by Bavarian bishops, allowing MTV to go forward as planned (Reuters)


Catholic Church plots next move as "Popetown" airs | MTV Germany risked incurring further wrath from the Catholic Church Wednesday when it went ahead with the planned broadcasting of a single test episode of the irreverent cartoon series "Popetown" (Deutsche Welle, Germany)


Film "Jesus Camp" focuses on US evangelical youth | Documentary looks at Pentecostal evangelical Christians, some of whom send their children to summer camps where they pray, "speak in tongues" and are encouraged to campaign against abortion (Reuters)


"Flock of Dodos" film brings humor to evolution row | The film shines a spotlight on "intelligent design," a school of thought that says many of the seemingly miraculous and complex elements of nature must be the work of an intelligent designer -- namely God (Reuters)


Does it pay to pray for healing? | Sickness and death aren't God's will. God is fighting them and will overcome them--but until then, should we pray for healing? (Tony Campolo, Beliefnet)


Religion, but no church required | 53% engage in religious activities on their own (Toronto Star)


Related Elsewhere:
Suggest links and stories by sending e-mail to weblog@christianitytoday.com
See our past Weblog updates:
May 3
April 28 | 27b | 27a | 19
April 12 | 11 | 7
March 31 | 30 | 28
March 24 | 24 | 23 | 21
March 17 | 16 | 15
March 10b | 10a | 8
Weblog
Launched in 1999, Christianity Today's Weblog was not just one of the first religion-oriented weblogs, but one of the first published by a media organization. (Hence its rather bland title.) Mostly compiled by then-online editor Ted Olsen, Weblog rounded up religion news and opinion pieces from publications around the world. As Christianity Today's website grew, it launched other blogs. Olsen took on management responsibilities, and the Weblog feature as such was mothballed. But CT's efforts to round up important news and opinion from around the web continues, especially on our Gleanings feature.
Ted Olsen is Christianity Today's executive editor. He wrote the magazine's Weblog—a collection of news and opinion articles from mainstream news sources around the world—from 1999 to 2006. In 2004, the magazine launched Weblog in Print, which looks for unexpected connections and trends in articles appearing in the mainstream press. The column was later renamed "Tidings" and ran until 2007.
Previous Weblog Columns: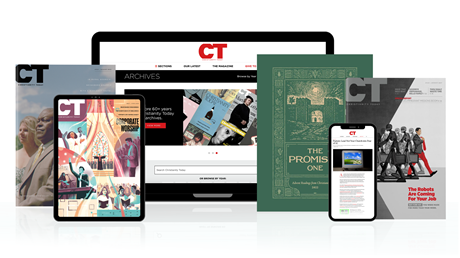 Annual & Monthly subscriptions available.
Print & Digital Issues of CT magazine
Complete access to every article on ChristianityToday.com
Unlimited access to 65+ years of CT's online archives
Member-only special issues
Subscribe
A Day of Prayer (But We'll Pray Tomorrow, Too)
A Day of Prayer (But We'll Pray Tomorrow, Too)