Back when Steve Martin and Saturday Night Live were funnier, the ubiquitous comedian starred in a dark sketch in which he played "Theodoric of York: Medieval Barber." Theodoric attempts to heal using primitive techniques, usually involving bloodletting or leeches. Not surprisingly, most of the patients end up dead or deformed. Toward the end, Theodoric ponders the destructiveness of his "cures," musing, "Perhaps I've been wrong to blindly follow the medical traditions and superstitions of past centuries. Maybe we barbers should test these assumptions analytically, through experimentation and a 'scientific method.' … Perhaps I could lead the way to a new age, an age of rebirth, a Renaissance!"
But Theodoric then delivers the devastating punch line: "Naaaaaahhh!"
Unfortunately, Christians who express moral qualms about embryonic stem cell (ESC) research, which currently requires the destruction of nascent human life, are being typecast as medieval barbers holding back a golden age of scientific discovery. "Medical progress has stirred religious and moral objections throughout history—objections that were overcome as the benefits of medical advances became overwhelmingly obvious," condescendingly writes Deborah Blum in The New York Times.
Such anti-science smears resurfaced after President Bush vetoed a bill last July allowing more federal funding for ESC research, presumably using the estimated 500,000 "extra" frozen embryos produced at in vitro fertilization (IVF) clinics nationwide. Usually safe Republican seats in Missouri, Pennsylvania, and elsewhere appear vulnerable.
According to an NBC News/Wall Street Journal poll, 68 percent of those surveyed favor more taxpayer money for ESC research, with just 27 percent opposed.
Blind Faith
Such popular attitudes have, so far, been undeterred by facts. David Prentice, senior fellow for life sciences at the Family Research Council, points to 72 documented medical successes for patients using adult stem cell treatments, which are morally unproblematic, compared with 0 for ESC-based treatments.
Why then this blind faith? Certainly compassion for the suffering is one big factor. Another, unfortunately, is widespread fear of disabilities, such as spinal cord injuries and Alzheimer's. Frightened citizens are willing to grasp at any elixir, however dubious. As Ronald D. G. McKay, a stem-cell researcher at the National Institutes of Health, acknowledged, "People need a fairy tale." (A much-hyped announcement in late summer by Advanced Cell Technology [ACT] that human embryonic stem cells theoretically could be generated without destroying an embryo has yet to be confirmed.)
Regardless of how the elections go this month, Bush's restrictions will likely come crashing down when he leaves office. How do we convince an increasingly callous society that the human embryo we can't see is worth protecting?
First, we'll need to convince ourselves. Few pro-lifers have spoken out about those 500,000 frozen embryos, and many of us have participated in the colossal waste of IVF as currently practiced. Because of the exorbitant costs, often couples allow many embryos to be produced without any expectation that all will be carried to term. These leftovers are eventually thawed and "disposed of," or left frozen indefinitely.
Pundit Michael Kinsley, an ESC research proponent, calls us hypocrites: "If embryos are human beings, the routine practices of fertility clinics are far worse—both in numbers and in criminal intent—than stem-cell research. And yet no one objects, or objects very loudly."
Of course, a few of us—including CT—do object. Joni Eareckson Tada, left a quadriplegic from a diving accident, is another one. "IVF is not morally squeaky clean," she told me. "Christian couples need to understand the inherent moral problems connected with that procedure as it is presently performed."
Is the embryo really a precious human life made in God's image? Or is it simply marvelously complex raw material to be exploited for the greater good? Eareckson Tada is unwilling to cross that moral line, even in her wheelchair. How about the rest of us?
Unless ACT's disputed technique surmounts ethical objections (not likely, given that none of the embryos in its research survived), we should not expect any quick and easy solutions. Defending human dignity may be the work of years, even decades. Amid much opposition, in 1791 William Wilberforce presented his first bill to abolish the British slave trade. Finally the odious practice was outlawed 16 years later, and British slavery not until 1831.
We need the conviction and endurance of Wilberforce. Even when they call us medieval barbers.
Related Elsewhere:
NIH explains how stem cells work as well as the current laws regarding research.
Here is Deborah Blum's essay on ethical objections to stem cell research.
One of the articles saying that stem cells had been extracted without harming embryos before it was admitted that all the embryos had, in fact been destroyed and the results were theoretical.
Snowflakes is one organization that facilitates embryo adoption.
A bioethicist analyzes embryo adoption on CNN's site.
NPR has a report (audio) on one couple who decided to adopt through Snowflakes and another on a February 2005 ruling on whether a fertilized egg was human.
Here is President Bush's speech on embryonic stem cell research.
The Washington Post has more information on the problem of frozen embryos.
Have something to add about this? See something we missed? Share your feedback here.
Foolish Things
Stan Guthrie is an editor at large for Christianity Today and author of Missions in the Third Millennium and All That Jesus Asks. His column, "Foolish Things," ran from 2006 to 2007.
Previous Foolish Things Columns:
Our digital archives are a work in progress. Let us know if corrections need to be made.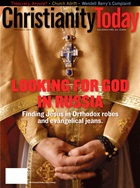 This article is from the November 2006 issue.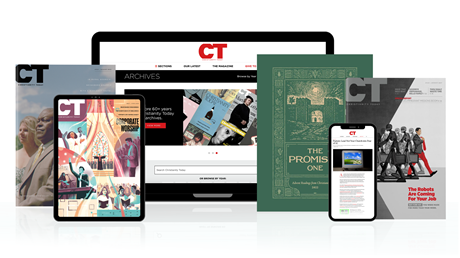 Subscribe to Christianity Today and get access to this article plus 65+ years of archives.
Home delivery of CT magazine
Complete access to articles on ChristianityToday.com
Over 120 years of magazine archives plus full access to all of CT's online archives
Subscribe Now
Worth Protecting
Worth Protecting