The Democrats took the U.S. House of Representatives Tuesday night, while control of the Senate remains uncertain as votes continued to be counted in Virginia.
Analysts had predicted that the battle for the Senate could come down to Virginia, where incumbent Republican Sen. George Allen was running slightly behind Democratic challenger Jim Webb, and could request a recount.
Evangelicals working to bolster the Democratic Party exulted in the resounding victory. They moved quickly to claim credit for the strong Democratic showing nationwide.
"The Religious Right's dominance over politics and evangelicals has come to an end," said Jim Wallis, leader of the Sojourners/Call to Renewal movement and an adviser to Democrats. "I would say the Religious Right has lost, and the Secular Left has lost."
His organization distributed more than 300,000 "Voting God's Politics Issues Guides" in an effort to thwart religious conservatives and prompt voters to think more broadly about what he believes a biblical political agenda entails.
"The Democratic leadership needs to recognize how the winds are changing," Wallis told Christianity Today. "I really think there is a third force. Not a third party but a broader, deeper agenda that reflects a more biblical political agenda. [Focus on the Family founder James] Dobson can't be happy this morning, but neither can the Secular Left."
Wallis said evangelicals have been breaking with President Bush, not only on the war in Iraq but on economic issues as well. Wallis cited six successful state efforts to raise the minimum wage.
"The candidates who won are genuinely either people of faith or friendly to faith. A lot of them are pro-life, and pro-poor," he said. "The religious faith communities were deeply involved in increasing the minimum wage, and people are saying that fair wages are a biblical issue."
Conservative leaders, meanwhile, said evangelicals lacked the motivation to turn out for a Republican Party they felt disappointed them. A Family Research Council voting scorecard said the Republican Congress during the last two years took no vote of significance to religious conservatives apart from approving two Bush nominations to the Supreme Court.
"The Republicans didn't light our fire," said Tom Minnery, Focus on the Family's vice president of government and public policy. "It took Dobson a long time before he decided to convince people to turn out." Minnery said the decision by the group's political arm, Focus on the Family Action, to back Republicans, "was not over how good the Republicans were, but how bad the Democrats will be, and not just on the social issues but on national security as well."
Key Races: Pennsylvania Senate
Republican Sen. Rick Santorum's loss to State Treasurer Bob Casey Jr. in Pennsylvania pained many religious conservatives, though they expected the result. The third-ranking Republican in the Senate, Santorum championed international human rights and opposed abortion. Casey, also a pro-life Catholic, is the son of a popular former governor.
"Rick Santorum will be sorely missed," Minnery said. "He was the paramount pro-family champion in the Senate and we appreciate everything he's stood for." Minnery said. Still, Santorum exacerbated his woes in a Democratic-trending state, according to Minnery.
"I think he really disappointed a lot of people when he campaigned so hard for [pro-choice Sen. Arlen] Specter two years ago," Minnery said. "He lost the votes of pro-life Catholics. He failed to excite them."
Casey's campaigned focused on fiscal responsibility and government accountability, while downplaying social issues.
Key Races: Missouri Senate
Another leader among Christian conservatives, Missouri Sen. Jim Talent, went down to defeat. Democratic State Auditor Claire McCaskill campaigned hard in favor of embryonic stem-cell research. A controversial and confusing ballot initiative favoring such research narrowly passed.
"It will permit cloning of human embryos for research and enshrine that right in the constitution," said Americans United for Life (AUL) vice president Daniel McConchie. The measure passed by only two percentage points, even though proponents spent $30 million—about 10-times what opponents mustered, according to McConchie. "The people thought they were voting on a ban on cloning, when they really weren't," he said. "It took them a lot of money and a lot of deception to secure that victory."
Key Races: Illinois House
Illinois provided one of the evening's few bright spots for conservatives. In Chicago's western suburbs, State Sen. Peter Roskam edged out Democrat Tammy Duckworth to replace retiring 32-year veteran pro-life leader Rep. Henry Hyde. The closely watched race centered on U.S. policy in Iraq, taxes, and illegal immigration. But the Democratic campaign also painted Roskam as extreme for his opposition to embryonic stem-cell research and abortion, including with cases of rape and incest.
Democrats recruited Iraq war veteran Duckworth from a neighboring congressional district to run against Roskam, a conservative evangelical from Wheaton with 13 years in the state legislature. Duckworth repeatedly accused Roskam of avoiding the war issue, and was one of the few Democrats who articulated a specific plan for U.S. troop withdrawal.
Key Races: South Dakota Abortion Ban
Voters in South Dakota rejected a state law that would have banned all abortions except to save a mother's life. Proponents in the legislature had hoped the ban would serve as a test case that could have led to the U.S. Supreme Court overturning Roe v. Wade.
AUL's Daniel McConchie said the measure's 56-44 defeat proved that abortion-rights advocates can win outside of the courts. "A lot of people on the pro-abortion side have hid behind judges for years, afraid of the democratic process," McConchie said. "This shows the other side that democracy worked in their favor, and that we can have a democratic debate about this rather than leaning upon judges."
Earlier polling indicated that a majority of voters would have supported the ban had it included clear exceptions for rape and incest.
"South Dakotans reaffirmed that the right to choose should be between a woman, her doctor, her family, and her God—not legislators," NARAL president Nancy Keenan said in a press release.
Pro-life advocates said the ban's defeat could make state legislatures more reluctant to enact less ambitious laws for waiting periods and parental notification. Voters in California and Oregon on Tuesday turned back measures that would have required doctors to inform parents 48 hours before performing abortions on their daughters, aged 18 and under.
Key Races: Traditional Marriage
Bans on same-sex marriage fared better than measures to restrict abortion. Seven more states voted to adopt constitutional amendments banning gay marriages. They passed by significant margins in Tennessee, South Carolina, Virginia, Idaho, Colorado, and Wisconsin. But Arizona delivered the first defeat to such a ban, with voters rejecting the measure 51-49. Meanwhile, South Dakotans approved a ban 52-48. The small margin of victory came as a surprise given the state's conservative—if somewhat libertarian—orientation.
All but nine states have statutory language defining marriage as between one man and one woman, according to the National Conference of State Legislatures. Tuesday's elections bring the number with such language in their constitutions to 28.
"What an incredible picture of an issue that transcends party categories," said Matt Daniels, president of the Alliance for Marriage. "The Republicans were beaten to a pulp, yet our cause had a resounding success."
Defining Victory
Like after the 2004 election, the race after the race will be to define victory. Did Americans vote their displeasure with President Bush over Iraq? Are moderates fed up with a Religious Right overreach in the GOP? How diverse is the evangelical movement in reality? In the immediate election aftermath, definition is open for debate. After years of talking about a better way, evangelical Democrats now have the opportunity to act. Wallis said he is planning a new member orientation meeting that would educate members of Congress on issues of faith and politics.
"Now that the Religious Right's hold on evangelicals has been broken, and Democrats with an agenda beyond the Secular Left have won," Wallis said, "we have to hold the new Congress accountable."
Related Elsewhere:
See today's commentaries on the election:
Faith-Based Triangulation | Religious moderates propelled the Democrats to victory. by Joseph Loconte
Good News for Democrats, Good News for Evangelicals | And Good News for the world. by George G. Hunter III
Christianity Today editors liveblogged the election results.
More on politics is available in our full coverage area.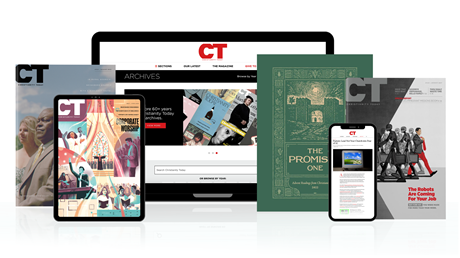 Annual & Monthly subscriptions available.
Print & Digital Issues of CT magazine
Complete access to every article on ChristianityToday.com
Unlimited access to 65+ years of CT's online archives
Member-only special issues
Subscribe
Declaring Victory
Declaring Victory