When Russian President Vladimir Putin walks up to a boy in Red Square and—as if impromptu—lifts the kid's shirt and smooches his belly, as the postcommunist tsar did this summer, remember this: His government hired the American PR firm Ketchum to make Russia look good.
A winsome reputation is not easy to come by in a place where not only are oil profits skyrocketing, but so are less flattering things—numbers of skinheads, homeless orphans, violent crimes against minorities, aids infections, and incidents of religious discrimination. Then there's the leprosy of the Russian soul—the corruption permeating all levels of society. What PR campaign could pretty it up?
I got a glimpse of this turpitude at the airport in the famous south Russian resort town of Mineralnye Vody, on the northern edge of the Caucasus, Europe's tallest, austerely beautiful mountains. A band of airport security and police officers there shake down foreigners for bribes.
When they're handed a foreign passport, the uniformed mafiosos look for a piece of paper issued to all visitors entering Russia. Hotel desk employees are supposed to stamp it for the purpose of tracking. For some reason, they often fail to do that. (Would it be paranoid to wonder if the area hotel desk workers could be in cahoots with the airport gang?)
Upon finding gaps in the stamps, security officers call the airport police. The police take the foreigners to an office with heavy steel doors. They insist that the foreigners broke the law, even though they didn't. When this happened to me and a friend last May, our Russian guide, Sergey Rakhuba, stepped inside the interrogation room to intervene. (He knew what he was dealing with: Not long ago, at the same airport, his brother, a Ukrainian pastor, was humiliated and stripped of all his cash.) A sheep among the wolves, Sergey tried respect, diplomacy, his knowledge of the law, and logic. They were of no use.
"It's going to take at least a couple of days before we're done looking into this serious problem," the crooks deliberated, shaking their heads. "We're going to have to call Immigration, and they're always busy." Then they began to close the sale: "The whole process is going to cost you all at least, say, 3,000 rubles."
Sergey is a gentle, jovial man, but when he came out of the room, his face was flushed with fury. It struck me as the kind of anger evocatively described in The Enigma of Anger: Essays on the Sometimes Deadly Sin by Garret Keizer, a book that leaves in the dust any psychobabble pulp on this complex emotion. The kind of anger God stirs up so that we would defy evil.
"The Lord my God is a jealous God and an angry God, as well as a loving God and a merciful God," Keizer writes. "I am unable to imagine one without the other. I am unable to commit to any Messiah who doesn't knock over tables." And this: "Anger is grace both when Christ is cleansing the temple and when he is cleansing the lepers."
What Sergey does for a living is more like cleansing Russia's lepers. But that day, some tables needed knocking over. Rightly or wrongly—I still don't know—my friend and I decided to pay the bribe, because we needed to make a meeting that was largely the reason we were in Russia. (We also reckoned with the possibility that the officers might otherwise "discover" narcotics in our luggage.)
Once the moneyed handshake was over, we were instantly free to go. I muttered obscenities; Sergey didn't. He stayed behind. He looked the extortionists in the eyes. All he said—and all he needed to say—was this: "You bring shame on our country."
The officers shrugged, cold to the lover's quarrel.
Would it have made a difference if they'd known that we had just come from Beslan, the site of the 2004 school siege in which 344 people, mostly school children, died in a way that made many wonder if God was all fury and no love?
Did they not hear about the other cops who had turned security checkpoints into private toll booths—those who, for a price, waved through the Beslan-bound terrorists all the way from Chechnya?
Would it have helped if we had told the officers that Sergey is vice president of Russian Ministries, which put crisis counselors in Beslan for a year?
Should we have have told them that a local mullah and a government head had profusely thanked Sergey for the ministry's loyal care in the region?
I don't know. Conscience-dulling maladies are hard to cure.
Putin's PR people joined the Beslan parents in a collective sigh of relief last July, when Russian forces killed Chechen warlord Shamil Basayev, who planned the siege.
But neither ingenious PR firms nor swift military coups can awaken Russia's soul. Only a lover can do it. Only a Lover can. Someone angry enough to look a conniver in the eyes and tell him the truth, or to throw over a few tables.
Someone furious with love.
Related Elsewhere:
More on Russia is available in our full coverage area.
Article continues below
Agnieszka Tennant's previous columns include:
What (Not All) Women Want | The finicky femininity of Captivating by John and Stasi Eldredge. (Aug. 10, 2006)
A Velveteen Apologetic | How two creatures dig a rabbit hole in my disbelief. (April 10, 2006)
What Would Jesus Buy? | Saving the world one cashmere sweater at a time. (Jan. 31, 2006)
Agnieszka Tennant's previous articles include:
A Hard Pill to Swallow | How the tiny tablet upset my soul. (Nov. 8, 2005)
Ragamuffin | The patched-up life and unshabby message of Brennan Manning. (June 4, 2004)
'Jesusy' Anne Lamott | Chatting with a born-again paradox. (Jan. 8, 2003)
The Ultimate Language Lesson | Teaching English may well be the 21st century's most promising way to take the Good News to the world. (Dec. 6, 2002)
Possessed or Obsessed? | Many Christians say they are in need of deliverance but some may be giving demons more than their due. (August 24, 2001)
Have something to add about this? See something we missed? Share your feedback here.
Taste and See
Agnieszka Tennant is a former associate editor and editor at large for Christianity Today. She earned her master's degree in international relations at the University of Chicago, where she focused on how religiously-rooted norms influence world politics. Her "Taste and See" column ran from 2006 to 2007.
Previous Taste and See Columns:
Our digital archives are a work in progress. Let us know if corrections need to be made.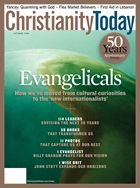 This article is from the October 2006 issue.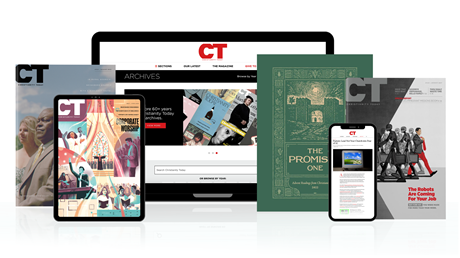 Annual & Monthly subscriptions available.
Print & Digital Issues of CT magazine
Complete access to every article on ChristianityToday.com
Unlimited access to 65+ years of CT's online archives
Member-only special issues
Subscribe
To Russia with Fury
To Russia with Fury