The year was 1492, a mere 37 years after Johannes Gutenberg invented movable type. Already, the new technology of printing books was threatening old ways. The Benedictine abbot Johannes Trithemius published a book entitled In Praise of Scribes, in which he defended the use of pen, ink, and vellum. "Printed books will never be the equivalent of handwritten codices," he argued. Ironically, Trithemius took his book to a printer in Mainz and had it published for wider distribution.
Like Trithemius, evangelical Christians have been both media conservationists and media innovators. We love our leather-bound Bibles, yet eagerly use Biblegateway.com's full text-search capabilities to compare 20 English translations.
We were early adopters of radio when that technology began to draw American families together around furniture-sized receivers in their parlors. We were also early adopters of television. In the golden era of radio and television networks, these media were unifying and leveling influences for Americans.
Christianity Today was founded at a time when mass-circulation magazines like Life and Colliers played a similar function. Billy Graham, our founder, understood the power of magazines to build community and identity. He launched this journal to be a standard-bearer for the neo-evangelical movement. His vision included a lot of variety—but variety was the essence of magazines as a medium.
Fresh challenges
Today, we scribes face new challenges from digital technology and the internet. Like Johannes Trithemius, we traditional print journalists cherish the old values—in-depth reporting, objectivity, and a slower pace that allows us to chew on a topic until we understand it. In the new age of nonstop, live news coverage, these values are at grave risk.
But, like Trithemius, we are early adopters of new media. ct has been online for 12 years. We are one of the pioneers of religious publishing on the internet. Our mission guides our use of all the media available to us, so that we are not simply dragged along in a tide of change.
From years of experience, we know the particular strengths of print magazines. Like everyone else, we are cautious participant-observers in the rapidly changing world of the internet. Four aspects are of special importance to us:
• Meeting the changing global needs of the church. The internet promises a worldwide reach, whereas magazines are limited by postal service. During the recent conflict between Israel and Hezbollah, Christianitytoday.com/ctmag served as a conduit for Christian leaders in the Middle East to address believers around the world. In response, our letters to the editor during that period showed a stunning geographical diversity.
• Speaking in a clear voice for evangelicalism to insiders and outsiders alike. Information technology serves the specialized interests of Christian users. There remains a need for unifying voices (like this magazine) to stimulate common awareness and understanding. In his initial vision for this magazine, Billy Graham talked about calling together "all evangelicals of all stripes." We were a diverse national movement in 1956. Today's global diversity highlights the need for voices that will give Christians a sense that they are part of something bigger than themselves that is moving forward—worldwide.
• Creating international partnerships for mutual learning. Our corporate parent, Christianity Today International, has taken the leadership in forming and facilitating the Global Christian Internet Alliance. Since its initial meeting in 2001, the group has grown to 23 affiliates in 14 major languages. Each participant is helping the others with their ever-evolving knowledge of what works on the Web. Some of the broadcasters involved in the group are now ready to launch print magazines and newsletters.
• Releasing new potential for personal life change. The internet provides new personal space, where individuals may learn and explore with greater privacy. The internet's privacy allows spiritual seekers in closed societies to learn about Jesus as never before. Our internet alliance partners in France call this trend the "Nicodemus effect." The measure of how much we at ct are helping to change lives provides a durable indicator of our true priorities. We join Billy Graham in asking, "Are we really being used to change people?" (See "A Greater Vision," p. 86.)
An Uncertain Future Is Now
Technology's blessings have unexpected side effects. Technology accelerates change in ways that are difficult to handle.
Even as the internet can bring the gospel into the privacy of seekers' homes, it can also create a "virtual Christianity," unconnected to a living, breathing body of believers. Just as it can deliver information rapidly and efficiently, it can also fracture church and society into niche groups pursuing their special interests.
The future is uncertain, yet the biblical Christian's mission is constant. Scholars project the world of 2025 will have 7.8 billion souls, including 2.6 billion Christians—just 250 million in North America. Which Christians in the coming decades will embrace the challenge of speaking the Good News to 5.2 billion people?
To survive and thrive through the next 50 years, the evangelical movement must benefit the whole church and the entire world for God's glory. Whatever new technology develops, we must use it to further God's mission. Whatever the future holds, we pray that under God's providence, we at Christianity Today can play a part in bringing believers together in a united sense of identity and in facilitating the work of the living, non-virtual church.
Related Elsewhere:
Earlier Christianity Today coverage of evangelicals' early adoption of communications technology includes:
No Luddites Here | Evangelicals have (almost) always been quick to adopt communications technologies. (Feb. 22, 2001)
The Wireless Gospel | Sixty-two years ago, Back to the Bible joined the radio revolution; now it is finding new media for its old message. A case study in evangelicals' love affair with communications technology (Feb. 22, 2001)
Maura McCarthy has studied evangelicals and technology. Her online papers include A History of Evangelism and Mass Media and E-vangelism: Redefining evangelical Identity in On-line Global Culture.
The University of Virginia's Jeffrey K. Hadden has a website with much research on religious broadcasting.
The Billy Graham Center Archives offers an online exhibit on Percy & Ruth Crawford and the Birth of Televangelism.
Christianity Today's other articles on its 50th anniversary include:
Where We Are and How We Got Here | 50 years ago, evangelicals were a sideshow of American culture. Since then, it's been a long, strange trip. Here's a look at the influences that shaped the movement. By Mark A. Noll (Sept. 29, 2006)
Sidebar: 'Truth from the Evangelical Viewpoint' | What Christianity Today meant to the movement 50 years ago. (Sept. 29, 2006)
Evangelism Plus | John Stott reflects on where we've been and where we're going.
Sidebar: Legacy of a Global Leader | Less known than Stott's earlier work is his ministry with Langham Partnership International.
One Reader's Thoughts on Christianity Today's 50th Anniversary | After five decades of reading, I've clipped far too many articles. (Oct. 12, 2006)
Have something to add about this? See something we missed? Share your feedback here.
Our digital archives are a work in progress. Let us know if corrections need to be made.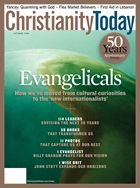 This article is from the October 2006 issue.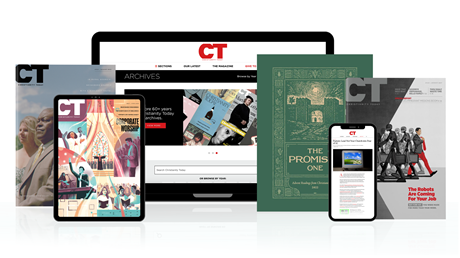 Subscribe to Christianity Today and get access to this article plus 65+ years of archives.
Home delivery of CT magazine
Complete access to articles on ChristianityToday.com
Over 120 years of magazine archives plus full access to all of CT's online archives
Subscribe Now
Media in Motion
Media in Motion