Speaking in tongues, long a hallmark of Pentecostalism, is not practiced by a significant number of charismatic and Pentecostal Christians, a new 10-country survey shows.
The survey, released Thursday by the Washington-based Pew Forum on Religion and Public Life, found that experiences of divine healing of physical ailments were far more prominent for those who affiliate with the vibrant and growing segment of Christianity.
Researchers found that many Pentecostals and charismatics attend worship services where speaking in tongues and other signs of the Holy Spirit are evident. But in six of the 10 countries surveyed, at least 40 percent of Pentecostals said they never pray or speak in tongues.
"I think that the classic Pentecostal belief that speaking in tongues was the real evidence of the second baptism of the Holy Spirit is, at least in practice, not widely accepted around the world," said John Green, senior fellow at the Pew Forum and a longtime observer of religion and politics.
Luis Lugo, director of the Pew Forum, suggested that the definition of the movement as a tongues-speaking segment of Christianity may need to be revisited.
"Based on these findings, we need to rethink that considerably," he said.
Speaking in tongues has been controversial among Christians, with some thinking it is not an appropriate modern-day practice despite its use in biblical times. The Southern Baptist Convention's International Mission Board adopted a policy last year forbidding the consideration of missionary candidates who use a "private prayer language." But a trustee of one of the denomination's seminaries has requested that a "lack of consensus" on the matter be addressed in the Southern Baptists' statement of faith.
The survey used the umbrella term "renewalists" for Pentecostals and charismatics. It described Pentecostals as those who belong to classical Pentecostal denominations such as the Assemblies of God or the Church of God in Christ, as well as newer groups such as the Universal Church of the Kingdom of God in Brazil. Charismatics include Protestant, Catholic and Orthodox Christians who believe they have experienced the presence of the Holy Spirit but are not members of Pentecostal denominations.
Results of the report, which was funded by the John Templeton Foundation, will be presented Friday at an international symposium at the University of Southern California.
Other findings include:
• Researchers confirmed that renewalists generally represent a significant portion of the populations in the 10 countries surveyed, comprising 23 percent of U.S. residents and 60 percent of Guatemalan residents.
"These groups are not only growing, but they've reached a point where they can have an enormous impact on the social and political life of the countries that we've studied," Green said.
• In six of the 10 countries surveyed—Brazil, Chile, Guatemala, Kenya, Nigeria and the Philippines—renewalists comprise a majority of the overall Protestant population.
The other countries surveyed were South Africa, South Korea, the United States and regions of India.
"I don't think it's too far-fetched at this point to seriously consider whether Christianity is well on its way to being Pentecostalized, … certainly in the developing world," said Lugo.
• In nine out of the 10 countries surveyed—the exception being India—at least half of charismatics and Pentecostals said religious groups should express their views on political and social matters.
"Contrary to widespread perceptions, Pentecostals are anything but apolitical," Lugo said.
Related Elsewhere:
The full survey and executive summary are available at PewForum.org.
Earlier Christianity Today coverage of tongues includes:
Tongues Tied | Southern Baptists bar new missions candidates from glossolalia. (Jan. 3, 2006)
Should We All Speak in Tongues? | Some say speaking in tongues is proof of 'baptism in the Holy Spirit.' Are those who haven't spoken in tongues without the Holy Spirit? (Mar. 6, 2000)
Recent Christianity Today articles on Pentecostalism include:
Embrace Your Inner Pentecostal | "Holy Spirit religion" is quietly infiltrating the church, revitalizing us all. By Chris Armstrong (Sept. 19, 2006)
Grading the Movement | Three leaders talk frankly about Pentecostalism: the good, the bad, and the unpredictable. (Mar. 31, 2006)
Full Gospel's Fractured Thinking | The problems with shunning the life of the mind. (Mar. 30, 2006)
Our Anti-Intellectual Heritage | The history and beliefs of the Pentecostal movement, often shared by evangelicals, hold the seeds of a bias against the life of the mind. An excerpt from Full Gospel, Fractured Minds? by Rick M. Nañez (Mar. 30, 2006)
A Wind that Swirls Everywhere | Pentecostal scholar Amos Yong thinks he sees the Holy Spirit working in other religions, too. (Mar. 29, 2006)
Africa's Azusa Street | East Africa has experienced Pentecost continually for nearly 80 years. (Mar. 28, 2006)
Article continues below
Stepping to Success | One reason Without Walls is one of the country's fastest-growing Pentecostal congregations. (Mar. 27, 2006)
Pentecostals: The Sequel | What will it take for this world phenomenon to stay vibrant for another 100 years? (Mar. 24, 2006)
The Pentecostal Gold Standard | After 50 years in ministry, Jack Hayford continues to confound stereotypes—all to the good. (July 1, 2005)
Hand-Clapping in a Gothic Nave | What Pentecostals and mainliners can learn from each other. (March 11, 2005)
Christian History Corner
The Roots of Pentecostal Scandal—Romanticism Gone to Seed | The sexual stumblings of prominent ministers point to a hidden flaw in Pentecostal spirituality. (Sept. 17, 2004)
Christian History Corner
Romanticism Gone to Seed—Part II | Have the holiness and Pentecostal movements really been "hyper-vertical" and "anti-domestic"? (Oct. 01, 2004)
God's Peculiar People | Historian Grant Wacker explains why Pentecostals survived and even flourished. (March 18, 2002)
Are Pentecostals Sex-Crazed? | John Steinbeck and Robert Duvall have portrayed them that way, and such criticism even came from inside the movement. But was it ever warranted? (Sept. 11, 2001)
Christian History Corner
Explaining the Ineffable | In Heaven Below, a former Pentecostal argues that his ancestors were neither as outlandish as they seemed nor as otherworldly as they wish to seem. (Aug. 31, 2001)
Should We All Speak in Tongues? | Some say speaking in tongues is proof of 'baptism in the Holy Spirit.' Are those who haven't spoken in tongues without the Holy Spirit? (March 6, 2000)
A Peacemaker in Provo | How one Pentecostal pastor taught his Congregation to love Mormons. (February 7, 2000)
Christian History & Biography devoted an issue to The Rise of Pentecostalism. More on Pentecostalism from CT sister publications include:
Whither Pentecostal Scholarship? | The overlap between "people with the Spirit" and "people with Ph.D.'s." (Books & Culture, May/June 2004)
El Espiritu Santo | Exploring Latino Pentecostalism. (Books & Culture, May/June 2004)
A Global Pentecost | The fastest-growing religious group? (Books & Culture, March/April 2002)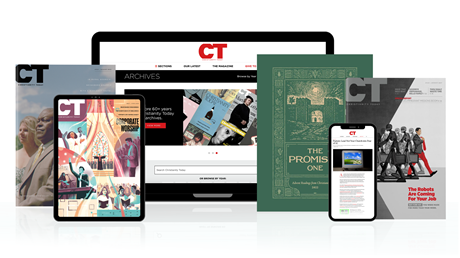 Subscribe to Christianity Today and get access to this article plus 65+ years of archives.
Home delivery of CT magazine
Complete access to articles on ChristianityToday.com
Over 120 years of magazine archives plus full access to all of CT's online archives
Subscribe Now
Poll Says Many Pentecostals Don't Speak in Tongues
Poll Says Many Pentecostals Don't Speak in Tongues