Today's Top Five
1. Compulsion in religion
"There is no compulsion in religion," says the Qur'an. "We were forced to convert to Islam at gunpoint," says Steve Centanni, the Fox News correspondent who was kidnapped with cameraman Olaf Wiig. "Don't get me wrong here. I have the highest respect for Islam, and I learned a lot of good things about it, but it was something we felt we had to do because they had the guns, and we didn't know what the hell was going on," he said.
Hard news coverage of the forced conversion—which echoes the Jill Carroll kidnapping—has been limited. Discussion has been mostly limited to conservative columnists, op-ed writers, and bloggers. That's unfortunate, since it places the debate in a "neo-conservatives" vs. "Islamofascists" narrative instead of a larger discussion of human rights.
Perhaps the reporters already feel defensive on the subject—The New York Times, among others, took much criticism for its initial headline, "2 Kidnapped Journalists in Gaza Freed Unharmed," before it changed it to "Fox News Journalists Free After Declaring Conversion on Tape." And perhaps the wind was taken out of reporters' sails by Centanni's apparent enthusiasm for Islam (leading some to accuse him of Stockholm Syndrome) and his shrugging the conversion off as a minor inconvenience on the way to freedom.
But the compelled conversion story has moved on and grown beyond kidnapped reporters. Almost every day, of course, religious liberty watchdogs like Compass Direct and AsiaNews.it report stories of Christians forced to convert to Islam or punished for converting out of it. For whatever reason, those rarely attract mainstream news attention. But politics stories do attract mainstream news attention, so it's a wonder that few reporters have tied the forced conversions to the new Al Qaeda video calling for Bush and non-Muslims in the United States to convert to Islam or "suffer the consequences."
"If the Zionist crusader missionaries of hate and counter-Islam consultants like … the crusader-in-chief George W. Bush were to abandon their unbelief and repent and enter into the light of Islam and turn their swords against the enemies of God, it would be accepted of them and they would be our brothers in Islam," Californian Adam Yahiye Gadahn said in the video (which identified him as "Azzam the American"). "To Americans and the rest of Christendom we say, either repent (your) misguided ways and enter into the light of truth or keep your poison to yourself and suffer the consequences in this world and the next."
But, you know. No compulsion and all that.
How about some real reporting on forced conversions? Nationalist Hindus in much of India claim that Christians are "enticing" or forcing people to convert, and they have passed anti-conversion laws in four states. Indian Christians respond that the allegations are baseless, and that it's the Hindu nationalists who are forcing their religion on others, often violently so. The U.S. government's religious freedom reports tend to agree with the Christians, but some serious reporting is needed to clarify the reality.
And what can we learn about forced conversions to Islam? Some of them do "stick," but how many? How do moderate Muslims respond when conversion is professed at the point of a gun? What about Muslim political leaders? What does "moderate" Muslim evangelism look like?
And how about a historical perspective on forced Christian conversion? Does Scandinavia's current lack of enthusiasm for Christianity have anything to do with how the faith came to the country a millennium ago, with King Olaf Trygvesson's command, "Be Christian or die"?
There are hundreds of other stories that can and should be done on forced conversions. This isn't a "conservative" issue. It's a human rights issue that gets to the core of what it means to be human. This subject belongs on the front page, not just the op-ed page.
2. Is it over yet?
Last week, it looked like the debate over religious imagery had ended at Bridgeport High School in West Virginia. The Head of Christ painting had been stolen, leading the board of education to drop its objection to a lawsuit against it. The moral of the story: If you don't like something, steal it.
Maybe this is the epilogue, or maybe just the newest chapter. Students on Friday donated a mirror to replace the Head of Christ painting. At the bottom of the mirror was a brass plate: "To know the will of God is the highest of all wisdoms. The love of Jesus Christ lives in each of us." The school put up the mirror, but removed the plate within three and a half hours of its hanging. At least one school board member says the plate removal was unauthorized and violated students' rights.
"I don't understand why the board wasn't consulted and why they'd do what the ACLU says to do," Mike Queen said. "But if the lawyers say take it down, I guess we have to take it down. But at some point we have to stop apologizing for being Christians and step up to the plate and do the right thing."
3. A KOCE deal
For those of you just joining the extremely long KOCE story, here's the short version. A community college district put its television station up for sale. The highest bidder was Daystar, a Christian network. The district instead sold the station to a foundation for $18 million less than Daystar's $40 million offer, saying the foundation was the "highest responsible bidder." Daystar sued and won, then won again. California's Fourth District Court of Appeal voided the sale, calling it "the rankest form of favoritism." And now the update: The college district got the California legislature to pass a bill allowing the sale to the foundation for the lower price. "The community college district didn't follow the law, and now they're asking us to change the law to authorize this sale and steal $20 million from these community college students," Assemblyman Ray Haynes complained. "It's wrong. It ought not happen, and it particularly shouldn't happen this way."
4. Managing conflict
Rick Warren's "purpose-driven movement is dividing the country's more than 50 million evangelicals," The Wall Street Journal reported Tuesday. "Some evangelicals … say it's inappropriate for churches to use growth tactics akin to modern management tools, including concepts such as researching the church 'market' and writing mission statements. Others say it encourages simplistic Bible teaching. Anger over the adoption of Mr. Warren's methods has driven off older Christians from their longtime churches. Congregations nationwide have split or expelled members who fought the changes, roiling working-class Baptist congregations and affluent nondenominational churches."
As that paragraph indicates, Suzanne Sataline's front-page story in some ways conflates Warren's "purpose-driven" specifics with the general church growth approach that has been around for decade. The story itself is full of interesting anecdotes and specifics, including some very sad details about the ways in which churches split. But it also gives too much credence to the accusation that Warren's approach is more therapeutic than evangelistic. "His sermons rarely linger on self-denial and fighting sin, instead focusing on healing modern American angst, such as troubled marriages and stress," Sataline writes. That Warren's approach is too anthropocentric is a bit of an odd charge against someone whose best-selling book begins, "It's not about you."
5. Religious media makes you fat
Almost two weeks ago, the Chicago Sun-Times's Cathleen Falsani looked at a study in the Journal for the Scientific Study of Religion that suggests religion makes people fat. This week, The Indianapolis Star followed up with an important nuance: It's not really religion that makes people fat. In fact, churchgoers are less likely to be obese. But consuming religious media does have a high correlation factor with obesity. Fortunately, the study only seems to have asked about religious television, radio, and books, so you'll probably be safe reading this Weblog.
Quote of the day:
"To prevent me from publishing I view as a very serious breach of First Amendment rights."
—Blogger Frank Vance, who has reportedly been sued by R. C. Sproul's Ligonier Ministries because of his repeated criticisms of the organization's president, Timothy A. Dick. Ligonier Ministries is seeking a full publishing ban on Vance's blog, which is titled Contending for the Truth.
More articles
Forced conversion | Christianity and Islam | Church and state | Jesus portrait controversy turns into mirror controversy | Education | Evolution | Evolution of religion | Atheism | Democrats | Politicians | Politics | KOCE | Media, art, and entertainment | Books | Money and business | Church buildings | Church life | Catholicism | Life ethics | Deaths | Crime | Music | People | History | Homosexuality | Other stories of interest
The final place of refuge for Christians in the Middle East is under threat | As Iraq and Lebanon are torn apart by sectarian mayhem and war, only Syria's religious tolerance offers refugees shelter (William Dalrymple, The Guardian, London)


PM, ministers to brief Christian leaders | The Prime Minister and a string of senior ministers will offer unusual access to Christian church leaders today, as the government considers its policies ahead of next year's election (ABC, Australia)


A monumental kerfuffle | U.S. District Court judge gets last word on the Ten Commandments (Ken Neal, The Tulsa World, Okla.)


What we mean by the role of religion | It is important, when we say yes to religion, that we affirm expressions of faith that do not resist or subvert the freedoms guaranteed by our Founders (Sandy Sasso, The Indianapolis Star)


Jesus portrait controversy turns into mirror controversy:
Jesus-portrait lawsuit re-ignites | School's gift inscribed with religious saying (The Charleston Gazette, W.V.)


Update: Religious message is out in Bridgeport | The mirror that replaced the controversial portrait of Jesus Christ at Bridgeport High School has been stripped of its religious inscription (Associated Press)


Christ art gone, but controversy remains | W.Va. town takes on constitutional debate (Pittsburgh Post-Gazette)


Humans 'hardwired for religion' | The battle by scientists against "irrational" beliefs such as creationism is ultimately futile, a leading experimental psychologist said today (The Guardian, London)


Group gives AFA a secular alternative | Free Thinkers gets an invitation (The Gazette, Colorado Springs)


The new naysayers | In the midst of religious revival, three scholars argue that atheism is smarter (Newsweek)


Candidate takes steps to put a rumor to rest | Delegate hopeful confronts talk of Wicca (The Washington Post)


The mayor on bended knee | Rick Baker's quiet, powerful faith weighs heavily in his leadership of St. Petersburg (St. Petersburg Times, Fla.)


Media, art, and entertainment:
Pullman films set to trigger cries of blasphemy | Christians say cinematic versions of a series of what they were anti-religious novels will prove as controversial among churchgoers as Dan Brown's The Da Vinci Code (Western Mail, Wales)


Playwright's civil war tale retold on film | Grace Church renovation to benefit from proceeds (The Washington Post)


The gentle life of a priest, made famous in death |Saint of 9/11is a touching elegy for the Rev. Mychal Judge, the much-loved New York City Fire Department chaplain who died at the World Trade Center (The New York Times)


Otherworldly Gregorian chants calling once again | A longtime discussion crescendos after the pope's recent comment about traditional music (Los Angeles Times)


Barry McGuire triumphed over a personal 'Eve of Destruction' | Barry McGuire had his 15 minutes of fame—and lived it to the max (The Toledo Blade, Oh.)


New Michelangelo sketch found | Florence red-pencil church drawing under triumphal arch (ANSA, Italy)


Amazing discovery | Altar at La Purisima Mission had been adorned not with a 200-year-old frontispiece acquired in Mexico, but with a panel hand-carved in France and dating to the 1500s (The Lompoc Herald, Ca.)


Fiery furnace? Temple of Apollo had secret death chamber | As the devout among the ancients knew well, nothing spices up a boring sermon like having your own sacrifice pit parked in front of your church (USA Today)


Still called by faith to the phone booth | As companies cut back, Amish and Mennonites are building their own (The Washington Post)


Worship in the workplace | Employers and employees have latitude to discuss religion and an obligation not to discriminate (The Orange County Register, Ca.)


Faith grows as market force | Funds that choose their investments with the view that companies' products or practices should be in accord with religious or moral beliefs are attracting clients, and rewarding them (Chicago Tribune)


Feds say union practice discriminated | State employees who have religious objections to the causes supported by their union should be able to divert their dues to any charity, not just to a specific church, state and federal officials agreed Friday in a settlement (Associated Press)


This mommy track may go somewhere | Some companies offer a chance to advance on a schedule that allows more time at home (Los Angeles Times)


Fox's new church meets for first time | Hundreds attend the gathering in the Johnny Western Theatre at Wild West World (The Wichita Eagle, Kan.)


Rebuilding can be tough for churches | Last Sunday, Pastor Renee Hornbuckle urged Agape Christian Fellowship's congregation to keep its focus on God, not the scandal that had swirled for more than a year (Ft. Worth Star-Telegram, Tex.)


'Tempted' Church earns its congregation's ire | he St Luke's Church at Chirag Ali Lane in Abids can by no stretch of imagination be called a Hyderabad landmark. Yet the over 100-year-old church has its own claim to fame: It's the only Hindustani-Urdu church in Andhra Pradesh (The Times of India)


The great divide | As the decades-old abortion debate shifts to state capitols and courtrooms, Floridians may face more restrictions to access (Daytona Beach News-Journal, Fla.)


FDA ruling puts pharmacists in crossfire | The FDA action thrusts pharmacists—more than ever—into the middle of the fray and presents additional issues that may land in state policy-makers' laps (Stateline.org)


Last foundation-fraud defendant guilty | Lawrence Dwain Hoover, who sat on the BFA governing board, pleaded guilty to one count of fraudulent schemes and artifices for his role in what has been called the largest "affinity fraud" ever (The Arizona Republic)


Church leaders' camping trip cut short | Four church leaders facing felony child sexual abuse charges spanning three decades were asked to leave the Grove, Okla., campground Friday where they had been staying for much of the week (The Neosho Daily News, Mo.)


Also: Child molestation case rocks the Ozarks | Turning their backs on the isolated religious commune in the rugged Ozarks where many had grown up, a group of members fled with only the clothes on their back, trudging several miles down a gravel road to the nearest phone to call friends or family for help (Associated Press)


Religious extremists demand censorship (again) | The Gay Police Association is under police investigation, after it exposed a big increase in homophobic hate crimes perpetrated by religious extremists (Peter Tatchell, The Guardian, London)


Despair over Darfur | Western policy is in near despair over Darfur, and governments are turning to Russia and China to see if they can put pressure on the Sudanese government to accept a UN peacekeeping force (BBC)


The latest Darfur outrage | Khartoum rejects out of hand a U.N. contingent (Editorial, The Wall Street Journal, sub. req'd.)


Related Elsewhere:
Suggest links and stories by sending e-mail to weblog@christianitytoday.com
See our past Weblog updates:
September 1 | August 29
August 25 | 24 | 23
August 15 | 11 | 10
August 4 | 1
July 28 | 27 | 26
July 21 | 19
July 14 | 13 | 12b | 12a | 10
July 7 | 6 | 5 | 3
Weblog
Launched in 1999, Christianity Today's Weblog was not just one of the first religion-oriented weblogs, but one of the first published by a media organization. (Hence its rather bland title.) Mostly compiled by then-online editor Ted Olsen, Weblog rounded up religion news and opinion pieces from publications around the world. As Christianity Today's website grew, it launched other blogs. Olsen took on management responsibilities, and the Weblog feature as such was mothballed. But CT's efforts to round up important news and opinion from around the web continues, especially on our Gleanings feature.
Ted Olsen is Christianity Today's executive editor. He wrote the magazine's Weblog—a collection of news and opinion articles from mainstream news sources around the world—from 1999 to 2006. In 2004, the magazine launched Weblog in Print, which looks for unexpected connections and trends in articles appearing in the mainstream press. The column was later renamed "Tidings" and ran until 2007.
Previous Weblog Columns: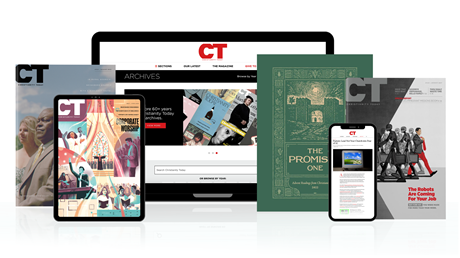 Subscribe to Christianity Today and get access to this article plus 65+ years of archives.
Home delivery of CT magazine
Complete access to articles on ChristianityToday.com
Over 120 years of magazine archives plus full access to all of CT's online archives
Subscribe Now
'I Have Embraced Islam and Say the Word Allah'
'I Have Embraced Islam and Say the Word Allah'