As a member of the United Methodist Judicial Council, physician James Holsinger voted with the majority to affirm Methodist teaching that bans practicing homosexuals from ordination. Holsinger also wrote a white paper for the denomination 16 years ago on the health hazards of gay sex and on the biological complementarity of the human sexes.
Should that bar him from serving (as President Bush desires) as U.S. surgeon general? It's not surprising that homosexual-activist groups like Human Rights Campaign think so. But most of the major Democratic presidential candidates agree. John Edwards was particularly harsh: "In a profession dedicated to healing and compassion, it cannot be hard to find a qualified candidate for surgeon general who sees all human beings as equals. … Holsinger's anti-gay writings and beliefs suggest that he will undermine, not advance, the cause of equality and fairness in health care."
The Boston Globe called for Bush to withdraw his nomination, since "no one should go into the job with a record of discriminating against people because of their sexual orientation." A Washington Post editorial called Holsinger's white paper "bigotry masquerad[ing] as science" and mocked him for this sentence: "In fact, the logical complementarity of the human sexes has been so recognized in our culture that it has entered our vocabulary in the form of naming various pipe fittings either the male fitting or the female fitting depending upon which one interlocks within the other."
"Is he a doctor or the Ace Hardware man?" asked the Post. Satirist Stephen Colbert went further: "For years, we have tolerated smoking just like we currently tolerate homosexuality. But the surgeon general alerted us to the dangers of smoking with warning labels. With Holsinger at the helm, we can use the same approach for homosexuality. Every gay man and woman should come with a label: 'Warning! Plumbers have found homosexual behavior to be dangerous and unnatural.'" The Bush administration didn't exactly rush to Holsinger's defense. "That was not his belief. It was not his opinion. It was a compilation of studies that were available at that time," a spokeswoman said. "Over the last 20 years, a clearer understanding of these issues has been achieved." The spokeswoman added, "It should be noted that in 1991, homosexuals were banned from the military, and several years before that, homosexuality and Haitian nationality were considered risk factors for HIV/AIDS."
Contrast this with, say, 2007, when the military still bans "persons who demonstrate a propensity or intent to engage in homosexual acts" and gays and Haitians are still at high risk for HIV infection.
So some things don't change. But tolerance for dissent on homosexuality apparently has. The Holsinger denouncements and the White House's assertion that Holsinger couldn't possibly have meant what he wrote suggest that opposition to homosexual behavior is becoming a disqualification from serving in high public office.
That's a remarkable change from even a few years ago, and we're not alone in seeing it. "On no issue is history moving faster than on 'gay rights'—an already antiquated term for full and equal participation and acceptance of gay men and women in American life," Michael Kinsley wrote in Time.
On the other hand, as of press time, Holsinger hadn't been rejected yet, and other newspaper editorials, along with Holsinger's medical colleagues (including some homosexuals) are defending him as fair, professional, and compassionate. Still, affirmation of homosexual behavior seems to be shifting from an in-group shibboleth to an unwritten requirement for American leadership.
Where does that leave biblical Christians? We may soon come to the point where supporting a sexual ethic based on an orthodox reading of Scripture becomes part of our cross to bear.
The early church did not shy away from proclaiming a biblical sexual ethic in the midst of a promiscuous and perverted culture, but we don't have evidence to suggest that licentious Romans said, "See how these Christians hate homosexual behavior." Instead, non-Christians reportedly said, "Look how they love one another."
And loved others, too. Emperor Julian the Apostate (361-363) complained that Christians were impious—they rejected Roman gods—but worse than that, they undercut reliance on the empire. They "not only feed their own poor, but ours also," he wrote. "See their love feasts and their tables spread for the indigent. Such practice is common among them and causes a contempt for our gods."
Julian complained that Christians were demonstrating something better than what the empire had to offer. Facing mockery and lies, early Christians didn't back down from the beliefs and practices that set them apart from their neighbors.
Christians feed the poor for the same reason they reject sex outside heterosexual marriage. Following biblical teachings, we love our neighbors and don't want to see them enslaved to poverty or broken sexuality. It's that love and compassion that sent Jesus to the Cross.
If the U.S. Senate decides that the surgeon general must affirm that gay sex is natural, and thus bars orthodox Christians from the position, we will lament. (We'll also keep working to change the public's mind.) But we've seen worse cases of demonizing Christian nominees for public office. And we'll keep showing love to our neighbors anyway.
Related Elsewhere:
Bush nominated Holsinger on May 24. Holsinger will go before the Senate Committee on Health, Education, Labor, and Pensions for his confirmation hearing July 12.
Arkansas Democrat-Gazette religion editor Frank Lockwood has been covering the Holsinger controversy extensively on his weblog, Bible Belt Blogger.
News coverage of Holsinger's nomination includes:
Holsinger faces grilling | Surgeon general nominee under fire. (The Cincinnati Post)
Holsinger board link scrutinized | Dr. James W. Holsinger Jr is a graduate and trustee of a Kentucky seminary that has a policy against homosexual practices. (The Cincinnati Post)
Bush nominee runs into crossfire | Homosexual advocacy groups are objecting strongly to President Bush's nominee for surgeon general, but Dr. James W. Holsinger Jr. also faces questions from conservative groups about his views on human cloning and embryonic-stem-cell research. (The Washington Times)
'Homosexuality isn't natural or healthy' | Bush's choice for top doc compared human genitalia to pipe fittings and said homosexual practices can cause injury or death. (ABC News)
Surgeon General nominee is assailed for church role | Gay rights groups, physicians, and lawmakers say they are troubled by opinions critical of homosexuality that Dr. Holsinger has voiced in nearly 20 years as a high-ranking layman in the United Methodist Church. (The New York Times)
Editorials on Holsinger's nomination include:
A questionable nominee | A prospective surgeon general's 1991 paper on gay men haunts him in 2007, and deservedly so. (The Washington Post)
A nominee's abnormal views | Dr. Holsinger has high-level experience as a health administrator, but there are disturbing indications that he is prejudiced against homosexuals. (The New York Times)
Intolerance makes bad medicine | Bush should withdraw a nominee who cannot help but make a substantial portion of the population feel not like family but like unwanted outsiders (The Boston Globe)
The real question | Would anti-gay church history shape job? (Lexington Herald-Leader)
A record of fairness | No evidence has been presented that Holsinger allows such views to cloud his own practice or management of medicine or deter him in the least from a determination to provide the best medical care possible to the entire population (The Courier-Journal)
Unwrapping the nominee | Bush has wrapped Holsinger up in the political equivalent of a boy-in-a-bubble's anti-infection tent (The Cincinnati Post)
Have something to add about this? See something we missed? Share your feedback here.
Our digital archives are a work in progress. Let us know if corrections need to be made.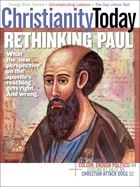 This article is from the August 2007 issue.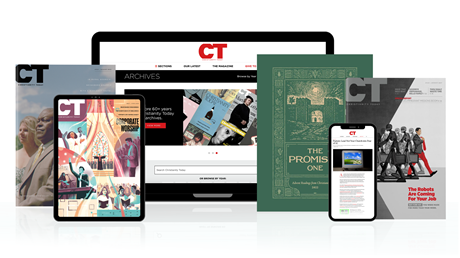 Subscribe to Christianity Today and get access to this article plus 65+ years of archives.
Home delivery of CT magazine
Complete access to articles on ChristianityToday.com
Over 120 years of magazine archives plus full access to all of CT's online archives
Subscribe Now
The Gay Shibboleth
The Gay Shibboleth