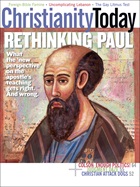 This article is from the August 2007 issue. Subscribers can read all of CT's digital archives.
"End of construction: Thank you for your patience."
Ruth Bell Graham's suggested epitaph for herself.
(Source: Celebrating an Extraordinary Life, as quoted in the Asheville Citizen-Times.)
"I am both Muslim and Christian, just like I'm both an American of African descent and a woman. I'm 100 percent both."
Ann Holmes Redding, an Episcopal priest in the Episcopal Church's Olympia diocese. Bishop Vincent Warner says he "finds the interfaith possibilities exciting.
(Source: The Seattle Times)
"After meeting with her I issued a Pastoral Direction giving her the opportunity to reflect on the doctrines of the Christian faith, her vocation as a priest, and what I see as the conflicts inherent in professing both Christianity and Islam"
Geralyn Wolf, The Episcopal Bishop of Rhode Island, to whom Redding reports, after media reports about Redding's dual religious affiliation.
(Source: The Seattle Times)
"I'm hopeful. Not optimistic."
Archbishop of Canterbury Rowan Williams, on trying to keep the Anglican Communion from dividing.
(Source: Time)
"We all hope it will be better, but it will never ever be good with Hamas."
A Christian teenager in Gaza, talking about the Hamas coup in June.
(Source: Catholic News Service)
"Right now the United States is in many ways a theocratic state, not dissimilar to some of the other religious states in the world where religion has a huge part to play in government."
Frank McKenna, Canada's former ambassador to the United States.
(Source: CanWest News Service)
"My faith teaches me that I can sit in church and pray all I want, but I won't be fulfilling God's will unless I go out and do the Lord's work."Sen. Barack Obama, addressing the General Synod of his denomination, the United Church of Christ. (Source: ...
1
Our digital archives are a work in progress. Let us know if corrections need to be made.
Quotation Marks