When poised before the decision of faith, the first thing I was asked to do was confess that Jesus Christ is Lord. Almost 30 years later, it is clear that no affirmation I have ever made has more radical implications. Daily I face its uncomfortable, sometimes scandalous, demands. If you are a Christian, so do you.
As a young convert, I learned that confessing Christ as Lord meant renouncing lordship over my own life. The Four Spiritual Laws tract illustrated for me this transition in control—henceforth Jesus, not me, would occupy the throne of my life. Living out that throne-room transition isn't any easier today than it was in 1978.
To say that Jesus is Lord is to renounce our natural instincts, several philosophical systems, and the constantly reinforced message of the culture, which upholds the primacy of the self and the supposed need to organize my life around advancing my interests. When I remind myself in prayer at the beginning of a day that Jesus is Lord, I am challenged to dethrone the All-Important Self, just as I was taught long ago.
Mentors and authors have helped to sharpen my understanding of Christ's lordship. They've warned me about idols that threaten to replace him. Jesus Christ is Lord, so mammon cannot be. Jesus Christ is Lord, so relationships and pleasure cannot be. Neither can fame or power or education or career or success or, well, anything at all.
Affirming Jesus as Lord relativizes all earthly attractions, pleasures, and goods. They all come a distant second to Christ himself. That's why we can hardly be reminded too frequently of the implications of his lordship.
Hot-Blooded for Politics
When I started getting interested in politics and national affairs, I once again was brought up short by the claims of Jesus. To affirm that Jesus Christ is Lord is to acknowledge that no political leader, party, flag, nation, or ideology can share lordship over my life. The one who confesses Christ alone as Lord cannot simultaneously affirm utmost loyalty to another idea or person.
This realization has constricted my understanding of politics. I've learned to fear the seductive power of political ideologies, the temptation to idealize political leaders, and the amoral bloodlust of partisan politics. Perhaps I have overreacted.
My study of German churches under Nazism has certainly formed my understanding of how disastrous the confusion of loyalties to God and country can become. But especially around election time, I feel my blood run hot for politics once again—so a reminder that Jesus Christ is Lord is very timely.
In recent years, I have found the confession that Jesus Christ is Lord remarkably inconvenient in ecumenical and interfaith dialogue. I am often asked to represent evangelicals in various settings. In such places, I choose to speak my native language, which includes an affirmation that Jesus is Lord. This sometimes evokes puzzled or even angry dialogue, as listeners ask why I must use such exclusivist language about God, faith, and ethics. I respond by saying I would rather engage in a richly textured dialogue involving native languages than a desiccated, thin exchange of inoffensive mush. These are uncomfortable moments.
Today, I find the affirmation that Jesus Christ is Lord most relevant in the context of my fears. When one of my daughters was seriously injured in a car accident, it was important for me to continue affirming that Jesus Christ is Lord. Now my 16-year-old son is driving, and Jesus Christ is still Lord.
When heated opposition tempts me to pull back from teaching or writing the things that I believe to be true, I return to the affirmation that Jesus Christ is Lord of my life, and he constantly spoke the truth regardless of the opposition he faced.
When I am distressed at what goes wrong in church life in America and fear for the future of the church, I remind myself that Jesus Christ is Lord of the church, and he is the steadfast Groom who never abandons his Bride.
When I worry over threats to human and planetary wellbeing, I recall that Jesus Christ is Lord of the world as well, and he holds creation together and will bring it to its glorious consummation.
One day, every tongue will confess that Jesus Christ is Lord. Christians are those who seek to live out the implications of that confession—each day, every day, till we go to meet him at last.
Related Elsewhere:
David P. Gushee is Graves Professor of Moral Philosophy at Union University. His books include Only Human: Christian Reflections on the Journey Toward Wholeness, Getting Marriage Right, and he is coauthor of Kingdom Ethics Following Jesus in a Contemporary Context.
Previous "Do Likewise" columns include:
Children of a Lesser Hope | What happens when we lose confidence in the church.
How to Create Cynics | Everybody knows when we're covering up our confusion with God-talk.
What's Right About Patriotism | The nation is not our highest love, but it still deserves our affection.
Crash | What our harrowing experience taught me about human nature.
The Truth About Deceit | Most lies are pitiful attempts to protect our pride.
Bill's Big Career Move | How do we make important family decisions?
Our Missing Moral Compass | Christianity is more than an event, an experience, or a set of beliefs.
Serious About Ethics | David Gushee's mission at Union University and in CT. (By Mark Galli)
Have something to add about this? See something we missed? Share your feedback here.
Do Likewise
David P. Gushee serves as Distinguished University Professor of Christian Ethics and Director of the Center for Theology and Public Life at Mercer University, where he also chairs the Mercer Lyceum initiative on rebuilding democracy. His column ran from 2005 to 2007.
Previous Do Likewise Columns:
Our digital archives are a work in progress. Let us know if corrections need to be made.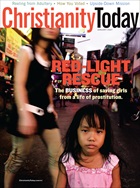 This article is from the January 2007 issue.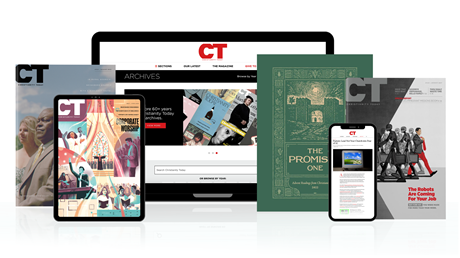 Annual & Monthly subscriptions available.
Print & Digital Issues of CT magazine
Complete access to every article on ChristianityToday.com
Unlimited access to 65+ years of CT's online archives
Member-only special issues
Subscribe
Dethroned
Dethroned