I'm not sure what to think about church anymore.
My home church, which just celebrated its 30th anniversary, is on its sixth pastor, and he is a gem. But the path to him was rocky. We gathered, just 25 of us, in the community room above a firehouse when I was 12 years old. My young father had died suddenly, and my mother had taken it as a sign to get right with the Lord. Running up the stairs every week past shiny red trucks and perfectly aligned yellow coats felt like home.
The founding pastor was a gentle shepherd who communicated peace and safety to this fearful girl. Then a few troublesome congregants ran him off and replaced him with a star who had served with the Billy Graham Evangelistic Association. What had been a casual, hippy-era church was then infiltrated by old-school Baptists. Tension between traditionalists and innovators gnawed at the ministry.
One day, when I was an 18-year-old new convert and the pastor at the time was 60-something, he took me out evangelizing with him. Afterward, we went back to his house for ice cream. I dished it out, and he suggested I come snuggle with him on the couch. Having seen the unholy mingle with the holy in each of my first two pastors, I should have expected to see it again. Instead, my naiveté continued.
Our fourth pastor split the church and started anew in one of our former locations. He resigned from the pulpit on a Sunday morning instead of preaching a sermon, and allowed his supporters to fight for him while he played the invisible man. He acted with such cowardice that when I would see him at the occasional wedding or funeral, the only thing I could think to say was, You're like a seductress who stole someone else's family. But I said nothing. He later had an affair with a congregant and was fired.
Our denomination's regional director mediated the conflict that ensued. This voice of authority told us what we wanted to hear: The church split had been primarily the other side's fault. So, of course, we made this arbitrator our pastor. When his office-time pornography addiction was uncovered, he took his computer and fled. We should have known there was a problem. He had come to the Halloween alternative party dressed as Fabio, the romance novel cover model.
With an understandable distrust of strangers, the congregation finally voted in a longtime member as pastor. The dwindling remnant merged with another congregation, and for the past six years, there has been no significant division or growth. Is church death inevitable, or is growth overrated?
From the Inside
My next church was a racially diverse congregation that had been founded by two former leaders of the Fellowship of Christian Athletes. I fell in love with the Holy Spirit in this community. Then consecutive youth leaders divorced (a stumbling block to my children) and tension surfaced in the leadership. The church was located in Middletown, New Jersey, the town reported by The New York Times to have had the highest casualty count in the 9/11 terrorist attacks. Amid the stress, strained relationships broke, and the church split in May 2002.
Despite the turmoil and our dysfunctional church experiences, my family moved to California so that my husband, Jeff, could study for the pastorate. The goings-on at the megachurch where he was a student and then an assistant pastor made everything that came before seem like Sunday school games. During Jeff's tenure on staff, both we and others were victimized by abuse of power. We also witnessed sexual misconduct and abuse, dishonesty, cruelty and cowardice, and a contentious church culture that fed on gossip. I have never seen anything like it, inside or outside the church.
This experience cured me of both naiveté and certain kinds of ambition. It also exhausted our resources. We are just now beginning to recover, 18 months later.
Christians Anonymous
An early step in our path toward wholeness was one-on-one ministry to Orange County, California's homeless population. Jeff and I took jobs at a homeless ministry in the high desert. Our directors had been missionaries in Asia during the ten years that we were traversing the landscape of American evangelicalism. The differences between them and us were startling. Jeff and I were not jaded, but we were marked by grief. We limped—in part because our children were jaded. And we saw disaster lurking behind every craggy rock. Our coworkers walked with a skip in their step, and danger didn't concern them much. This was both liberating and disconcerting.
Every morning, we had chapel in the barn loft, with the sound of cackling chickens filtering through the cracks in the walls and a view of dusty blue hills in the distance. But our sanatorium experience was not to last. We realized that our family needed a respite from vocational ministry, and we headed back home after a few months.
Nevertheless, the ranch was like a dream that refreshed my heart, and God allowed that dream to breathe life into two wounded disciples.
We settled in with a group of Anglican reformers. We were blessed by the freshness of the ancient rhythm of the liturgy, the warmth and joyfulness of the community, the ministry of healing prayer, and the stunningly beautiful Communion rite in which congregants remained connected hand-to-shoulder as they received the body and blood of our Lord. Here, too, our sex-saturated culture intruded, though, and the rector faltered and resigned six months after we arrived. Now we offer ourselves in service to those in the first throes of grief.
I can look at this journey and see a trail of folly. Or I can look back with tenderness and see churches and pastors that taught me all I know about loving Jesus and being loved by him. I choose tenderness because Jesus Christ exists on earth within his sin-damaged band of followers. This is the realization that breaks us—there is no better church.
"Sometimes we endure the judgment of God because we happen to belong to a people or a group that, as a whole, deserves the judgment," CT managing editor Mark Galli wrote recently in a blog post. "Some therefore suffer for their sins, while others suffer for the sins of others. The former is the suffering of cleansing; the latter is substitutionary suffering. Both are redemptive, and thus both can be accepted with grace."
In one of my favorite books, Into the Depths of God, Calvin Miller writes, "The trials that keep us kneeling before our lifelong assignments are never haphazard. All the sufferings that are thrust upon us can serve to bring us to maturity." Then he makes this terrible statement: "Hurt is the essential ingredient of ultimate Christ-likeness."
I remember sitting at lunch one day with the wife of a famous evangelist. As she talked about the church that she and her husband had grown steadily for many years, envy pierced my heart. I wondered why I had known so much sorrow in church. I did not and do not understand it. But I sense a calling not of my own choosing.
And so, with Francis de Sales, I proclaim, "If he is with me, I care not where I go."
Christine A. Scheller is a writer living in Southern California.
Related Elsewhere:
Christine Scheller blogged about this article and others she's written for Christianity Today at Growing Up in Church.
Other Christianity Today articles on the troubled church include:
Missing the Rupture | How two groups address the real issues behind church splits. (Christine Scheller, May 1, 2003)
The Company of Sinners | A divinely inspired institution, the church is full of ordinary people who sometimes say and do cruel, stupid things. (April 3, 2000)
Editorial: Don't Give Up on the Church | Though often embattled and dysfunctional, the church is still where God chooses to meet us. (October 6, 1997)
For additional articles, see CT's church life archives.
Have something to add about this? See something we missed? Share your feedback here.
Our digital archives are a work in progress. Let us know if corrections need to be made.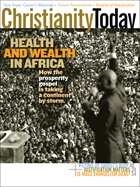 This article is from the July 2007 issue.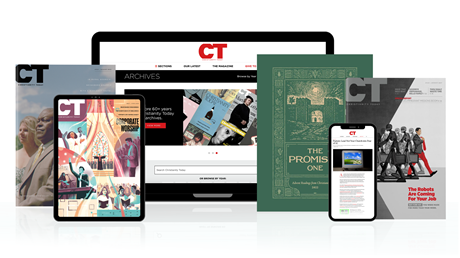 Annual & Monthly subscriptions available.
Print & Digital Issues of CT magazine
Complete access to every article on ChristianityToday.com
Unlimited access to 65+ years of CT's online archives
Member-only special issues
Subscribe
Sorrow But No Regrets
Sorrow But No Regrets