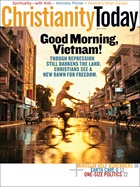 This article is from the May 2007 issue. Subscribers can read all of CT's digital archives.
"Whether it's Christians coming from abroad or Jewish converts working in Israel, they all have the same agenda — to destroy every trace and memory of the people of Israel, and they plan to do this by converting Jews."
— Yakov Margi, a member of Israel's Knesset and representative of the Shas party (the country's third-largest). Margi has proposed a bill, in his words, "completely forbidding preaching and proselytism" in Israel. (Source: YNet News)
"Your quarterback's tired."
— Max Lucado, 52, to elders at San Antonio's Oak Hills Church, as he announced he was stepping down as senior minister due to health concerns. (Source: San Antonio Express-News)
When the Secular Coalition asked me to complete a survey on my religious beliefs, I indicated I am a Unitarian who does not believe in a supreme being."
— U.S. Rep. Pete Stark (D-Ca.), the first member of Congress to publicly declare that he does not believe in God. (Source: Los Angeles Times)
"Given the importance of the Word of God, the quality of homilies needs to be improved. … Generic and abstract homilies should be avoided."
— Pope Benedict XVI, in Sacramentum Caritatis, a 130-plus-page apostolic exhortation on liturgy released in March. (Source: Vatican.va)
"This is probably one of the most dangerous cases to religious freedom in the last decade, because you don't think it's about religion."
— Kelly Shackelford, chief counsel for Liberty Legal Institute, on why his group filed a brief with the Supreme Court supporting a high-school student's right to display a "Bong Hits 4 Jesus" banner. (Source: Religion News Service)
"To get some sense of equivalence, it may be useful to imagine the effect on Christian beliefs and practices—and ...
1
Our digital archives are a work in progress. Let us know if corrections need to be made.
Quotation Marks