Reviews

|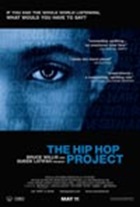 Chris "Kazi" Rolle was a homeless teenager struggling at a "last chance" New York City high school when he found Art Start, an innovative program designed to reach at-risk kids through the arts. Art Start gave Rolle a chance to voice his anger and pain, as well as his hopes and ambitions, through rap music.
After several years of involvement (and personal evolution) in the program, Rolle established his own branch of Art Start, first known as Word.Life and eventually called The Hip Hop Project. The Hip Hop Project movie documents the efforts of Rolle and the project's participants to write, produce and release their first collaborative album.
Early in the film, Rolle admits that the leaders of Art Start took a chance when they let a young man with a troubled past head up a new endeavor. "Pressure either busts pipes or makes diamonds," he says, with a charismatic grin that hints at which way it turned out. The Hip Hop Project is, fittingly, the story of diamonds in the rough; it takes an inspiring look at the ways a group of disadvantaged but talented adolescents turns pain into art, and need into community.
First time director Matt Ruskin has a great but rather unwieldy story to tell. Many films have mined this sort of teens-redeemed-through-constructive-outlets-and-a-caring-mentor territory (Freedom Writers, Coach Carter, and Take the Lead come to mind). But unlike those fictionalized dramas, The Hip Hop Project must follow unscripted, unpredictable, and sometimes unsavory twists and turns in the lives of its participants. The director faces the daunting task of documenting both the group's creative struggle (over a period of several years), and the individuals' compelling ...
1