The waters off Vancouver Island, British Columbia, are clear and cold, making for some of the best scuba diving in the Northern Hemisphere. The weather can be cloudy, making the ocean steel gray with flecks of white, but below the surface are teeming schools of wildly colorful fish. When pastor and writer Mark Buchanan emerges from the water in his scuba gear, he is inevitably grinning. The author of books like Your God Is Too Safe and The Rest of God consistently finds surprises in deep places. So we thought he was an important voice to respond to the Christian Vision Project's big question for 2008: Is our gospel too small?
I had a Paul-like conversion.
There were no horses, voices, blindness—no bloody trail at my feet. But it was dramatic. Something like scales fell from my eyes. I stood in the shadow of Christ's cross and in the light of his resurrection. Christ met me, embraced me, forgave me, and gave me himself. I never looked back.
That was more than 25 years ago. For 18 of those years I've been a pastor, a fact that has not yet ceased to amaze me: that God would take me, the worst of sinners, the least of the "apostles," and make me his chosen vessel to carry his name before kings and gentiles and homemakers and dentists and plumbers and schoolchildren.
How could a gospel that performed such a feat be too small?
I was saved into a midsized Baptist church, suburban in its sentiments, conservative in its theology. It was a world both familiar and strange to me. The music was awful, third-rate lyrics set to fourth-rate melodies, as C. S. Lewis is said to have described the music at his Anglican church. The preaching was interminable and often bewildering, an exercise in splitting hairs over doctrinal points that, until then, I knew nothing about. We signed a members "covenant" to the effect that we wouldn't drink and wouldn't chew and wouldn't go with those who do.
But I loved it. I was taught the Bible, rote teaching methods notwithstanding, and soon enough I could split a doctrinal hair as thin and fine as the next guy. I even started to like the bad church music. But even more, I came to a deeper and deeper awareness of the gift of God, vouchsafed me by no merit of my own: that Christ died for me and lives in me and prepares a place for me. I am a new creation, heaven-bent. I am an enemy of God who, by the Father's grace and Christ's work and the Spirit's quickening, has been made his child and his ambassador.
So how could a gospel that performed such a work not be enough?
Yet I look out week upon week on the congregation I now lead and wonder this very thing: Is the gospel I inherited, and now preach, too small? Is there a stump where an oak once stood? I wonder.
The conversions I witness generally aren't as radical as they seem to be elsewhere and at other times. Our hunger and thirst for righteousness, the first mark of kingdom-dwellers, is for the most part anorexic, and our lust for self-vindication appears as hearty as ever. Domestic problems seem to be as prevalent among evangelicals as they are among the wider public. The amount of interchurch migration, and the low level of actual net church growth, is embarrassing. The willingness, as the apostle Paul put it, to share in the fellowship of Christ's sufferings so that we might attain to the resurrection from the dead is at a low ebb in most North American churches.
Is our gospel too small?
Longing to Be Free
Let's go back to its early days, when the Good News was new news. Let's go back to a jail in the city of Philippi, to two men sitting in the inner cell, bound in manacles. Paul and Silas. They're bleeding. Their flesh blooms with welts bright as red roses, bruises dark as purple dahlias. And they're singing.
I always picture them singing a Wesley tune—"And Can It Be," let's say—but know that's impossible. So maybe they sang the hymn Paul taught the Philippians: Let your attitude be the same as that of Christ Jesus … who became in very nature a servant.
The point is, they're singing. And the gospel is doing its subversive, transforming work. Before the day's out (actually, this happens around midnight, so before it's barely begun), the jailer is on his knees, shaking from stem to stern, begging those two men, "Sirs, what must I do to be saved?"
Their answer is beautiful in its clarity and brevity: "Believe in the Lord Jesus, and you will be saved—you and your household."
Good News. The gospel. Just like I heard it, and embraced it, over 25 years ago.
I never want to make the gospel more complicated than that. I want to retain this gospel's deep simplicity for all time. Saved can never mean less than the forgiveness of sins and the hope of eternal life through faith in Christ.
But I wonder if God meant it to be more than this as well. The question that intrigues me is this: What did that jailer understand by the word saved? What did he want to convert to? What did he see in Paul and Silas that he himself lacked and now longed for?
Or, put another way, how big was the gospel he so desperately wanted to get in on?
Now it's possible that the jailer, like Nicodemus talking in the night with Jesus about rebirth, like the Samaritan woman at the well talking with Jesus about living water, is just confused. It's possible that his question and Paul's answer are miles apart—that all the jailer means is, "How do I get myself out of this mess?" and Paul seizes the moment to preach salvation.
It's possible, but I don't think so. I think the jailer has been listening and watching and calculating all night long. I think Paul and Silas embody something he is afraid to believe "because of joy and amazement" (Luke 24:41). I think Paul and Silas are to him what all Christians are to be to the world: the fragrance of Christ.
Singing Amid Disaster
Consider four things.
First, the jailer saw two men counting it all joy when they faced trials of many kinds, men praying and singing in the face of what would have left most men howling and cursing: bodily affliction and personal injustice. Paul and Silas, without due process, were stripped naked and "severely flogged" in public. The Romans had a special genius for this kind of thing (think the flogging scene in The Passion of the Christ). It was brutal torture joined to abject humiliation. The beating would scar or even maim them for life. Paul and Silas were summarily tossed in prison, locked in the inner cell, their feet put in stocks. Roman stocks were designed not just as extra security measures, but as implements of torture themselves.
How would I respond?, I wonder. How might you? Here's what they did: "About midnight, Paul and Silas were praying and singing hymns to God, and the other prisoners were listening to them."
Listening indeed. Who among them had ever witnessed such peculiar people, singing and praying in the face of colossal personal disaster? Who had ever heard of a God who, seemingly absent from or indifferent to these men's suffering, nevertheless called forth from them such pure devotion?
In 2006, five Amish girls, aged 6 to 13, were shot and killed by a man in Lancaster County, Pennsylvania, who then killed himself. The event stunned the world. But what happened next stunned the world all the more: a whole community singing and praying. A whole community not bent on retaliation, not shouting with anger or collapsing in despair, but standing with quiet dignity and deep calm. The community was quick to forgive. They even established a charity fund for the killer's family. We saw a people face the worst and become their best.
Such peculiar people.
The prisoners and, I think, the jailer witnessed two men like that. And he and they must have understood saved to mean, at the least, having confidence in a God who is with us and for us even when it looks as though he's abandoned us or is punishing us. It means knowing this God so personally that we have cause to sing even when there is no earthly cause to warrant it.
The more that saved means includes knowing a God who empowers us to face the worst and become our best.
We're All Here
Somewhere in there, the jailer falls asleep. Maybe the singing lulls him. But he's awakened abruptly by a mighty shaking. An earthquake, powerful enough to fling the prison doors wide, strong enough to shake the prisoners' chains loose, rocks the house. The jailer wakes, sees what's happened, and prepares to do what every loyal Roman soldier knows is the noble thing to do: kill himself. Run his sword through his own heart to save Caesar's representative the trouble. A jailbreak was grounds for executing the prison guard regardless of the circumstances under which the prisoners escaped.
"But Paul shouted, 'Don't harm yourself! We are all here!'" This moment more than any other elicits the jailer's pleading question: "What must I do to be saved?"
This is the point at which the jailer might mean by saved something very different from what Paul answers, but it's more likely that he's astonished by what he sees: these men's compassion for him, a stranger, even an enemy. Why should Paul and Silas care? What possible concern is it of theirs if this man does his soldierly duty? That earthquake looks like a God-thing, reminiscent of Peter's miraculous, angel-escorted escape from prison (where the guards were executed), reminiscent of the earthquake that attended Jesus' escape from death's prison. So why not see it as God's intervention on their behalf, and whatever will be will be?
Don't harm yourself. We're all here.
Such peculiar people. What power could possibly make anyone behave this way? What power is now loose in the cosmos that could break anyone's addiction to self-protection and self-advancement and make them care, even at great personal cost, about someone they've no reason to like and every reason to hate?
The more that saved means includes knowing a God who empowers us, even when it costs us dearly, to love strangers, even enemies.
Transfixed
Then there are the other prisoners, sitting there when nothing external—no chains, no bars—holds them anymore. We're all here.
Why don't they flee? What's riveted them to their seats?
I venture this: Paul and Silas have astonished the prisoners every bit as much as they've astonished the jailer, and for the same reasons. Up to this moment, it's unlikely that a single one of those prisoners had ever seen a man get bludgeoned half to death and come up praising God. They're transfixed by it, wondering what strange power this is that causes men to act at complete odds with common sense. They're so transfixed, they start acting that way, too.
The jailer sees prisoners going nowhere. He sees prisoners who, hours before, would have seized this opportunity gleefully, without a second thought, now sitting still. If they are not as concerned about the jailer's welfare as Paul and Silas are, they at least respect Paul and Silas enough to follow their example. The guard sees hard men with hard hearts suddenly acting against their most entrenched instincts, and all because they eavesdropped for an hour or so on two men deeply in love with God.
The more that saved means includes knowing a God who empowers us to subdue the hardest heart.
And maybe there's one other thing that the jailer means by saved. Maybe he knows what happened in town that day, the events that led to Paul and Silas being beaten and arrested and imprisoned. Maybe he knows that these two men are no criminals. That their crime is not murder or thievery or sedition, but simply and only setting a captive free.
Paul and Silas are in prison because they had pity on a slave girl, doubly enslaved, held in thrall by her earthly masters and the Devil. She followed Paul and Silas around town, giving them one doozy of an endorsement: "These men are servants of the Most High God, who are telling you the way to be saved."
She spoke the truth, every word. And her endorsement could only have helped Paul's cause tremendously: she was a local "spiritual authority," sought for her clairvoyance, her insight into hidden things. By all appearances, the foreign spirit in her was subject to the Holy Spirit of God.
Still, there was a foreign spirit in her. And it troubled Paul. So, in the name of Jesus, he cast the spirit out. As so often happens in the Gospels and Acts, when all heaven breaks loose, all hell does as well. The incident provokes a riot, and the result is that Paul and Silas exchange their freedom for hers. She's free, at least from the prison of the Evil One, and they're captive, at least in the prison of the state.
The more that saved means includes knowing a God who defeats the powers of darkness and at the same time makes us willing to forsake our own freedom for the sake of another's.
Glimpsing Transformation
What must I do to be saved?
Believe in Jesus. Yes. Believe in Jesus, so that your sins will be forgiven and your name written in the Book of Life. Please, let us never, in the name of any fashion or fad in theology, make the gospel less than this.
But what do we mean, what should we mean, by saved? Does it not also include freedom and power, here and now, to live a life so transformed that others glimpse in it the possibility of their own transformation? Please, let us always, in the name of the God who saves us, mean this by the gospel as well.
Arthur Burns, a Jewish economist of great influence in Washington during the tenure of several Presidents, was once asked to pray at a gathering of evangelical politicians. Stunning his hosts, he prayed thus: "Lord, I pray that Jews would come to know Jesus Christ. And I pray that Buddhists would come to know Jesus Christ. And I pray that Muslims would come to know Jesus Christ."
And then, most stunning of all: "And Lord, I pray that Christians would come to know Jesus Christ."
Such a good prayer, I've started praying it myself.
Related Elsewhere:
Previous Christian Vision Project themes were culture in 2006 and mission in 2007. Articles include:
The Lima Bean Gospel | The Good News is so much bigger than we make it out to be. (January 8, 2008)
Unexpected Global Lessons | How short-term mission is becoming a two-way street. (December 4, 2007)
The Dread Cancer of Stinginess | When it comes to missions giving, donor dependency may not be the greatest problem. (October 2, 2007)
Powering Down | World Vision India head Jayakumar Christian on how the poor become movers and shakers, and movers and shakers become poor. (August 31, 2007)
Liberate My People | Theologian and educator Ruth Padilla DeBorst says true Christian mission addresses issues of power and poverty. (August 8, 2007)
From Tower-Dwellers to Travelers | Ugandan-born theologian Emmanuel Katongole offers a new paradigm for missions. (July 3, 2007)
Have something to add about this? See something we missed? Share your feedback here.
Our digital archives are a work in progress. Let us know if corrections need to be made.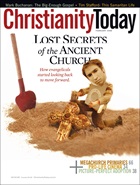 This article is from the February 2008 issue.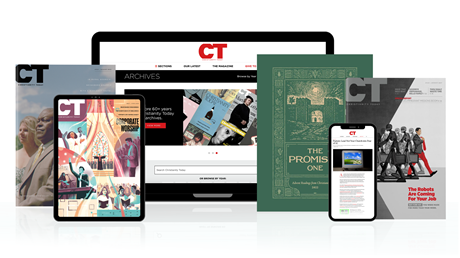 Subscribe to Christianity Today and get access to this article plus 65+ years of archives.
Home delivery of CT magazine
Complete access to articles on ChristianityToday.com
Over 120 years of magazine archives plus full access to all of CT's online archives
Subscribe Now
Singing in the Chains
Singing in the Chains