true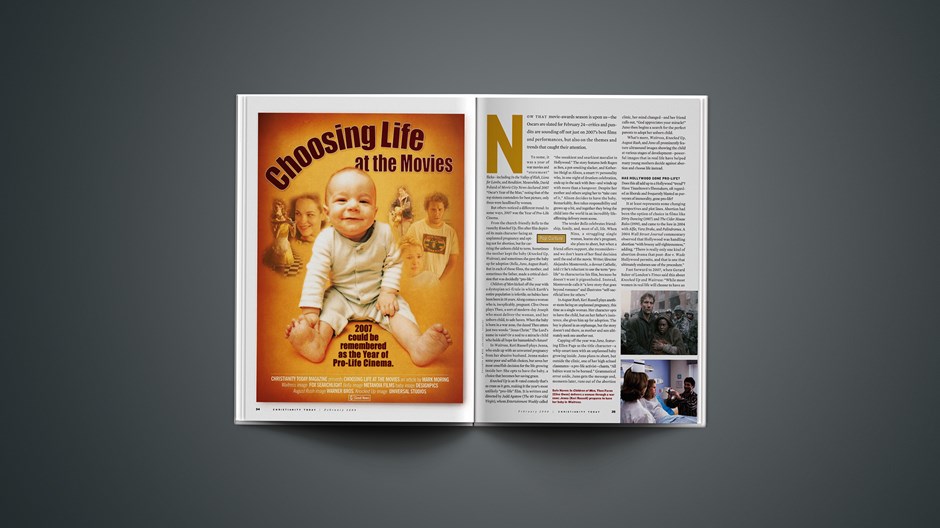 To some, it was a year of war movies and "statement" flicks—including In the Valley of Elah, Lions for Lambs, and Rendition. Meanwhile, David Poland of Movie City News declared 2007 "Oscar's Year of the Man," noting that of the top sixteen contenders for best picture, only three were headlined by women.
But others noticed a different trend: In some ways, 2007 was the Year of Pro-Life Cinema.
From the church-friendly Bella to the raunchy Knocked Up, film after film depicted its main character facing an unplanned pregnancy and opting not for abortion, but for carrying the unborn child to term. Sometimes the mother kept the baby (Knocked Up, Waitress), and sometimes she gave the baby up for adoption (Bella, Juno, August Rush). But in each of these films, the mother, and sometimes the father, made a critical decision that was decidedly "pro-life."
Children of Men kicked off the year with a dystopian sci-fi tale in which Earth's entire population is infertile; no babies have been born in 18 years. Along comes a woman who is, inexplicably, pregnant. Clive Owen plays Theo, a sort of modern-day Joseph who must deliver the woman, and her unborn child, to safe haven. When the baby is born in a war zone, the dazed Theo utters just two words: "Jesus Christ." The Lord's name in vain? Or a nod to a miracle child who holds all hope for humankind's future?
In Waitress, Keri Russell plays Jenna, who ends up with an unwanted pregnancy from her abusive husband. Jenna makes some poor and selfish choices, but saves her most unselfish decision for the life growing inside her: She opts to have the baby, a choice that becomes her saving grace.
Knocked Up is an R-rated comedy that's as crass as it gets, making it the year's most unlikely "pro-life" film. It is written and directed by Judd Apatow (The 40-Year-Old Virgin), whom Entertainment Weekly called "the sneakiest and snarkiest moralist in Hollywood." The story features Seth Rogen as Ben, a pot-smoking slacker, and Katherine Heigl as Alison, a smart TV personality who, in one night of drunken celebration, ends up in the sack with Ben—and winds up with more than a hangover. Despite her mother and others urging her to "take care of it," Alison decides to have the baby. Remarkably, Ben takes responsibility and grows up a bit, and together they bring the child into the world in an incredibly life-affirming delivery room scene.
The tender Bella celebrates friendship, family, and, most of all, life. When Nina, a struggling single woman, learns she's pregnant, she plans to abort, but when a friend offers support, she reconsiders—and we don't learn of her final decision until the end of the movie. Writer/director Alejandro Monteverde, a devout Catholic, told CT he's reluctant to use the term "pro-life" to characterize his film, because he doesn't want it pigeonholed. Instead, Monteverde calls it "a love story that goes beyond romance" and illustrates "self-sacrificial love for others."
In August Rush, Keri Russell plays another mom facing an unplanned pregnancy, this time as a single woman. Her character opts to have the child, but on her father's insistence, she gives him up for adoption. The boy is placed in an orphanage, but the story doesn't end there, as mother and son ultimately seek one another out.
Capping off the year was Juno, featuring Ellen Page as the title character—a whip-smart teen with an unplanned baby growing inside. Juno plans to abort, but outside the clinic, one of her high school classmates—a pro-life activist—chants, "All babies want to be borned." Grammatical error aside, Juno gets the message and, moments later, runs out of the abortion clinic, her mind changed—and her friend calls out, "God appreciates your miracle!" Juno then begins a search for the perfect parents to adopt her unborn child.
What's more, Waitress, Knocked Up, August Rush, and Juno all prominently feature ultrasound images showing the child at various stages of development—powerful images that in real life have helped many young mothers decide against abortion and choose life instead.
Has Hollywood Gone Pro-Life?
Does this all add up to a Hollywood "trend"? Have Tinseltown's filmmakers, oft regarded as liberals and frequently blasted as purveyors of immorality, gone pro-life?
It at least represents some changing perspectives and plot lines. Abortion had been the option of choice in films like Dirty Dancing (1987) and The Cider House Rules (1999), and came to the fore in 2004 with Alfie, Vera Drake, and Palindromes. A 2004 Wall Street Journal commentary observed that Hollywood was handling abortion "with breezy self-righteousness," adding, "There is really only one kind of abortion drama that post–Roe v. Wade Hollywood permits, and that is one that ultimately endorses use of the procedure."
Fast forward to 2007, when Gerard Baker of London's Times said this about Knocked Up and Waitress: "While most women in real life will choose to have an abortion in these circumstances, neither film features any consideration of a termination. … This has some feminists outraged." And last summer, The New York Times ran a story titled, "On Abortion, Hollywood Is No-Choice," observing that those two films went "out of their way to sidestep real life. Nearly two-thirds of unwanted pregnancies end in abortion. … The possibility of not having the baby is never discussed by either woman despite her circumstances."
While several Christians in the industry applaud the pro-life choices depicted in these films, they're reluctant to call it a trend.
"There's no question that after a polarizing 30-year battle over issues like abortion, we're seeing a new environment in Hollywood and in the culture in general," says filmmaker and media guru Phil Cooke. "But I'm always hesitant to make 'pronouncements' about the entertainment industry, because media often simply reflects changes that are already happening in the culture." Indeed, abortion rates have been slowly declining in the U.S. in recent years, according to the U.S. Centers for Disease Control and The Guttmacher Institute.
Rob Johnston, professor of theology and culture at Fuller Theological Seminary, notes that with the exception of Bella, these films aren't being made by Christians.
"The church cannot take credit for this newfound interest [in pro-life storylines]," says Johnston, author of Reframing Theology and Film. "Rather, we need to thank a growing number of filmmakers for portraying the preciousness of life. All life has a sanctity that increasing numbers of people are recognizing."
Craig Detweiler, Johnston's colleague at Fuller and author of A Matrix of Meanings: Finding God in Pop Culture, says the "trend" may simply be a reflection of good storytelling principles—especially in comedies like Knocked Up.
"Comedies almost always end with weddings and births," says Detweiler. "That's the Shakespearean way. It's tough to turn an abortion into a comedic or happy ending, but a baby makes audiences coo and smile. Additionally, films are often about leaps of faith—and nothing takes more faith than bringing a child into this cracked and crazy world."
Sister Rose Pacatte, director of the Pauline Center for Media Studies, was especially struck by the pro-life themes beneath the muck and persistent f-bombs of Knocked Up. She said she wouldn't be surprised if the film convinced some pregnant women to change their minds about having an abortion.
"Knocked Up speaks the language of today to the people of today," says Pacatte. "It may be crass and gross, but I don't think it's immoral. That's a sensitivity issue we Christians need to get over. I bet this film has done more for life than the ranting and raging of the well-intentioned oral majority who stop at the immorality of recreational sex and miss the opportunity to address this issue as well.
"Sometimes Christians judge a movie to be 'anti-life' on the face of it, but if they enter the story, they may find something completely life-affirming. In Knocked Up, their choosing life was part of a decision to grow up and take responsibility. This is original in the sex comedy genre."
Original, perhaps, but is it countercultural? Brett McCracken, a film critic for ChristianityTodayMovies.com, thinks so.
"There is a general impulse in screenwriting to go against the grain," says McCracken. "Movies that choose life instead of abortion are going totally against audience expectations. So it may be that these writers are just trying to be a little avant-garde by presenting a conservative-leaning perspective. 'Countercultural' is a good word for award-seeking Hollywood films, but in terms of Hollywood's culture, pro-life is the countercultural position."
Whatever is driving Hollywood's writers and filmmakers, it's good to see more movies affirming the sanctity of life. And there's no denying the power of cinema to change lives—and maybe even to save them … including the unborn.
Mark Moring is the editor of ChristianityTodayMovies.com.
Related Elsewhere:
USA Today reported on the trend of pregnancy films.
Christianity Today Movies reviewed Juno, August Rush, Waitress, Children of Men, and Bella.
Have something to add about this? See something we missed? Share your feedback here.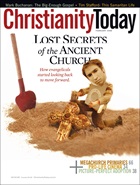 This article is from the February 2008 issue.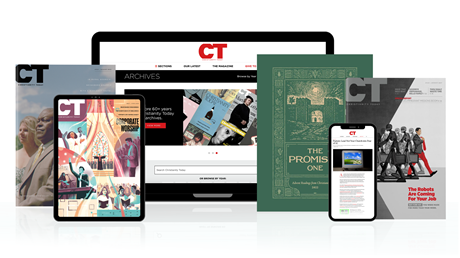 Annual & Monthly subscriptions available.
Print & Digital Issues of CT magazine
Complete access to every article on ChristianityToday.com
Unlimited access to 65+ years of CT's online archives
Member-only special issues
Subscribe
Choosing Life at the Movies
Choosing Life at the Movies