The Shack
By William P. Young
Windblown Media, 2007
Exclusive for CT Online readers: Download chapter one of The Shack by William P. Young, free from Oasis Audio and powered by Audible.com.
Call it the little book that could. William P. Young's The Shack, a 256-page self-published novel that was turned down by several Christian publishing houses (ostensibly for being too theologically edgy) is finding a grassroots audience that just keeps growing. Seldom has there been such a buzz about religious fiction.
With endorsements from Wynonna Judd ("this story has blown the door wide open to my soul") to Eugene Peterson ("this book has the potential to do for our generation what John Bunyan's Pilgrim's Progress did for his"), The Shack has captured the imagination of readers and garnered sales figures only dreamed of by most authors. A little more than a year after its May 2007 publication date, The Shack has more than 1.1 million copies in print. (Consider that 10,000 copies is a respectable number for a novel in most Christian publishing circles.) As of July 9, it sits atop the trade paperback fiction lists of The New York Times and Publishers Weekly, and ranks #5 and #6, respectively, in overall Web sales at Amazon and Barnes & Noble. The Shack has now spent 22 weeks on USA Today's Top 150 bestsellers list, and is currently in its highest position at #5. Capitalizing on its success, Windblown Media has entered a copublishing venture for future titles with FaithWords and is currently in the pre-production phase of turning The Shack into a feature-length film.
For all the hubbub, it's a simple story. Mackenzie Allen Philips is on a camping trip in Oregon with his three young children, when his youngest daughter, Missy, is kidnapped and brutally murdered. Evidence of her death is found in an abandoned shack. The vicious murder rips the young family apart, and when the story resumes four years later, Mack is drifting and grief-stricken. He receives a typewritten letter from someone called "Papa," his wife's nickname for God, inviting him to meet at the shack. Initially, he writes it off as the joke of a particularly sadistic prankster. But eventually — despite his misgivings — he risks everything and goes.
What follows are scenes of redemption, of trying to make sense out of suffering and loss, of grace, and of love. Mack meets God at the shack, but in ways he'd never imagined before. Young's depiction of the Father, Jesus, and the Holy Spirit are unusual and invigorating, part of the charm and uniqueness of the book. Young asks us to rethink our assumptions, to see with new eyes and hear with new ears what we've seen and heard many times before, and to risk being uncomfortable with what we read. So, yes, it's an eye-opener when God appears to Mack as a "big black woman with a questionable sense of humor," the Holy Spirit as an Asian woman named Sarayu, and Jesus as a Middle Eastern laborer. Heresy? Probably not. Unusual? Yes.
Imagine if you could ask "God in three persons" your hardest questions face to face. Compelling to think about, isn't it? "If you couldn't take care of Missy, how can I trust you to take care of me?" Mack asks God in one poignant conversation. The painful scenes are often leavened with humor, as when Mack tells God, "I think it'd be easier to have this conversation if you weren't wearing a dress."
The Shack is an example of a good story transcending the mechanics of problematic writing. The book needed a rigorous edit; the dialogue is rough in spots, and even the website is rife with spelling errors. Though a typical, even expected, self-publishing problem, it's still disappointing.
But let's face it: Readers are talking about The Shack for its theology and its storyline, not for its faulty mechanics. Reviewers have criticized the book for hinting at universalism, as well as for feminism and a lack of hierarchy in the Trinity. Rather than slicing and dicing the novel, looking for proof of theological missteps, a better approach might be to look at significant passages as springboards for deeper discussion. The Shack is a novel, after all, not a systematic theology.
Keep that in mind when reading The Shack. Despite its weaknesses, this is a story with the potential to wake readers up, to rekindle or reinvigorate their faith. In an era when so much Christian fiction is about pat answers, conventional themes, and the regurgitation of what we already know and believe, such stories are good news for thoughtful readers.
Cindy Crosby is the author of By Willoway Brook and, with Thomas C. Oden, the Ancient Christian Devotional.
Related Elsewhere:
Download chapter one of The Shack by William P. Young, free from Oasis Audio and powered by Audible.com.
The book and audio versions of The Shack are available from ChristianBook.com and other retailers.
The book's website has a readable version of chapter 1.
Derek Keefe wrote about how to read the book.
Collin Hansen discussed The Shack's depiction of the Trinity in "The Trinity: So What?"
USA Today reported on criticisms of The Shack's theology.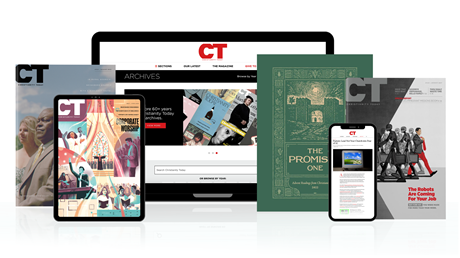 Subscribe to Christianity Today and get access to this article plus 65+ years of archives.
Home delivery of CT magazine
Complete access to articles on ChristianityToday.com
Over 120 years of magazine archives plus full access to all of CT's online archives
Subscribe Now
Fiction for the Faith-Starved
Fiction for the Faith-Starved