On a gray winter's day in Kiev (Kyiv), Ukraine, I walked the halls of a monastery-turned-hospital, its tile floors smoothed down by the footsteps of monks.
People newly diagnosed with HIV come to this hospital for further tests. In one room, a man sat aloof, barely acknowledging our presence. Another man angrily denounced his government's weak response to people with HIV. Anatoly, a local pastor, invited me to this hospital and we listened as the angry man talked about his two-year-old boy with HIV. (This means the mother in the family is almost certainly HIV-positive.) In silence, we grieved together over the uncertain future of this family.
In the next room, two young women sat on neatly made metal beds, apprehensive at our unannounced arrival. One pretty blonde, 23, told us she had been diagnosed for a month. To look at her, you would never know she was ill.
But the 20-year-old in the bed next to her was visibly very sick. Her emaciated body clearly communicated serious illness. My attention shifted to this woman's weeping mother sitting across from her. Mother and daughter had come to the big city from a rural area and were alone to face death. No family. No friends. Not even kind strangers.
That is, until Pastor Anatoly's passionate voice spoke—reassuring them that they were not alone. He promised he and the members of his church would be back to visit them and support them. In that moment, I saw faith become real.
I frequently hear criticism that evangelicals are more interested in talking about their faith than in actually doing anything tangible. Like all Christians, we often use our mouths more than our hands and feet. I too plead guilty.
I could see the exposed electrical wires, pipes dripping waste, empty syringes, discarded foil cards that held tramadol (their drug of choice), and dead rats.
But my recent trip to Ukraine underscored how Christians, far from American shores, combine faith and action. This inspires me and helps make my faith vibrant.
After visiting with Pastor Anatoly, my ministry team and I took a 16-hour overnight train ride southeast to Mariupol, a lovely, small city near the Sea of Azov adjacent to the Black Sea. Young children lined up to greet us exuberantly as we visited the Pilgrim Center that Pastor Gennady Mohnenko created.
Pastor Gennady resembles a swashbuckling movie hero—tall and handsome, with energetic hands he distributes bear hugs and high fives to children passing in the hallways.
These precious children once lived on the streets; their arms are scarred by needle tracks from drug addiction. Twenty percent are HIV-positive. Pastor Gennady is known for blatantly grabbing street kids from their hideouts. He offers them safety, detox, and nourishment for soul and body.
Late that day, I joined him in a surprise visit to a basement under a large apartment complex. He had heard that a street boy there was about to die. The entryway into the basement was a hazardous crawl, down a metal ladder hanging onto the wall by a few screws, into inky darkness. As I climbed down slowly, my eyes adjusted. I could see the exposed electrical wires, pipes dripping waste, empty syringes, discarded foil cards that held tramadol (their drug of choice), and dead rats.
The glimpse of wretchedness was enough to smash my heart yet again. In the middle of this, I caught a glimpse of another reality—a local church pastor being the hands and feet of Jesus to someone who perhaps had never personally experienced the love of Christ. Everyday Christians can take the commands of Christ seriously and make their faith real, not by words alone, but by active compassion.
But consider one more glimpse to get the full picture. At the basement entryway, an old woman stood at the top of the stairs, directed us down to the children, and watched us with a mixture of curiosity, anxiety, and concern. I wondered why she didn't do more. She knew there were homeless, drug-addicted youth living beneath her. Did she ever try to help them? Invite them in for a cookie? Or was she overwhelmed, fearful that if she showed kindness to one, all would swarm her?
I wonder how many times each of us stands at the top of the stairs, watching, not getting involved. We can use our words (as the old woman did) or we can use our hands and feet as well. But being the presence of Christ in forgotten places provides a two-fold blessing—one for the person in need and another for the believer. Let's put our body language in sync with our gospel message.
Related Elsewhere:
Kay Warren's previous Seriously Disturbed column was "Wiping out HIV."
Tim Morgan interviewed Warren about AIDS ministry and strategies for fighting the disease.
Have something to add about this? See something we missed? Share your feedback here.
Seriously Disturbed
Kay Warren, cofounder of Saddleback Church with her husband, Rick, is an international speaker and Bible teacher especially known for her work with those living with HIV and AIDS. She is the author of several books, including Choose Joy: Because Happiness Isn't Enough and Dangerous Surrender (revised and republished as Say Yes to God). Her column on international social issues ran from 2008 to 2009.
Previous Seriously Disturbed Columns:
Our digital archives are a work in progress. Let us know if corrections need to be made.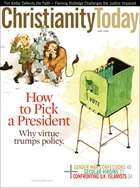 This article is from the June 2008 issue.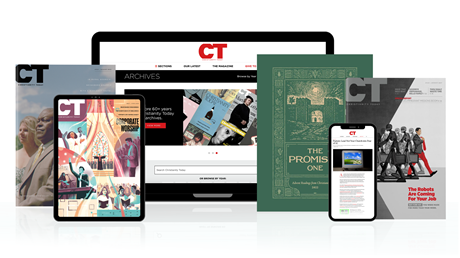 Subscribe to Christianity Today and get access to this article plus 65+ years of archives.
Home delivery of CT magazine
Complete access to articles on ChristianityToday.com
Over 120 years of magazine archives plus full access to all of CT's online archives
Subscribe Now
Talk and Walk
Talk and Walk