How are you doing as you approach your 90th birthday?
I don't have the energy I once had. And I do have some physical problems that the doctors have to watch. Someone said to me recently that the most exciting part of his day was waking up and discovering what was hurting today that didn't hurt yesterday! Sometimes I can relate to that. But seriously, I'm thankful for each day, and I'm thankful for the measure of health I do have. Every day is a gift from God, no matter how old we are.
And I've discovered that just because we'll inevitably grow weaker physically as we get older, it doesn't mean we must grow weaker spiritually. In fact, we ought to be growing stronger spiritually, because our eyes ought to be on eternity and Heaven—on the things that really matter.
Do you stay pretty close to home? Many visitors?
I don't get out as much as I used to. A couple of months ago, I was in Charlotte for a meeting of our board, but in general I stay home most of the time now. One of the things I miss most is that I can no longer read, due to age-related macular degeneration. I get regular injections for this, and thankfully these seem to have arrested its progress, but it's still very difficult for me to read. That means it is hard for me to pick up my Bible and read it like I used to, and I miss that very much. But I probably pray as much now as at any time in my life, if not more—not just definite times of prayer, but all during the day.
And yes, I do have visitors from time to time, when my strength allows. My family is very good about visiting me, and other friends as well. And one of the things I can do at this stage of my life is encourage younger evangelists and ministers, so I try to make time for them.
I understand that you are an avid TV news and talk show watcher. Were you following the presidential campaign? Any endorsements?
I've always tried to keep up with what's happening in the world, and I still do—including politics. But no, I'm not making any endorsements, and I'm staying out of partisan politics. I'm grateful for our system of government, and I strongly urge people to vote—but I don't endorse any candidate.
I also strongly urge people to pray for our new leaders, whoever they are, because they will be facing enormous problems, and they'll need great wisdom and patience from God to deal with them. I pray also that they'll be able to work across party lines on these problems, and avoid the partisan wrangling that we've seen in recent years.
What is life like without Ruth?
Not a day, or even an hour, goes by that I don't think about her and miss her. I rejoice that all the suffering she endured those last years is over, and that she's safely in Heaven now with the Lord she loved and served almost her whole life. But I miss her very much, and I look forward to the time when we will be reunited.
The Bible says that as Christians we don't grieve the same way people do who have no hope of eternity and of Heaven—but we still grieve.
One of your Charlotte friends told me you said recently that, as a Christian, you had been taught how to die, but nobody ever taught you how to grow old. What are your challenges these days?
Yes, I think that's true; we don't say enough about the challenges we'll face as we grow older, and how we ought to deal with them. I'm not just thinking here of the physical challenges of old age, although sometimes I wonder if we don't gloss over these and pretend that the latest cosmetics or surgical techniques can turn back the clock indefinitely. They can't; if we live long enough, sooner or later the frailties of old age will catch up with us.
But the real question is how we'll face old age emotionally and spiritually—and that's what we often overlook. As I've looked at my own life, and the lives of others, I've come to realize that the time to prepare for old age isn't when it arrives. By then it may be too late. The time to prepare for old age emotionally and spiritually is before it hits us.
I'm hoping to finish a book about this, but in any case I think our churches could do more to help people prepare for those latter years. They can be some of the most fulfilling of our lives—but not if we don't prepare.
Do you have any regrets as you look back on your life?
I regret that I didn't spend more time with my family; I'm sure Ruth and the children paid a heavy price for all the times I was absent. I always tell younger evangelists not to feel like they have to accept every invitation they get, or be absent from home so much. We can do so much today through modern communications.
And then I also wish I had studied more, and spent more time in prayer.
Do you think about your early days in Charlotte?
Old age is a time for reflection and looking back—and yes, I do think often about my youth. Only one of my siblings is left—my sister Jean Ford—but I still have a number of other relatives in the area, and occasionally I'll get to see some of them. I'm thankful for the experience of growing up on a farm, and what it taught me about hard work and about people. And then it was in Charlotte that I gave my life to Christ as a teenager. My parents were devout and took us to church every week, but I had no particular interest in God or religion, and the last thing I wanted to be was a preacher. But then some friends took me to hear a visiting evangelist, Mordecai Ham, and God used him to speak to me about my need for Christ. My life was never the same after that.
But old age for me isn't just a time to look back—it's also a time for looking forward. I'm thankful for Franklin's leadership of the (Billy Graham Evangelistic Association), and I'm excited about the many new opportunities God is opening up for our ministry. The door for evangelism has never been more open in many parts of the world and I only wish we had the resources to take advantage of all of them. So I'm confident about our future as an organization.
But when I think of the future now, I think especially of heaven. Admittedly old age isn't easy; whoever said that old age isn't for sissies was right. But as a Christian I know that this life is not all, and eventually we all will stand before God. I'm thankful that some day soon the burdens of this life will be over for me, and I will go to be with God forever. I look forward to that day! This is my hope, and it can be the hope of every person who puts their faith and trust in Christ.
Originally published November 1 in the Charlotte Observer. Copyright 2008 by McCatchy Interactive West. Reproduced with permission of McClatchy Interactive West.
Related Elsewhere:
Christianity Today has a special section on Billy Graham, including sermons, interviews, and articles about Graham.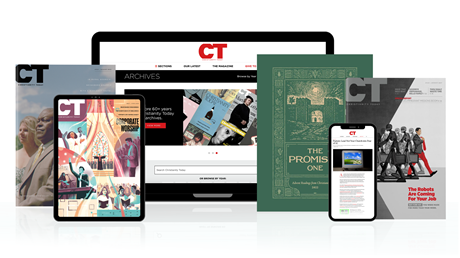 Subscribe to Christianity Today and get access to this article plus 65+ years of archives.
Home delivery of CT magazine
Complete access to articles on ChristianityToday.com
Over 120 years of magazine archives plus full access to all of CT's online archives
Subscribe Now
Q&A: Billy Graham at 90
Q&A: Billy Graham at 90