This article, an abridged sermon, originally appeared in the October 14, 1957 issue of Christianity Today.
In the First Epistle of John, fifth chapter, thirteenth verse, we read: "These things have I written to you that believe on the name of the Son of God, that ye may know that ye have eternal life and that ye may believe on the name of the Son of God." That is the reason this epistle is written to the people. "These things I write unto you," said John, "that ye may know that ye have eternal life."
Now I ask you, do you know whether you have eternal life? What do I mean by eternal life? I mean life, here and now, a full-orbed life, life's complete fulfillment, as well as heaven to come when you die. Do you know that you have that? The Bible says you can know it. You can be sure of it. John says, "These things I write unto you that believe on the name of the Son of God, that ye may know that ye have eternal life." A Christian who has received Christ can say with assurance, "I know that I have eternal life. I'm sure. I have received Christ. There are certain evidences in my life that indicate that I've passed from death unto life. Whether I was conscious of the moment or unconscious of it, I've passed from death unto life and I know that I'm ready to meet God. I know in whom I have believed."
All through the epistles, the apostles say, "I know." You can know, you can be sure. Paul said, "I am persuaded … I know these things." How can you know, how can you be sure?
Personal Examination
Well, I want to give you an examination. I want to ask you some very pointed questions about your own life. The Bible says that God's law is a mirror. And when I look into the Law, the Ten Commandments or the Sermon on the Mount, the Bible says that I see my true self. I see how I appear in the sight of God. The Bible says that God does not judge the outward appearance. I'm not asking about your financial status, about the latest fashion in which you are dressed, about your social position, about the color of your skin, nor about your cultural background. I'm asking, How do you stand in relationship to God? Are you sure that you have eternal life?
The rich young ruler came to Jesus and said, "What must I do to have eternal life?" What did he mean? He meant that he wanted the best out of life here, that he wanted full-orbed living. Now, he had religion. He had culture. He had education. He had everything that would normally make a person happy. But there was an empty spot in his life. He knew that there was something else in life that he didn't have, and so he came to Jesus. But, he asked something else. He wanted to know about life after death. He wanted to know whether he was going to live with God forever. He wanted to know about this life that Jesus was talking about when he said, "I have come to bring life, more abundant life."
Source of Life
The Bible teaches that God is from everlasting to everlasting. God is life. Jesus said, "I am the way, the truth and the life." Life: Life with a capital L. That is, spiritual life. Now, there is physical life. Physically you are alive. Spiritually, the Bible says, all of us are dead and separated from God. Take the illustration of a lovely plant. I cut off a stem and the plant lies on the floor. It looks just as well as it ever did from the outside, but the sap can no longer come into it, and eventually it will die because it is separated from life. Now that is exactly what sin does. Sin has cut the lifeline between you and God, and God speaks of us as spiritually dead. Separated from God. Cut off from God's fellowship. Separated from life.
Now, God is life. The moment you come to Jesus Christ and receive him, the Bible says you are grafted back into the vine. Jesus said, "I am the vine, the true vine. Ye are the branches." You are grafted in as a branch. The Bible says you become a partaker of eternal life, spiritual life, and immediately something happens. The Bible says the sap, the spiritual life of God, begins to flow through you, and evidences appear that you have spiritual life. You don't go on as a dead plant, as a dead branch. The leaves begin to sprout. Certain things begin to take place in your life. This life of God is yours, and the Bible says you will live as long as God lives. When the stars have fallen, when the moon has fallen out of its socket, we'll still be living because God is from everlasting to everlasting, and those of us who have spiritual life in Christ Jesus shall live forever. Oh, it's wonderful to be a Christian! And that's the thing that the world cannot understand. That's the thing that a person who has never received Christ cannot understand. He doesn't understand that flowing through you now is the life of God, giving you power, strength, and the dynamic to live the Christian life.
Make Sure
Do you have the life of God flowing through you? Have you received spiritual life through Christ? You should check to see whether you have life. The Bible speaks in Hebrews 10:22 about the full assurance of faith. The blind man said, "One thing I know, that whereas I was blind, now I see." Make sure! Can you say, "I was blind to spiritual things, but now I see. I was once dead to spiritual things, but now I have life. I was once in spiritual darkness, but now I'm walking in the light." Can you say that? If not, I beg of you to come to Christ and make sure. Has there been a moment when you received Jesus Christ as your Lord and Saviour? Paul said to the Philippian jailer, "Believe on the Lord Jesus Christ and thou shalt be saved." "No, Paul," you say, "that's an oversimplification. You're too simple, Paul. You should have given him something complicated to do. Paul, you should have told him all that's involved." But Paul didn't. Paul said, "Believe." Why? Because believing, if you understand the word properly, is the entrance, the beginning of new life in Christ.
Meaning of Faith
Now, what does it mean to believe? The word believe involves your intellect. We must know Christ, and accept his claims. Christ claimed that he was the Son of God, that his death on the Cross was the only way to heaven, that he was God incarnate. You must accept Christ in all that he claims, or put him down as one of the biggest liars, hypocrites and charlatans in history. I had to decide in my own heart and in my own mind that Jesus Christ was what he claimed to be. I made my decision a few years ago. I stood at the crossroads and intellectually made this choice. I said, "Oh God, by faith with my mind I accept the fact that Jesus Christ is what he claimed to be and that when he died on the Cross it was not the ordinary death of an ordinary man, but it was God in Christ reconciling the world unto himself. It was Christ shedding his blood for our sins."
Intellect And Emotion
First is the intellect. Second is emotion. Emotion is involved in everything we do. You cannot separate emotion from the mind and the will. Love is emotion. Hate is emotion. When I come to Jesus Christ, I love Christ because he gave himself for me on the Cross, and I hate sin. Hate and love are emotions. I have very little time for a person who can sit in front of a television set and weep and laugh over "I Love Lucy," or go to a ball game and shout, "Kill the umpire," and yet condemns emotionalism in religion.
The third factor is the will. Thousands of people are in the churches today who accept Christ with the intellect. The Bible says that the devils believe and tremble. We haven't done much trembling. Some of you have had emotional experiences in religion as a child, as a young person. But you still do not have spiritual life until a third thing takes place. Here is the important thing: you must by an act of your will receive Christ.
When I stood before the minister to get married, he said, "Wilt thou take this woman to be thy wedded wife?" I said, "I will." Publicly, before everybody in that church, as scared as I was, by an act of my will. I didn't answer him and say, "I believe in her and I love her." That was not it. I had to say, "I will." Leading up to that moment there had been weeks and months of courtship. I used every tactic that I'd ever heard about or read about to win her. However, we were not committed to each other until we said in front of the minister, "I will." Then the transaction was recognized in the courts of heaven and earth.
When you come to Jesus Christ it is also an act of your will. That is involved in that little word faith. I believe. I receive Christ by faith. It is an act of your will when you commit your life to him. Have you done that?
Forsaking Sin
After receiving Christ, did you forsake sin, the known sin in your life? Lying, cheating, immorality, pride, all of these things? Now that doesn't mean you had total and complete victory over them every moment. But it does mean that you began to turn from sin. Sam Jones, the great evangelist, said that his church used to say, "Quit your meanness." That's what it means to follow and serve Christ. "Let the wicked forsake his way, and the unrighteous man his thoughts, and let him return unto the Lord and he will have mercy on him."
Suppose I have a pig. I give him a bath in suds. Then I take his hoofs and polish them and put nail polish on them. Then I take a little Chanel No. 5 and put that on his back. I put a beautiful ribbon around him, bring him into the living room and put him on my sofa. He sits there and he smells and looks sweet. A beautiful house pet! Everybody says, "Isn't it wonderful. What a lovely pig you have. Isn't he a nice, sweet pig. I've never seen such a lovely pig." I open the door and let the pig out. Where does he go? He goes back to the mud-hole, because his nature has never been changed. He's still a pig.
You can take a man, dress him all up on Sunday morning. He puts his little halo on his head, sprouts his wings and he goes in and sits down in the church. He smiles and beams all over. Twelve o'clock comes. He walks out, shakes hands with the minister, smiles and says, "It was wonderful this morning, Reverend." Then, about mid-afternoon, halo comes off, wings are moved aside, the horns begin to grow and he picks up his pitchfork again for another week. He goes back and practices the same old sins. His nature has never been changed. That is the reason Jesus said, "Ye must be born again." You must have a new heart, a new soul, a new direction in your life.
Obeying Christ
Another way to check yourself is to determine whether you obey Christ. Do you have a real desire to obey? He said, "He that bath my commandments and keepeth them, he it is that loveth me"; "And hereby we do know that we love him if we keep his commandments"; "If a man love me, he will keep my word"; "He that loveth me not, keepeth not my sayings."
Do you obey Christ? Do you obey him by reading his Word? Do you obey him by spending time daily in prayer? Do you obey him by being faithful and loyal to the Church? Do you obey him by giving your tithes and offerings for the support of the work of the Lord?
I've had hundreds of people say, "Billy, I have no spiritual blessing. I have no spiritual power." Always I start asking, "Do you read the Word?" Nine times out of ten they answer, "No." "Do you spend time in prayer?" "Oh, yes, I pray every day." "Well, do you tithe your income?" "Well, no. I haven't done that very well." "Do you mean that you expect God to bless you when you're robbing God?" Every denomination teaches tithing. Why? Because it is based on the Old and New Testament rules of giving. We are to give to the Lord, and we rob him when we don't.
Fruit of the Spirit
Another way to check yourself is to determine whether you have the fruit of the Spirit. The Bible says the fruit of the Spirit is love, joy, peace, long-suffering, gentleness, goodness, faith, meekness, temperance. Jesus said, "By their fruit ye shall know them. Do men gather grapes from thorns or figs from thistles? Herein is the Father glorified that ye bear much fruit." Jesus said, "A good tree cannot bring forth evil fruit, neither can a corrupt tree bring forth good fruit"
I want to ask whether you possess the fruit of the Spirit? The moment you receive Jesus Christ as Savior, the Holy Spirit comes into your heart. Your body becomes the temple of the Holy Spirit. The moment you receive Christ, the third person of the Trinity, the Holy Spirit, comes to live in you and produces fruit. Spiritual life begins to flow. The leaves begin to come out. The fruit begins to bear in its season. You have love. "By this shall all men know that you are my followers, if ye have love one to another." "We know that we have passed from death to life because we love each other." The whole Scripture is filled with one glorious triumphant word that is to characterize every child of God—love.
Blessing of Joy
Another fruit of the Spirit is joy. When I see a fellow going around with a long face and his shoulders all stooped over with the burdens of the world, I know that man knows nothing of the filling of the Spirit of God. The Bible says believers are filled with joy. Listen, a Christian is to have a smile on his face, a spring in his step, and joy in his soul. That is the Christian life. Paul and Silas were in jail and had been beaten on the back until they were bleeding, and at midnight they were singing! Regardless of circumstance, if Christ is in your heart, you can smile, you can sing. There is joy and there is peace through the Holy Spirit.
Peace of Soul
Peace is also a blessed fruit. There is an inner serenity. The greatest picture of peace I've ever seen was on the North Carolina coast. A storm was raging. The wind was blowing, the sea was lashing, and the thunder was roaring. Under the crevice of a rock was a little bird. It had its head under its wing, asleep. That's peace—the peace that God can give. Let the storm rage. I have peace because I know the Prince of Peace.
Are you bearing the fruit of the Spirit? If you are not fruit-bearing, it may be that you have never been grafted into the nature of God and become a partaker of God's nature. You had better check to be sure. Are you sure tonight? The Scriptures say, "I write these things unto you that believe on the name of the Son of God that ye may know that ye have eternal life?" Do you know it? Are you sure? Are you certain? You can be sure by presenting yourself to Christ and receiving him as your Lord and Saviour.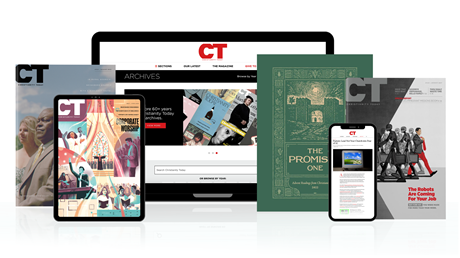 Annual & Monthly subscriptions available.
Print & Digital Issues of CT magazine
Complete access to every article on ChristianityToday.com
Unlimited access to 65+ years of CT's online archives
Member-only special issues
Subscribe
The Marks of a Christian
The Marks of a Christian