true
We're entering into awards season, and every year, without fail, whether it's the Dove awards or a Reader's Choice survey, I hear the same thing from industry insiders and readers alike: "Y'know, I wish I remembered so-and-so when it came time to cast my vote. I completely forgot who was eligible!" Along with that, I'll often hear complaints that Christian music tends to award the same artists over and over again. The issue is not that the winners are undeserving, but whether we're truly looking for the best in this broad world of Christian music, or are we content to award the most popular and familiar?
With that in mind, we've come up with a "For Your Consideration" article for anyone looking for an overview of the year's best. Let me be clear in saying that the point of the piece is not to tell people who to vote for. Nor does Christian Music Today want to completely tip its hand in advance of the anticipated best-of lists that we run late in the year. The objective here is simply to serve as a guide for voters, professional or otherwise: Doves, Grammys, Reader's Choice, blogs, or personal lists.
My colleagues and I were very intentional to offer realistic suggestions for consideration. We realize that some of our favorite artists and albums from the last year haven't a ghost of a chance of winning a major award, so don't expect to see them in this article (but do look for some in our own best-of lists later on). Instead, the goal for this article is to note both artists we think are likely to be nominated, as well as those which we believe have a practical chance of being nominated.
Best Female Vocalist
Despite a tradition of superb female vocalists in Christian music, there's a tendency to focus on an elite few. Veterans like Sandi Patty and Amy Grant are certainly no strangers to this category, but they didn't significantly distinguish themselves in 2008. Likewise, the latest from past award-winner Nicole C. Mullen hasn't generated a stellar performance anywhere near as memorable as "Redeemer" and "Call on Jesus." And though perpetual Dove nominee Rebecca St. James is a perennial favorite with Reader's Choice surveys, she was practically invisible in 2008.
The clear frontrunner of the last few years has been Natalie Grant, and it's particularly deserved after 2008 with the release of Relentless, an album nearly as good as 2005's Believe. That's likely enough to earn this gifted vocalist an additional recognition, though buzz not be strong enough for her to win a fourth Dove in a row.
With that said, perhaps it's finally time to give recognition to other talent … but who? Teen pop sensation Krystal Meyers immediately comes to mind, steadily gaining popularity over the last three years, and even earning a pair of Dove nominations early in her career. Her latest album demonstrates more range than ever, so she may be the closest thing to competition for Natalie Grant.
And though Sara Groves may not be the greatest singer around, she's still a very good one. Besides, look at folksy singer/songwriter Chris Rice. He's won the Dove for Male Vocalist before, more for his ability to connect than for vocal acrobatics—so why not Groves?
If it's truly vocalists that people are looking for, however, American Idol contestants Mandisa and Brooke Barrettsmith have been making some waves ever since releasing their debuts. And for that matter, newcomers Meredith Andrews and Francesca Battistelli are certainly strong enough singers to compete on American Idol, so they're certainly worthy of recognition from the Christian music industry.
Best Male Vocalist
There are plenty of viable contenders among the male vocalists, so let's start with the regulars. Jeremy Camp—a recurring champion among Dove voters and Reader's Choice surveys since 2001, though he had little to offer in 2008. Mark Hall of Casting Crowns—a popular singer with an underrated voice, but I'm not sure his band's most recent album distinguishes him enough. TobyMac—a favorite among fans, though some would say he's more a rapper and yeller than the industry's best singer. And David Phelps—an amazing vocalist with a devoted following, but his albums haven't impressed anyone beyond his fan base.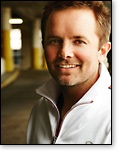 Chris Tomlin

This leaves Chris Tomlin as the favorite repeat winner of the last few years, and very possibly again for 2008; his vocals on Hello Love are as good as anything else he's done, so why not? Still, some feel his singing is overrated, and that he's needlessly dominating a category with so many other worthwhile choices.
Consider three veterans from classic bands. If Bart Millard hasn't proven time and again what a great singer he is with MercyMe, then also note the range and versatility he shows with his solo hymns projects. Third Day's Mac Powell remains one of Christian music's most recognizable and beloved voices, more for his tone than his technique, yet he demonstrates more nuance than usual on the band's recent release, Revelation. And Jon Foreman has earned nominations aplenty as the lead singer of Switchfoot, but his solo work throughout the last year revealed a more tender side to the rocker.
How about two of the biggest Christian music news stories from the past year? Early in 2008, Marvin Sapp broke the record for the longest running No. 1 single with "Never Would Have Made It"—a truly show-stopping performance. But then, the song is well past its prime now, having spent more than 40 weeks at the top, and he didn't win when he was nominated for a Dove for the same song last year.
Then there's Steven Curtis Chapman. This Moment released with disappointingly little fanfare late in 2007, but has since received considerable attention as a direct result of the tragic loss of his daughter last May. Still, would voters be awarding based on artistry or sympathy—and would the frequently awarded Chapman feel honored or uncomfortable as a result?
With all that, consider these four dark horse candidates. Marc Martel of Downhere has remained largely overlooked, but now that the band is building more of a following, perhaps he's finally due some recognition, ü ber-pop/rock vocalist that he is. Similar to Martel is Phil Wickham, whose incredibly dynamic and passionate tenor is becoming more commonplace to Christian radio. Also, Bebo Norman's vocals are as warm and engaging as they were last time he was nominated in this category five years ago.
But perhaps the most intriguing nominee would be Michael English, who gave back his Dove award 15 years ago due to personal controversy. With his comeback album earlier this year, he demonstrated that he's still not only one of the best male vocalists in the history of Christian music, but also reformed and redeemed from his past indiscretions. How poignant it would be to bring him full circle by winning new awards.
Best New Artist
This is an increasingly tricky category since it's hard to discern which artists are new in light of independent releases—technically, an artist is defined as "new" based on their national debut, not their indie debut. Also, an artist is still eligible as long as they haven't released a second album within a year-and-a-half of the national debut.
Thus, a great pop/rock band like Ruth may soon be ineligible since they're releasing a follow-up to their 2007 national debut in November; it's possible that might just make it under the wire for Dove consideration. Jazzy singer/songwriter Jake Smith, however, should have no problem with eligibility because he's only released an independent EP since his 2007 debut. Up-and-coming pop artist Britt Nicole also offered a great debut in 2007 and is well on her way to a career path similar to Krystal Meyers. And Wavorly proved one of the best new bands in 2007, though it's hard to say whether their debut was memorable enough for 2008 consideration.
Four bands are a little more clear-cut in their eligibility, generating enough buzz to make them likely contenders. In fact, After Edmund received so much pre-debut buzz in 2007 that everything since has been relatively anti-climatic; even so, their interesting live show should still give them momentum. Similarly, Remedy Drive has gained recognition for a catchy debut and a strong concert presence, while Chasen might also draw some votes through the success of their radio single, "Crazy Beautiful." Tenth Avenue North was hyped so much in 2008 that nominations are virtually guaranteed—to the point where the nomination could seem more obligatory than earned.
Don't rule out recognition for the three aforementioned female vocalists: Francesca Battistelli, Brooke Barrettsmith, and Meredith Andrews. Add to the mix Joy Whitlock, a strong singer/songwriter with a rather moving testimony (though she'll need a little more recognition to ultimately earn a nomination), as well as Laura Story, the worship leader best known as the writer of "Indescribable" (made famous by Chris Tomlin). As for other male solo artists in this category, Matt Maher seems the only likely choice, though response to his national debut has been rather indifferent.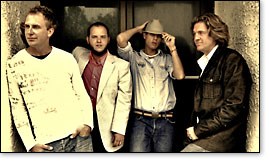 As always, there are plenty of new artists to consider, but two newcomers clearly rise to the top. The old-time gospel-rock band NewWorldSon can't be beat with their top-notch musicianship, concert energy, and Spirit-infused music. Even though they didn't break big on radio, NewWorldSon still boosted their profile significantly by opening for the Newsboys, and they also recently earned several GMA Canada nominations. Then there's Brooke Fraser, an outstanding singer/songwriter combining sophisticated folk-pop with intelligent, faith-based songwriting. The only thing working against her remarkable artistry and radio success is an unwillingness to cooperate with Christian media and press, snubbing interview opportunities while refusing to discuss her association with Hillsong United. Time will tell if this will cause any significant backlash.
Best Group/Band
So who are the best bands in Christian music right now? That probably depends on how much you value popularity and radio recognition over live performance and musicianship.
Take Casting Crowns—for sure, they've got the inspirational songs, hit radio singles, best-selling albums, and sold-out concerts, but their 2008 concert video showed them to be a rather lackluster live act. In the same way, MercyMe enjoyed a rather good year as far as radio and retail, but are those things what define the title of this year's best band?
Compare them to longtime favorites Third Day, who have had their share of radio and retail this year, along with releasing their best album in years and headlining a killer fall tour with Switchfoot.
Among the other veterans is David Crowder Band, probably the most inventive worship band around, as demonstrated on their club tour this past year. It'd be cool to see Underoath get more recognition as a first-rate hardcore band that still openly proclaims Jesus in front of mainstream audiences and also on their latest album. And now that Delirious has announced their retirement/sabbatical, perhaps they deserve some recognition from fans and industry alike for their many impressive contributions, including their 2008 album, Kingdom of Comfort.
There are also some worthwhile newcomers. DecembeRadio is an exciting classic rock band, worthy successors to the niche occupied by Petra. The Myriad is an impressive alternative rock band that successfully won an Internet campaign for an MTV battle of the bands contest—clearly a lot of people think they're the best. After Edmund, as mentioned earlier, has a fun live show reminiscent of Mute Math that involves the members swapping instruments. And for something different in Christian music, Group 1 Crew is rapidly becoming one to watch with a varied R&B/pop style that is both energetic and God-centered.
Sales and radio success aside, you won't find a better total package than Downhere. With artful musicianship and a strong focus on ministry, they epitomize what it means to be a Christian band in so many ways. And if live performance is the deciding factor, then NewWorldSon is hands down one of the liveliest, Spirit-led bands you'll see; they're right up there with Robert Randolph & The Family Band, which come to think of it, deserve consideration as part of the impressive Music Builds Tour with Third Day and Switchfoot.
Best Artist
Some make this category open to all Christian artists. We prefer to keep bands in their own "Group" category. If that's not your preference, then consider any of the aforementioned bands eligible as we focus here on solo artists.
Really, this important award can go to just about any artist already mentioned. The key is deciding which one has had the most impact this year, whether that's radio, retail, ministry, news, or all the above.
In that light, it's no wonder Chris Tomlin keeps winning Artist of the Year. He dominates radio, retail, and church music—there's no escaping his impact. Still, overexposure is beginning to take its toll on his popularity. That could also be said of Natalie Grant, though along with her great new album, she's also ministering to teens through the Revolve Tour while also raising awareness of sex trafficking. And as far as making leaps in cultural outreach, Krystal Meyers has come a long way in a very short time, even gaining a foothold in Japan with her music, which is heard on Christian radio as well as television promotions and the 2008 Olympics.
There's something to be said for Jon Foreman's solo side career outside of Switchfoot. He's one of the best live performers out there, still reaching Christian and mainstream audiences alike. And how cool is it that after Switchfoot concerts he stays outside in parking lots to perform his solo material for fans?
Let's also not forget the wide impact of Kirk Franklin, who is neither a vocalist nor a group, but a unique and important artist nonetheless. He has become the primary driving force in gospel music, so it's truly saying something that his late 2007 release, The Fight of My Life, is also one of his best. Recognition is due.
But if there's one artist I'd consider putting ahead of Franklin in 2008, it's Steven Curtis Chapman. Though I'd hesitate to award him Best Male Vocalist for the wrong reasons, his tragedy this year has become a legitimate and effective testimony to all who have seen him, whether in concert or in interview. Because of all he's been through, more people are giving his music a second look with new context. As a response to grief, Chapman's music is a blessing. As a sign of support and solidarity from his community, this could become his most treasured award to date.
Best Song
The year's best song is much like the year's best artist—it's about impact. One has to, then, consider whether that's measured by radio play and charts, or if there's something more.
Chris Tomlin, for example, offers something more by crafting songs regularly sung by churches around the world. This year's primary offering is "Jesus Messiah," an okay song that's sure to be nominated—but should it? Listeners seem divided on this one, just as they were with "Made to Worship" a couple years back. Besides, there are better songs on the recently released Hello Love, so it's likely Tomlin will offer a stronger contender in 2009.
Marvin Sapp's "Never Would Have Made It" smashed records as the longest running No. 1 single on radio, so its impact is undeniable. But once again, we're talking about a song eligible last year—has its time past or is its impact even more significant this year than last?
There's sure to be support for a Casting Crowns song, due to their overwhelming popularity. But if people are being realistic, neither "Every Man" or "Slow Fade" have connected as much as last year's "East to West" or any of their previous hits.
Other possibilities include "I Am God," Kirk Franklin's heavy-hitting hip-hop/gospel/rock single with tobyMac, as well as "Make Some Noise," the generalized call to action from Krystal Meyers heard on radio and used in commercials all over. If Steven Curtis Chapman's music is connecting more deeply too, then don't be surprised to see his wistful "Cinderella" as a nominee.
However, the predictable frontrunners are surely the anthemic AC ballads from two of Christian music's most popular bands: MercyMe's "God with Us" and Third Day's "Call My Name." And both are certainly worthy of consideration— and, interestingly enough, they're similarly themed, focused on God's unfailing presence.
A long-shot pick would be Phil Wickham's "True Love," a stirring and passionate summary of Christ's sacrifice for us—audiences are singing to this at the top of their lungs in concert, and it's faring well on radio. Also, Bebo Norman's "Britney" is a personal favorite—a charming acoustic pop song that sympathizes with Britney Spears. It's both culturally relevant and convicting, reminding us of two key points: that Christians are sometimes quicker to judge than they are to love, and that no one is beyond God's love and grace.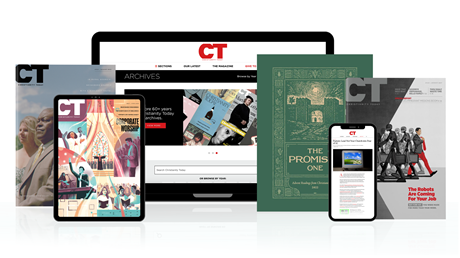 Annual & Monthly subscriptions available.
Print & Digital Issues of CT magazine
Complete access to every article on ChristianityToday.com
Unlimited access to 65+ years of CT's online archives
Member-only special issues
Subscribe
Read These Next
Trending

American Christians Should Stand with Israel under Attack

While we pray for peace, we need moral clarity about this war.

From the Magazine

God's Promises Are Clearest When We Turn Out the Lights

Christians have every reason to reduce light pollution.

Editor's Pick

Don't Miss These African Christmas Hits

Jam out this season to highlife, Afrobeats, jazz, a cappella, R & B, rap, dance, and hip-hop artists from Nigeria, South Africa, and more.
2008 Music Awards: Our Suggestions
2008 Music Awards: Our Suggestions