true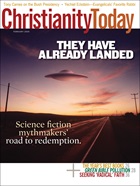 This article is from the February 2009 issue. Subscribers can read all of CT's digital archives.
Compassionart
Creating Freedom from Poverty (EMI CMG)
Featuring 19 top Christian artists, this ambitious project includes 14 original songs about justice and mercy for the least of these. The well-executed tunes vary from contemplative to rousing—"Fill My Cup" is the best track—but the lyrics are sometimes clichéd. All artists—including Amy Grant, Steven Curtis Chapman, Chris Tomlin, Michael W. Smith, and Matt Redman—and publishers are donating 100 percent of proceeds to ministries benefiting the world's downtrodden. Learn more at CompassionArt.tv. —Mark Moring
Downhere
Ending is Beginning (Centricity)
Downhere's fourth album features an appealing interplay between vocalists Marc Martel and Jason Germain, but their fresh songwriting sets this band apart. "All at War" smartly addresses wrestling with sin à la Romans 7: "I'm learning to stand the more I fall down / It's the law of inversion, and it's all turned around / And I'm staggered by the clash inside my soul / So purposed for good, but inclined for evil." Downhere has hit its stride. —Russ Breimeier
Jason Gray
Acoustic Storytime (Centricity)
Minnesota folkie Jason Gray, whose storytelling skills are as sharp as his songwriting, knows how to work an audience with his tunes and the spoken word. Especially strong songs include "Blessed Be," a take on the Beatitudes, and "The Cut," about how God uses—and even allows—our wounds as part of the refining process. Gray's clever writing and humor are on full display on this fine live album. —Mark Moring
Ben Shive
The Ill-Tempered Klavier (Independent)
Shive has played keyboard for the likes of Steven Curtis Chapman and Chris Tomlin, ...
1
CDs on The List