When Richard John Neuhaus died January 8, Prison Fellowship's Charles Colson didn't just lose a friend of 25 years. He also lost his partner in convening Evangelicals and Catholics Together. Since its first publication in 1994, "The Christian Mission in the Third Millennium," the group has issued other consensus statements on salvation, the relationship between Scripture and tradition, the communion of saints, and other issues. It is next set to issue a document on Mary, the Mother of Jesus. But can the movement continue without its chief Roman Catholic architect? Christianity Today international editor Susan Wunderink asked Colson, a Christianity Today columnist, what lies ahead.
How will Neuhaus' death affect Evangelicals and Catholics together?
It's a terrible setback because Cardinal Avery Dulles died a month before Neuhaus died. It was like a double-barreled blow. They were the principal leaders on the Catholic side of the dialogue. In some respects, those are two giants of the faith that you can't replace. But God in his sovereignty, his providence, knows exactly what he's doing.
The timing of Neuhaus's and Dulles's deaths is really significant when you realize that Pope Benedict on November 19 in what was otherwise a routine audience in St. Peter's square, gave a homily on justification and fully embraced the position that Evangelicals and Catholics Together had taken [in the 1997 document, "Gift of Salvation"]. He didn't identify it as such, but that's what he did.
Eleven years after that document was written, the Pope, the head of the church, concluded his homily by saying Luther was right, so long as you don't exclude charity, that is love, and the works that flow from love. Which of course none of us does.
Almost at the same time that statement was issued, the two Catholics who were willing to say they agreed with what the reformers meant when they said sola fide died. It's as if "Okay, you finished your task. The big issue that divided us in the Reformation has now been settled, so you guys can come home and rest."
It's a little bit eerie. The two of them going just weeks apart does not suggest to me that God does not care about the continuing work of ECT but that the first major breakthrough had been accomplished. It's amazing timing.
Do the Catholics in ECT right now take the same position on justification as Neuhaus and Dulles?
Oh yes. There are probably 12 to 13 other Catholic [leaders] who hold that position. And now of course the Pope holds it, so it almost doesn't matter who else holds it, in the way the Catholic Church is structured.
All shifts that take place in Catholicism happen very gradually. Vatican II was an exception. That's not the way in which theological development occurs within the catholic communion. It occurs in a gradual process in which the pope, and in this case, a cardinal and a couple priests see a way to express something differently and they would argue that there's no change.
Of course, if you compare it with Trent, there's a profound change. But they would see it as the development of doctrine. And if it's contrary to some church council — as this was, clearly — then nothing happens immediately.
Cardinal [Edward] Cassidy took ["The Gift of Salvation"] back to the Vatican in 1997 and was teaching it to the bishops. It sort of percolated through the church, and the Pope, who — significantly — was an Augustinian, picked it up. And then a decade later, it ended up in the catechism. That's just the way change occurs in the Catholic Church.
What is the next issue for ECT?
Oh, there are many issues. We've been dealing with Mary for the last year and a half. Before he died, Neuhaus sent me a letter saying, "Be sure, whatever happens to me, that my name gets on the document." We pretty well agreed on that. There are other questions that are far more difficult to solve, the church being major. I make no pretense that the Reformation is over; but the issue which precipitated it has been solved.
What was Neuhaus's position on Mary?
Well, I can't say that until we issue the paper. But we found some movement both ways. We didn't resolve it by a long shot.
What characteristics did Neuhaus have that made him such a key player?
First of all, he was a towering intellect. I don't know that I've met a smarter, deeper mind than his. He reminds me of C.S. Lewis a lot in terms of his writing style and his personal mannerisms, including puffing on his cigars and cigarettes.
We got to be really good friends when he was a Missouri Synod Lutheran pastor. We became really good friends, saw one another a lot, we got very much involved in the pro-life cause and in the religious liberty cause. In the culture war battles, we used to see each other frequently. He's a great speaker, a powerful speaker.
One day, with very little warning, he converted to Catholicism. Although we were very good friends, I felt some estrangement. Here this very conservative Lutheran turns up the next day Catholic. And that was a bit hard for me to take. But over a period of about a year, I realized he's still the same guy, we still have the same views in common. He was a brother in Christ before his conversion, so I didn't see how he couldn't un-become a brother in Christ. I realized I could still look upon him as a close brother and friend and colleague and every bit the Christian he was before his conversion. That inspired me that we should be finding more common ground.
In 1992 [Neuhaus and I] were at a meeting where he had convened a number of Catholic and evangelical scholars, theologians, and activists to consider a report which was coming from two British sociologists about proselytization and open conflict in Latin America, the state persecuting evangelicals, evangelicals desecrating sacred objects. It was during that two-day meeting that I felt this real moving of the Holy Spirit to say to Neuhaus, "We need to have discussions like this frequently and pursue common ground." That's where ECT was born.
So in some ways, ECT hasn't just found common ground. It has created the common ground.
No I think we found it, actually.
The lines hardened in the Reformation. At Regensburg in 1541 Calvin and Melanchthon and others met with Cardinal Contarini and basically came to the agreement that Neuhaus and I had come to. And then Contarini died, and it fizzled out. This time I hope and pray it doesn't fizzle out.
But there are other issues, obviously, that one was always central. There are a lot of issues about hermeneutics, and those will continue.
Neuhaus had a very irenic spirit, prodigious intellect and of course was a magnificent writer: Death on a Friday Afternoon, As I Lay Dying: Meditations Upon Returning, The Naked Public Square.
Is there someone who might emerge as a similar leader on the Catholic side?
I think so. I don't think it's up to me to present the name. I've written to the Catholic participants and told them on behalf of all of the evangelicals that we would like to continue the dialogue, but it was kind of up to them to decide who would lead their side of the effort.
There are some very able people around. Neuhaus was unusual because of his evangelical background; he really understood both sides of the Reformation divide. [He had] a terrific mind. That won't be replaced. But there are others who can step up to the responsibilities, and I believe the dialogue will continue.
The next meeting with ECT is scheduled for June, but we haven't set the date. It will be as soon as we finish the paper on Mary. It will be interesting.
Related Elsewhere:
Colson is a Christianity Todaycolumnist. His Breakpoint radio commentary yesterday was about Neuhaus and Evangelicals and Catholics Together.
Christianity Today's earlier coverage of Neuhaus's death includes:
Richard John Neuhaus, RIP (Liveblog, Jan. 8)
Richard Mouw on Richard Neuhaus (Liveblog, Jan. 8)
First Things Founder Richard John Neuhaus Dies at 72 (Jan. 9, 2009)
Richard John Neuhaus: Witness to Truth (Jan. 9, 2009)
Christianity Today's earlier coverage of Evangelicals and Catholics Together includes:
Let Us Reason Together About Life | A new statement from Evangelicals and Catholics Together encourages discourse on the most divisive of issues. (Oct. 10, 2006)
Churchly Holiness: An Evangelical Response | Even as Jesus loves all human beings, he will judge all human works. (Oct. 10, 2006)
Sticking Points | Despite recent rapprochement, evangelicals and Catholics remain far apart on key issues. Collin Hansen reviews Is The Reformation Over? by Mark Noll and Carolyn Nystrom (Dec. 10, 2005)
What I'd Like to Tell the Pope About the Church | Responding to the main criticism Catholics have against evangelicals: that we have no doctrine of the church. (June 15, 1998)
Does "The Gift of Salvation" Sell Out the Reformation? (Apr. 27, 1998)
Evangelicals and Catholics Together: A New Initiative | "The Gift of Salvation" A remarkable statement on what we mean by the gospel. An Evangelical Assessment by Timothy George (Dec. 8, 1997)
Betraying the Reformation? | Two responses to R. C. Sproul's critical assessment of the ecumenical document "Evangelicals and Catholics Together." An Evangelical Response by Donald G. Bloesch (Oct. 7, 1996)
Should Catholics and Evangelicals Join Ranks? | By Kenneth S. Kantzer (July 18, 1994)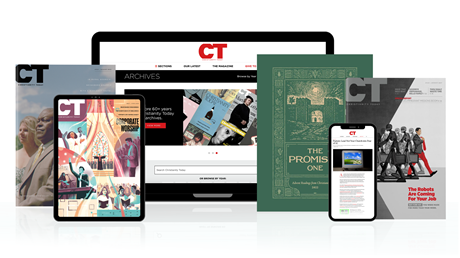 Subscribe to Christianity Today and get access to this article plus 65+ years of archives.
Home delivery of CT magazine
Complete access to articles on ChristianityToday.com
Over 120 years of magazine archives plus full access to all of CT's online archives
Subscribe Now
The Post-Neuhaus Future of Evangelicals and Catholics Together
The Post-Neuhaus Future of Evangelicals and Catholics Together