If you haven't had enough of Miss California yet, she's still reigning in the news today. Donald Trump, owner of the Miss USA pageant, says Carrie Prejean can keep her crown, even after more racy photos were released online this morning.
A gossip site has posted more pictures of Prejean, some of which are topless. Trump called many of the pictures "lovely."
"We have determined that the pictures taken are fine," he said. "Some were very beautiful, some were risque, but, again, we're in the 21st century …. In many cases they were actually lovely pictures."
Trump and Prejean reminded the press at a news conference today that both she and President Obama oppose same-sex marriage. Several conservative Christian groups have praised Carrie Prejean for saying during the pageant that she is against same-sex marriage.
But Ben Smith writes that at the press conference, Carrie Prejean put some distance between herself and the movement, saying she stood by her beliefs but didn't plan to make a career of them.
"I am not working for the National Organization for Marriage. I spent about an hour with them," she said. Politico posted a short video from the news conference:
In an ad for USA Today, Focus on the Family asks "What would you sacrifice for your beliefs?"
Prejean appeared yesterday on James Dobson's Focus on the Family program, and Dan Gilgoff offers a partial transcript of their interview on his blog.
Dobson: And you did one of the most courageous things I've seen anybody your age or anybody else do. What was going on in your mind?
Prejean: I started off by saying I want to win this pageant so bad, I've worked so hard, I wanted to sound politically correct but still stay true to my values. But I just knew at that moment that God was just telling me "Carrie, how bad do you want this? Are you willing to compromise your beliefs for a one year crown of Miss USA." And I just knew right there … And I said you know what and the switch went off. And I said, "A marriage should be between a man and a woman and that's how it should be. "
…. And I knew there was no way I was going to win Miss USA. No way.
Dobson: So you put it on the line, that's what I mean when I said you're courageous because this was the goal of your life to that point. And yet you gave it up. And yet the Lord is using you all over this country.
Prejean: And we are all faced with that at times. And just by me being here, I want to encourage other people that when you're faced with an issue which you know in your heart what to say, but you're faced with someone asking it, don't ever compromise that just for pleasing them. Your goal should be to please God, not to please man ….
Dobson: Why did you give the answer you did with regard to the affirmation of marriage?
Prejean: … I felt as though Satan was trying to tempt me in asking me this question. And then God was in my head and in my heart saying, "Do not compromise this. You need to stand up for me and you need to share with all these people … you need to witness to them and you need to show that you're not willing to compromise that for this title of Miss USA."
After Christian conservatives jumped to Prejean's defense, Warren Throckmorton wrote, "But unless religious conservatives have some kind of answer to our girls about how they can lionize a Miss USA contestant and stress modesty at the same time, I do not see the virtue in giving her the platform." Randy Thomas, the executive vice president of Exodus International, writes on his blog, "… I really don't get some of my fellow Christians trying to turn her into some sort of modern day Mother Teresa." (h/t David Sessions)
In case you forgot what kind of merit beauty pageants offer, take a look at this quote: "If her beauty wasn't so great, nobody really would have cared," Trump said. Can someone show Trump the video clip of Susan Boyle?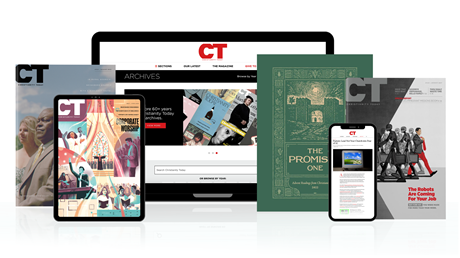 Subscribe to Christianity Today and get access to this article plus 65+ years of archives.
Home delivery of CT magazine
Complete access to articles on ChristianityToday.com
Over 120 years of magazine archives plus full access to all of CT's online archives
Subscribe Now
Donald Trump Says Miss California Can Keep the Crown
Donald Trump Says Miss California Can Keep the Crown