Germans re-elected Chancellor Angela Merkel on Sunday, keeping the Christian Democratic Union in power. But the name of her party might be confusing to some Americans: it's not a party limited to Christians and is not particularly devout. The party's documents say its "policies are based on the Christian view of Man and his responsibility before God," but it rarely articulates that basis in political debate.
If that name is confusing, however, consider the Evangelical Church in Germany (Evangelische Kirche in Deutschland), which is not a church—it's a federation of Lutheran, Reformed, and United churches—and is generally what in the U.S. would be considered a mainline denomination rather than an evangelical one. (As in the Evangelical Lutheran Church in America, the use of evangelical is more a reference to the Reformation than more recent evangelical developments.)
German Christians who share American evangelical emphases—the authority of Scripture, a commitment to evangelism, and a focus on the death and resurrection of Jesus and the need for personal conversion—are increasingly wary of the word evangelical. Hermann Gröhe, a minister of state in Merkel's administration, explained why in an interview in his office on Monday.
What can German evangelicals teach American evangelicals about the interplay between faith and politics?
I don't know if there is a specific evangelical approach to politics in Germany today. For a long time, German evangelicals made the mistake of keeping a distance from politics. They believed that social and political activities were typical for a church dominated by liberal theology, so they thought purifying the gospel meant to stay away from public life. That is not typically true, because if you look to Great Britain, a lot of social changes were pushed forward by evangelicals. In previous years, we have had more and more Christians become involved in community activities and take up many issues politically. Fighting abortion has always been a specific issue for Christians, but there has been a broad spectrum of issues, such as promoting global justice, fighting poverty, and climate protection. We have never seen an organized link between evangelical groups and organizations belonging to a specific party.
The state church was abolished in 1919, but after World War I, the country decided not to have a strict separation of church and state but a cooperation between the two in many areas. For example, we have theological faculties in state universities. That kind of cooperation keeps religious communities involved in civic life. Christian involvement hasn't included culture wars because of these cooperations and a more pragmatic attitude of most Germans.
Do you think that's healthier for the society or for Christians?
It can be healthy for both. Christians should be clear about their positions, but Germans tend to look also for common ground. Because of our history, our conservative and liberal parties have never been as conservative or liberal as other European parties. We look for common ground even in very controversial issues. For example, you can find strong differences about the role of criminal law to protect unborn children. But you can find common ground in finding concrete ways to help families or mothers, especially helping young pregnant women accept their unborn child.
I'm happy to see that evangelicals have a voice in America with a broader agenda than in the past. People need to see an inner-evangelical pluralism. Germans don't want to be called evangelical because they are labeled by an image dominated by American evangelicals. That's often done as a caricature, portraying them as ultra-conservative TV preachers. I see evangelical Christianity as more global than that.
Does pacifism motivated by Christians play any role in public sentiment toward Germany's troop deployment to Afghanistan?
There is not a very strong pacifist attitude in Germany anymore. But for good reasons, Germans are sceptical of military involvement because of our history, especially after WWII started by Nazi Germany. For decades after WWII, there was a debate over West Germany's involvement in any international military action. Today, people are not saying that we're against involvement in Afghanistan because we're pacifists, but we see a growing number of people who don't believe in any chance for success. Many Germans wonder whether we are really able to help Afghanistan in the long run. And what about our own security situation? Will it be enhanced or worsened by the troop deployment in Afghanistan?
Some conservative politicians talk about threats from Muslim immigrant populations. Do you think those threats are real?
Radical Islamism is one of the largest dangers for an open society. It's no longer Communist doctrine. While fighting the dangers of radical Islamism, we need to take a closer look and see that far more than 90 percent of Muslims in Germany are living peacefully without any problems with our law. Politically, I see radical Islamism as a threat. But I'm very sad when I hear Christians talking hatefully about Muslims. I've been involved in fighting against persecution of Christians in the past decade. But when I talk about the need for freedom to build Islamic mosques, I receive shameful hate-filled letters from Christians. They write, "We wish your daughter in the hands of these Mullahs." I think, "Oh, a wonderful Christian brother is wishing that on a Christian brother."
If I have a strong Christian belief, I know that God is in power, not Osama bin Laden. If needed, we have to fight terrorism with military means, but xenophobia is never part of a Christian agenda. We can see radical Islamism as a threat, but at the same time, we have to see Muslim migrants as human beings loved by God. I think we have two misunderstandings. From a very liberal side of the Protestant church, people tend to just have interreligious small talk. These people are afraid that talking about differences could disturb nice religious small talk. On the other side, people can be driven by hate and extreme fear, which is unacceptable for me.
Last month, a television station aired a report that compared Christian missionaries who were killed in Yemen with Jihadists. Are Christians generally portrayed poorly in Germany?
Generally I would say no. But that specific report was very unfair. On the other hand we have good church services broadcast by television, also services of evangelical free churches. There are several evangelical activities supported by private companies as well as by state authorities, which are very much appreciated by the public. The Protestant church in Germany, which has a respected evangelical wing but a more liberal majority, has unanimously criticized this unfair report.
It is unacceptable to compare Christian women who are prepared to die for their belief with Islamist suicide bombers. Journalists doing so forget the clear difference: Those Christians were not prepared to kill for their belief. Osama bin Laden is prepared to die for his belief like Mother Teresa was. But Mother Teresa was never prepared to kill for her belief.
Germany will soon celebrate the 20th anniversary of the fall of the Berlin Wall. How did the wall's fall change your life and religious life in East Germany?
It was very personal for me. My parents fled from East Germany in 1958, before the wall was built, with nothing but the clothes on their backs. I was born in the West in 1961. My brother married in 1988 and no relatives from the East could come to the wedding. I married in 1991 and all of the family was able to come to the West. Most of my relatives were living in East Germany, and I saw them struggle because they were active in the church.
Politically, we are still challenged to put together two very different societies. As an example, in my home town of Neuss, 75 to 80 percent of the kids are baptized, and most of the non-baptized kids have Muslim parents. In the Eastern part of Berlin, 90 percent of non-migrant kids are not baptized. In the Eastern part of Germany, you can still see the consequences of a policy where Christians were hassled in the past. Many young people know religion as something playing a major role in their grandparents' lives, but not in their own. People say They forget that they forgot God.
Related Elsewhere:
Christianity Today also posted "A Lost Generation" about mainline churches in East Germany.
Previous articles on Germany include:
Church in State | In post-Communist Germany, Christian political involvement is surging. By Philip Yancey (March 10, 2008)
East German Church Lost 'Distinctive Voice' After Reunification | "Forty years after the building of the Berlin Wall, cleric claims some churches are worse off." (August 1, 2001)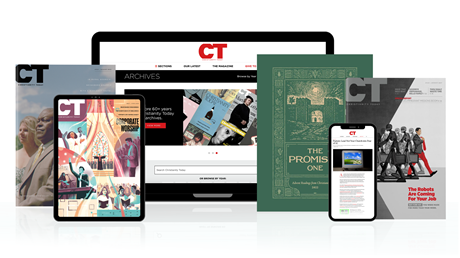 Annual & Monthly subscriptions available.
Print & Digital Issues of CT magazine
Complete access to every article on ChristianityToday.com
Unlimited access to 65+ years of CT's online archives
Member-only special issues
Subscribe
Germany's Christian Democrats
Germany's Christian Democrats