435 days ago there were meteor showers over Cincinnati. My world was rocked that night, but it had nothing to do with the meteors that my teenage son, Mikey, and I were watching in the wee hours of a sleepy summer night.
Right before I joined Mikey for Perseus's fireworks, I had awakened to get a drink of water, and while being one of those things that go bump in the night, trying to find my way to the kitchen sink, I happened to find a bump. Or a lump, rather, on my breast.
I cannot explain the shock and awe I felt. It was like a meteor to the chest, literally. I remember the lump felt like a shooter marble right beneath the "milky way." I'm pretty sure it wasn't there the day before. My husband, Dave, is pretty sure it wasn't there the day before. I don't see how we could've missed a meteor like that.
When the meteor show was over, I had a hard time keeping my thoughts from spiraling out of control. A sensible part of me, that I had to dig deeply for, took all the other parts of me and put them to bed.
I lay there, not wanting to wake Dave, deciding to wait out the night, wait for him to wake, wait to see if it would just go away. Wait. And pray.
Since my thoughts like to play connect the dots, this would be where my inner Lady Macbeth started coming out, as "Out, damn'd spot" were the words that came out as I prayed. This seemed like a reasonable prayer, so I went with it.
I also spent a lot of time trying to figure out what to say to Dave when he woke. I had nothing by the time he woke up, and just had to wing it. Some words tumbled out into the air and then seemed to settle in a cloud over Dave, as he groaned and reached over to feel the spot. I won't ever forget that groan. Dave's middle name, Wayne, means wagon, and I could ...
1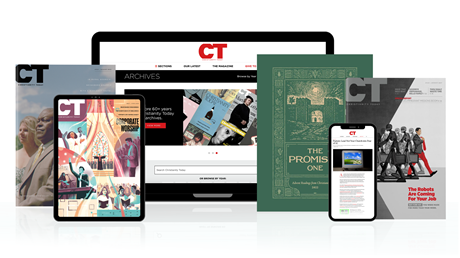 Subscribe to Christianity Today and get access to this article plus 65+ years of archives.
Home delivery of CT magazine
Complete access to articles on ChristianityToday.com
Over 120 years of magazine archives plus full access to all of CT's online archives
Subscribe Now
Cancer's Mercies
Cancer's Mercies