true
About to lose my breath / There's no more fighting left / Sinking to rise no more / Searching for that open door / Every road that I've taken / Led to my regret / I don't know if I'm gonna' make it / Nothing to do but lift my head / I look to you.
(

from "I Look to You"

)
Whitney Houston has long been affiliated with gospel music. She cut her teeth singing church standards with her local New Jersey congregation's choir as a teenager. Her ties to the Christian music market became well-known after she collaborated with BeBe & CeCe Winans on their 1988 hit record, Heaven, a close kinship that exposed CeCe to a broader audience thanks to their hit duet, "Count on Me," from the Waiting to Exhale soundtrack.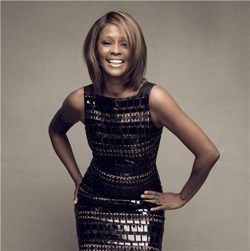 The 1998 Dove Awards hosted a live display of the soul singer's roots with a cut-loose performance of the late Dottie Rambo's "I Go to the Rock" from The Preacher's Wife soundtrack, Houston's only fully faith-based record. The soundtrack, which featured the Georgia Mass Choir and Shirley Caesar, quickly became the greatest selling gospel album of all time, thanks to Houston's worldwide celebrity and her history-making soundtrack for The Bodyguard (which included a BeBe Winans-produced rendition of "Jesus Loves Me").
Even Houston's familial ties lead back to religious music. Cissy Houston, Whitney's mother, is a famous singer in traditional gospel circles. And her cousin, Dionne Warwick, released a full-fledged gospel record last year, in spite of the fact that many younger fans only know the legendary R&B singer from her strange association with the Psychic Friends Network in the '90s.
But even with all her "A" list appointments in Christian music, Houston's six studio recordings have left much to be desired for believers looking to confirm her outspoken Christian convictions. And that's not to mention Houston's messy personal details that included cocaine addiction and a tumultuous marriage to rapper/bad boy Bobby Brown.
But after a confrontational visit from her mother, who told Jet mgazine she was "summoned" by God to help save her daughter, Houston got her household in order and got busy recording I Look to You, her seventh studio release.
Calling I Look to You a "come-through," rather than a "comeback," Houston cites the Lord as the inspiration behind the vertically driven title track, penned by fellow faith-claiming troublemaker, R. Kelly.  Desperate for divine intervention, the first verse contritely pleads: "As I lay me down / Heaven hear me now / I'm lost without a cause / After giving it my all …  who on earth can I turn to," before launching an all-out Whitney inspo-chorus of surrender: "After all my strength is gone / In you I can be strong," vaguely referencing the "when I am weak, then I am strong" theme from Paul's "thorn in my flesh" soliloquy in 2 Corinthians 12.
When Oprah asked Houston to whom the song is addressing in a recent televised conversation, Houston answered the ambiguously spiritual talk show host with, "Somebody bigger than you and I."
Known for her passionate performances and fiery vocals, Houston often draws comparisons to her Godmother, Aretha Franklin. And in perfect Queen of Soul fashion, Houston is cranking up her recent live performances with lots of God-references.
For instance, in a recent Good Morning America performance, Whitney subtly changed a line of the title track's chorus to affirm the record's higher power focus, testifying to the crowd with an uplifted head and hands: "When all your strength is gone / In him you can be strong." Then again, the meaning was occasionally loosed of its derivative when the singer's stage movements implied the song could also apply to the fanatic live audience or her mother, who was in attendance.
"I Didn't Know My Own Strength," the record's Diane Warren-penned mandate, offers four minutes of self-help fodder with lines like: "Picked myself back up, held my head up high," and "I was not built to break / I didn't know my own strength."
And though a line in the chorus, "My faith kept me alive," could be referring to Christian belief, and the bridge could be interpreted as a bit Christian-ese ("Found hope in my heart / I found the light to light my way out of the dark / Found all that I need here inside of me"), neither is explicit and both can be applied to a myriad of post-modern philosophies that incorporate wholeness as a survival of the fittest. 
Do just a little research, though, and Houston clarifies the song's meaning with absolute assurance. "I know from whence my help cometh. And I know that it's strong within me," she said, during the recent Oprah interview. "If ever I get low, I get weak, I know where I can turn to. I love the spirit of God so much."
While Houston's Christian convictions seem to come out in interviews and performances, such beliefs are far more subtle on her latest album. Despite her gospel music bonds, she has never tried to "cross over" from her secular platform. But that's not the point.
With more than 140 million records sold worldwide, she could sing the phonebook and sell a slew of units. But that's not really the point either.
When Oprah asked Houston, "Who do you love?", she smiled and replied, "The Lord." And so I Look to You is a coming of age. Though it ain't gospel, the record is affording the renewed singer a second chance, and an extended platform from which she can candidly share her lessons learned and part of her Christian journey.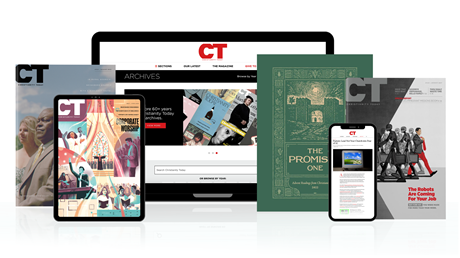 Annual & Monthly subscriptions available.
Print & Digital Issues of CT magazine
Complete access to every article on ChristianityToday.com
Unlimited access to 65+ years of CT's online archives
Member-only special issues
Subscribe
I Look to You
I Look to You