The (Tarnished) Glory of the Game
Thank you for "Whatever Happened to Play?" [February], Shirl James Hoffman's cover essay on Christianity and sports culture. Many athletes clearly honor God in the thrill of victory, yet the agony of defeat can teach us more about God's glory. During this year's Super Bowl, I was struck when the Indianapolis Colts' kicker, a Christian, pointed to the sky after both of his field goal attempts—one make and one miss.
It doesn't take a renewed heart to revel in athletic success; virtue and devotion amid failures on the field are powerful ways to demonstrate God's kingdom to a fallen world.
Matt Koschmann
Boulder, Colorado
My response to Hoffman's essay: Chill out!
Just two of the countless examples of athletes who have brought souls into Christ's kingdom are Bill Glass, former defensive end for the Cleveland Browns, and Tim Tebow, quarterback for the Florida Gators. Both are using their "violent" game to witness to the Savior. Glass's lifelong witness for Jesus has won more fanatics for the gospel than for his team. Watch and see—Tebow will do the same.
Stu McAllister
Hendersonville, North Carolina
Hoffman weakened his argument by downplaying the collegiality that sports can bring. Super Bowl parties create relationships that are often the first steps to life-changing witness. And there is such a thing as healthy competiveness. My wife and I recently bought an Xbox 360 so that we could spend more time playing with our adult sons. We play Halo 3, shooting each other for hours. Granted, it seems odd to celebrate our unity with simulated carnage, but it works because we know the difference between reality and play. We mix molehills with mountains when we assume that reasonable people easily confuse the two.
Brian Anderson
Jackson, Missouri
What would happen if Christians who spend the weekends wishing their favorite teams into the win column spent that time praying for God's kingdom to come? I think it would mean God's team winning a lot more games. The point of praying the Lord's Prayer, after all, is to align our wishes with God's. Lord only knows how a body of kingdom fans could change the world.
D. Brent Sandy
Winona Lake, Indiana
Hoffman's essay missed one curse of modern-day sports: the ostracizing of milquetoasts. As an athletically inept child and adolescent, it was clear to me that if you could play a sport, your peers accepted you, and if you excelled at the sport, your peers revered you. But if you didn't know how to play, your peers deemed you a wimp, good only for being scorned.
Are skill and physical strength the measures of the masculinity that Jesus Christ espoused? For believers, surely compassion and patience are more important virtues than athletic prowess and strength.
Michael Bogue
Russellville, Arkansas
Blessed Oversight
Ken Walker's report "Casting Too Wide a Net" [February] mentioned ministries' worries over the government's proposed oversight of financial institutions. But it failed to note the context for these reforms: combating predatory lending and other forms of financial abuse.
Bethel New Life provides education, counseling, and products to empower low-income families to live the debt-free life that God intends. Our residents experience countless deceptive and shoddy products like payday loans, refund anticipation loans, and needlessly high-cost mortgages. Language in both the House and Senate reform bills makes clear that the vast majority of monitoring is aimed at these kinds of deceptive products, not well-meaning ministries.
Walker's report cited numerous professionals who see a zero-sum conflict between ministry and good government. With those leaders, I am concerned over the rise in Americans' personal debt and loss of household savings. But I believe that stronger consumer protections can serve our financial ministries, restoring basic values of transparency, fairness, and quality to what now functions as an anything-goes market.
Steven McCullough
President and ceo, Bethel New Life
Chicago, Illinois
Making Funding Count
Re: "Less Aid for AIDS?" [February], Christianity Today's report on the government's funding slowdown for fighting the disease: In a world of budget shortfalls and limited resources, all allocations must be prioritized. Because of the symbolic meaning of AIDS, the West and the United Nations have disproportionally funded it. In the meantime, starvation and malaria have ravaged multitudes. If we can heal 200 children with the same amount of giving that can treat 25 AIDS patients, we should carefully consider our options. This is the sad truth.
William Payne
Ashland, Ohio
New Life at New Life
As a member of New Life Church for two decades, I received CT's interview with Gayle Haggard ["Why Gayle Haggard Stayed," February] as a breath of fresh air. Her account of the past few years gave our family some closure on that season of life and ignited a passion for the Haggards' ministry vision. Gayle's memoir [Why I Stayed] is a beautiful story of faithfulness and family strength in the midst of pain and deep rejection.
Randall Taylor
E-mail
I understand why Haggard said that she felt "ripped and ravaged" by her and Ted's church, but she must understand that the church probably felt the same way.
Also, likening her husband to the Prodigal Son seems a misapplication of Christ's teaching. Her husband was overtly sinning while presuming to speak for God from the pulpit. The Prodigal Son story is about returning to God's family after repentance, not about being given immediate access to a pulpit. Someone who abuses church authority must take a long, hard road back to a place of church leadership.
Marianne Miller
E-mail
Worth Repeating
"Our 'ready, aim, fire' approach to so many issues keeps us from being effective in a hurting world that needs our love, concern, and compassion."
Michael Basham, on the arrest of 10 American Christians trying to take children out of Haiti.
Speaking Out: "Strong on Zeal, Thin in Knowledge"
"We should be offended by violence and language and apartheid—that's kind of the point, right?"
Palmer, on the redeeming value of movies with graphic content.
"The 10 Most Redeeming Films of 2009"
"Rather than keep a constant watch on what fame is doing to our souls, we get carried away by the thrills of fleeting hype and call it God's blessing."
Tim Gombis, on the temptation to self-promote at the expense of our message.
Women's Blog: "Is Self-Promotion Sinful?"
"The problem is larger than not having every treatment available for people with special needs. It's that the vision of where full life comes from is so stunted."
BEWP, on the idea that advanced treatments would improve the disabled's quality of life.
Speaking Out: "Considering 'Curing' Down Syndrome with Caution"
"Where everybody knows your name vs. where everybody has to wear a nametag."
LeeshaHarvey, in response to @ctmagazine's tweet, "Why it shouldn't surprise or alarm us that the church is not as friendly as a bar."
SoulWork: "Should Churches Be as Friendly as a Bar?"
What got the most comments in February's CT:
58%Whatever Happened to Play? Shirl James Hoffman
10%Why Gayle Haggard Stayed Interview by Sarah Pulliam Bailey
6%Intercontinental Divide Sarah Pulliam Bailey
Related Elsewhere:
Letters to the editor must include the writer's name and address if intended for publication. They may be edited for space or clarity.
E-mail: cteditor@christianitytoday.com
Fax: 630.260.8428
Have something to add about this? See something we missed? Share your feedback here.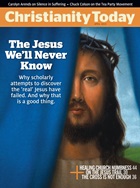 This article is from the April 2010 issue.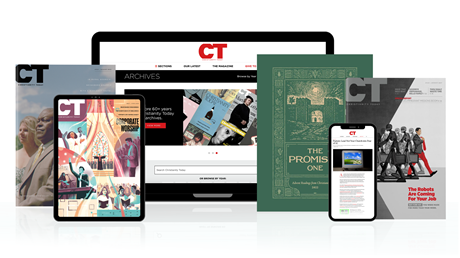 Annual & Monthly subscriptions available.
Print & Digital Issues of CT magazine
Complete access to every article on ChristianityToday.com
Unlimited access to 65+ years of CT's online archives
Member-only special issues
Subscribe
Readers Write
Readers Write