What if?
That was the question asked repeatedly by evangelical organizations as the U.S. Ninth Circuit Court of Appeals weighed an employment discrimination lawsuit against World Vision, one of the nation's largest faith-based charitable organizations.
What if the Ninth Circuit—known for sometimes producing liberal panels and results—ruled against World Vision's practice of hiring only employees who conform to the organization's statement of orthodox Christian faith?
But on August 23, World Vision and advocates such as Stanley Carlson-Thies, president of the Institutional Religious Freedom Alliance, claimed victory.
"In a way, I guess you could say it's like the dog that didn't bark," Carlson-Thies said after a 2-1 ruling by the Ninth Circuit in World Vision's favor.
Still, Carlson-Thies and legal experts on church-state issues said the decision—rejecting three fired employees' argument that World Vision is a humanitarian organization, not a religious one—represented a significant victory for religious organizations.
"Our Christian faith has been the foundation of our work since the organization was established in 1950, and our hiring policy is vital to the integrity of our mission to serve the poor as followers of Jesus Christ," World Vision said in a statement celebrating the ruling.
In most cases, Title VII of the 1964 Civil Rights Act prohibits private employers from hiring and firing based on religious beliefs. But a 1972 congressional amendment established that churches and religious associations could use faith-based criteria in hiring.
The Ninth Circuit ruling affirmed that an organization can fulfill a religious purpose without confining itself to worship-like activities, Carlson-Thies said. "An organization can be humanitarian and religious at the same time," he said of the message sent.
As Ninth Circuit Judge Diarmuid F. O'Scannlain put it in his majority opinion, "World Vision is a nonprofit organization whose humanitarian relief efforts flow from a profound sense of religious mission."
While concurring with the ruling, Ninth Circuit Judge Andrew J. Kleinfeld gave slightly different reasoning. He proposed applying an economic test and requiring that a self-proclaimed religious entity "not engage primarily or substantially in the exchange of goods or services beyond nominal amounts." O'Scannlain cited World Vision's nonprofit status as sufficient evidence.
Carlson-Thies called the notion of religious organizations as purely nonprofit entities "a troubling presumption." While the Ninth Circuit opinions reflected increasingly strong sentiment in that regard nationwide, he said, Carlson-Thies cited examples of for-profit broadcasters, camps, and publishers with religious missions.
The World Vision employees were fired in November 2006 after a corporate investigation determined that they did not believe that Jesus Christ is fully God and a member of the Trinity.
The dissenting Ninth Circuit judge, Marsha S. Berzon, maintained that Congress intended a narrow scope when it created the religious hiring exemption.
"My colleagues may wish to expand that narrow exemption to nonprofits that assert they are motivated by religious principles," Berzon wrote. "But that interpretation would severely tip the balance away from the pluralistic vision Congress incorporated … toward a society in which employers could self-declare as religious enclaves from which dissenters can be excluded despite their ability to do the assigned secular work as well as religiously acceptable employees."
The World Vision plaintiffs—one served as an administrative assistant, one worked in telecommunications, and one coordinated furniture needs—said their central duties were nonreligious in nature.
World Vision U.S. has 1,200 employees and a budget that topped $1.2 billion in fiscal year 2009. About $344 million—29 percent of the total—came in the form of taxpayer funds.
A years-long political battle rages over whether religious groups that receive federal money to provide social services should be able to consider a potential employee's religion when making hiring decisions.
"Nothing has changed," Ira "Chip" Lupu, a church-state scholar and law professor at George Washington University Law School, said after the Ninth Circuit ruling.
"What was very interesting to me was that none of the three judges—including the dissenting judge, who would have ruled that World Vision was not a religious organization for purposes of the Title VII exemption—gave any weight whatsoever to the federal funding aspect of the case," Lupu said.
"The entire discussion was about prior judicial decisions that had nothing to do with funding sources, and about the character of World Vision, irrespective of its funds, private or government."
As a result, the decision "just preserves the status quo" and does nothing to bolster or hinder federal funding of faith-based organizations, Lupu said.
Just this week, more than 100 religious organizations sent a letter to every member of Congress claiming that pending legislation would deny religious charities receiving federal grants a fundamental right to hire people who share their faith. Those signing the letter included World Vision, the Union of Orthodox Jewish Congregations of America and the U.S. Conference of Catholic Bishops.
In some ways, the Ninth Circuit decision only muddied the waters, said Christopher C. Lund, a law professor at Wayne State University.
"All three judges wrote different opinions," Lund said. "All three judges had different tests about what makes an employer 'religious.' If even one of the judges had been different, the case might have been decided differently. There's a lot of uncertainty here."
What if?
That's apparently still the question.
Related Elsewhere:
Christianity Today initially reported the court decision on Liveblog and covered the lawsuit earlier this year.
Previous articles related to faith-based hiring issues in Christianity Today and its sister publications include:
Obama Expands Faith-Based Office | The President maintains Bush's hiring policy and shapes specific priorities for the office. (May 6, 2009)
Was the Bush Faith-Based Initiative a Failure? | Stanley Carlson-Thies, Institutional Religious Freedom Alliance (January 26, 2010)
The Employment Nondiscrimination Act of 2007 | Will this proposed law affect your church employment practices? (February 28, 2008, Your Church)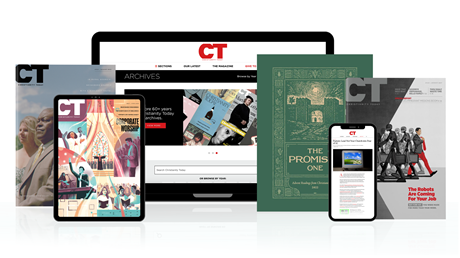 Subscribe to Christianity Today and get access to this article plus 65+ years of archives.
Home delivery of CT magazine
Complete access to articles on ChristianityToday.com
Over 120 years of magazine archives plus full access to all of CT's online archives
Subscribe Now
Religious Hiring's Status Quo Victory
Religious Hiring's Status Quo Victory