Mission not dissuaded by murdered workers
AFGHANISTAN International Assistance Mission (IAM) says it will continue working in Afghanistan despite the early-August murders of ten IAM workers returning from an eye-care expedition in northwestern Nuristan. Team leader Tom Little had served in the country since 1976; IAM has operated in Afghanistan for 44 years. "God willing, we will continue to serve the Afghan people," announced IAM director Dirk Frans.
World Vision wins firing case
A three-judge panel from the U.S. Ninth Circuit Court of Appeals ruled August 23 that World Vision is a religious organization that can hire and fire people based on faith. Three former employees had sued World Vision for letting them go after they rejected key parts of the group's statement of faith. World Vision welcomed the decision, but the majority opinion was split on the rationale for the organization's exemption from Title VII of the 1964 Civil Rights Act. Legal experts wonder if the complex opinion will add uncertainty to the debate over religious hiring. Days later, World Vision and more than 100 other religious organizations lobbied Congress against a clause in pending substance abuse and mental health legislation that would remove hiring freedoms for federal grant recipients.
Court: Regulate Medi-Share as insurance
The Kentucky Supreme Court ruled in August that Medi-Share, a Christian health-care cost-sharing program, offers a "shifting of risk" and thus shouldn't be exempt from state insurance regulations. The Florida-based organization, which serves 40,000 Christians in 49 states and pools $42 million in annual contributions, says its members engage in charitable activity and publishes disclaimers that it is not a substitute for insurance. The argument has persuaded two lower Kentucky courts in the past, but the state attorney general pursued the case to the high court, which determined that Medi-Share "fits comfortably within the statutory definition of an insurance contract."
Judge: Researchers cannot destroy embryos
A federal district judge temporarily blocked the Obama administration's plans to fund embryonic stem-cell research. Reviving a lawsuit filed by the Christian Medical Association, Nightlight Christian Adoptions, and two doctors after granting the doctors standing, Judge Royce C. Lamberth reminded the government of a 1996 law that keeps federal dollars out of any projects that involve the destruction of human embryos. The Justice Department plans to appeal.
Church leaders set back after constitution vote
KENYA Voters overwhelmingly adopted a new draft constitution despite fierce opposition from church leaders on issues related to abortion and Islamic courts. Several retired clergy supported the new constitution; Kenya's top Anglican leader eventually told parishioners to "vote their conscience." Opposed church leaders alleged vote-rigging, but a postelection survey reveals that 58 percent of Kenyans trust church leaders less than they did before the election.
Christians, atheists may run state-funded schools
UNITED KINGDOM Prime Minister David Cameron's coalition government may soon be funding religious schools using state money. A keystone of the coalition's new education plan, Cameron's "free schools" program allows parents, teachers, religious organizations, and other private groups to set up schools that would receive direct government funds. Some free schools may open by fall 2011. Responding to a comment from prominent atheist Richard Dawkins, education minister Michael Gove said atheist groups are also welcome to found schools.
Court strikes national park speech restrictions
Citing the First Amendment, the D.C. Circuit Court of Appeals eliminated regulations requiring individuals and small groups to get a permit before "engaging in expressive activities" within designated free speech zones. In 2007, officials at Mount Rushmore National Memorial stopped Michael Boardley from passing out gospel tracts. The court noted that permits made logistical sense when coordinating large groups, but should not apply to smaller groups or individuals.
Canada drops religion from census
CANADA Evangelicals objected in July when the national government told Statistics Canada (StatsCan) to replace the long-form Canadian census questionnaire, which asked about religion, with a voluntary National Household Survey in 2011. Some say that failing to collect accurate data on religious demographics will further marginalize evangelicals and other minority religious groups. Top StatsCan officials also dislike the idea of a voluntary survey; the agency's director, Munir Sheikh, resigned in protest.
War crimes sentence leaves nation unsatisfied
CAMBODIA In July, the Cambodia Tribunal sentenced former Communist leader Kang Kek Iew, better known as Comrade Duch, to 35 years in prison for crimes against humanity. Given time served, Duch will spend 19 more years in prison. Many Cambodians are furious, saying the sentence is far too lenient. Duch says he converted to Christianity while a fugitive, and the minister who baptized Duch testified at the trial, though prosecutors questioned Duch's sincerity. As commander of the infamous S-21 Prison under Pol Pot's Khmer Rouge regime, Duch was responsible for tens of thousands of executions.
Islamic state moves toward secularism
BANGLADESH The Supreme Court of Bangladesh tossed out the fifth amendment to its constitution in July. The 1979 amendment had helped change the country from a secular state to an Islamic republic and permitted religious political parties for the first time. Legal experts hailed the act as a step back toward secularism, though observers say Bangladesh is unlikely to start banning Islamic political parties. Islam remains the state religion.
Jordan River may be too dirty
ISRAEL Government officials and environmentalists are clashing over one of the holiest spots in the Holy Land. In July, Israel's health ministry discussed closing access to the spot on the lower Jordan that Christians traditionally link with Jesus' baptism after environmentalist groups called attention to sewage, pollutants, and heavy diversion of water. Israel's Ministry of Tourism insisted the water was fine. A subsequent test put the pollution content well within safe levels, but environmentalists dispute the results. Israel has pledged $5 million to rehabilitate the river.
More layoffs at Focus on the Family
Focus on the Family cut its workforce to 750 in late July, laying off 110 employees. The organization has been downsizing since 2002, when it employed 1,400 people; its previous round of layoffs, in 2009, took 75 jobs. Focus has slashed more than $60 million from its budget in the past few years.
Court: Religious schools cannot have police
North Carolina's Court of Appeals declared in August that Davidson College, as a "religious organization," cannot have a campus police force. Bound by precedent, the court felt "compelled" to rule that the private school affiliated with the Presbyterian Church (USA) violated the First Amendment's Establishment Clause by enforcing state law. But the court's opinion urged the state supreme court to hear an appeal, acknowledging a difference between a religious organization and a religiously affiliated university.
Utah memorial crosses must go
The Tenth Circuit Court of Appeals ruled in August that the State of Utah cannot erect memorial crosses to honor the deaths of Utah Highway Patrol officers. Responding to a suit from American Atheists, the three-judge panel declared that the 12-foot-tall, privately funded roadside crosses constituted an "endorsement of Christianity." In 2007, a federal district judge declared the crosses a secular symbol of death. The Utah Highway Patrol plans to appeal the case to the Supreme Court.
Related Elsewhere:
See Christianity Today's news section and liveblog for more news updates.
Have something to add about this? See something we missed? Share your feedback here.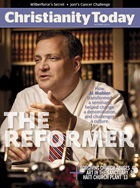 This article is from the October 2010 issue.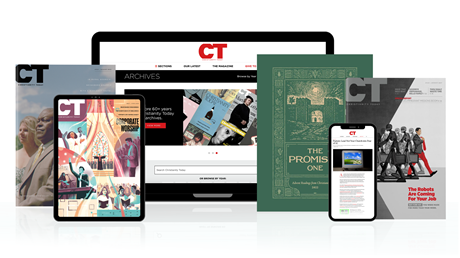 Annual & Monthly subscriptions available.
Print & Digital Issues of CT magazine
Complete access to every article on ChristianityToday.com
Unlimited access to 65+ years of CT's online archives
Member-only special issues
Subscribe
River Jordan Pollution, Medi-Share Loses in Ky., Etc.
River Jordan Pollution, Medi-Share Loses in Ky., Etc.