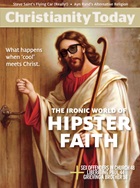 This article is from the September 2010 issue. Subscribers can read all of CT's digital archives.
Hearing God, Having the Guts to Respond
Bill Hybels
Zondervan, 2010
272 pp., $13.79
Evangelicals are suddenly enamored with seeing "the sacred in a chaotic world," as one book subtitle puts it—or, in the language of Brother Lawrence, practicing the presence. Many thrill to find God in a cup of coffee or a walk through a forest. Hybels is more practical: he helps readers discern when and how God speaks to us. While encouraging a personal, experiential relationship with God, he grounds our discernment in something deeper than good feelings: Scripture and the wisdom of fellow believers.—Mark Galli
Rich Lessons from the Working Poor
Mark Lutz
Compassion International, August 2010
220 pp., $10.19
Mark Lutz believes extreme poverty can be eliminated. But he proposes no silver-bullet solution. Instead, he believes that by listening to the poor, we can learn to help them help themselves. A child of missionary parents and an executive with a leading microfinance organization, Lutz records what he has learned from meeting the poor in the developing world's villages, slums, and garbage heaps. They show gratitude, persistence, ingenuity, and faith as they work to build up their families and communities. God loves the poor, says Lutz, so we dare not miss the opportunity to help them.—David Neff
Global Warming Facts for Faith-Based Decisions
Katharine Hayhoe and Andrew Farley
Faithwords, 2009
240 pp., $16.99
I don't know about you, but I'm tired of both the alarmist cries and defensive denials about global warming. I've wanted to read something that makes sense of the mountains of data on this controversial topic, and to do so from a uniquely ...
1
Books to Note