Cowboys stadium. Troy Polamalu. Black Eyed Peas. Ben Roethlisberger. Sex trafficking of minors. Christina Aguilera. Doritos' controversy-tinged "Crash the Super Bowl" contest. Those irritating Go Daddy commercials.
Which of these things is not like the others? Believe it or not, they all describe the close-at-hand Super Bowl XLV, where cheese heads and yellow-towel touters will cheer on their respective teams, Dallas hotels and airports will receive an estimated 100,000 visitors, with a projected economic impact of $611.7 million on the area, and pimps and traffickers will set up makeshift brothels in hotels and blocks of houses, selling the bodies of vulnerable children and teens. And while major sporting events are well known as seedbeds of sexual exploitation, this year's game might be worse: Texas senator Leticia Van de Putte recently reported that over 20 percent of all trafficking victims into the U.S. come through Texas. And in 2008, reports the Fort Worth Star Telegram, 38 percent of all calls to the National Human Trafficking Resource Center hot line were from Texas.
In response, several Christian anti-trafficking ministries are working alongside government officials to curb trafficking at next Sunday's game. Traffick911, a Fort Worth-based nonprofit founded by Deena Graves, has launched the "I'm Not Buying It" ad campaign, featuring singer Natalie Grant and former New England Patriot Devin Wyman, with the tag line, "What would you do if it was your daughter?" The group is petitioning the Super Bowl Host Committee to endorse the campaign and run a 30-second ad during the game, and has received over 65,000 signatures.
Graves told Baptist Press that Super Bowls are notorious as trafficking zones because "you have a large number of male tourists traveling without families. Second, there are large amounts of money at these events. For example, the Super Bowl host committee estimates there will be 40,000 people coming into our area who do not even have tickets to the Super Bowl. They're coming just for the party atmosphere. It's kind of that mindset of 'what happens in Vegas stays in Vegas.' "
Love 146, a Christian anti-trafficking group based in Connecticut, is working alongside Dallas-based Irving Bible Church to spread the "It's Not My Fault" awareness campaign and provide other local churches with educational resources and personal prayer guides. (Read this post from Love 146 co-founder Lamont Hiebert for the campaign name's origins.) This past Sunday the group led a prayer walk around the Cowboys Stadium, and has planned an "Anti-Pimp My Ride" flash mob for Super Bowl Sunday, encouraging participants to deck out their cars with magnets and congregate in high-traffic areas.
The State of Texas, for its part, has been proactive in making sure their Super Bowl does not mirror the 2009 game in Tampa, Florida, where the State Department of Children and Families found at least 24 children being forced into sex slavery. Late last year, Texas State Attorney Greg Abbott vowed to commission dozens of staff members in the weeks leading up to the game to find and arrest traffickers. Abbott, who has called the game "one of the biggest human-trafficking events in the United States," has included representatives from Traffick911 and Shared Hope International, an anti-trafficking research group led by former congresswoman Linda Smith, in its preparation efforts.
One Christian group is working more covertly in the business sector. Christian Brothers Investment Services (CBIS), a socially responsible investment firm that works with 1,000 Catholic institutions, is pressuring Dallas hotels to train staff to recognize signs of trafficking, cooperate with police, and officially adopt "The Code for the Protection of Children from Sexual Exploitation in Travel and Tourism." Sadly, reports Catholic News Service, only one hotel chain in which CBIS holds stock - Carlson, which owns Radisson hotels - has agreed. "Human traffickers often hide in plain sight. Their crimes frequently go unpunished and their victims remain unaided because many consumers and companies don't know what to look for," says Julie Tanner, CBIS assistant director. "Businesses of all kinds need to be aware that human trafficking poses serious risks to a company's reputation and bottom line."
Even while the Super Bowl Host Committee has not responded to Traffick911's petition, Graves told The Dallas Morning News, "We believe, without a doubt, that God gave us the Super Bowl this year to raise awareness of what's happening with these kids."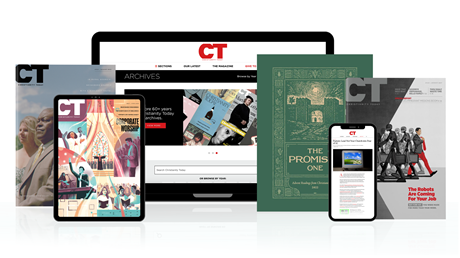 Subscribe to Christianity Today and get access to this article plus 65+ years of archives.
Home delivery of CT magazine
Complete access to articles on ChristianityToday.com
Over 120 years of magazine archives plus full access to all of CT's online archives
Subscribe Now
Christians Launch Anti-Slavery Efforts for Super Bowl XLV
Christians Launch Anti-Slavery Efforts for Super Bowl XLV