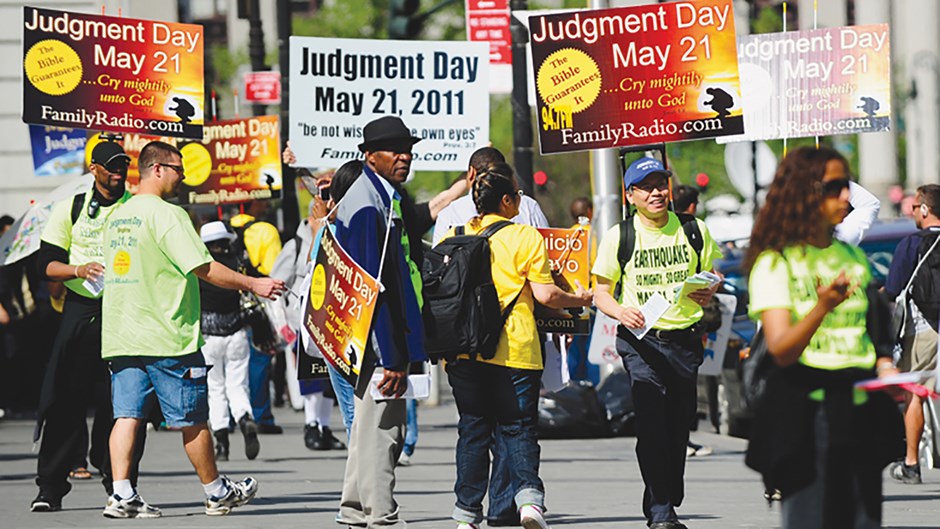 Image: Emmanuel Dunand / AFP / Getty
Harold Camping said something true. The media mocked him. But even Christians who disagree with the radio preacher's Rapture theology can appreciate his basic conviction.
After his May 21 prediction of the Rapture failed (but before his June 9 stroke), he said that it had been only a "spiritual coming." He then added, "It won't be spiritual on October 21st. The world is going to be destroyed altogether, but it will be very quick."
Whether the destruction will be very quick, we don't know. We are unconvinced about Camping's timetable. But in fact, the earth will pass away. Jesus said so (Matt. 24:35).
This is disturbing news for some, including many North American evangelicals. We've become successful and comfortable in advanced capitalistic societies, and most days we rather like the earth we inhabit. That's one reason we are fond of imagining heaven mostly as a problem-free earth, and that our work on earth will continue in heaven.
In the book Heaven in the American Imagination, historian Gary Scott Smith notes how socioeconomic status shapes a person's view of heaven. For example, he says, between 1890 and 1920 technological innovation "dramatically increased industrial production and agricultural output and cures were discovered for many endemic diseases." During this time, per-capita GNP increased almost fourfold, he says, and "progress abounded" in many fields.
"Paralleling these developments," he notes, "greater numbers of Christians conceived of heaven as an active realm where the saints performed varied forms of service and grew substantially in knowledge, character, and spirituality."
A century later, we find ourselves awash in technological and social advances that have multiplied our economic, material, and social goods. Evangelicals, imbued as they are with the Protestant work ethic, have been among the chief beneficiaries of all this. It should not surprise us that we are now drawn to descriptions of heaven that sound like the cushy lives we already enjoy. As Rob Bell puts it in Love Wins, "Honest business, redemptive art, honorable law, sustainable living, medicine, education, making a home, tending a garden … will all go on in the age to come." All well and good for those who have a large measure of economic freedom and financial security. For the poor and oppressed who endure slave-like conditions doing backbreaking or mind-numbing toil for 16 hours a day, health, the rule of law, good education, and rewarding labor are not mere extensions of the present. Such things can come only with the sharp in-breaking of God's kingdom.
The important point is that heaven is not about us. The glory of heaven is not about what we do or feel but whom we are with: "God's dwelling place is now among the people, and he will dwell with them" (Rev. 21:3).
There is continuity between this age and the age to come, but there is also great discontinuity. Now we see dimly, then face to face (1 Cor. 13:12). Marriage will be a thing of the past (Luke 20:35). Death and crying will be no more (Rev. 21:4). The kingdom will be so different that the writers of Scripture can picture it only as the replacement of the present physical earth and sky by something radically new (Matt. 24:35; 2 Pet. 3:10–11; Rev. 21:1).
This is crucial to remember in our optimistic, entrepreneurial age, when so many Christians talk about "building the kingdom of heaven," as if our good works are bricks in the foundations of the New Jerusalem. More than once we have heard pastors say that the purpose of the church is "to make the world a better place."
Yes and no. Loving our neighbors requires works of mercy and justice, which can be a powerful witness to and taste of life in the coming kingdom. Jesus commanded us to seek the kingdom and its justice as our first priority, and not to worry about the risks involved (Matt. 6:33). But carefree engagement in kingdom activity is possible only because it is God who brings the kingdom and therefore guarantees its success. We do not build or create the kingdom. We inherit it as something prepared for us from the foundation of the world (Matt. 25:34). This is tremendous news; it puts the responsibility not on the shoulders of the fickle and sinful, but on the strong and merciful back of Jesus.
Love also requires us to tell our comfortable neighbors (and ourselves) that Jesus' kingdom "is not of this world" (John 18:36), that a day of judgment is coming after which this earth will be destroyed and remade. As important as it is to show forth the future by justice and mercy in the present, it is also important to call people to repentance and faith, that they might enjoy the new world Christ will bring.
Related Elsewhere:
Previous coverage of Harold Camping includes:
Article continues below
Harold Camping's Rapture Campaign: Can He Be Sued for Fraud? | As an atheist group asks the California attorney general for action, legal scholars say efforts are almost certainly doomed. (June 3, 2011)
What to Do with Aunt Julie | Harold Camping and our problem relatives. (May 26, 2011)
New Dispensation? Camping: 'Leave Church' | Family Radio founder's latest teaching prompts church defections. (May 21, 2002)
Previous articles on the end times, heaven, and the kingdom of God include:
Who Gets Left Behind? | How end times theories shape the ways we view our earthly abode. (May 23, 2011)
Dwelling in Heaven's Suburbs | Creating a culture of resurrection is key to full-orbed ministry. (September 28, 2010)
Heaven is Not Our Home | The bodily resurrection is the good news of the gospel—and thus our social and political mandate. (March 24, 2008)
Christianity Today also has more editorials on our site.
Have something to add about this? See something we missed? Share your feedback here.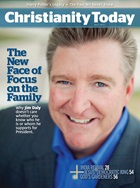 This article is from the July 2011 issue.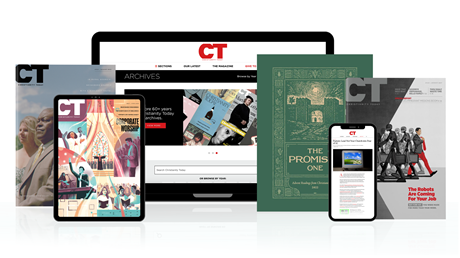 Subscribe to Christianity Today and get access to this article plus 65+ years of archives.
Home delivery of CT magazine
Complete access to articles on ChristianityToday.com
Over 120 years of magazine archives plus full access to all of CT's online archives
Subscribe Now
Harold Camping Is (Sort of) Right
Harold Camping Is (Sort of) Right