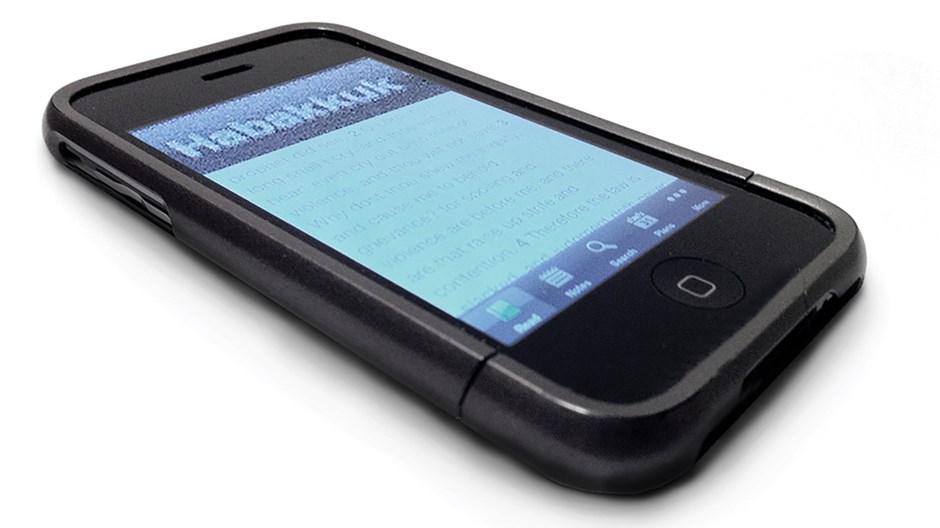 Image: iStock
A couple of Sundays ago, my husband, son, and I enacted a mini-drama from a script that has likely played out in every churchgoing family in America. Never mind that we live in Kodiak, Alaska, thousands of miles from the rest of the country. Electronics, we know, are borderless.
During the sermon, with our heads intently bent over our study Bibles, my husband and I glanced down the pew to see our teenage son leaning over his cell phone. Texting during the sermon? My husband, later claiming self-defense, drew his own cell from his holster and began furiously sending texts to the other end of the pew. Teenage son didn't respond, which drew more urgent messages. No response again. By now we were steaming toward a march around the center pews to snatch the offensive item from the perpetrator's hands. Thankfully, "we'll get him later" prevailed.
By now you've already guessed the ending of this vignette. The response to our accusations: wide eyes and sly protestations of innocence before whipping out the cell phone—with the Bible fully downloaded on it. Ah, the snarky pleasure on his face.
It's true: I'm a dying breed. I've been lugging around this doorstop version of the Scriptures partly for its inconvenience. It reminds me of its import and my commitment to the words I so laboriously carry. But since this event, I've downloaded the Bible on my iPhone, and, like millions of others, have begun to use it, which has caused me to wonder: Are we Christians still people of the book? And if we're becoming instead people of the Nook, does it matter?
The moment the new icon appeared on my screen, I scrolled to Habakkuk and read it from start to finish. I chose that particular book for a reason. Just three weeks before, I watched breathlessly as my brother-in-law unrolled the Habakkuk scroll, one of the first pulled from the Dead Sea caves in 1948, on my living room rug. It was at least six feet long, on delicate parchment. I even touched it. Before you report me, or worse yet, doubt me, let me assure you: the scroll is a facsimile. It is a fake so real, with such exacting detail—burn marks, frays in all the right places—it bears a stamp to foil attempts to heist and pass it off as real. (Disclosure: My brother-in-law directs the Dead Sea Scrolls Foundation.)
I viewed the scroll with head-spinning confusion: One of the most ancient documents reproduced through the most advanced technologies to look and feel as aged as the original. Its appearance instantly reminded me of the Bible's historicity, the marvel of its faithful passage through the centuries, the significant cost in human lives for its preservation.
Our eagerness to put the Scriptures onto scrolls fi rst, and onto electronic screens later, is more than a love of invention and gadgetry.
I did not consider these things while scanning Scripture on my three-inch screen this week. It's hard for me to remember that these words that now accompany my daily tasks, accessed at my slightest whim, cost anything more than money. It's hard for me to remember that the words in this book, now sharing the same battery and housing as my photos and games, in the same purse compartment as my lipstick and breath mints, have any history behind them at all.
But as I paged through Habakkuk's horrific prophecies of Israel's coming destruction, I came to these final verses: "Though the fig tree should not blossom, nor fruit be on the vines, … and the fields yield no food, the flock be cut off from the fold and there be no herd in the stalls, yet I will rejoice in the Lord; I will take joy in the God of my salvation" (3:17-18, ESV, emphasis mine).
My breath stopped. My eyes stung. These 2,500-year-old words delivered through a state-of-the-moment widget spoke to the oldest human problems—the problem of suffering, the problem of trust. I needed these words; a friend had just died. I needed them then, and I will need them again.
This unprecedented ability to carry the words of God almost weightlessly everywhere I go, and to read them on the same device that helps me manage my life, strikes me as utterly theologically fitting. I am reminded of the priesthood of all believers, and the Scriptures' self-definition as the "words of life"—meaning, surely, at least this: words that are to inform and infuse every part of our lives, commingling with breath mints, photos, and phone calls.
We may forget at times the lineage of these words, but our eagerness to put the Scriptures onto scrolls first, and onto electronic screens much later, is more than a love of invention and gadgetry, I believe. It's a timeless need for life-giving truths. It's love for the Book.
Related Elsewhere:
Previous articles related to technology and faith include:
Not Many of You Should Presume to Be Bloggers | How social media changed theological debate. (March 11, 2011)
Article continues below
For Many Missionaries, More Tech Means Shorter Furloughs | Constant connection keeps missionaries on the field, but has its costs. (December 30, 2010)
From the Printing Press to the iPhone | Shane Hipps urges Christians to discern the technology spirits. (May 6, 2009)
Previous articles from Leslie Leyland Fields include:
A Feast Fit for the King | Returning the growing fields and kitchen table to God. (November 5, 2010)
The Myth of the Perfect Parent | Why the best parenting techniques don't produce Christian children. (January 8, 2010)
The Case for Kids | A defense of the large family by a 'six-time breeder.' (August 1, 2006)
Have something to add about this? See something we missed? Share your feedback here.
Stones to Bread
Leslie Leyland Fields is a writer, speaker and professional editor who lives on Kodiak Island, Alaska in the winter and Harvester Island in the summer, where she works in commercial salmon fishing with her family. She cohosts "Off the Shelf" on KMXT Public Radio and is the author of Parenting Is Your Highest Calling, Surprise Child, and other books.
Previous Stones to Bread Columns: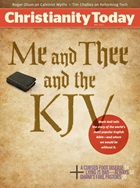 This article is from the May 2011 issue.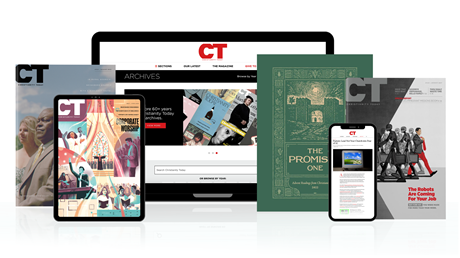 Annual & Monthly subscriptions available.
Print & Digital Issues of CT magazine
Complete access to every article on ChristianityToday.com
Unlimited access to 65+ years of CT's online archives
Member-only special issues
Subscribe
People of the Nook
People of the Nook