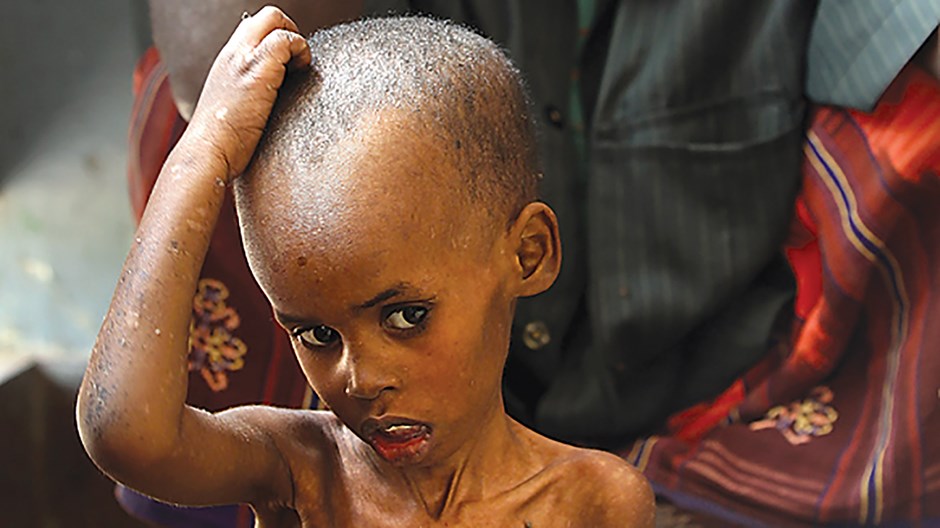 Image: John Moore / Getty Images
"Drought is an ecological disaster, born of little or no rain. Drought is weather-made. Famine is man-made. It's politically induced," said Brian Stiller, the new global ambassador for the World Evangelical Alliance, after his recent trip to Somalia.
Moved by the prospect that 750,000 Somalis may starve in coming months, Stiller and Aiah Foday-Khabenje, a Kenyan evangelical leader, flew to Mogadishu, the capital of Somalia, to survey the situation.
Foreign Policy magazine recently ranked Somalia as the worst nation-state in the world. It cannot control its borders or feed its people, and has become a safe haven for pirates and terrorists. An October truck bomb killed 70 in Mogadishu. The Horn of Africa has never been as dysfunctional as it is now.
Describing Mogadishu, Stiller told Christianity Today, "It seemed like Berlin after the Second World War, just devastated, shot-down, broken-down, bombed-out. People scurry and scramble to scratch out an existence. You really feel like you are in a lawless land." A Somali warlord accompanied by five soldiers toting AK-47s befriended Stiller and Foday-Khabenje and escorted them throughout the city.
There is no question that Somalis, especially mothers and young children, are dying daily from starvation. On his tour, Stiller stopped by one tent in an overcrowded camp. A man had just delivered a rolled-up mat containing the corpse of a small child. "I looked outside the tent," said Stiller. "Here was a woman with her head on her knees, weeping. I thought, This is normal, until the man said, 'Sir, this is the third son she's lost this week.'"
Christians should not hesitate to feed the starving and care for the sick, homeless, and needy, no matter the cause of their suffering. After being chased out of Somalia in 2010, faith-based aid agencies have a critical role in border-area relief efforts. The Dadaab camp, for instance, is home to 400,000 refugees in Kenya just across the Somali border. There is a shortfall of $900 million in the estimated $3 billion of total aid needed in Somalia and the region.
But famine cannot be defeated by food aid alone. Brought on by war and other complex underlying causes, famine calls for Christians to develop a comprehensive response. The tyranny of urgently needed, short-term famine relief should not lessen our commitment to a big-picture agenda.
Stiller said, "We aren't naive when we look at Somalia. It's lawless, without fear." The leaders who hosted the two Christian men were puzzled about why they had come to Mogadishu. Stiller responded, "You matter to God."
The tyranny of urgently needed, short-term famine relief should not lessen our commitment to a big-picture agenda.
Yet such a statement can sound like a spiritual platitude if it isn't backed by Christians committed to political reform and something much more basic: spiritual and moral renewal. "The worst places are often the places that God is there by his Spirit working, conspiring to do the will of the Father. I just love being part of his conspiracy," Stiller said.
That sounds like music to the ears of every mission-minded Christian. But many of Somalia's new leaders are Islamic fundamentalists. They have no love for the gospel or the West. Somalia's 10 million people do not have a visible church. Little or no religious freedom exists, and the new government has no plan in place to provide it.
As Stiller and Foday-Khabenje cleared airport security in Mogadishu to return home, they saw a young Somali worker wearing a T-shirt emblazoned with the words, "This is true: John 3:16." "Do you know what's on your T-shirt?" Stiller asked.
The man replied in clear English, "Yes, I do. It is true." Stiller met a number of Somalis who had returned to their homeland to rebuild. Only a handful of the world's Somali Christians actually live in Somalia. These expat believers may provide a fresh foundation for Christian engagement in Somalia.
A biblical worldview can provide the framework for a new government that is accountable to the people, limited in its powers, and provides equal protection under the law. In post-conflict South Africa, Liberia, and Rwanda, Christians influenced the process in a lasting and positive way. That can happen in Somalia too.
Shelter, medicine, drinking water, and 1,950 calories per day can arrest a famine, and make no mistake: there is a heart-breaking famine under way in Somalia. But the church's overall approach should treat the fever of famine while curing the underlying disease.
This is the kind of crisis that the church historically has turned into an opportunity to enact God's plan for all peoples and nations.
Related Elsewhere:
Christianity Today's coverage of the famine in Somalia and drought in the Horn of Africa includes:
Aid on the Edges | What turned Somalia into the epicenter of a famine hinders attempts to help. And now even the refugee camps are targets. (October 19, 2011)
Undoing the Famine Damage | If the famine in the Horn of Africa is manmade, human intervention can end the crisis. (October 12, 2011)
Famine in East Africa: Who Cares?| Several Christian NGOs are on the move, provided they can get the appropriate funds. (August 19, 2011)
For the latest information about the crisis in the Horn of Africa, visit BBC News and The New York Times.
Have something to add about this? See something we missed? Share your feedback here.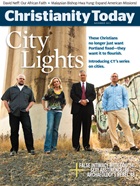 This article is from the November 2011 issue.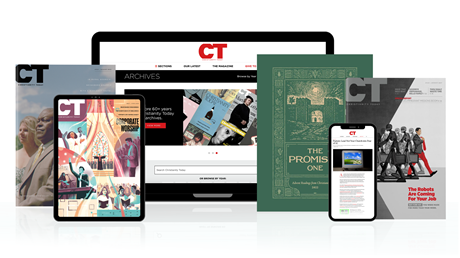 Annual & Monthly subscriptions available.
Print & Digital Issues of CT magazine
Complete access to every article on ChristianityToday.com
Unlimited access to 65+ years of CT's online archives
Member-only special issues
Subscribe
Fighting Famine Isn't Enough
Fighting Famine Isn't Enough