The Magazine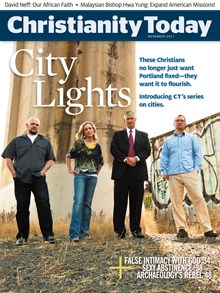 Read CT online anywhere you go.
Subscribers get full print and digital access, including:
10 award-winning print issues
PDFs of each issue
Full web access to ChristianityToday.com
60+ years of magazine archives
Table of Contents
In Every Issue
Holding Her Own
The woman behind Her.meneutics, the Christianity Today blog for women.
Virtual Vitality: Bobby Gruenewald Links Technology and the Church
How a pastor from LifeChurch.tv is helping plug the church into the digital future.
Also in this Issue:
Passages
A City of Activists
Online Poll
Inspiring Story, Clichéd Script
The Gospel According to Muppets
More Epiphanies
Two Minutes With ... Bob Bennett
More Media