Just in time for the 2011 college football season, the October Atlantic cover story issued a thorough (read: 25,000-word) indictment of today's college sports. Pulitzer-winning historian Taylor Branch likens the current system, in which TV networks, coaches, and the bureaucrat in the middle of it all—the NCAA—to a plantation reaping millions off the backs of young athletes, many of them African American. Noting the legions of scandals now facing the NCAA, Branch calls for U.S. colleges to abandon the spirit of amateurism — that noble ideal that athletics can be a moral-forming institution in collegiate life — in favor of a simpler idea: Start paying student-athletes.
Julie Davis, the newly appointed athletics director at Wheaton College, Illinois, is in a different world. She appreciates the dilemmas of Division I sports, but her perspective reflects the unique place athletics has at a Christian school.  
Davis, Wheaton's first female athletic director and associate director since 2003, spoke with CT about the Atlantic essay and the role athletics play in shaping students Christward.
You say the scene Branch describes—of antitrust lawsuits, jerseys exchanged for free tattoos, TV ads—is a world apart from your own. What are the main differences between Div. III and Div. I athletic programs?
Div I schools give athletics scholarships. So the students at Div III schools should not be receiving any money based on ability. At Div I schools, in some cases, you're getting an education because of your athletic abilities. Another big difference is that Div. I athletics are typically massively revenue-generating, linked to endorsements and networks in terms of television contracts. That is just not the case at Div 3 schools. The notion that Div I athletic programs are a business has become more true over the years. And it's becoming a larger business.
And being a Christian Div. III school removes you even farther?
Yes, our goal is to be growing kids to be whole and effective Christians through their athletic experience. Sports provides a unique opportunity because of the idea of competition and team and working together for a common purpose and a common goal. There is something unique about our world that enables us to shape students pretty effectively.
What's so unique about the spiritual dynamics in sports?
Athletics provides deeply emotional experiences, so it's in the context of an emotional experience that the teaching point can be made. When you have competed and lost, for example, the teaching point is, How do you handle disappointment [in other arenas]? How do you handle huge success? Where are we directing our joy as the result of success? Another notion that's powerful is working together for a purpose, and that you can't achieve that goal without your teammates. That deep sense of needing each other and leaning on one another is a powerful example of the body of Christ. And the fact that you are working for something beyond yourself, you are working on behalf of the team, in the same way that much of our Christian walk is modeled in a parallel fashion. So translating that from an experience on the field into kingdom work is the goal.
Does competition—at the very core of athletics—undercut those spiritual lessons? Sports puts athletes who are Christians in the position of wanting to smash their opponents.
Yes we do! [laughs] That question lurks around the edges of conversation; CT recently wrote about that. We compete within a set of rules and we need to be fair in that, but we also need to not be afraid to honor God by being really good. I don't think it does us or the name of the Lord any good to be less than excellent. So our competitiveness is driven to really be all that we can be for the glory of God. We are out there representing him, and to be less than excellent is not a positive thing.
People have said of our football team that they don't like playing us because we'll hit real hard and knock someone down, then lend them a hand to help them up. And it can become a little disarming, but I think that's part of our testimony, that we hope to care about people more than just in the moment of the competition. Many of our teams stop and pray with the opponents after games, everybody huddles up together, and we invite the other team to pray with us, and occasionally we'll share a meal after a competition. We just did that at a cross-country meet.
Doesn't praying with your opponents lessen your chances of beating them? It seems you need to forget your opponent's humanity in order to play well.
No, I don't think it does.  God's great love for us calls us to honor others, compete with integrity and demonstrate discipline in the context of competition.  We are hoping to encourage students by remembering the Lord in all we do and to care for others in moments of victory and defeat. After games, we lift high the name of Jesus as the one who has given us the gift of hard work and good competition. There is a heavenly reality that we give testimony to in these moments, and it keeps winning and losing in perspective.
Competition for its own sake, then commodifying and professionalizing it, seems to be the name of the game in Division I sports. What do you think of paying students as a way to remedy the current ethical problems?
Wheaton's an academic school, and our athletics are never going to supplant that. But when you look at the number of hours those Division I athletes are giving to their athletic programs, they can't get a job, they can't get work. Now their tuition is being paid, but their job is being a student athlete for the campus. And they're enhancing the campus. People are benefiting because they're around and they're good. I don't have a large philosophical problem with that — giving them a stipend every month for the work they're doing, when the school is making outrageous amounts of money off them, as are their coaches. Though it feels a little awkward simply because that's not been what it's been about, I can see where it's coming from.
At the same time, to temper the article, many, many student-athletes at Division I schools are having great experiences, and are learning some of the same lessons that we claim to have happening at Wheaton —and also getting world-class educations as a result of their athletic experience.
Kirk Cousins gave a speech at the Big Ten convention. He's a quarterback for Michigan State, and he's a Christian kid, like a Tim Tebow. And he stood up at the banquet and said, "Hey, I challenge all of us to recognize that we are in a place of privilege because we can play Division I athletics, and in our place of privilege we need to have responsibility." That is the best of what a Division I student athlete should be about. I appreciated the article; yeah, there are some serious problems that need to be addressed, but let's not throw out the entire athletic experience because of some abuses.
Women account for 19.1 percent of all athletic director jobs across divisions, and just 9 percent at Division I. How will the fact that you are a woman in a predominantly male leadership field bear on your leadership in the coming years?
In the world I work in, athletics, coaches are producers. Coaches have events that are public, there's articles written, stats are recorded, a final score at the end of the game. So I think coaches more or less respond best to results and to someone who can produce for them, and in my mind that trumps gender. The ability to produce and get results goes a lot farther.
In the athletic world, though there is a gender bias and there are only a few women in leadership, because Wheaton cultivates a great athletic experience for both men and women, it feels very natural that a woman could step forward. I'm a product of having been cultivated by Beth Baker, our [retired] women's basketball coach. So it's a natural extension of the work that we do in these hallways to have a female to be in a leadership role.
There are so many coaches and professors who have gone before and have fought battles over time to cultivate the female voice. I've just benefited from their hard work.
Related Elsewhere:
Previous coverage of sports includes:
Q & A: Tim Tebow on Faith, Fame, & Football | The NFL athlete reflects on his outspoken faith, whether athletes should attribute their wins to God, and moving from the Focus on the Family ad to Jockey ads.
Sports Fanatics | How Christians have succumbed to the sports culture—and what might be done about it. (January 29, 2010)
Why We Love Football | Grace and idolatry run crossing patterns in the new American pastime. (September 7, 2007)
Play Ball is Christianity Today's column that examines the relationship between sports and faith.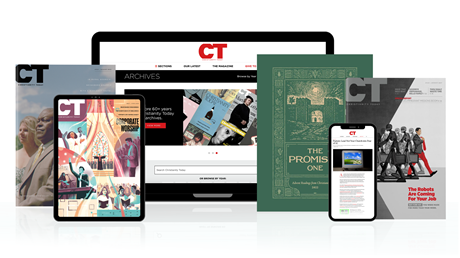 Subscribe to Christianity Today and get access to this article plus 65+ years of archives.
Home delivery of CT magazine
Complete access to articles on ChristianityToday.com
Over 120 years of magazine archives plus full access to all of CT's online archives
Subscribe Now
Sports with a Deeper Purpose
Sports with a Deeper Purpose